Does a Trademark Have To Be Registered?
Whether you are a small business owner or a rising star on the market, trademarking your company's ideas and assets is a must.
Does a trademark have to be registered? Can you protect your ideas from infringement without applying for a trademark? What types of trademark registration levels exist?
You do not need to search for answers yourself. This article brings them to you! As a bonus tip, we explain how you can use DoNotPay to apply for trademark registration swiftly and efficiently!
What Are Trademarks, and Why Are They Significant?
Trademarks are unique and memorable elements of your business brand.
Unlike service marks, which refer to services only, trademarks make your goods and products recognizable and different from other goods available on the market. Still, the term is often used to encompass all trademark types, including service marks.
Whether it is a specific phrase, slogan, logo, or business name, trademarks safeguard the elements of your creative solutions. Protecting the desired marks by registering them prohibits other people or businesses from using them without your authorization. If anyone comes up with a similar idea, a registered trademark allows you to sue them and request compensation.
Another benefit is that once you protect your creations, you can keep the rights to them as long as your business exists. After registering a trademark with the U.S. Patent and Trademark Office (USPTO), you can use it for life if applicable as long as you renew it every ten years.
Here is a table of various marks and brand elements that people usually try to trademark and protect:
| Trademark Type | Examples |
| --- | --- |
| Artistic creations | |
| Other ideas | |
Does a Trademark Have To Be Registered To Be Protected?
The federal law in the USA does not propose any strict requirements related to registering your trademark. You automatically acquire the right to use your idea locally as soon as you implement it in your business. It means it is applicable only in the area where you live and offer your goods. If this level of protection works fine for you, you do not need to go through the trademark application process.
While applying for a trademark with the USPTO is not mandatory, it is highly recommended as it brings you significant benefits and exclusive protection of your rights.
Trademarks May Be Registered Only With the Federal Government—True or False?
This is false. Besides trademarking your idea on a federal level, you can register it as a state trademark or keep it local.
State Trademark vs. Federal Trademark
What is the difference between a state and a federal trademark? Check out the explanation below:
State trademarks give you the right to use your idea only within the borders of the state where you sell your products. All you need to do is file a trademark application with the local secretary of state and wait for their approval. You will pay less than for a federal trademark—around $150
Federal trademarks allow you to use your mark with the maximum protection level all around the USA. This option is more expensive than the state one—it costs $250 or $350 per registered class, depending on the application form. To apply for this level, you must:

Perform a USPTO trademark search to see if your idea is unique
Prepare a specimen/example of your trademark solution
Choose trademark classes for your products
Pay the specified application fees
Fill out a trademark application form and submit it online
Need Some Help With Your Trademark Application? Use DoNotPay Instead of Hiring an Attorney!
The trademark application process entails many tiresome tasks, such as:
Searching for the existing trademarks yourself to check if they are similar to yours
Assigning a trademark class to your goods
Completing the entire application form (and taking risks of doing it incorrectly or missing a significant detail)
Using legal services for this purpose is not cheap. Lawyers may charge you up to $2,000 for assisting you in completing all these steps. With DoNotPay, you can file your trademark for much less and in a much simpler way!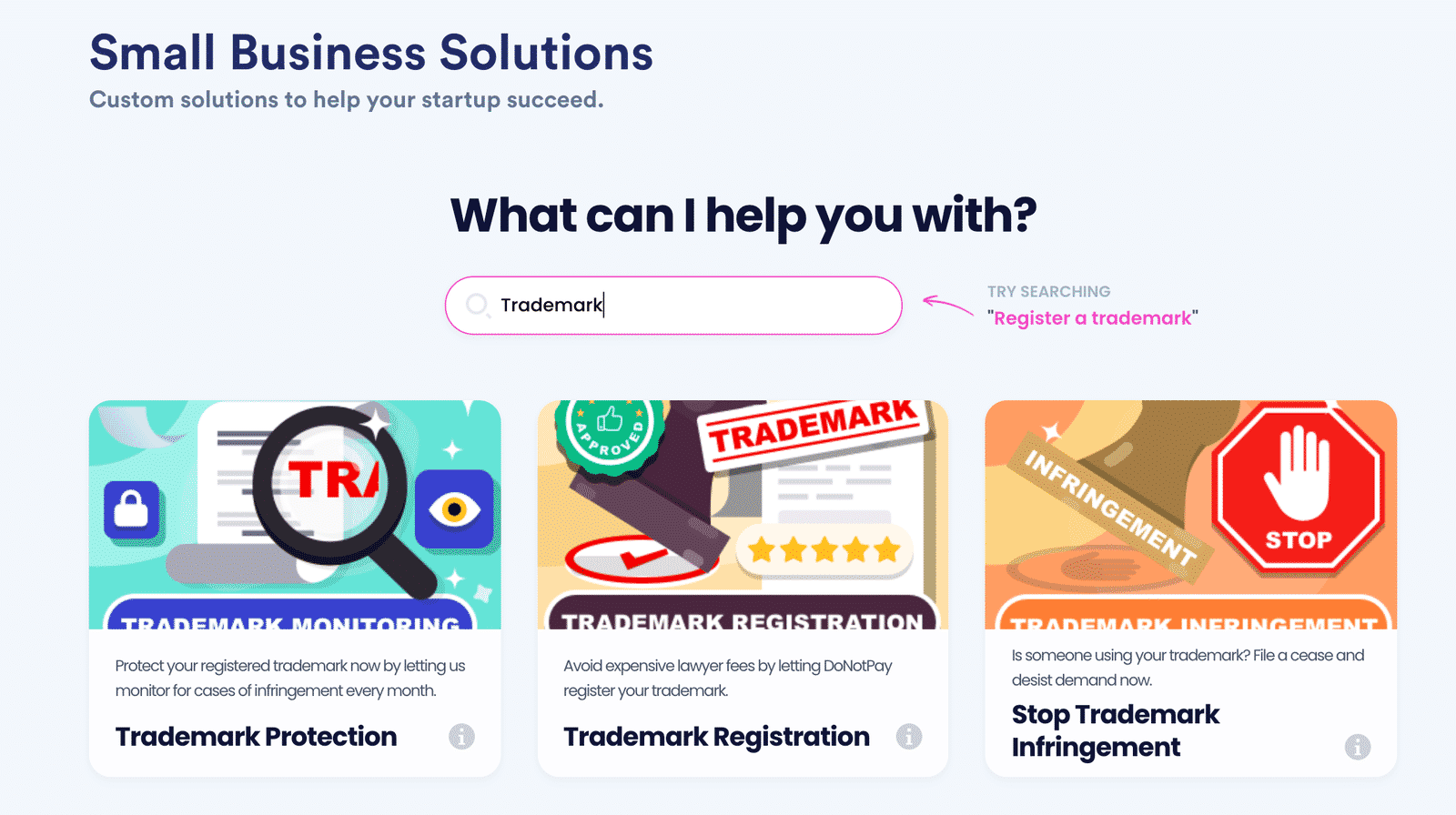 How Can DoNotPay Help You?
With DoNotPay's help, you will be done with the registration in minutes. Here are the prompts you should follow:
Create a DoNotPay account and sign in
Pick the Trademark Registration tool
Give us some particulars about the trademark you want to protect
Select the trademark class for the goods you are offering
Confirm that you have paid a $250 application fee
We will run a quick check and find out if there are any trademarks similar to yours. If there are not, our app will help you fill out the application form and submit it in no time!
That is not all! DoNotPay will send you an application tracking number and provide the USPTO with your email address. This way, they will be able to contact you directly once they decide about the outcome.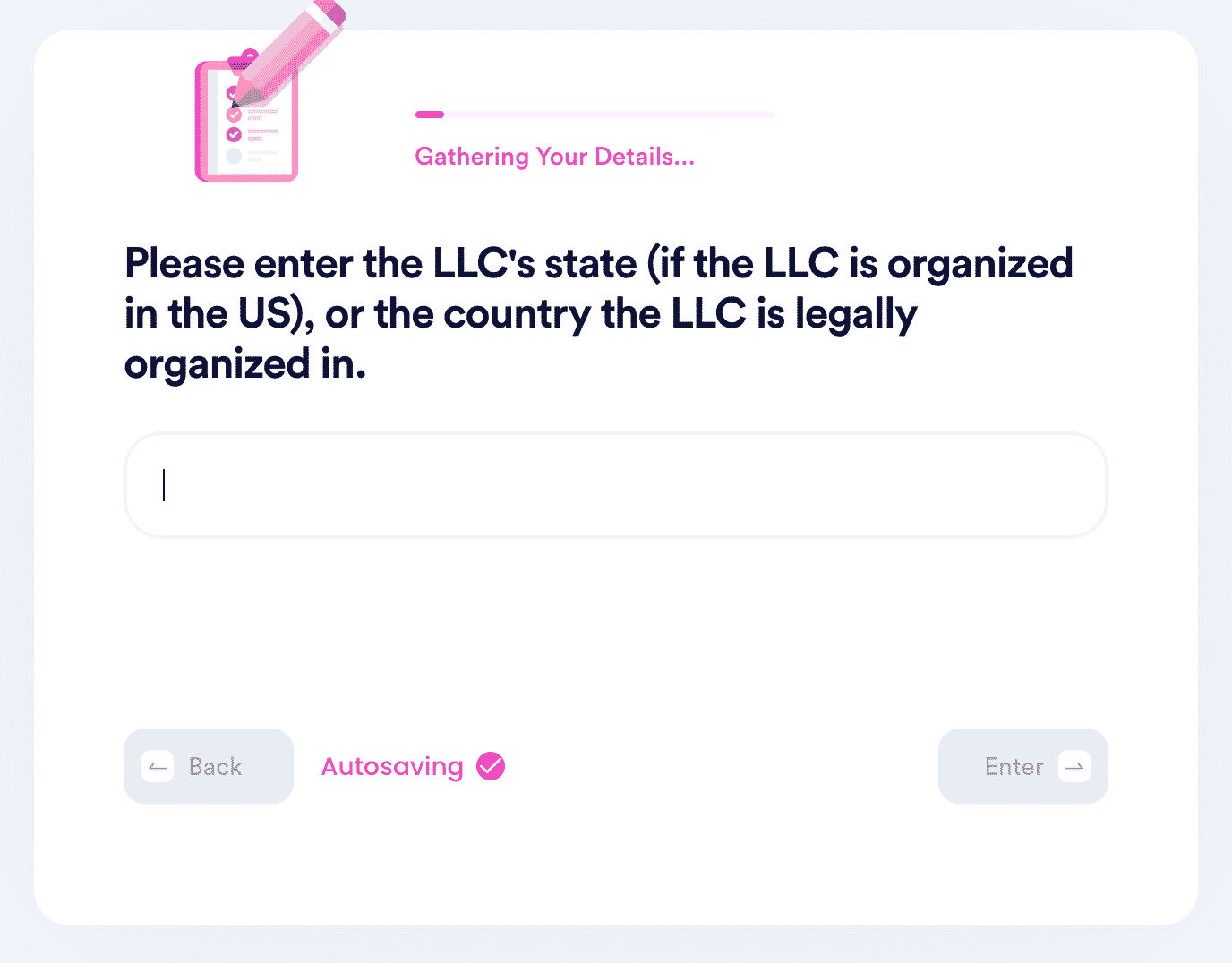 Our learning base boasts many other useful manuals that can help you unriddle trademarks and their use! Check out the list below to see some of the most common questions we can answer:
DoNotPay Goes the Extra Mile
Our app has much more to offer—products that will protect and elevate your business.
Count on DoNotPay when you want to:
Simplify Processes
Solve Issues

83(b) election form submission
Business loan application
Employer Identification Number (EIN) registration

Trademark infringement
Fraudulent chargebacks
Keep Your Company Safe
For your business to thrive, you need to be prepared for any problem that may come your way. This is where DoNotPay comes in! We can help you trademark your company name and even the logo or slogan. To avoid any copyright infringement issues in the future, you can use our app to register your DMCA agent. If you are worried about your clients' privacy, we will be glad to assist you in getting into the Privacy Shield program.
Are there any negative reviews online slandering your company? DoNotPay can help you get rid of fake comments potentially hurting your business.
As it all comes down to communication, we have developed a feature to help you reach your employees, associates, or clients the easy way. At no additional cost and no post office visit necessary, our AI-powered app can both fax and mail letters and documents.