Does a Spouse Automatically Have a Medical Power of Attorney? DoNotPay Answers
Suppose you lose your ability to communicate or think due to an injury or disease. In such a case, you should authorize another person to decide on your health care in your name. You may want to choose your spouse as your health care agent, but what does it take to do it legally?
Does a spouse automatically have a medical power of attorney? If not, how can you assign them the power to make medical care choices for you? Can you pick someone else as your health care agent, and who should it be? Don't let these questions puzzle you—all the answers you need are in DoNotPay's know-it-all guide!
What Is a Medical Power of Attorney?
A medical power of attorney is also often called a medical proxy or a health care proxy in many states. Unlike a regular power of attorney, this document isn't related to your finances or estate but your medical care preferences. It allows you to transfer your health care decision-making rights to a trusted individual—which is necessary if you lose the ability to decide for yourself due to:
Coma
Anesthesia
Vegetative state
Mental illnesses
Serious/incurable physical disease
Naming another person as your health care agent ensures that both medical workers and your loved ones will comply with your wishes.
In most U.S. states, a medical proxy is combined with a living will. It's a document listing specific guidelines related to your future medical care. These two documents are the most common advance/health care directives people opt for.
Do Your Powers Automatically Transfer to Your Spouse via a Medical Power of Attorney?
The powers to decide on your behalf aren't transferred to your spouse automatically. Your husband or wife can become your health care agent only if you specify so in a medical proxy. Otherwise, they can't make choices in your name.
Even if you appoint them as your agent via a health care proxy, the document doesn't become effective at the moment of signing. A doctor must confirm that you have permanently lost the ability to decide for yourself before your spouse can take over the responsibility for your medical care.
How To Create a Medical Power of Attorney and Name Your Spouse as Your Agent
The table below shows the most popular methods of creating a medical proxy:
Method
Explanation
Use a template
Medical power of attorney templates are easily accessible and can be downloaded for free but are too generic and often incomplete
Pay a lawyer to write a medical proxy for you
Attorneys know how to create living wills and medical proxies with zero mistakes, but these services often cost too much
Compose your medical power of attorney from zero
If you decide to create this document yourself, make sure you include the following elements:

Written statement that you are transferring the powers to make health care decisions for you to your spouse
Legal name, physical address, and contact details of your husband/wife
Specific rights you assign to your new health agent
Power limitations
Special (additional) instructions
Signatures of all parties involved, including witnesses (if you need any)

Use DoNotPay
If other options are too tiresome or expensive for you, subscribe to our app and get a medical power of attorney based on your circumstances fast
DoNotPay Creates a Medical Proxy Tailored to Your Wishes
If all attempts to acquire a medical power of attorney fail, DoNotPay has a perfect solution for you! Our AI-empowered app:
Gathers the essential details related to your health care preferences
Generates a fully personalized health care proxy
Allows you to have the document notarized digitally by enabling you to schedule a meeting with an online notary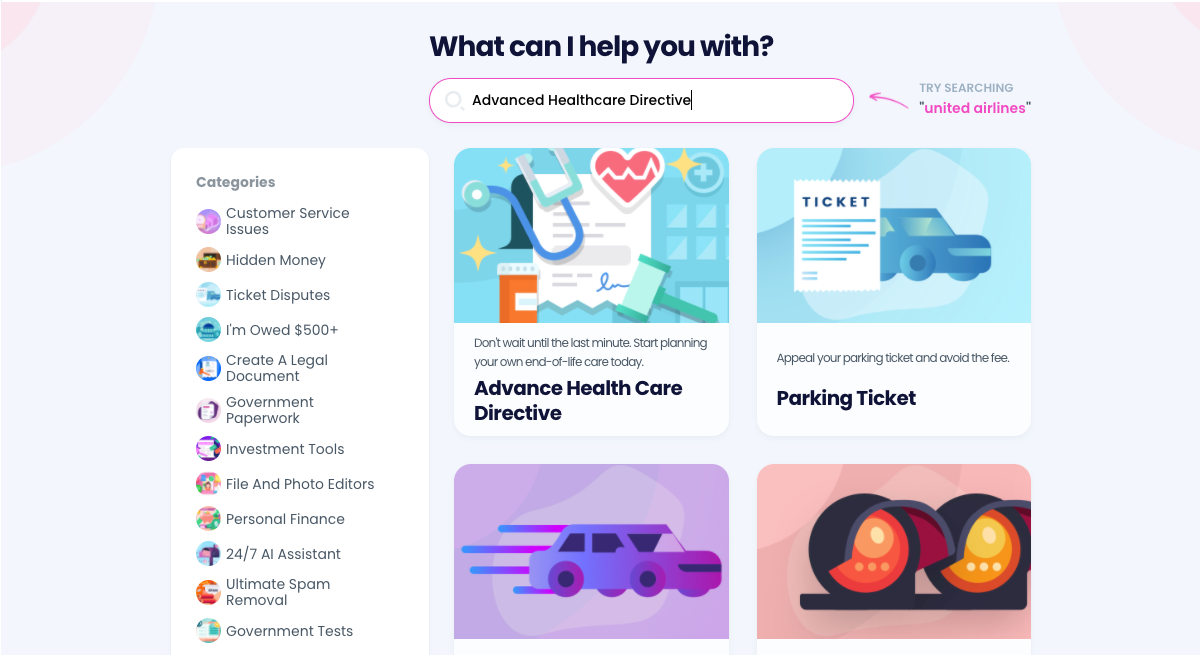 Here's what you should do:
Search for Advance Health Care Directive
Specify who your agent and your witnesses will be
Tell us more about your health and end-of-life care wishes
Save Time and Money Using DoNotPay
Being on hold while trying to reach customer service is no picnic. With DoNotPay, you can jump the phone queue and reach a rep with ease. Are you contacting a company to request a refund or cancellation? No need for that! Our app can get it done in a few clicks. We can also help you return an item or handle a late delivery.
Dispute parking tickets, claim your warranty or insurance, set up a DMV appointment, contact an embassy, and deal with any other task with our assistance.
You can also request access to public records, apply for tourist visas, or file complaints with the help of our AI-powered app.
We're Not Done Helping You!
Our multifaceted app keeps getting new features that can streamline numerous tasks and solve all kinds of problems.
Would you like to join sweepstakes or giveaways? Are you up for participating in clinical trials and earning some money? Are you interested in sending mail without visiting the post office? We've got it covered!
We will help you protect your privacy by putting an end to spam emails, incessant text messages, and robocalls. If you think you're being stalked, you can count on our assistance. You can also use our app to perform a sex offender search, fight workplace discrimination, and handle annoying neighbors.