Does a Revocable Trust Protect Assets From Creditors?
A common question amongst people looking to set up a living trust is: "Will it shield me from creditors?"
This article will go over which of the two types of living trusts (irrevocable trust vs revocable trust) can protect assets from creditors. It will also go over an easy way to create living trusts using a robot lawyer!
Revocable Trust vs Irrevocable Trust
When getting a living trust, you are typically faced with two options: Revocable trust and Irrevocable trust. Both are perfect for your estate plan because they become active right from when you sign up for any of them, unlike a will in which your death is all the activation it needs. 
However, there are major differences between a revocable trust and an irrevocable trust, and you should take a look at them before making a choice.
Irrevocable trust
Revocable trusts
Flexibility

An irrevocable trust is not flexible and cannot be modified once created. 

You enjoy significant flexibility and control. You can choose to remove or add assets at any time you desire. 

Ownership rights

Once you set up an irrevocable trust it becomes independent and you do not have the right to revoke or modify the terms of the trust or assets in it.

You still have significant power over the trust and the terms. 

Tax return

An irrevocable trust is opened with a new tax ID and all

tax obligations

are a problem of the trust, not the grantor. 

Most revocable trusts require the social security number of the grantor. The grantor is liable for the taxes in the trust.

Estate taxes

An irrevocable trust keeps the value of assets in your trust fixed which makes it easier to request both federal and state estate tax reductions.

With a revocable trust, you'll most likely incur estate taxes. This is because it is hard to figure out the exact value of your estate since there is no guarantee you won't make any changes to it in the future. 

Medicaid

Putting your assets in an irrevocable trust can also protect you from Medicaid deductions.

With a revocable trust, your trust is technically an extension of your assets and therefore can be used to offset Medicaid bills. 
The Living Trust That Protects Assets
An irrevocable living trust will protect your assets from creditors while a revocable trust won't. 
An irrevocable trust will prevent you from modifying your trust, but with it, you can shield your assets from creditors. This is because the assets inside the trust no longer belong to you. Since it becomes its own entity, it cannot be subject to estate taxes as well. The only scenario in which the trust will be closed is if there was fraud involved. Don't create an irrevocable trust to avoid paying your bills - the consequences will catch up to you!
If you choose a revocable trust you are guaranteed to enjoy unlimited flexibility and countless modifications, but you'll have to remain liable to your creditors. However, there are other ways you can still protect your assets from creditors while you have a revocable living trust.
Other Ways to Protect Your Assets From Creditors
File for bankruptcy.

If you file for bankruptcy, you send a signal to your creditor that you are unable to pay the debt. Your remaining assets will then be transferred to your retirement plan which is inaccessible to creditors.  

Purchase more insurance.

You can also purchase more insurance to ramp up your premium.

Invest in a house.

Most states have laws that prevent a creditor from laying claim to your house, regardless of what debt you owe. You can choose to preserve your assets by buying a house. 
How to Set-Up a Revocable Trust
If you've chosen to opt for a revocable trust instead, here are the steps you can take to get started:
Start by choosing the kind of revocable trust you prefer —

a joint

or an independent one.

Make a list of persons that will benefit from your trust. Keep in mind that the FDIC only offers insurance protection for five beneficiaries.

Choose your primary and secondary trustees and child custodians if you have beneficiaries who are not 16 years of age.

Select which assets you seek to add to your revocable trust. 

Notarize your revocable trust form at a state or county court.

Initiate asset title changes.
Have DoNotPay Create a Revocable Trust
DoNotPay gets your revocable trust up and running for significantly less money. Here's all you need to do:
Log-in to

DoNotPay

and go to the Revocable Living Trust service
Enter the state you currently live in
Assign your trustees and beneficiaries
Provide a list of the assets and properties that will go under the trust
Specify what should happen to assets not included in the trust
How easy was that? A downloadable living trust will be created in seconds! It won't be active unless it's notarized.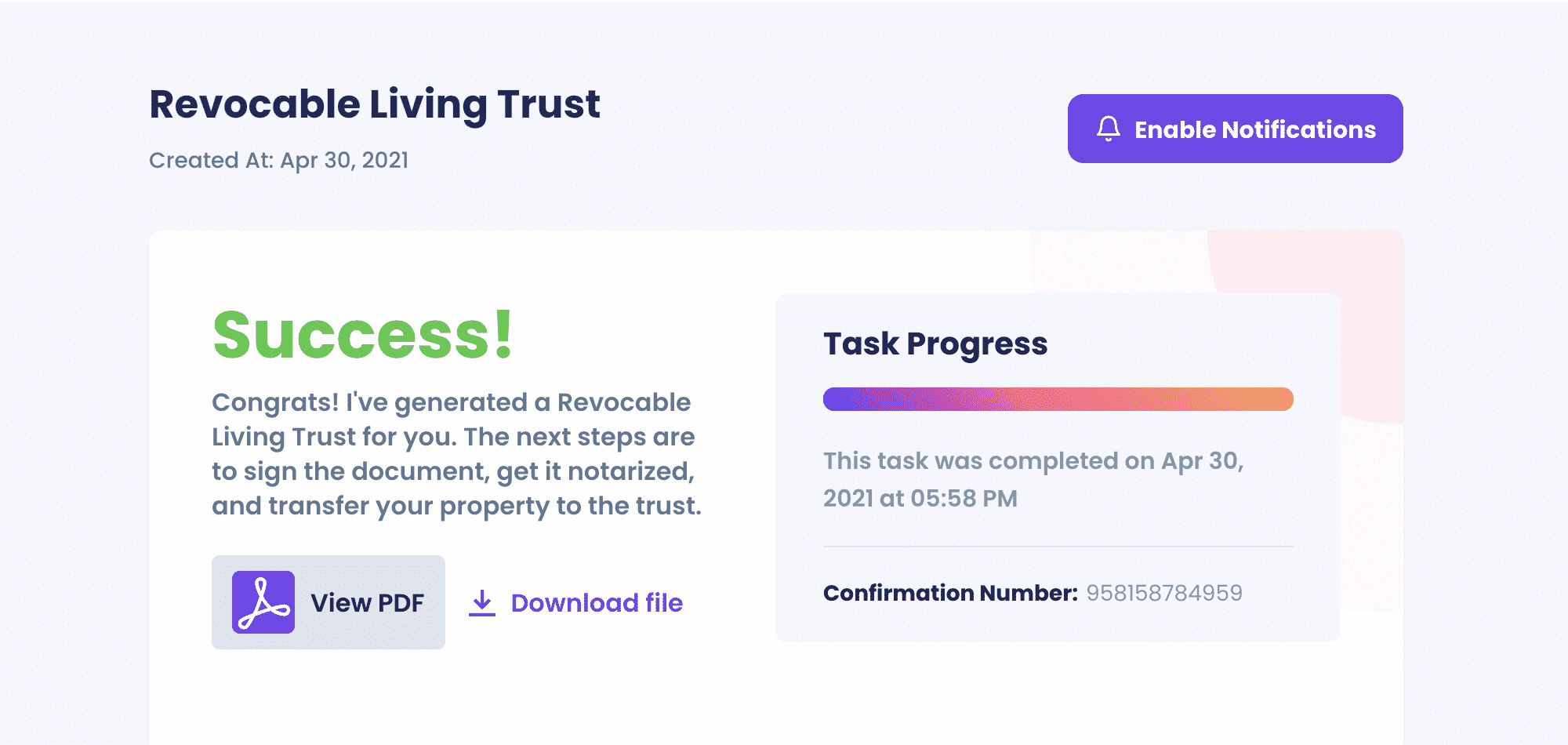 Living trust guides by state
Want to know more about living trusts in your state? Select your state below to find out:
What Else Can DoNotPay Help Me With?
DoNotPay is your personal assistant and lawyer in one app! Have another legal issue? DoNotPay can help you with: