Does a Living Will Need To Be Notarized in All U.S. States?
Creating a rock-solid living will is a must if you want your doctors and loved ones to follow your health care wishes in case you become too sick to express them. The question is—how does this document become legally binding?
Does a living will need to be notarized, and what is the best way to get it done? Read this article and learn how using DoNotPay can help you compose a living will or any other advance directive and get it notarized online with no trouble!
What Is a Living Will?
A living will is a document providing valuable health-associated instructions to your family and medical practitioner if you are incapacitated by an illness or injury. It lists all your medical care preferences and allows you to choose whether you want to:
Receive:

Specific therapies or medications
Hospice or palliative care
Comfort care and pain relief

Allow doctors to resuscitate you if you stop breathing or your heart stops
Be on life support or mechanical respiration
Get foods and fluids via a tube
Undergo surgeries, blood transfusions, or diagnostic tests
Donate your tissue and organs after death
This document is often combined with a medical power of attorney, also called a health care proxy in some states. A health care proxy helps you designate another person as your attorney-in-fact and authorize them to make medical care choices on your behalf if you are unable to.
Do You Need To Have a Living Will Notarized?
Whether or not you have to get your living will notarized depends on the state you live in. Most U.S. states require one or two witnesses to sign the document, and notarization is typically optional. In many of them, you can choose if you want to have the document notarized or signed by witnesses.
Find more details in the table below:
Two Witnesses Required
One Witness or a Notary Required
Two Witnesses or a Notary Required
No Witnesses or Notary Required

New Hampshire
North Dakota
South Carolina
West Virginia
Wyoming
Who Can Witness a Living Will?
There are not many requirements a witness to a living will must meet. It's crucial to choose a person who is:
Of legal age (above the age of 18)
Capable of confirming that you are mentally stable at the moment of signing
Able to testify that you are signing the document of your own free will
Who Can't Witness a Living Will?
In most states, no one related to you by blood or marriage can be your witness. The same goes for:
Adoptive parents and adopted children
Inheritors
Health care providers
Hospital employees
Health care agents
Primary medical practitioners
Use DoNotPay To Generate an Advance Directive With Zero Stress
Drafting a living will or an advance directive yourself may be difficult since you may not know what to include in it. The good news is that you don't have to hire attorneys to do it for you or use low-grade online samples. DoNotPay solves the matter in a heartbeat by providing you with a personalized living will based on your medical care wishes!
All you should do is:
Pick Advance Health Care Directive
Provides us with the names of your health care agent/witnesses
Tell us more about the instructions you want to include in your living will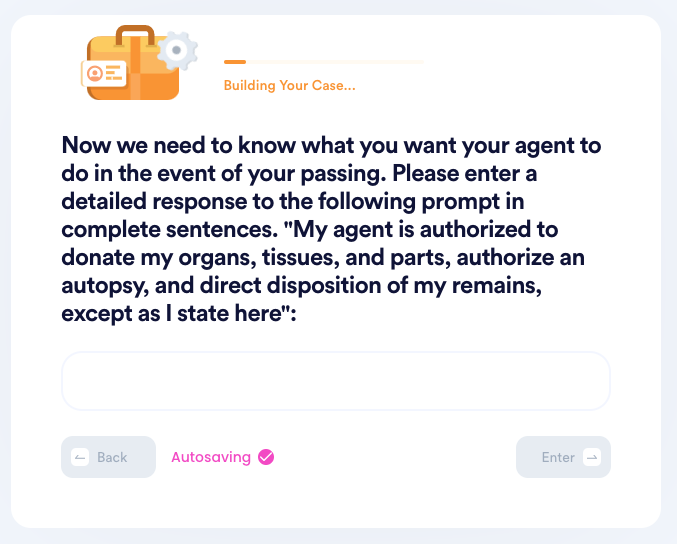 Besides generating the document, our app can also help you schedule a meeting with a remote notary and get your living will notarized from the comfort of your home!
Read our knowledge base to learn more about other health care directives, living will costs, the contrast between a health care proxy and a power of attorney, and much more!
Rely on DoNotPay and Get Rid of Administrative Issues
Are you tired of returning items, canceling subscriptions, fighting parking tickets, and mailing letters? We can help you fast-track all these tasks and more! Do you need help reaching customer service, fighting workplace discrimination, submitting defamation demand letters, or filing HR complaints? Use DoNotPay and solve any issue without a hitch.
Feel free to also use our app to study for government tests, apply for scholarships, appeal low financial aid offers, and request college fee waivers.
Do you need help paying bills? DoNotPay can assist you in lowering your property taxes, getting gift card cash back, entering sweepstakes and giveaways, and getting refunds.
With us, you'll be able to both earn and save money!
Say Goodbye to Spammers With DoNotPay's Assistance
Getting spammed on the daily? Our app can put an end to this annoying issue! Block spam emails, text messages, and robocalls in a few clicks. We can even help you deal with stalking and harassment.
Thanks to our Burner Phone product, you'll get a temporary phone number that you can submit when registering on different platforms and protect your privacy.
Another way to keep your privacy intact is using DoNotPay's virtual credit card. Signing up for free trials without hidden charges and revealing your contact details has never been easier!