Does a Living Trust Need to Be Recorded in California?
A living trust is a legal document that can help you manage and distribute all of your assets efficiently. Unlike a will, it can function while you are still alive. Creating a trust can be especially useful when it comes to protecting your privacy!
If you live in the state of California and want to discover how to draw up a revocable  living trust of your very own, then keep on reading!
California Regulations About Living Trusts
If one of your main concerns is privacy, then look no further than a living trust. In the state of California, living trusts are not recorded anywhere, which means that the document itself remains private even in the event of the person's death. 
The only exception to this rule would be if the trust holds title on real estate property, because any transfer of real estate must be recorded in California's county recorder's office. But aside from real estate, all other assets within the property of the trust will always remain private. 
How to Create a Living a Living Trust in California
Hiring an attorney

Most  attorneys who deal with estate planning are well versed on how to create a living trust.

The only downside to this option is that the cost of hiring an attorney can be incredibly expensive. 

The average attorney will

charge

anywhere between $250 and $350 for an hour of their time. 

Using online templates

There are plenty of

online that can be used in order to create a living trust.

Just make sure that the website you are using is reputable, and that the template is specific to the type of living trust you want to create (irrevocable or revocable).

Figuring it out on your own

With enough research online and by finding examples of other living trusts, you could technically write the document on your own.

This option does require that you set aside a significant amount of time, so it may not be your best bet if you are generally busy throughout the week.

Using DoNotPay

By using DoNotPay you can create a revocable living trust in just minutes.

The entire process can be completed from the comfort of your home.

All you need to do is answer a couple of questions. 

This option saves you from having to pay expensive attorney fees. 
Benefit of Having a Living Trust in California
Probate is the court process that handles the distribution of someone's assets when they pass away. The process can take anywhere between 6 months or 2 years. If you want your family and loved ones to have access to your assets quickly and without hassle, then leaving a living trust helps skip the probate process altogether.
How you distribute your assets can be a very meaningful process. Things like your home, your savings or your business, probably took a long time to earn. It's important that you have a say in how your assets will be managed and distributed when the time comes. 
Revocable vs. Irrevocable Trust - What's the Difference?
Before creating your living trust, you'll need to figure out which one to make.
Irrevocable living trust
True to its name, this type of trust is very secure and very difficult to change. 

Once an

irrevocable living trust

is signed and notarized, it becomes almost impossible to change things like your trustee, beneficiaries, or assets included. 

Furthermore, you lose complete ownership of anything you placed within the trust and it becomes its own tax

entity

.
Revocable living trust
A revocable living trust provides more flexibility than its counterpart.

It can be changed throughout the course of your life and it can even be completely retracted.

With a revocable trust, you will still have ownership of your assets even after you transfer them into the trust. 
Create a Revocable Living Trust With DoNotPay
If you want to skip the hassle of finding someone to create the perfect living trust for you, then is the answer to all your troubles. Our robot-lawyer can create a tailor-made living trust document in just a matter of minutes!
Here's how it works: 
Log-in to

Find the Revocable Living Trust service
Enter your state of residence
Choose who you want to name as your trustee
Choose who the beneficiaries will be
List all the assets you want managed by the trust
Review the document automatically created by DoNotPay and confirm that everything is in order. That's it! All you need to do now is validate the document by signing it before a notary public.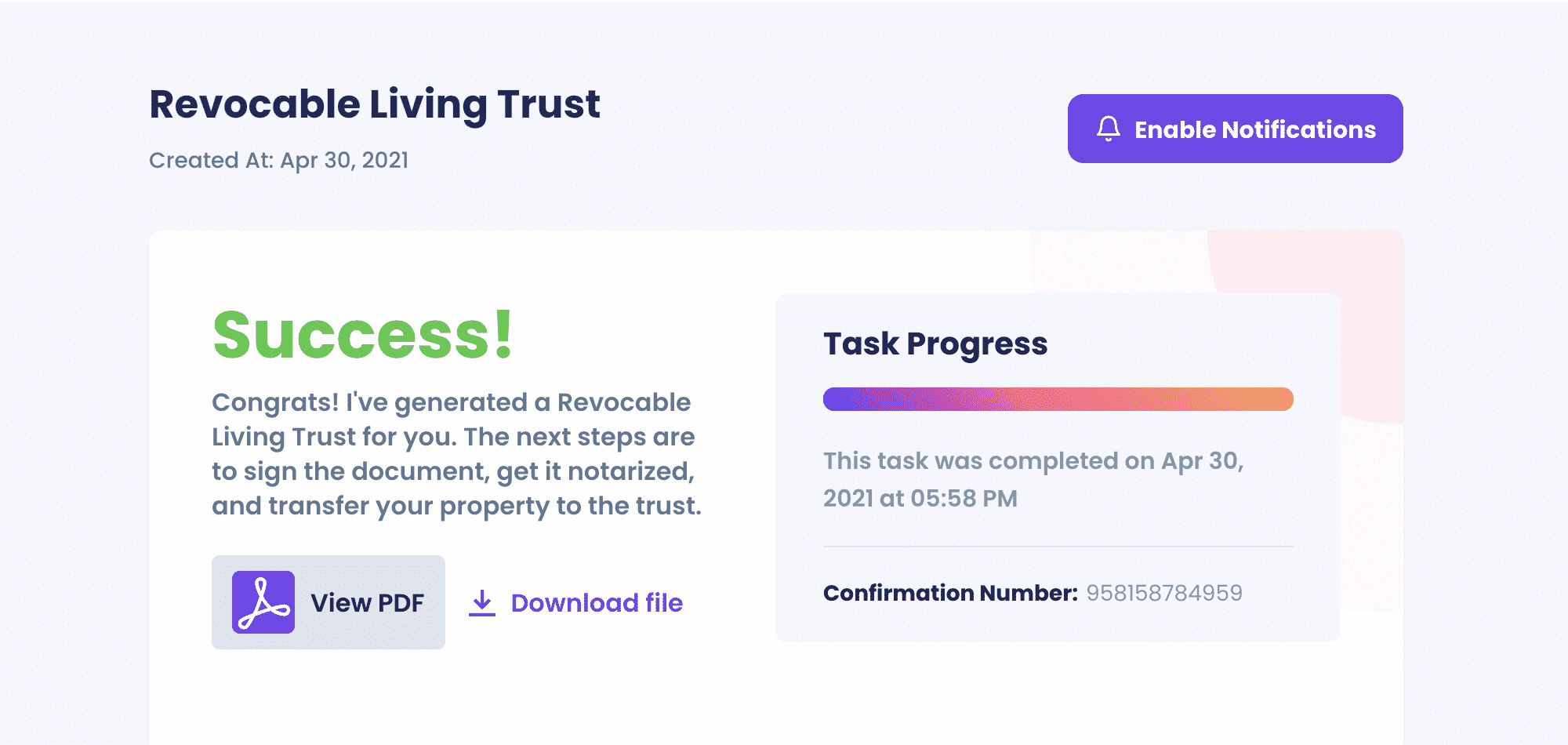 DoNotPay Can Do More
The AI-powered robot lawyer can help you with day-to-day issues such as cancelling subscriptions, creating passport photos, appealing parking tickets, and so much more! Here's what else we offer: