Does a Living Trust Avoid Probate? 
Distributing your assets amongst your family and loved ones is an important aspect of estate planning, but probate can prove to be a frustrating obstacle if you're not prepared. Creating a living trust can be a great way to skip over the probate process and avoid having the distribution of your assets being delayed. 
This article will help you discover everything you need to know about avoiding probate using a living trust!
How Exactly Does Probate Affect Your Asset Distribution?
When someone passes away without having specified how they wish to distribute their assets, the assets are subject to go through probate court.

Probate gives your local courts the authority to distribute your assets amongst your family members in whichever way they deem to be fair. 

Even if you leave a

will

to explain how you would like to distribute everything, the probate process will still occur because the courts have to oversee the transfer of ownership for each of the assets. 
How Much Time Does Probate Take?
Once the court begins probate, the process can take anywhere from 6 months to a couple of years. 

This can depend on whether a will was left behind by the deceased or how massive the assets are.

In many cases, there can be disputes amongst the beneficiaries regarding the court's distribution, which can prolong the process even further. 
Create a Living Trust and Skip Probate
If a person has established a living trust prior to passing away, then their family and loved ones can skip the probate process altogether and receive assets directly.
This saves your family from having to deal with the courts for extensive periods of time and guarantees that your wishes are respected. Instead of having the courts rummage through your property, you will be able to appoint a trustee who will make sure that each beneficiary receives what you intended.
Protect Your Privacy With a Living Trust!
Aside from helping you avoid probate, another great benefit of creating a living trust can be securing your privacy! 
Because probate is a court process, it goes on public records and can be accessed by anyone. This means that strangers can be privy to your assets and how these will be distributed amongst your benefactors. 

A living trust,

by contrast, is a

private document

and cannot be accessed by anyone but your appointed trustee. This ensures that your assets and your choice of distribution remains a private matter. 
Irrevocable vs Revocable Living Trusts
If you want to benefit from all the comforts of creating a living trust, then the most important thing to decide is whether you will be creating a revocable or irrevocable one.
Check out the table below to understand the main differences between the two:
Ownership of your assets
Flexibility when it comes to making adjustments
Irrevocable living trust

An irrevocable living trust

transfers ownership of your assets entirely to the trust itself. 

This means that you will not be able to access any of the assets you place within the trust. They will remain a property of the trust until they are passed on to your beneficiary.

After you sign and notarize the document, it can be almost impossible to make any changes to an irrevocable living trust - no matter how minor.

These kinds of trusts are rigid, so you have to be very careful when it comes to choosing your trustee, beneficiaries, and distribution of assets.

Revocable living trust

Although you technically transfer your assets into the trust, a revocable living trust allows you to retain ownership over them. 

This means that you will still be able to access the properties, finances, and business you placed within the trust.

One great thing about a

revocable living trust

is the flexibility that it offers. With this type of document you can make changes to your living trust throughout your lifetime. 

Whether you change your mind for practical or personal reasons, your hands won't be tied when it comes to rethinking your beneficiary, trustees or the assets involved. 
Get a Living Trust Using DoNotPay!
Skip the expensive attorney fees and the hours of research on how to write a good living trust, with DoNotPay you can have a revocable living trust without hassle and without worries. If you want a fast, efficient and easy way to create the perfect living trust, then look no further than DoNotPay!
Log-in to

Find the Revocable Living Trust product
Enter your state of residence
Provide details about your trustees and beneficiaries
Enter the assets and properties that will be included in the trust
That's all you need to do to get your very own revocable living trust using DoNotPay!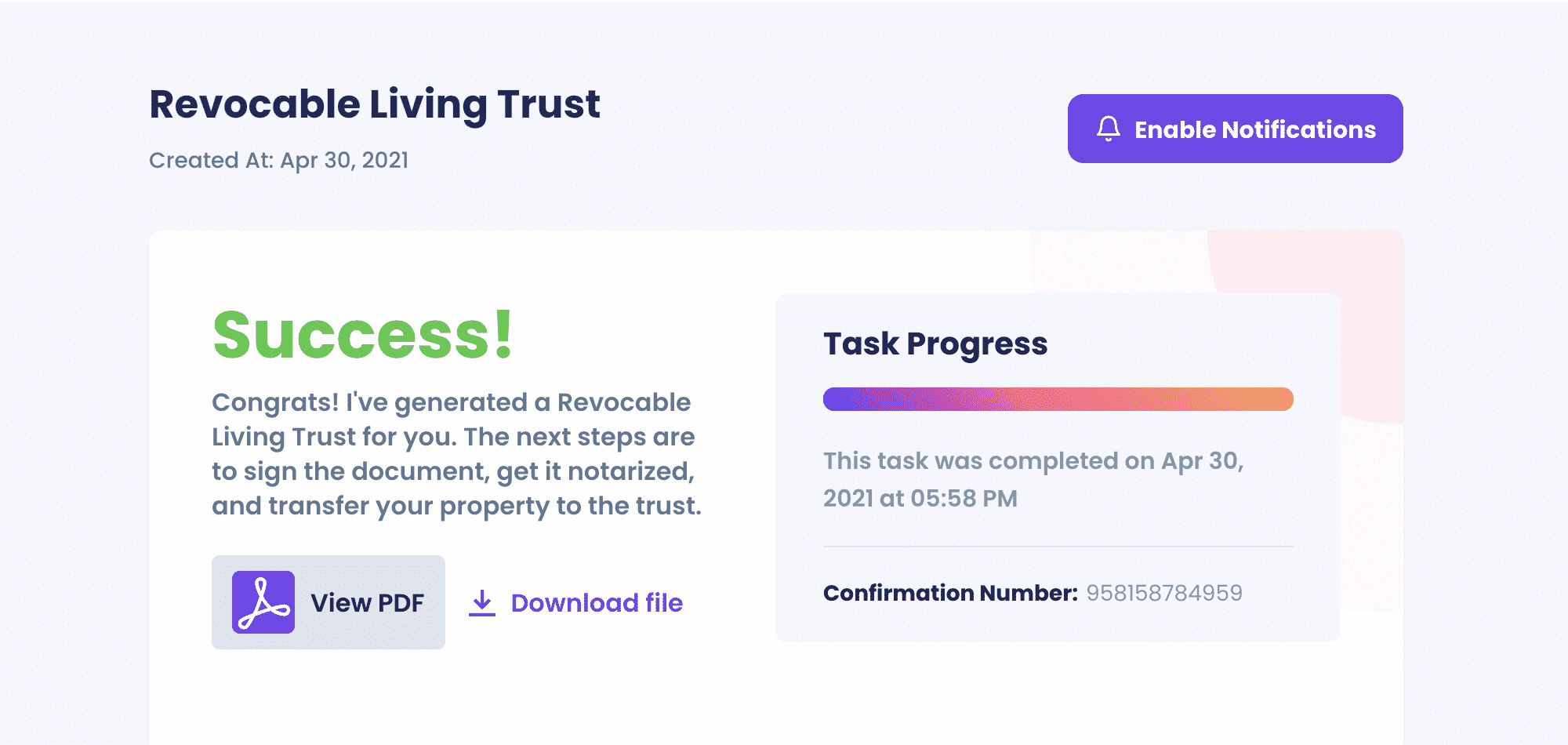 Living Trust Guides by State
Here is a list of all the places where DoNotPay can assist you in creating a living trust:
What Else Can DoNotPay Help Me With?
Sometimes, it sucks having to deal with small things yourself. Let DoNotPay work on your chores for you: