Get the Gist of Using a DOCX Converter
The DOCX format is a type of Microsoft Office Open XML document that is used as the default format for Microsoft Word 2007 and later. You can convert various document types to DOCX and vice versa. To achieve that, you can use different DOCX converters.
You can find a DOCX converter online and use it to turn a wide range of files into Word documents. However, you should keep in mind that using these converters isn't always safe, and there are certain issues that can arise. That's why we provide you with all the info you need before using this type of converter, including how the process works and what issues you can expect.
You can also opt for an alternative conversion service by signing up for DoNotPay—an award-winning app that converts various files for you safely in a few seconds.
How To Use a DOCX Converter Online
If you decide to convert your file to DOCX online, you should first get acquainted with how the conversion process works. The list below provides you with all the details:
Pick the website you want to use
Import the file you want to be converted
Choose DOCX as the output format
Wait for the conversion to take place
Download the converted file once done
If you can't decide what converter to use, check out the list below to see some of the commonly used ones:
CloudConvert
PDF to DOCX
Zamzar
All of these web-based converters are essentially the same and work in the exact same way. The conversion process with them is simple and doesn't take too much time, but that's pretty much where the benefits stop.
What you may not know about these converters is that they can do more harm than good, and that's what we'll shed light on. But not to worry—should you decide this option isn't for you, there is always a safe alternative!
The Problems You Can Run Into When Using Free DOCX Converters Online
Before choosing a free online DOCX converter and using it to convert your files, you should learn about the possible issues and dangers you can encounter during the process.
Firstly, the files produced by these tools usually lack the details and formatting that were initially there.
Your data might not be protected properly, which leaves you susceptible to data loss and identity theft. These converters usually fail to encrypt the files they produce, which often results in your computer getting infected with malware and viruses.
If you still want to use a free online converter, you need to make sure it's safe by checking out user reviews, for example. Your best bet, though, is to use DoNotPay.
DoNotPay Converts Files to DOCX the Safe Way!
Don't want to risk your safety or your computer catching a virus? You don't have to! DoNotPay's File Converter product can help you convert a wide range of files securely. You won't have to worry about the safety of your files since we remove them 24 hours after the conversion, and you can expect the quality of your file to remain high. The conversion process is super simple as well—here's what you need to do:
Access DoNotPay and open the File Converter product
Upload the file you wish to convert
Choose DOCX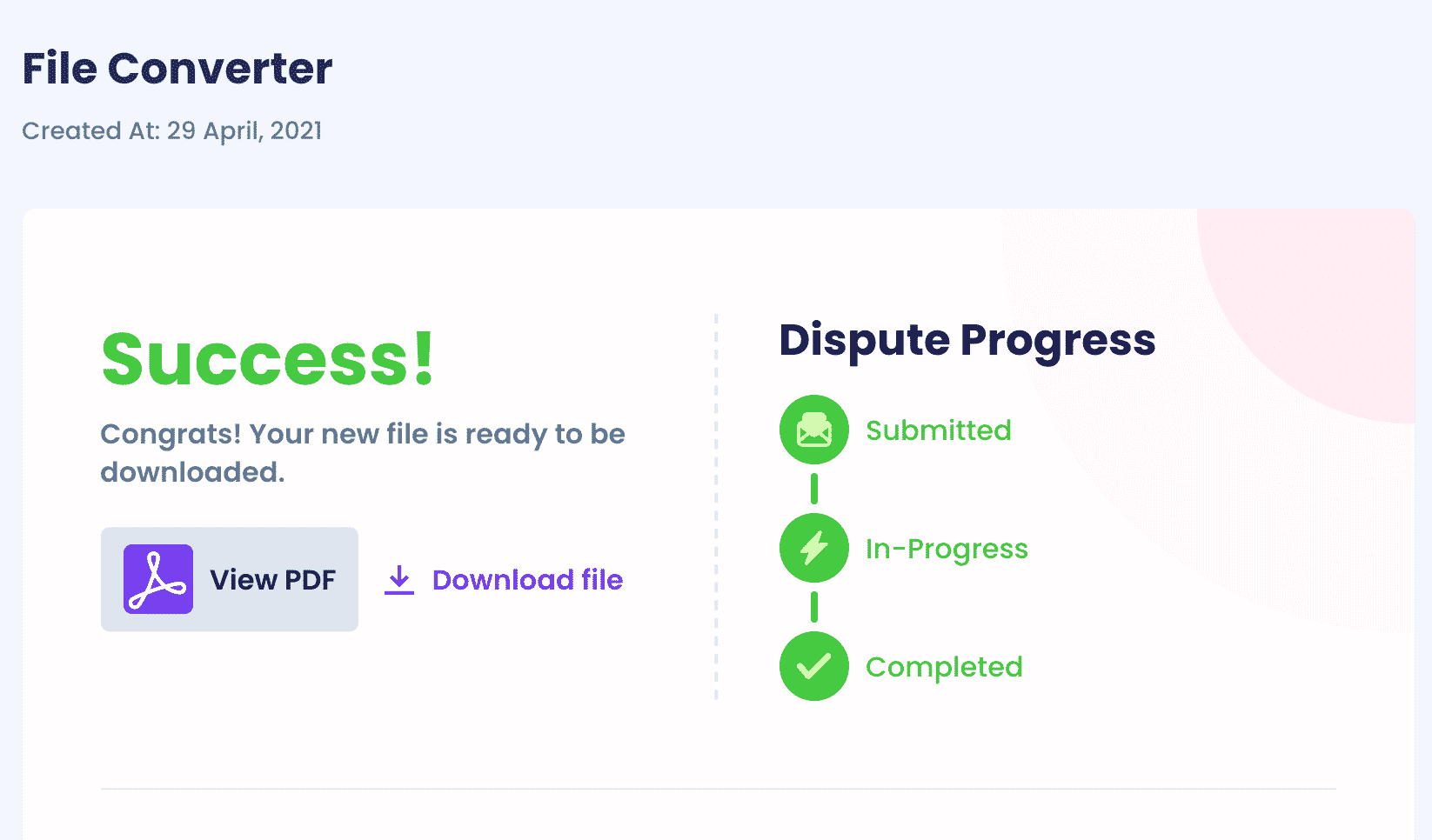 Our app converts your file in a few seconds, and you can download it from the My Disputes page promptly!
What Other File Types Can DoNotPay Convert?
Are DOCX files not the only ones you want to convert? We would be happy to help! With DoNotPay, you can convert any of the files mentioned in the table below and more:
Hundreds of Useful Features at Your Fingertips
What makes DoNotPay stand out from regular file conversion tools is the array of other features you get access to once you start using our app.
On top of converting hundreds of file types, you can also use DoNotPay to:
Compress your files

so they don't take up too much space
Download videos from social media and the web

Convert all manner of online videos to MP3 files

with a click
DoNotPay isn't just a converter—it's an app designed to make your life easier by automating tedious and complicated tasks. You'll find hundreds of different products inside our award-winning app that will help you save time and money!
Create Legal Documents, Cancel Subscriptions, Appeal Parking Tickets—All With One App!
There's no shortage of tasks DoNotPay can assist you with. For example, the world's first robot lawyer can help you with all manner of legal processes, including:
You can also have DoNotPay handle tedious, time-consuming tasks, like filing complaints, requesting refunds and chargebacks, canceling subscriptions, contesting parking and seatbelt tickets, and fighting email spam for you.
DoNotPay can also save you hundreds of dollars each month by helping you reduce property taxes, lower your bills, and find unclaimed money in your name.