Finding the Best Document Converter Out There
Not everyone has a computer capable of handling every file type that might come their way. This is where a document converter comes in handy. There are free document converters available online that can help with the conversion process, but it's important that you research each one before using or downloading them.
This tedious and time-consuming task can be avoided if you sign up for DoNotPay. Using our document converter, you can convert a variety of files to other formats safely and in no time! It is easy to use and requires minimum effort on your part.
Should I Use a Downloadable Document File Converter or an Online One?
If you just need to convert one file to another format, it might be easier for you to use an online conversion service. However, if you need to convert a large number of documents frequently and want to have more control over the conversion process, it may be worth your time to use an offline tool. Offline converters offer batch conversion and other features.
When it comes to online document converters—besides the fact that they are free and easy to use—they are a convenient option for people who are in a hurry to convert their documents since no additional software installations are required.
All you need to do is take three simple steps to have your file converted in less than a minute:
Upload the document you want to convert
Select the format you want to convert it to
Click on the Convert button
Here are some commonly used online document converters:
| Converters | Description |
| --- | --- |
| Zamzar | Zamzar is a free online file converter that converts files from one format to another. The supported formats include DOC, DOCX, PDF, PPT, XLSX, and many more |
| CloudConvert | CloudConvert is an online converter that allows you to convert any type of file to another for free |
| Convertio | Convertio is a file conversion website that enables users to convert just about any file type to another. No downloads are required |
Why Using an Online Document Converter May Prove Problematic
Many of the online services are limited in what they can do, especially when it comes to proprietary file formats. In most cases, you won't be able to convert files larger than 20 MB. If you have a lot of files in a specific format, you'll need hours to convert them all because batch conversion is not possible with online converters. Also, free online services usually limit the daily number of conversions.
You should be extremely careful about which online converter you choose. Sketchy online converters could lure you into downloading files infected with viruses or malware. If there are too many ads or grammatical errors on a file conversion website, you should probably avoid it.
Conduct thorough research before using an online converter to prevent security and privacy issues. Make sure you read the Privacy Policy, Terms and Conditions, and reviews from previous users.
DoNotPay Is Your Best Bet When It Comes to Document Conversion!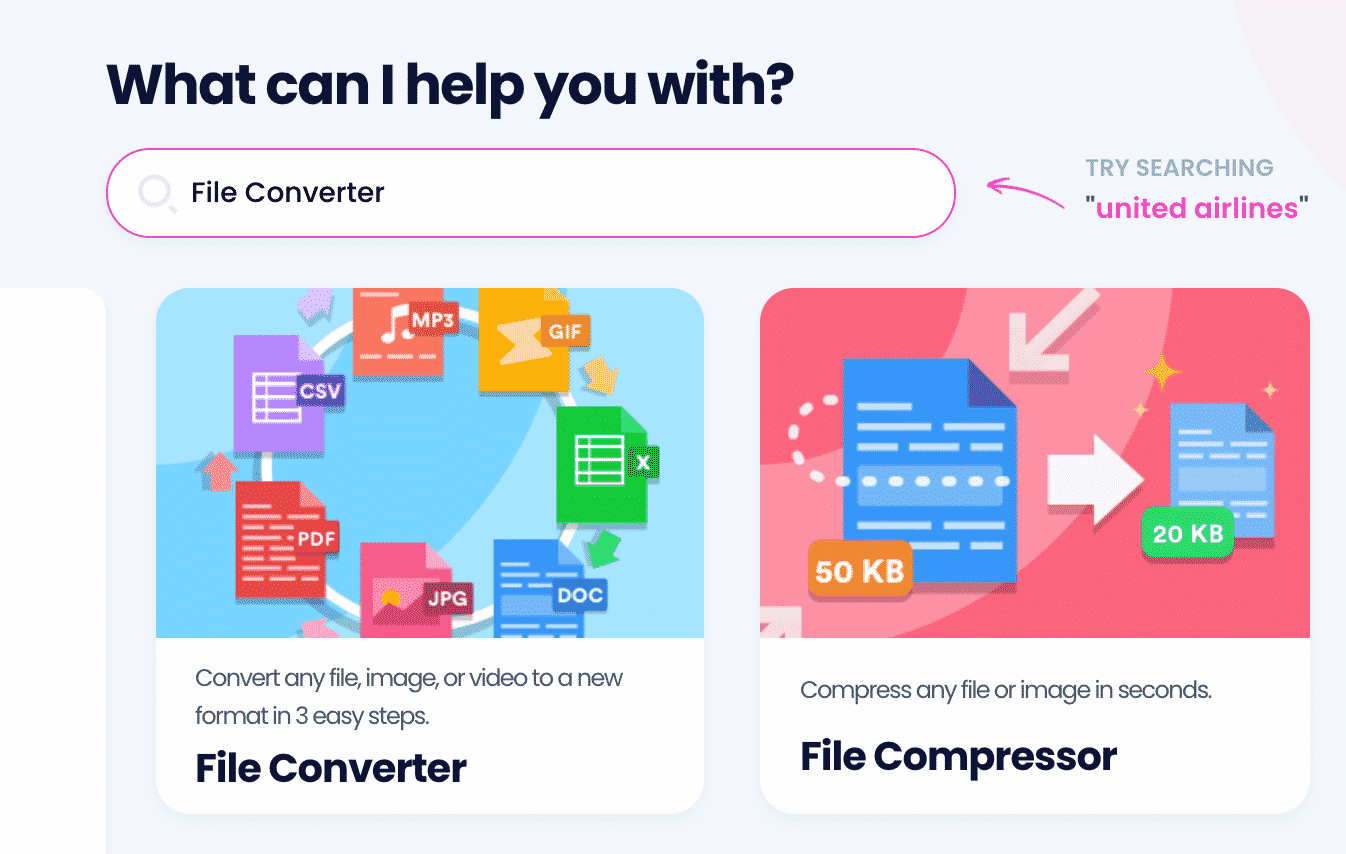 Using DoNotPay, you won't have to worry about the safety of your files! Providing you with high-quality output and protecting your privacy are our main priorities. The initiate the conversion of your documents, you'll need to log in to your DoNotPay account and take the following steps:
Open our File Converter product
Upload the document you want to convert
Select the output format
You can expect your files to be ready for download in only a few seconds. To download them, you should go to the My Disputes page. All files you've converted using DoNotPay will be removed from our servers 24 hours after the conversion.
What Other Files Can I Convert Using DoNotPay?
Using DoNotPay, you can convert 100+ different file types on any computer and without annoying ads popping up. Our other file conversion guides can be found in the table below:
Much More Than a Simple File Converter
When you're converting files, keep in mind you'll need hard disk space for both the original and the converted file. While the HDD space individual files take up is barely noticeable, if you're planning on converting multiple files, it can quickly add up.
Luckily, DoNotPay also lets you compress files to make them easier to store. You can also use our award-winning app to convert online videos to MP3s, as well as download videos from social media and the web and save them on your device.
DoNotPay Offers Unmatched Functionality
DoNotPay offers a lot more functionality than a regular file converter. On top of these file management features, you'll find hundreds of different products within the app that can facilitate, streamline, or automate a wide variety of tasks, saving you time, money, and nerves!
Here are just some of the areas in which you'll find DoNotPay's assistance invaluable:
| Legal | Time-Saving | Money-Saving |
| --- | --- | --- |
| | | |
The possibilities truly are endless with DoNotPay!