Do You Need a Lawyer To Get a Power of Attorney? DoNotPay Provides the Answer!
Can you draft a POA document on your own? Do you need a lawyer to get a power of attorney? We are happy to provide you with the answers to all your POA-related questions and help you draw up a POA in only a couple of minutes!
Sign up for DoNotPay for the most streamlined way of drafting POA documents!
Do I Need a Power of Attorney—POA Explained
A power of attorney is a legal document that one person (known as the principal) can use to appoint another individual (known as the agent) to handle his or her personal, financial, and other affairs. This document allows the principal to transfer certain powers to their trusted agent in case they become incapacitated or unable to make decisions on their own.
Having a power of attorney isn't mandatory, so you don't necessarily need one, but getting one would be a good call for several reasons, including:
Not having to worry about what happens to your finances if you become incapacitated
Being able to choose the person of trust to make decisions for you
Getting to shape the document to your liking and specify the exact powers the agent would get
Avoiding the necessity for guardianship (guardianship is the process where the court appoints a person to be the principal's guardian)
Depending on what powers a principal wants to transfer to an agent, he or she can choose from the following POA types:
Type
How It Works
General power of attorney
The general POA allows the agent to make financial, health, personal, and other decisions in the principal's stead. The agreement is in effect only while the principal is mentally competent
Durable power of attorney
The durable POA stays in effect even after the principal's incapacitation and lets the agent handle legal, financial, and property matters
Limited power of attorney
The limited POA allows the principal to transfer only specific powers and make the agreement time-limited so that it lasts for as long as he or she needs it
Financial power of attorney
The financial POA enables the agent to deal with finances, bills, and real estate matters of the principal, and it can be:

Effective immediately
Sprung (effective once the principal becomes incapacitated)
Do I Need a Lawyer for the Power of Attorney?
You can get a power of attorney without having a lawyer involved, but that doesn't mean you shouldn't hire one.
Although having a lawyer handle your POA isn't required by law, writing a power of attorney can be tricky and confusing. The legal terms and protocols involved in composing a POA document can be difficult for someone who isn't used to dealing with these matters. That's why hiring a lawyer would be the best course of action—a lawyer would help you write the document in accordance with your state's laws and review it afterward to make sure everything is in order.
When Do You Need a Lawyer for the Power of Attorney?
If you don't know what the laws of your state require you to do when writing a power of attorney or where to begin with the procedure, hiring a lawyer would be a good option. They can assist you in composing your document and make certain it is valid for a certain fee.
Keep in mind that lawyers can be quite expensive and charge you a hefty amount for their service. If you want to draft your document quickly and save a pretty penny, we present you with a convenient alternative—DoNotPay.
Do I Need a Lawyer for the Power of Attorney? No! All You Need Is DoNotPay!
Since hiring a lawyer is desirable when writing a power of attorney, our robot lawyer will do the job in a faster and more affordable way! Why spend a ton of money or waste hours struggling to write your document when DoNotPay can draft it for you in less than five minutes?
All you need to do is follow these instructions to get started:
Say what powers you want us to include in your agreement
Answer a few simple questions
And there you go! DoNotPay will generate your POA document instantly, and all that's left is for both parties to read the notices and sign the document.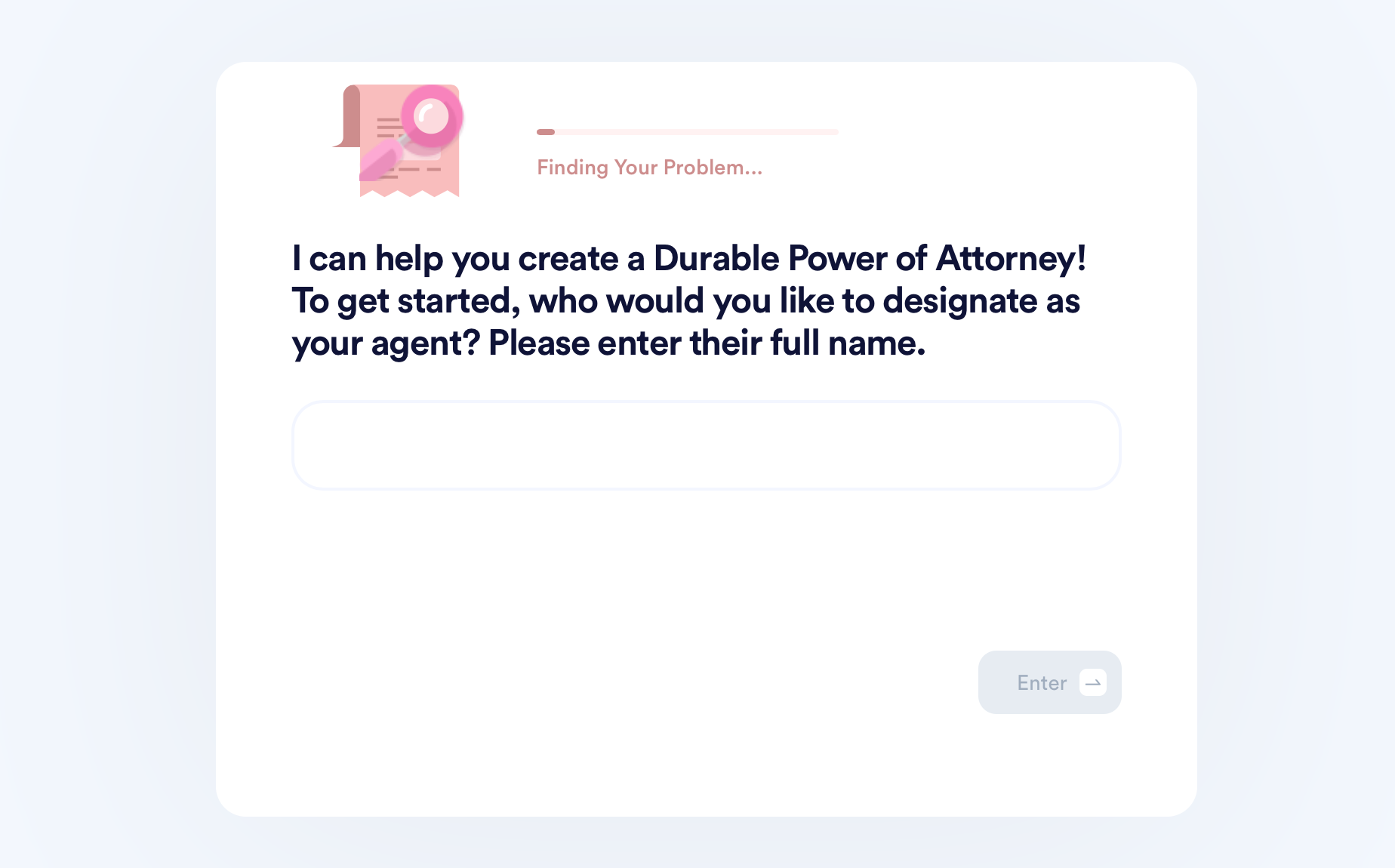 The POA process in most states requires the document to be signed in front of two witnesses and/or a notary public. You should check to see the requirements for your state and get your POA notarized in any case, to be on the safe side. You don't have to struggle, though—DoNotPay helps you get your POA notarized without any hassle! Once we draw it up, move on to our notary product, and you're golden.
Need Additional Assistance? We Got You!
There's more DoNotPay can help you with! Check out the list below to see what else our Al-powered app can clarify for you:
Paying for Lawyers? We Don't Think So!
For an average Joe, any mention of legal terminology and complicated administrative processes is likely to cause a headache, and understandably so! Still, you don't have to jump the gun and hire expensive lawyers for the smallest matters.
It's the 21st century, and everything is automated. Why would it be different with bureaucracy? DoNotPay can help you draft efficient neighbor complaint letters, prepare you for a small claims court appearance, or create standardized legal documents and have them notarized online.
Our app is a great resource for fighting workplace discrimination, stopping stalking and harassment, protecting copyrights, securing compensation for victims of crime, and even reducing property taxes—all at a fraction of the price of traditional legal help.
Need To Do Some Penny-Pinching?
Whether you're saving for rainy days or a new gadget, DoNotPay can provide numerous options to save and earn more cash.
Do you need help with utility bills? Are you wondering how to get those few dollars left on your gift cards? Are you unsure about how to find your unclaimed money? If the answer is yes, our app can help.
With our assistance, you'll be able to enter raffles, start free trials with no risks, participate in lucrative clinical trials, or claim refunds for late deliveries!