Do You Have to Pay Child Support?
Every parent wants to do the very best that they can for their child—but if you are a single parent, the financial pressure can feel especially intense. Figuring out how to make child support payments when you might struggle to pay your own bills is a unique challenge and one that DoNotPay understands.
If you are wondering if you have to pay child support on a low salary, DoNotPay can help guide you through the process. If you think that you have payment obligations to an ex-spouse, this guide will walk you through the process, helping you find out the laws for your state and introducing you to a simple way to lower debt brought on by child support payments.
Child Support Guidelines by State
Each state has its own laws in place for handling child support payments. Furthermore, your own unique circumstances might change the way that the court dictated the terms of your child support arrangement. You can locate your state of residence in the table below and click the link to learn more about the laws and legal obligations for child support in your state.
What Should You Do If You Can't Make Your Child Support Payments?
You might have been making child support payments for a while, or you could just be starting the process - either way, making a monthly or weekly child support payment can take a serious chunk of your budget. If you find yourself struggling to make your child support payments, there are a few things you can do before taking your case to court. These things include:
Make a monthly budget, including how much you bring in and how much you spend each month on bills
Look at ways to cut extra expenses. Can you eliminate your daily to-go coffee order or reduce the cost of your cable bill?
Don't be afraid to ask for discounts and coupons on regular bills. Many service providers offer discounts for regular customers.
Look at picking up a side gig or part-time job. A lot of part-time jobs can be done from home and might give you the leeway you need to make your payments on time.
If you've worked your way through this list and still find yourself in need of support, it's time to take the next step and formalize matters.
How to Request to Lower Child Support Payments on Your Own
Sometimes, there's no way to make the math work. In those cases, you might find yourself going into debt in order to make your child support payments. If you're in a tough financial position, you can tackle the challenge of requesting lower child support payments.
The process of requesting lower child support payments greatly depends on your state of residence, but here are some general tactics you can try.
Talk to your ex-spouse about your child support obligation. If the breakup was amicable, you should be able to come to a sort of understanding about lowering child support payments, especially if you have a history of on-time payments.
Discuss lowering child support with your lawyer. If there is an easy way to petition for lower child support payments, your lawyer should be able to direct you to it. Be prepared to provide evidence of your current financial situation, including pay stubs and a list of your monthly expenses.
You can petition the court that issued your initial child support declaration. This is a direct method of getting in touch with the presiding judge, but it also might take months before the court is able to review your case and make a decision - which could mean that you will go further into debt in the meantime.
Any of these methods can be not only stressful but incredibly time-consuming, forcing you into uncomfortable situations and conversations. Fortunately, there's a better way. DoNotPay is the fast, easy, successful way of lowering child support debt. We petition on your behalf, explaining your financial situation and helping you navigate the process of asking for lower child support payments.
How to Lower Your Child Support Debt Using DoNotPay  
Here is how to lower child support debt using DoNotPay:
1. Search child support on DoNotPay and enter the details of the person who owes the payments.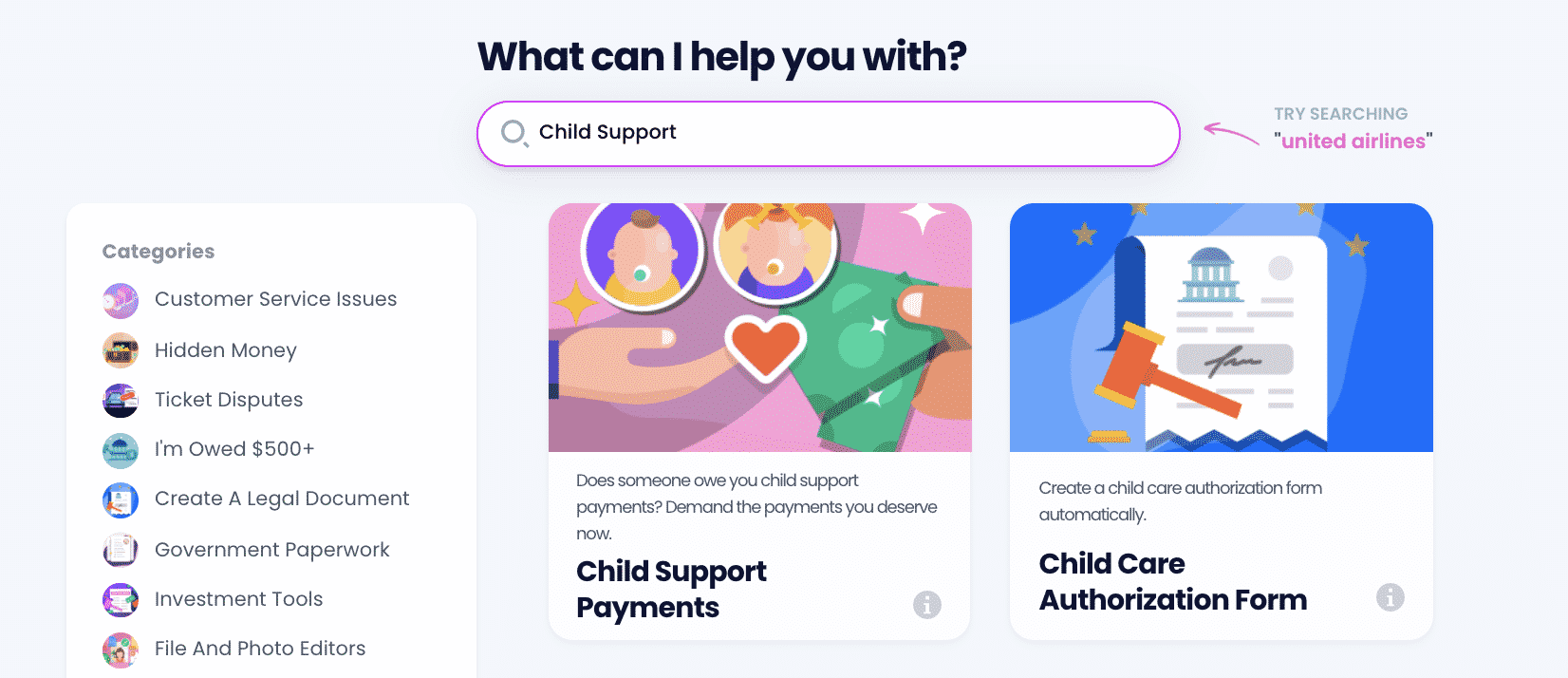 2. Tell us more about the payment schedule, including the amount and frequency of the payments, the last payment they made and number of missed payments, and how much they owe you in total.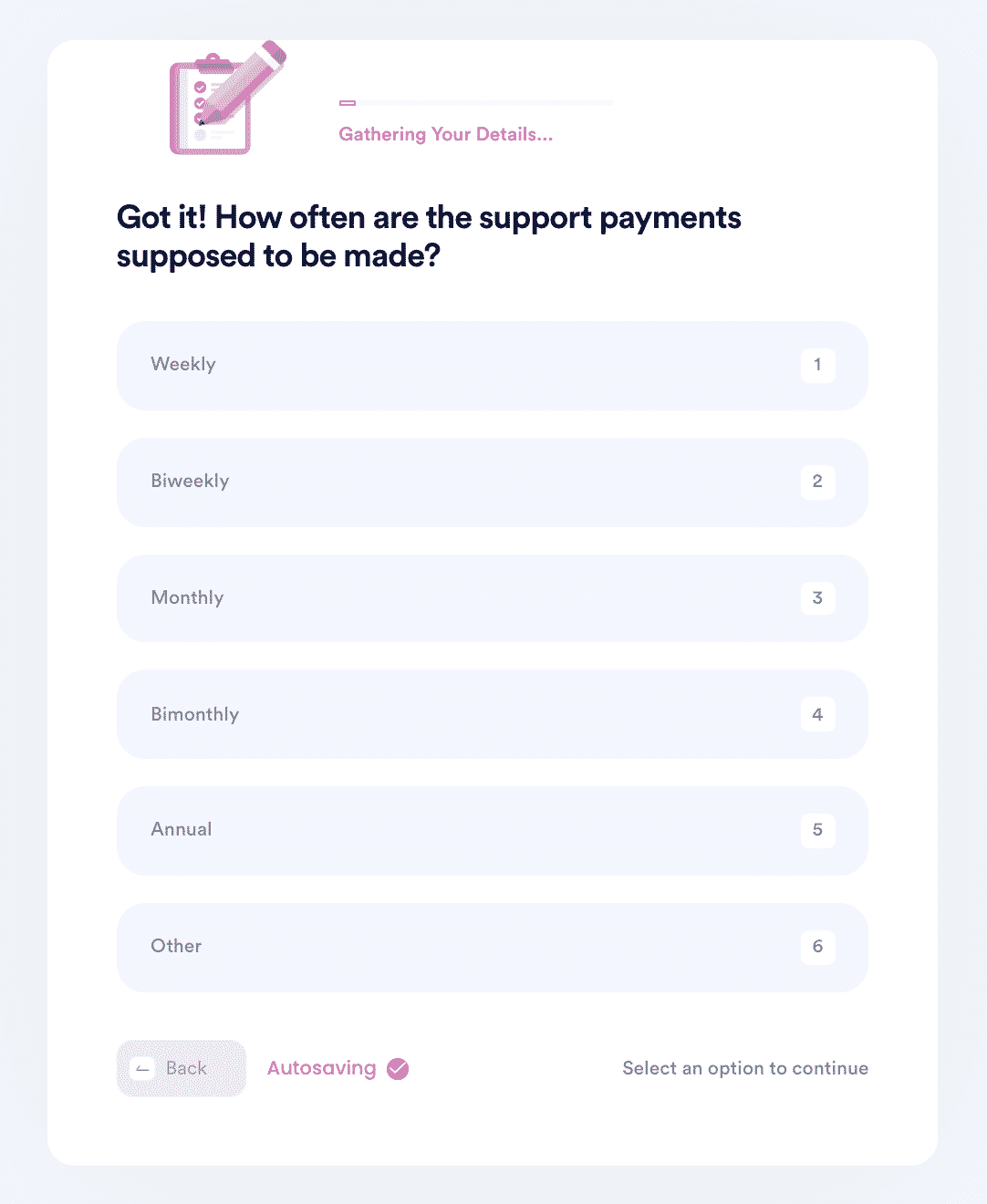 3. Confirm your contact information and select whether you want us to mail or email the letter on your behalf. Choose how you would like to receive the payment and verify your signature.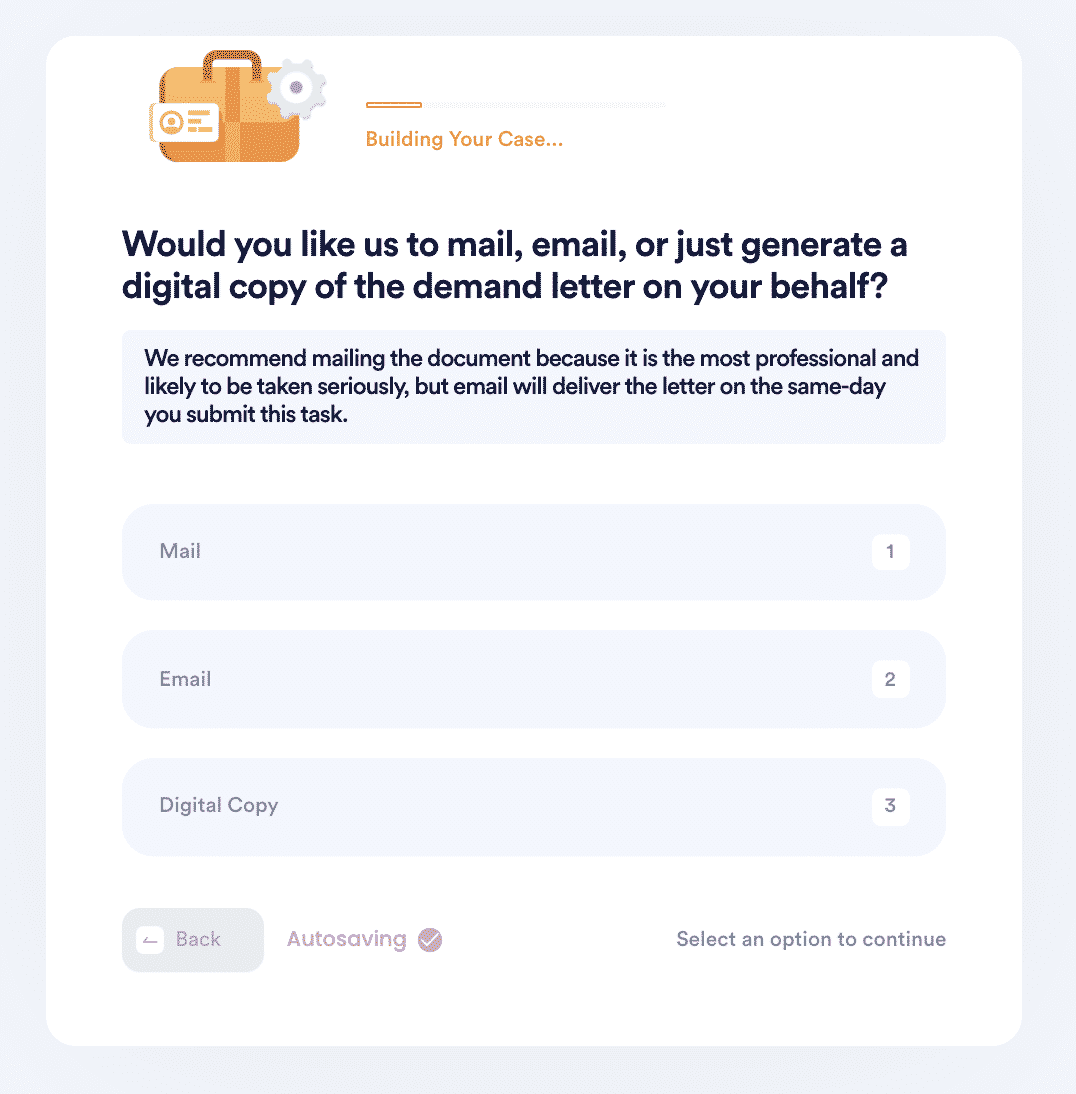 DoNotPay Can Help You Understand Your Legal Obligations
DoNotPay is the fast, easy, successful way of negotiating lower child support payments. If you are wondering if you have to pay child support due to a deteriorating financial situation, DoNotPay can help. We will work through the complexities on your behalf, freeing you up to work on other matters and granting you a reprieve from the overwhelming stress of making dozens of phone calls and filling out complicated forms.
Gain a better understanding of your legal obligations and take a step towards better finances with DoNotPay!