Do You Have To File for Divorce in the County You Live In? There Might Be Another Option
Getting divorced can be tricky and expensive if you're not familiar with available types of divorce, necessary divorce papers, court or lawyer's fees, and residency requirements.
Do you have to file for divorce in the county you live in? This article gives you an answer together with additional tips for a trouble-free and low-cost divorce.
First Check if You Meet the State Residency Requirements
Most U.S. states have residency requirements that you need to fulfill before filing for divorce. It means that you or your spouse must have lived in that state for a set period. If you cannot prove that you fulfill the residency requirements, the court might reject your divorce case.
If and for how long you need to be a resident varies from state to state. The following table contains some examples:
| Residency Requirements | States |
| --- | --- |
| No minimum residency requirement | Alaska, South Dakota, and Washington. Since you can file for divorce as soon as you move to these states, some believe they are the easiest ones to get a divorce in |
| Six weeks | |
| 60 days | Arkansas, Kansas, and Wyoming |
| 90 days | Arizona, Illinois, Missouri, and Montana |
| Six months | Most states require spouses to be their residents for a minimum of six months—including Alabama, California, Delaware, District of Columbia, Florida, Georgia, Indiana, Louisiana, Maine, Maryland, Mississippi, New Mexico, etc. |
Where To Start a Divorce—Do You Have To File for Divorce in the County You Live In?
Most states mandate:
Either you or your spouse to be a resident of the county where you file for divorce
No minimum time for the county-specific residency requirement
It means you don't have to file for divorce in the county where you live but can do it in your spouse's county.
Some states might require you to file for divorce:
In the county where you and your spouse last lived together if at least one spouse still resides there
In your spouse's county if you both live in the same state but in different counties
What Should You Have in Mind When Choosing the County Where You'll File for Divorce?
Are you wondering if you should file for divorce in a county where you or your spouse lives? Before making a decision, keep in mind the benefits of both options:
Filing for divorce in the county you live in—It might be easier for you to visit the court clerk's office if you need their assistance and attend court hearings at your local court
Submitting divorce papers in the county where your spouse resides—It could be more convenient if that county has a lower filing fee or shorter residency requirement. Keep in mind that you'll need to travel to that county for court hearings and other court-related issues during divorce proceedings
In case your spouse moves to another state and you have minor children together, it's best to file for divorce in the state where your children live and will remain. The reason is that the court of the state where your children live should have jurisdiction over child support, visitation, and custody matters.
Can I File for Divorce in a Different County? Discuss This and Other Divorce Matters With Your Spouse
You can go through a quick, low-cost, simple, and friendly divorce if you agree on all divorce matters with your spouse. Aside from agreeing on what county to file for divorce in, you should also cover the following:
Insurance
Child care and custody
Once the two of you reach an out-of-court settlement, you should:
List and explain all the agreed-upon terms—You need to prepare a divorce settlement agreement and might also consider creating a shared parenting agreement
File uncontested divorce papers with the court—You can do this in your or your spouse's county once you meet the residency requirement
Have your spouse served with the divorce papers—You should check what serving options are available by visiting your local court's website or getting in touch with the court's clerk office
How To Prepare Divorce Forms and a Divorce Settlement Agreement
While you need to complete and create all the divorce papers correctly—i.e., make sure they comply with state laws—you don't have to hire a pricey attorney to draw up the necessary documentation for you. Instead, you can:
Fill out and file the necessary forms alone—Most states provide these forms on the court's website or at the clerk's office
Register for DoNotPay—Our app can create a reliable yet affordable divorce settlement agreement in a flash!
DoNotPay Helps You Generate a Rock-Solid Divorce Settlement Agreement
Our AI-powered app scans state laws to help our users prepare different legal documents, including a divorce settlement agreement. As this document is crucial for your post-divorce life, you need to draft it carefully.
While you can head to a law office, you'll probably need to settle a considerable sum for this service. Let DoNotPay complete the task, and you'll receive a document that fulfills all legal criteria. At the same time, our service is much more affordable than the one a lawyer would provide.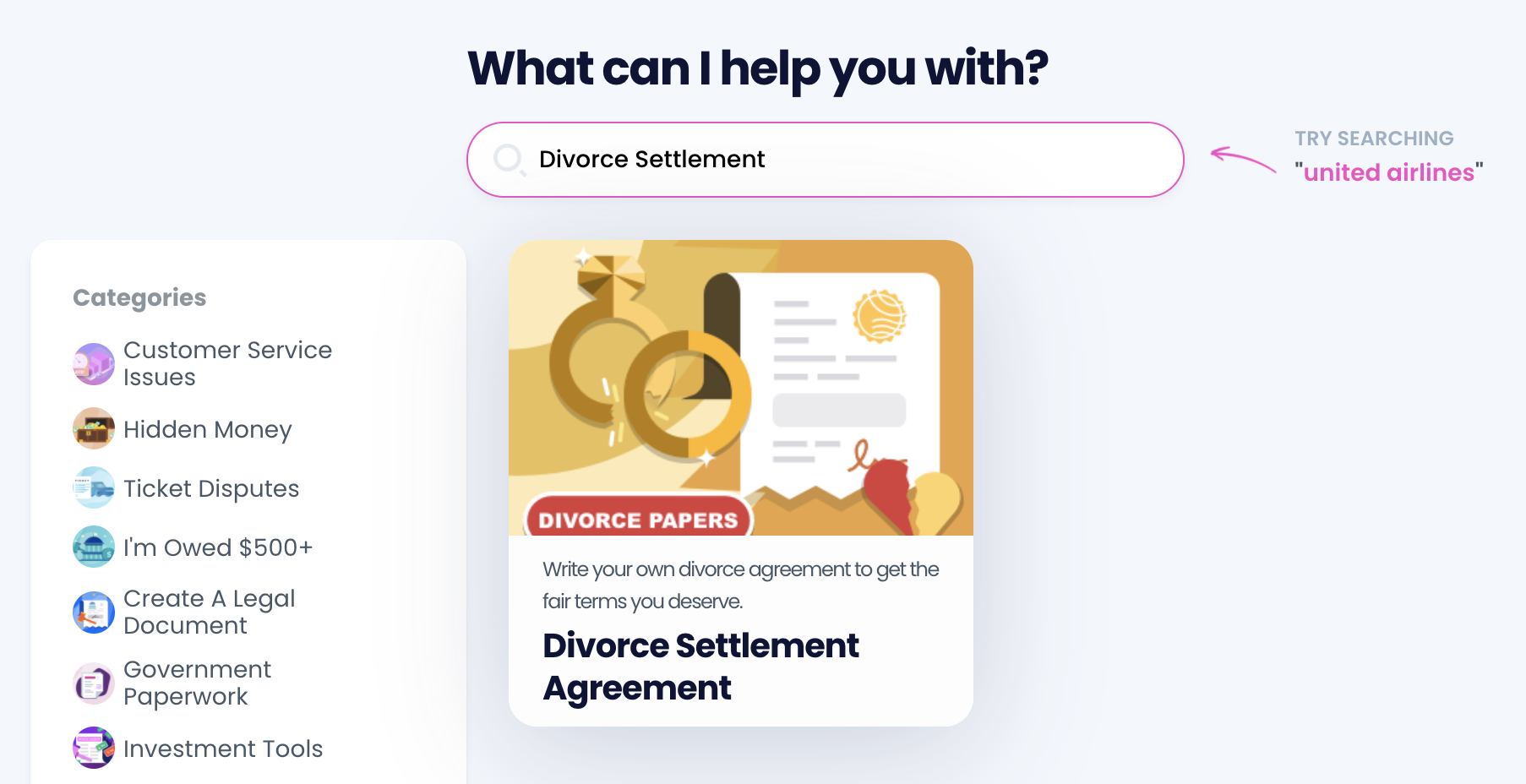 To get your agreement, subscribe to DoNotPay and take the following steps:
Go for the Divorce Settlement Agreement option
Answer the chatbot's questions
Let us know if you'd like to get the document notarized
Once you get the agreement, you should file it with the court for approval.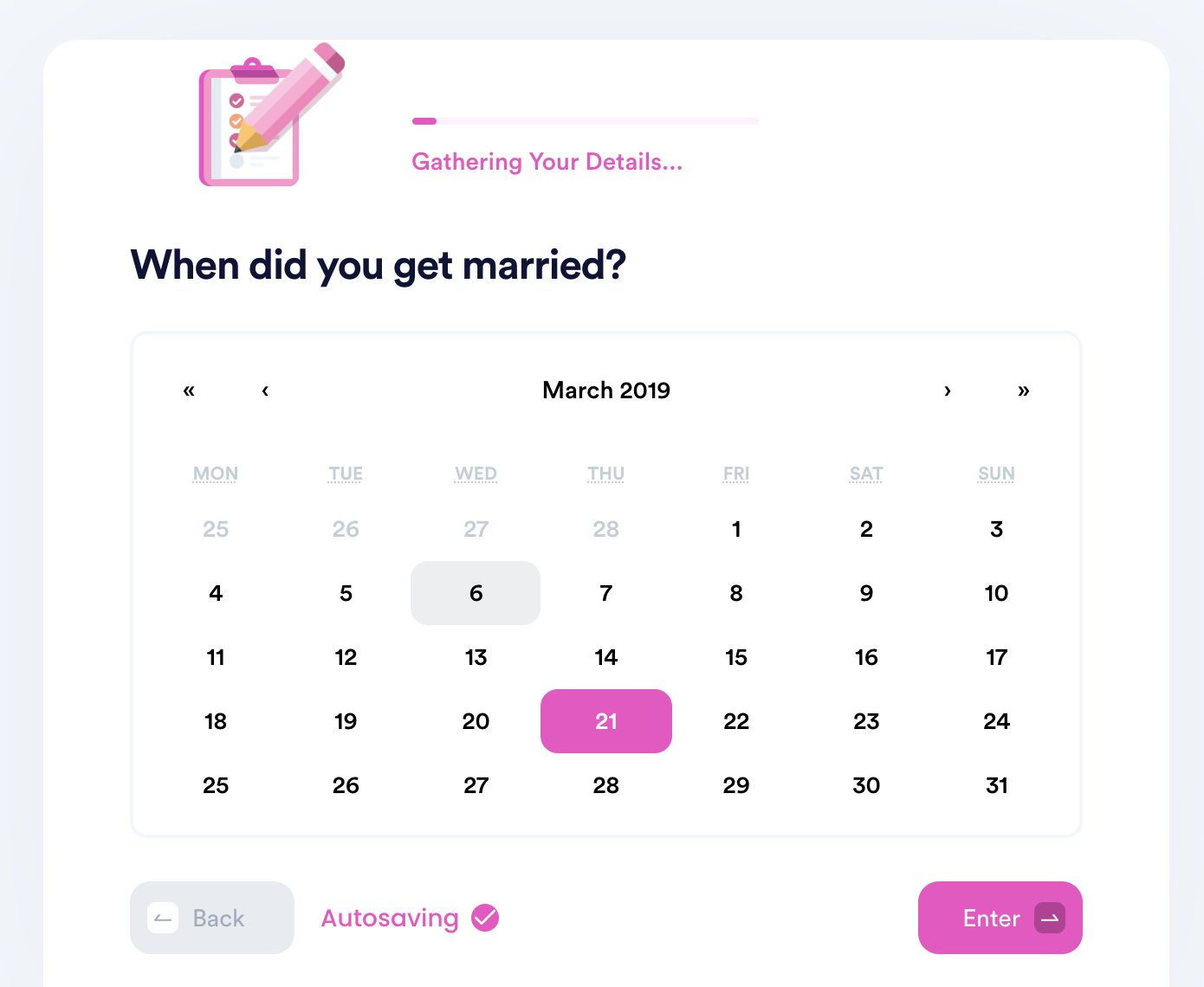 Explore Divorce-Specific Topics
You can prepare for divorce well by browsing through DoNotPay's website. We offer neat solutions to your problems and answers to lots of divorce-related questions, such as:
Do You Have To File for Divorce in the County You Live In? Check per State
Check out the following table to know state-specific divorce requirements:
Stuck in a Bureaucratic Mess? DoNotPay Is Here To Help!
Since handling dull administrative tasks is a burden and no one likes doing them, DoNotPay developed a variety of neat features to ease many processes! With our nifty app, you can:
Deal With Companies Like a Pro
We all love shopping, but it's no secret that companies sometimes turn a fun experience into a nightmare, especially when they refuse to cooperate. DoNotPay is here to help you reach customer support without the hour-long wait and sue an uncooperative merchant in small claims court if necessary!
Need a refund? We can show you how to get your money back from any company in a snap!
Should you need to file an insurance or warranty claim and request gift card cash back or an item return, you can count on our app to assist you! DoNotPay can also show you how to discover any unclaimed funds under your name so that you can continue shopping like a pro.