Jury Duty Pay Law—Do You Get Paid for Jury Duty in Maryland?
Has a Maryland court sent you the summons for jury duty? This important civic responsibility typically requires taking time off work, so you'd be right to wonder—do you get paid for jury duty in Maryland?
In this convenient guide, we'll answer that question and teach you everything you need to know about Maryland jury duty laws.
if you have questions about how jury duty works—our resources can help you prepare for your service as a juror. We can also help you compose a jury duty leave request letter and send it to your employer problem-free!
What You Need To Know About Jury Duty in Maryland
To be eligible for jury duty in Maryland, you need to meet the following conditions:
Be a naturalized or born American citizen
Be at least 18 years old
Reside in the Maryland county that issued the summons
Be fluent in both spoken and written English
Not be incapacitated by a physical or mental illness
Not be convicted of major crimes, such as felony, murder, or abuse of public office
Note that you typically won't be called for jury duty more than once a year. If you have already served at a Maryland court for five or more days, you will not be summoned for the next three years.
Keep in mind that jury duty cannot be evaded, and the law can punish you by:
Holding you in contempt of court
Issuing a fine of up to $1000
How Much Does Maryland Jury Duty Pay?
You won't go empty-handed after you've finished jury duty at a Maryland court. Being on a jury is required by law, and the court will compensate you for fulfilling your legal duties.
The amount you'll receive for jury duty depends on the court that summoned you. Maryland state and federal courts offer the following compensation to jurors:
| Court | Compensation |
| --- | --- |
| State court | $25 per day |
| Federal court | $50 per day |
Payment for federal jury duty can increase—if you have served for more than ten days, you'll be compensated an additional $10 for each following day. Note that jury duty pay is taxable, and the amount you'll receive is not adjusted for inflation.
Federal and state courts also differ in their policy on giving reimbursement for travel expenses:
| Court | Does It Offer Travel Expense Reimbursement? |
| --- | --- |
| State court | No |
| Federal court | Yes |
While the Maryland state court does not officially reimburse for travel expenses, you may still be eligible for the following:
Free parking space
Free lodgings in case of a prolonged trial
Does an Employer Have To Pay You While You're on Jury Service?
No—in Maryland, an employer is under no obligation to pay you while you're on jury duty. Maryland state law only requires that an employer provides you with unpaid time off. They are also explicitly forbidden from coercing or threatening to fire you, no matter how long your service takes.
If an employer punishes or demotes you for doing jury duty, they can be indicted for a misdemeanor—you may even sue them for damages!
Rely on DoNotPay To Draw Up Your Leave Request Letter!
Getting selected as a juror is a big deal—after all, your judgment could alter the course of the trial! That's why DoNotPay is here to make sure you finish your service with no loose ends! Use our Request Jury Duty Leave tool, and we'll help you compose a professional jury duty leave request letter for your employer. Our product can help you by:
Notifying your employer about your legal obligations
Specifying the time you'll be absent from work
Providing written proof that you'll spend that time serving a court
Citing relevant state laws that will discourage your employer from taking any unlawful action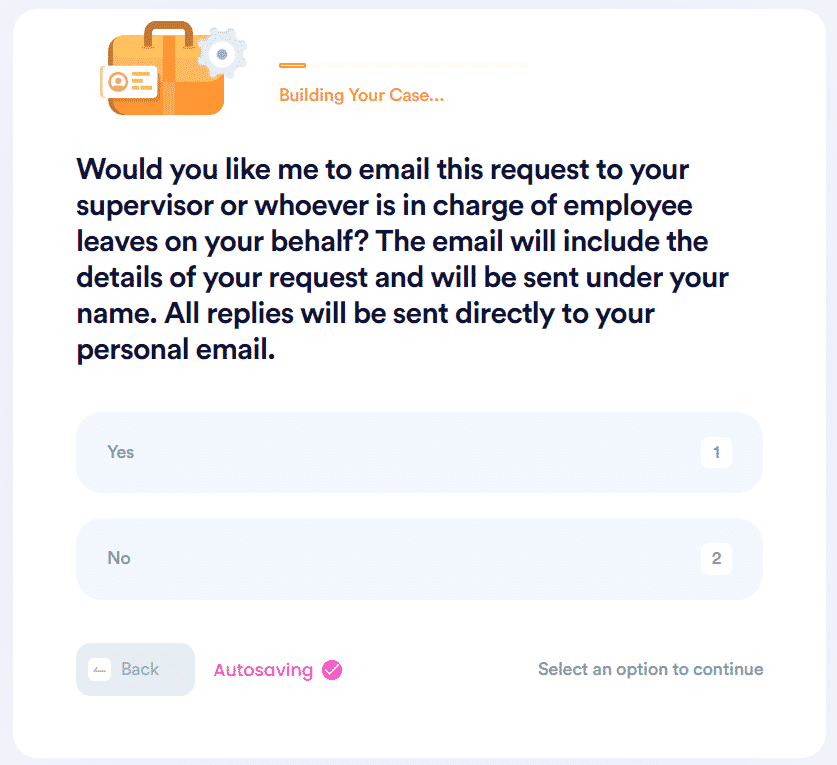 You can gain access to our product with a few clicks:
Specify the court you'll be attending
State how long your service will take
Upload your summons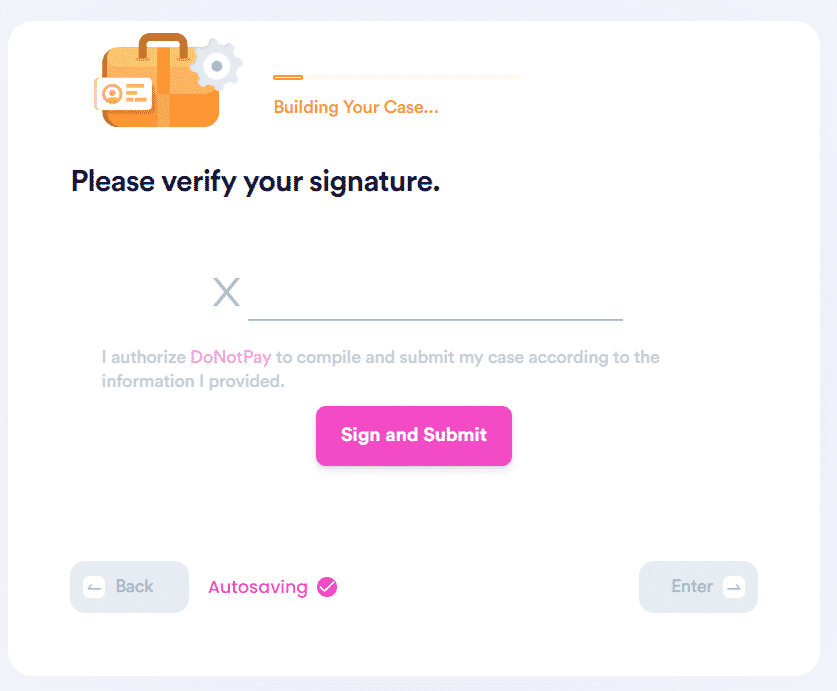 Get the Best Solutions for Everyday Tasks With Our App
DoNotPay has come up with multiple handy products whose purpose is to make your life simpler and more enjoyable! Don't hesitate to check out the features that will help you:
Complaints and Appeal Letters Have Never Been Easier To Draft With DoNotPay
Dissatisfied with a delivery? Use DoNotPay to file an item return request and get a refund from the merchant if the product didn't meet your expectations! We can also help you apply for a late delivery refund or help you claim your warranty or insurance if the product you purchased gets damaged or breaks down. Our multi-functional app also allows you to appeal potentially inaccurate property tax assessments, banned accounts, and seatbelt or parking tickets.
If you subscribe to our platform, you will have a chance to file anonymous HR complaints and prevent discrimination at work more effectively.