Do I Need a Trademark and How Can I Register It?
Do I need a trademark to protect my brand from potential infringement? While it's not mandatory in the eyes of the law, there are several benefits to owning a registered trademark.
If you're unsure whether it's the right choice for your small business, we can help you make up your mind. Take a look at the pros of having a registered trademark and learn how to complete the registration process .
Is It Necessary To Register a Trademark?
You may be thinking, "Why do I need a trademark?" Some small business owners believe logos and slogans are meant for large-scale enterprises and international brands. Registering a trademark can benefit all types of business ventures, regardless of their size.
What does trademark mean in business? Take a look at some of the key advantages of owning a trademark in the table below:
| Trademark Registration Benefit | Explanation |
| --- | --- |
| Brand recognition | By associating a trademark with your goods or services, customers will be able to separate your products from the competing brands |
| Legal protection | When you file a trademark registration, your original idea becomes protected from potential misuse. As the trademark holder, you retain the right to ask for monetary reimbursement in case of infringement |
| Proof of ownership | If you take legal action against someone infringing on your rights, the trademark registration certificate serves as proof of ownership |
| Marketplace visibility | Having a recognizable trademark that's also listed in the federal database can help you solidify your place in the market |
| Interception of counterfeit goods | According to research, the importation of counterfeit goods is an industry worth half-trillion dollars. If you register a trademark, you can forward the registration certificate to the U.S. Custom and Border Protection (CBS). They will return any goods that contain your trademark without authorization |
What Can Be Used as a Trademark?
A trademark or service mark can be any textual (word, phrase) or visual (logo, picture) symbol. The most common types of trademarks include:
The term trademark can be applied to both goods and services, although service mark is the intended label for the latter.
Art and other creative/performative endeavors (e.g., band names, book series titles, artist names) can also be trademarked. A better way to protect artwork is to copyright it since it lasts longer. Trademarks can expire after a few years, while copyright can last for decades or even a lifetime without any maintenance.
The Ins and Outs of Trademark Registration
As you are deciding whether you should register your business name, familiarize yourself with the trademark protection laws and requirements. You have several legal options for using a trademark, depending on the level of protection you're interested in:
Common law rights—Is it necessary to register a trademark? No, since common law rights provide trademark protection from the moment you start using it. The rights are only valid locally, meaning you are vulnerable to infringement outside the specific geographic area
State-issued protection—You can acquire state-level protection if you register with the United States Patent and Trademark Office (USPTO). For any business expansion outside state lines, you will have to resubmit the trademark application form with the state in question
Federal trademark registration—If you want your rights as the trademark holder to be recognized throughout the U.S., apply for federal registration. The USPTO will add your trademark to the federal database and permit you to label it with the ® symbol
How To Register a Trademark With the USPTO by Yourself
You can register a trademark with the USPTO by filling out the Trademark Electronic Application System (TEAS) form. The document should contain the following information:
Your legal name
Contact information (email address, phone number, and fax)
The type of trademark you want to register
Proof of the paid application fee
Before you start the registration process, remember that you:
Need to search the USPTO database to make sure the desired trademark is available
Must categorize your goods and services in the 45 predetermined classes
Can't change the existing trademark classes or add new ones laterally
Need to attach a sample if you're registering a logo or other pictorial trademark
How Much Does It Cost To Register a Trademark?
The biggest cost factor is the number of trademark classes and the filing option you select. Each category is charged separately, and the fees are determined by the trademark application form.
Currently, the USPTO provides two TEAS form options:
TEAS Standard ($350 per class)
TEAS Plus ($250 per class)
Should you decide to hire an IP lawyer to handle the registration, you will have to cover the flat attorney fees as well.
Use DoNotPay To File a Trademark Application Form in Minutes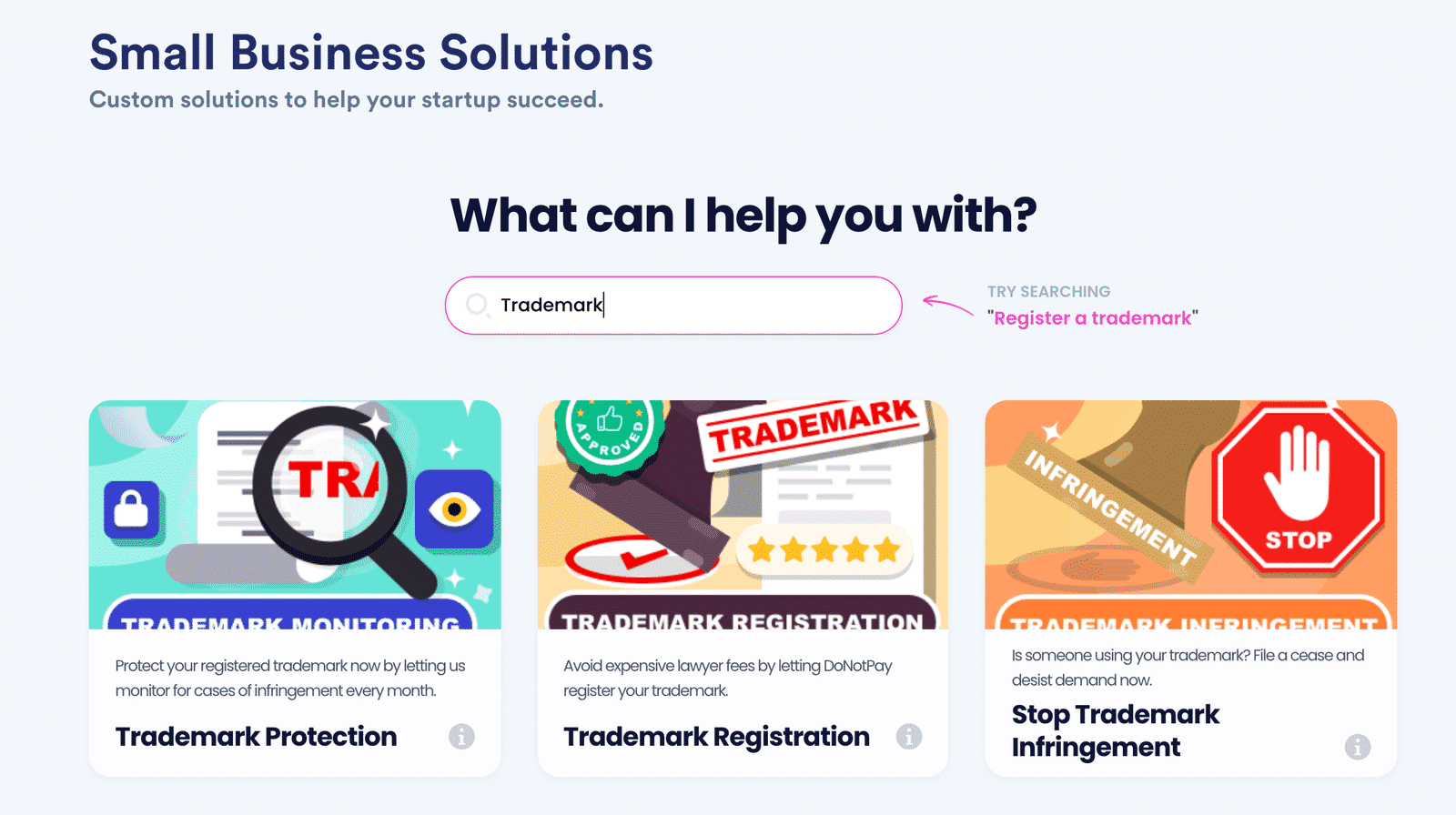 If navigating the trademark registration process sounds too tedious, and you cannot afford an expensive attorney, consider DoNotPay! Our Trademark Registration product can create an application form with a few clicks.
All you have to do is:
Choose the Trademark Registration form
Provide information regarding your brand and the trademark
Enclose proof of paid registration fees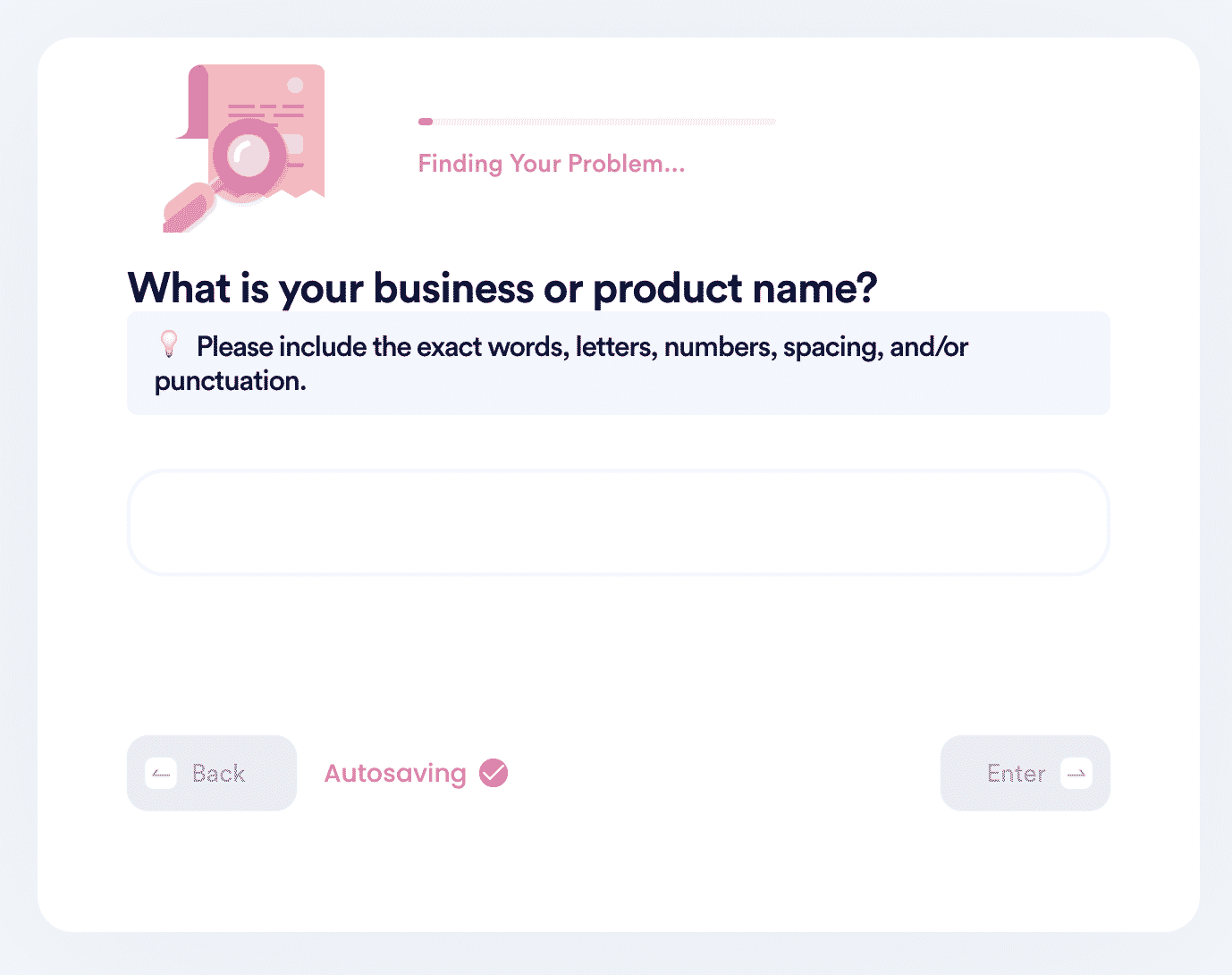 Using the provided information, our AI-operated app will generate the document with speed and accuracy. Once you have e-signed the form, DoNotPay will forward it to the USPTO for evaluation.
Resolve Various Business Problems With the Help of DoNotPay
Handling annoying administrative issues is the last thing you want to worry about while trying to build a business empire. The good news is that you do not have to! DoNotPay has developed many nifty products that make various pesky tasks easy to complete.
Some of the small-business-related matters we can help you with are:
Taking out business loans
Obtaining an Employer Identification Number (EIN)
Automating the filing of 83(b) election forms
Requesting your money from customers who won't pay
Registering a DMCA agent
DoNotPay can also make communication with your clients or business partners easier as we enable you to fax and mail your letters, forms, and other important documents without leaving your office.
Maintain a Good Business Reputation
It is no secret that building a trusting relationship with clients takes time and effort, so why have all that hard work been ruined by negative online reviews that are fake? DoNotPay is here to help you remove illegitimate, fake reviews in a matter of clicks!
Want to dispute unfair chargeback requests but are not sure how to go about it? By using our Fight Chargebacks feature, you can have DoNotPay create a customized chargeback rebuttal document in a few minutes.
With our app, you can also protect your trademark from people trying to use it, file the self-certification request with the Privacy Shield program, and handle many other aspects of your business hassle-free!