Do I Need A Living Trust?
The need for a living trust depends on a few factors like your age, pocket size, family dynamics and others. This guide will explain those factors for you in simple terms, so you can confidently decide at the end of the article if you need a living trust or not. 
What are Living Trusts?
Perhaps, you know about a will — or you don't — and are looking to understand how different a will is from a trust. In simple terms, both are used to secure the future for you and your chosen loved ones according to your desires. A will typically functions to specify who takes care of your beloved minors in the event that you are no more, but they can also be expanded to accommodate instructions for inheritances.
A living trust, on the other hand, is specifically suited for estate planning and the bequeathing of your assets in the event that you are no longer alive. 
Living trusts are of two types: revocable and irrevocable living trust. The basic difference between a revocable living trust and an irrevocable living trust is flexibility to modify. With revocable trusts, you can alter, modify, or cancel your trust at any point in time you so wish to. Irrevocable trusts tend to remain permanently unchangeable once finalized, but they could be a great avenue to avoid recurring estate taxes. There's also joint revocable trusts for couples but this article will only be focusing on options available for individuals.
Do I Need a Living Trust? Checklist
Like we said earlier, you needing a living trust depends a great lot on a few factors such as your:
Age
In the past, talks about estate planning were most common around persons who were between the ages of 55 to 65 years and above. You would count a person below 55 to be super prepared if they already set up a living trust for themselves.
Nowadays, it is not uncommon to see younger people seeking to organize their life and avoid controversies in the event of uncertainties. This may be as a result of the other factors like their net worth, health condition, or family. 
Net Worth
Wealthier people are more concerned with preparing for the future in the event of their demise than average income earners are. A middle aged person who is worth millions of dollars considers getting a living trust much more than someone of the same age bracket who is barely making ends meet.
There's a decent amount of costs that come with setting up a living trust with an attorney, but this can be drastically reduced if you use other credible self-help services like DoNotPay.
Health condition
Regardless of age, one's health condition can encourage them to set up their estate plans earlier. Persons diagnosed with terminal diseases like cancer who have a shorter time to live will want to make their living trust for the sake of their loved ones before they are gone. 
Family type
If you've only been in a single marriage with no extra-marital issues all your life, you may have less need for a living trust. Otherwise, you would benefit from setting one up to help avoid controversy over your assets between spouses and children from current and former affairs.
Do I Need a Living Trust if I Already Have a Will?
Most people with a living trust have a will as well, and vice versa. If there are any properties and assets that aren't included in your living trust, a will can help determine who they go to. If you don't have a will, the properties and assets not included in the living trust will be passed down based on the probate laws of the state. A living trust fares better than a will in aspects of:
With a living trust, you skip the tedious and expensive legal process of estate ownership transfer called probate. This is not so with a will.

You have the option to modify your selection, alter, or cancel it altogether when you use a revocable living trust

until your demise

.

Both a will and a trust are valid legal documents but a will is contestable in court while a trust isn't (in most cases).

A will is made accessible to the public. With a trust, the provisions are not disclosed to the public.

A will is active only at the point of your demise but you can get your trust up and running right after you complete the process. 
Get a Revocable Living Trust with DoNotPay
Instead of creating a living trust on your own, you also have the option of hiring an attorney to do it for you. But acquiring the services of legal counsel can be expensive. Another option is to use DoNotPay's Revocable Living Trust product! Get a living trust in minutes when you:
Create a

DoNotPay

account and log-in

Search for the Revocable Living Trust product and click on it
Enter your personal details such as the state you live in
Assign trustees and beneficiaries
Decide which properties and assets will be under the trust
After you complete all of the questions, DoNotPay will have a revocable trust ready for download in seconds! All you need to do is look over the document and get it notarized.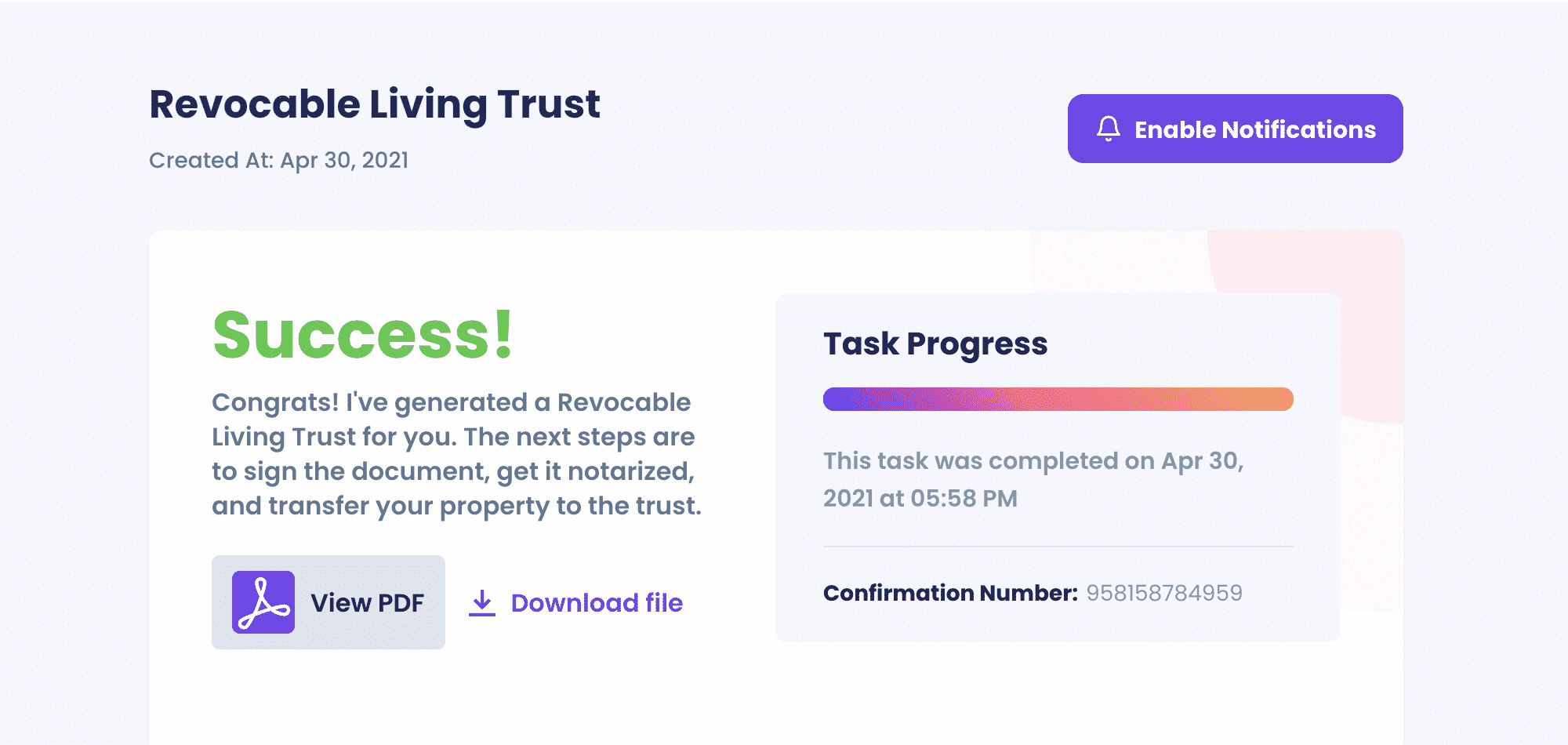 What Else Can I Do With DoNotPay?