Get Ready for Your
DMV CDL Test
With DoNotPay's Help
If you want to drive commercial vehicles in the U.S., you have to pass the Commercial Driver's License (CDL) test. If you are planning to take the DMV CDL test, you should learn what it involves. DoNotPay is here to help you with the preparation by offering a number of CDL practice tests!
What Is the DMV CDL Test?
With CDL, you can drive vehicles that weigh more than 26,000 pounds or lighter vehicles used for the transportation of people. Before you obtain the Commercial Learner's Permit (CLP), you need to have the CDL permit. Besides this requirement, you should also pass the:
Vision test

Pre-trip inspection

General knowledge

and endorsement tests

Driving skills tests
The CDL also involves fees that range from $27 to $73, depending on the state. You need to be a U.S. citizen to be able to take the DMV CDL test. You should also be 18 or older. 
CDL involves class A, B, or C licenses. The CDL test regulations differ from state to state, so make sure to check the criteria specific to your state. To take the test, you should make a DMV appointment.
What Does the CDL Driving Test Consist Of?
The CDL involves the written exam and skills test. The written part consists of the General Knowledge Test and several endorsement tests. You won't have to take all endorsement tests but only the ones necessary for your type of license—Class A, B, or C. The skills test includes the road test, vehicle inspection, and basic control skills.
Here is what tests and number of questions you can expect on the written part of the CDL:
Test 
Description
The Number of Questions

General Knowledge

Includes questions related to topics, such as:

Shifting gears

Seeing hazards

Managing space

Cargo transport

Crash procedures

Controlling speed

Distracted driving

Driving emergencies

Skid control and recovery

Staying alert and fit to drive

50

Handling hazardous materials, such as:

Explosives

Flammable liquids

Combustible liquids

30

Double and triple trailer endorsement

Driving safely

Coupling and uncoupling the trailers

20

Tank endorsement

Transporting liquid or gaseous materials

20

Passenger

endorsement

Driving vehicles for 16 or more people

20

School bus

endorsement

Getting permission for driving a school bus

20

Air brakes test

Inspecting, using, and maintaining the air brakes

25
You need to get 80% of the questions right on each test to pass the exam. 
Why Should You Prepare for the
CDL Driving Test
?
Even if you think that you already know a lot about driving commercial vehicles, you should prepare for the CDL test thoroughly. Passing the CDL test is far from easy because you need to be familiar with the traffic laws, road signs, and other details specific to your vehicle and cargo. To make sure you do the test successfully, you need to focus on practice first.
How To Pass the CDL Test
If you want to pass the written driving test, you should devote some time to studying the CDL manual valid in your state. The official manuals contain the most reliable information you need to pass the test. You can find the instructions on taking the exam and all topics related to general knowledge and endorsement exams there. 
Studying from the manual won't be enough—you also need to check your knowledge with practice tests. By doing practice tests, you will see different kinds of question combinations and get a sense of how much time you need to answer them. Simulating the real exam situation will help you feel more comfortable once you take the actual test. 
If you are looking for reliable CDL practice tests, use DoNotPay! 
DoNotPay Has a Bunch of
DMV Commercial Practice Tests
for You
DoNotPay is an AI-powered app that offers a huge database of CDL practice tests! With our app, you can prepare for the CDL test in any state, including Idaho, Oklahoma, Colorado, California, Virginia, Washington State, and many others.
To access the tests, follow these instructions:
Set up your DoNotPay account in any

web browser

Search for the test you want to get ready for

Choose whether you want to get a practice test of 10, 20, or 30 questions

Start practicing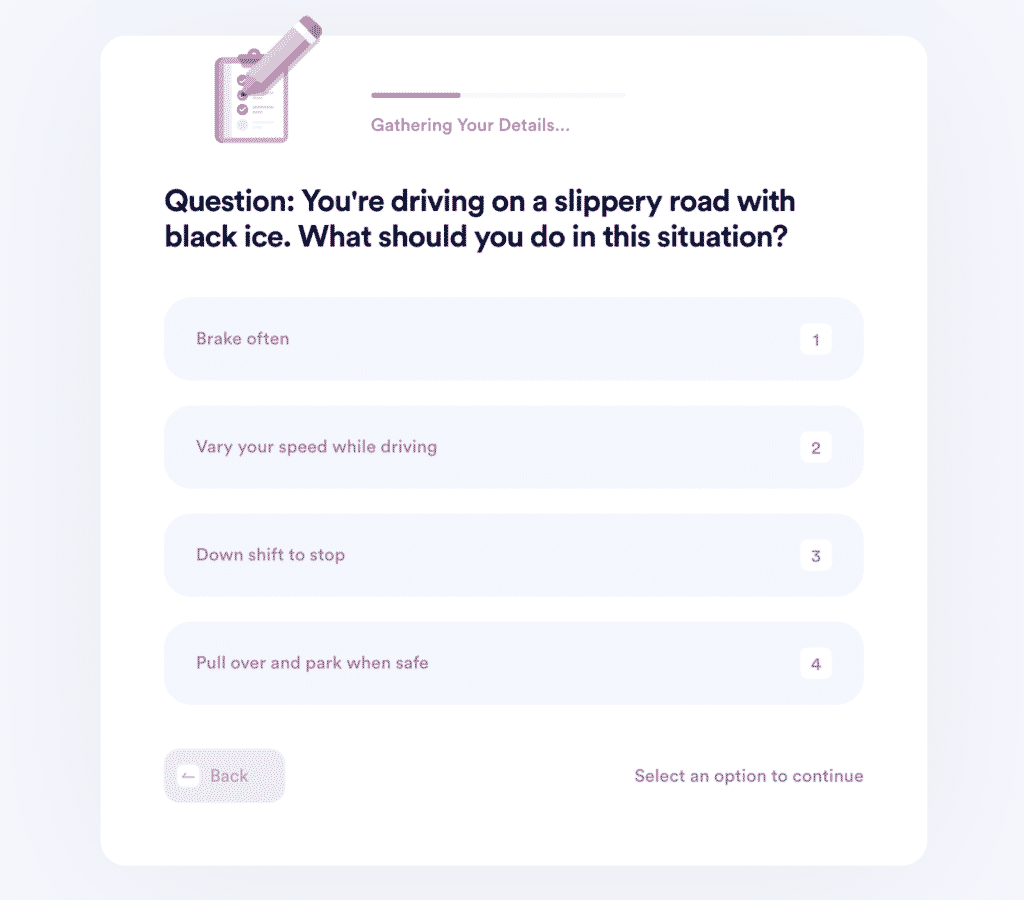 We allow you to do as many CDL practice tests as you want! You can choose to correct your answers the moment you make a mistake or after you finish the test.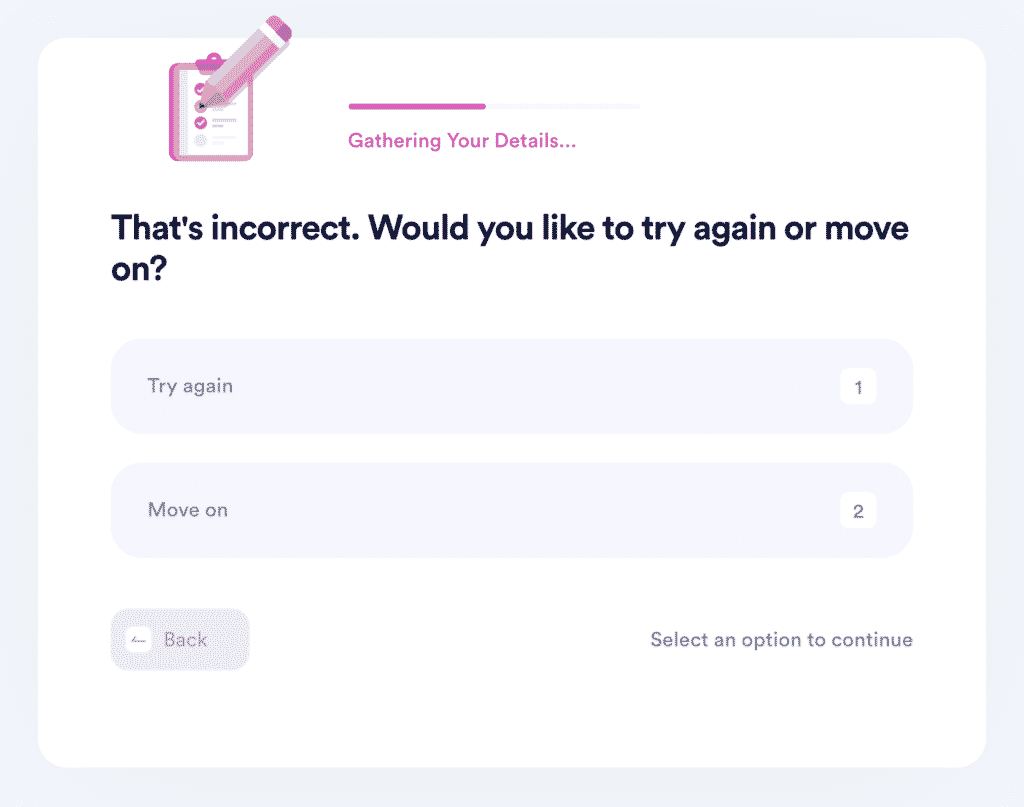 What Else Can You Find in DoNotPay's Test Database?
Aside from CDL tests, DoNotPay has a collection of other government practice tests as well. With our award-winning app, you can prepare for your Notary, Postal, CompTIA A+, U.S. Citizenship, Criteria Cognitive Aptitude Test (CCAT), or Armed Service Vocational Aptitude Battery (ASVAB) tests. We also provide more information about the ASVAB test scores.
Use any web browser to log in to DoNotPay and get ready for your government test!
Do You Know What Else You Are Eligible For?
DoNotPay is a handy virtual assistant that can reveal a world of possibilities that you may not have even been aware of. We've perfected our algorithms to identify opportunities for you to save up and take charge of your rights. 
Here's a fraction of what we can do for you:
What Else Is New With DoNotPay?
DoNotPay boasts several new features that can help make your everyday life so much easier. 
Have you been wondering how to file an insurance claim but weren't sure where or who to turn to? We'll gladly do it for you. 
Are you tired of outdated faxing practices and manual documentation? Our app can provide you with an online fax solution and draft all your legal paperwork in no time at all.
Do you need a safe place to prepare for your upcoming government test? DoNotPay will give you all the prep tests you need.
We can help out with locating an imprisoned loved one and keeping correspondence with them via our virtual mailbox.
See what else DoNotPay has in store by accessing our web app in any browser.