DoNotPay Breaks Down DIY Divorce in Arizona
Aside from being emotionally draining, a divorce can be expensive as well. The costs can easily pile up, especially if you hire a lawyer. Did you know that you can get a do-it-yourself or DIY divorce in Arizona and end your marriage without wasting money on attorneys?
DoNotPay will guide you through the process and help you get a divorce settlement agreement hassle-free!
What Is a DIY Divorce?
A do-it-yourself divorce means that you and your spouse prepare and submit your divorce papers yourselves without the help of an attorney. Working together during the process might seem challenging, but there are many perks of a DIY divorce, such as:
Lower costs—As you won't hire a lawyer to represent you in court, the costs of your divorce will automatically be reduced
Fewer forms to fill out—A DIY divorce doesn't require you to fill as many forms as you would if you were to contest your spouse in court
Faster procedure—With a DIY divorce, you can settle out of court. This means that the whole process will be quicker
More control over the divorce—As you will agree on the crucial divorce aspects with your spouse in a marital settlement agreement, the judge won't have to make decisions in your stead. This gives you greater control over the process and allows you to end your marriage on the terms you find acceptable
DIY Divorce in Arizona Requirements
To get a DIY divorce in Arizona, you must file for an uncontested divorce, meaning that you agree on the following issues with your spouse:
By reaching a compromise on these issues, you won't have to go to court and hire a lawyer. If you can't find a middle ground with your spouse, try divorce mediation. The mediator will come up with solutions and help you draft a final agreement.
To initiate the divorce procedure, you must be an Arizona resident for at least 90 days. In case there are any children involved, the required period is six months but it applies to one spouse only.
How To Get an Uncontested DIY Divorce in Arizona
Getting an uncontested DIY divorce in Arizona requires you to:
Gather the required paperwork
File a divorce settlement agreement
Gathering the Required Paperwork for a DIY Divorce in Arizona
Visit your local county house or the Arizona Judicial Branch's website to find the required forms. Once you gather the divorce papers, you will need to:
Complete the Petition for Dissolution of Marriage and Summons
Pay the filing fee
In case you can't afford the fee, complete the Application for Deferral of Filing Fee and ask for a fee waiver.
Serving Your Spouse
After filing the petition, you will have to serve the documents to your spouse. Arizona divorce laws require you to hire a third party to deliver the documents. It must be someone neutral to the case, such as a deputy sheriff or process server.
Filing a Divorce Settlement Agreement
In the final step of your uncontested (friendly) divorce in Arizona, you will need to sign a divorce settlement agreement with your spouse in front of a notary. The reviewing deadline is 60 days after submission. The judge will finalize the divorce if the terms are fair to both parties and everything is valid. That's why this document needs to be drafted with care.
You have several ways of obtaining a divorce settlement agreement, including:
Writing one yourself—This is a risky venture as you might make a mistake leading to irrevocable long-term consequences or contract annulment
Hiring a lawyer—Be prepared to spend big bucks if you want to hire a lawyer to draw this document up for you
Using DoNotPay—In case you want a professional divorce settlement agreement that won't break the bank, this option is for you
DoNotPay Helps You Get a Personalized Divorce Settlement Agreement
Why hire expensive lawyers or try writing the divorce settlement agreement yourself when you can let DoNotPay do all the work for you? Our app can generate this document for you in no time, and all you have to do is follow a few easy steps. Here's the drill:
Select our Divorce Settlement Agreement tool
Give us the necessary details about your divorce
Opt for online notarization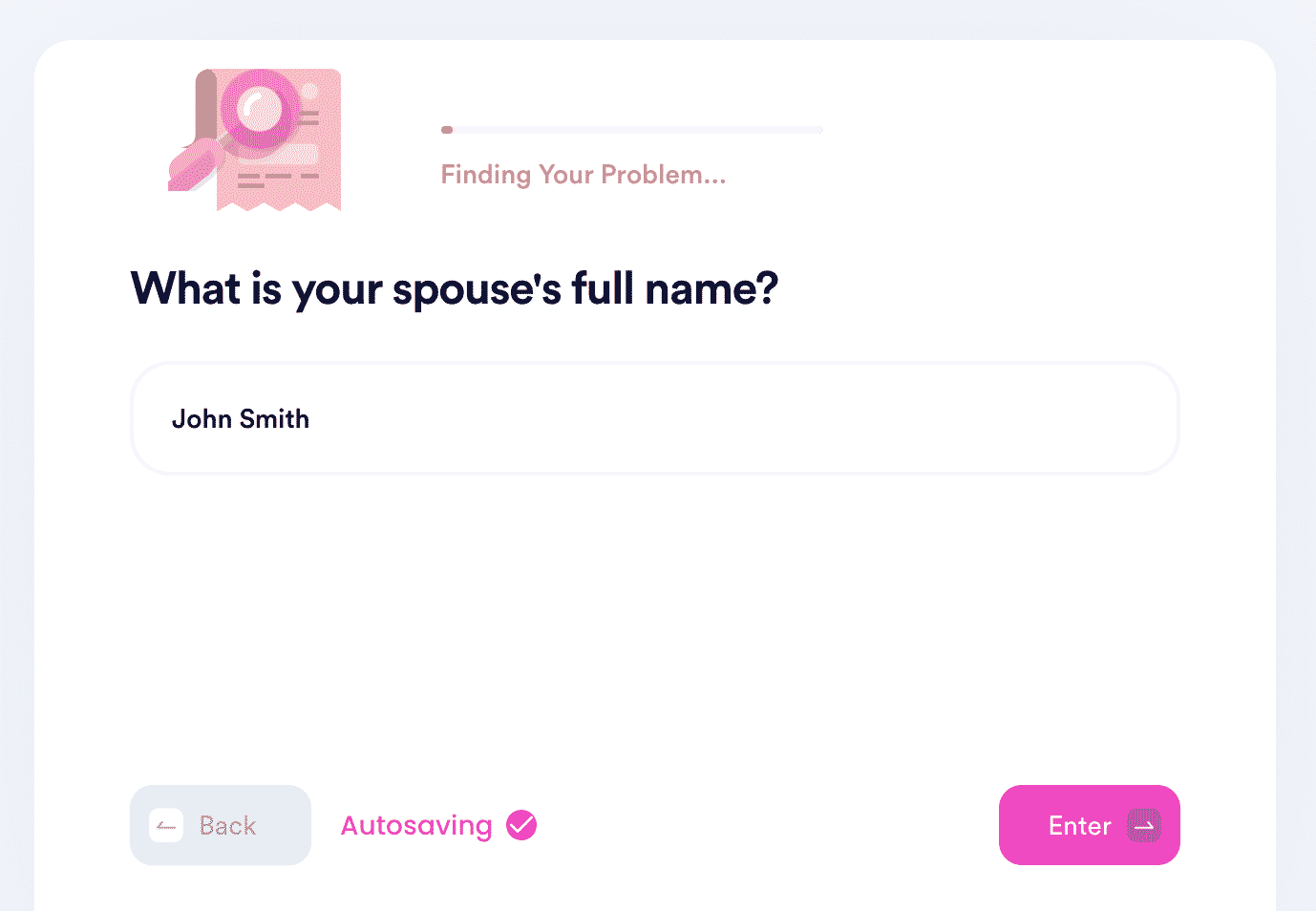 We'll use the details you provide to create an agreement that suits your needs and send it to you in an instant. To have it notarized online, follow the link we send you via email and schedule an appointment with one of our notary partners. Opting for an uncontested divorce is a must if you want to take advantage of this tool.
Want to learn more about divorces in Arizona or divorces in general? Check out DoNotPay's handy articles in the table below:
| | |
| --- | --- |
| General Divorce Articles | Arizona-Specific Articles |
| | |
To Sue or Not To Sue?
Hiring a lawyer to help you sue a company can be helpful, but it can also cost you an arm and a leg. Luckily, you can avoid wasting hundreds of dollars and use our robot lawyer to sue any company in small claims court instead!
DoNotPay offers you a variety of other features you will find quite useful when dealing with bureaucratic issues. Check out the list below to see what else our app can help you with:
Shopping Without Dropping
Whoever said you should shop until you drop didn't have access to DoNotPay's various features. With our app, you can make your shopping experience smooth sailing and stress-free!
Here's a fragment of what you can accomplish by using our neat features: