Is Divvy Virtual Card the Right Option for You?

Shopping online is wonderful. You can buy almost anything from almost anywhere around the world. However, it can be a little frightening to provide an online retailer with your personal credit card information. You might find charges that you never authorized on your card.
You've heard that a Divvy virtual card can provide a layer of protection for your credit card number. However, you're having a problem learning more about a Divvy virtual card and how the process works. You have a lot of questions, but you can't find any answers. DoNotPay has the answers that you need.
What Is a Virtual Credit Card?

A virtual credit card is a random group of 16 numbers that an online retailer recognizes as a valid credit card number for a single or ongoing purchase. Even though the system recognizes these numbers like that of a credit card, it's different from your real credit card info.
In many cases, you can make a virtual credit card available for a single purchase only or only available to a particular company. The goal is to ensure that someone or a business can't make additional charges to your personal credit card without your knowledge.
How Does a Virtual Credit Card Work? 
When you need a virtual credit card to make a purchase, you'd go to the app that you use to generate one. The app requires a few steps and provides you with a 16-digit number, expiration date, and security code that you can give to a vendor.
You would enter the virtual credit card number just like you would with your credit card. The vendor's system gets approval, and you get your product without the vendor ever seeing your real credit card info.
Drawbacks of Using a Virtual Card
While the idea of a virtual card does seem exciting, there are some drawbacks that you need to understand. Here are two main drawbacks:
If you are using your virtual credit card in the real world or through only money transfer services, it can be a challenge to get cash. A virtual credit card that does allow you to draw cash out might offer this service at a high percentage rate.
You may find, depending on the app you use, that you can't use your virtual card everywhere.
Benefits of Virtual Credit Cards 
You'll find that access to a virtual credit card can provide you with a very powerful tool. Here are four main benefits of virtual credit cards:
Your privacy is protected. The merchant never gains access to your personal credit card info.
It's convenient to have a virtual credit card available to you. There's never a need to hunt down your card. You simply use the virtual credit card through your mobile phone.
It's harder for a bad actor to commit fraud against you since they don't see your real credit card information.
You can use a virtual credit card for a free trial without fear of future charges.
Other Benefits of Using Virtual Cards Compared to Physical Cards
| | |
| --- | --- |
| Virtual Card | Physical Card |
| Unlimited credit card numbers | One credit card number |
| Easy to cancel one vendor/service without affecting all other payments | Canceling card affects all services & subscriptions |
| Set spending limits & deadlines | Some cards offer spending limits |
| Online or over-the-phone usage | Can be used in person, online, over the phone |
| Cannot be lost or stolen | Can be lost or stolen |
Are Divvy Virtual Credit Cards Free?
Yes, Divvy virtual credit cards are free, but you must have an account set up to access this feature offered by them. When you use a Divvy virtual credit card, the merchant pays a fee to either Visa or MasterCard, and they share a portion of the fee with Divvy, which is how the company makes money.
How to Get the Divvy Virtual Credit Cards
Here are the steps to create a Divvy virtual credit card:
Sign in to your Divvy account
Select Budgets
Assign a budget for the card
Select Create Card
Name your card
Select the type of card you want
Set a limit
Set a monthly limit
Designate the expiration date
Select create card
What Is the DoNotPay Free Trial Card?
The DoNotPay free trial card is a virtual credit card that you can quickly create through the app. This is a free service, and you can use it to make online purchases safely or to sign up for free trials without worrying about future charges.
Where Can You Use DoNotPay's Free Trial Card?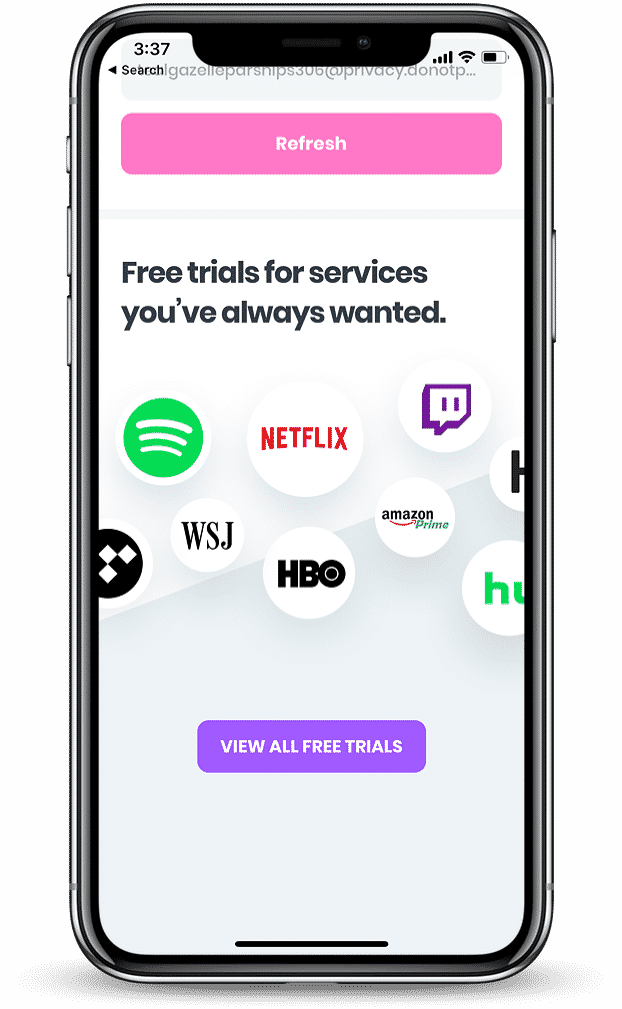 When you opt to use the DoNotPay free trial card, you'll find that you can use it at almost any place. One popular way of using the DoNotPay card is to sign up for a free trial or subscription service and avoid additional charges to your personal credit card. Here are some other popular places to use it:
ESPN Go
Doordash
Postmates
Jira
PlayStation Vue
What Else Can DoNotPay Do?
After learning more about the Divvy virtual card and trying the DoNotPay trial card, you'll be excited about the other options available through the app. This full-service app can help you in a variety of ways. Here are a few things to try:
Use the DoNotPay app to create a virtual credit card today!