Everything You Need To Know About Divorcing in the Military
Being in the army or having a spouse who is a service member can affect your divorce, even if you're ending your marriage on friendly terms.
If you're wondering how divorcing in the military works, you are in the right place! DoNotPay will give you the deets on the governing laws, residency requirements, and other aspects of military marriage dissolutions. We'll also provide instructions on how to file for divorce if one of you is serving in the army.
Divorce in the Military—Where To File the Papers
Even though every state has its residency requirements for filing for divorce, an active military status (yours or your spouse's) gives you some extra options for jurisdiction. If one of you is in the army, you can petition for divorce in the U.S. state where:
You pay taxes
Your spouse resides
You last lived as a married couple for at least six months
You're stationed, even if you're not a resident of that state
Having more options allows you to choose the jurisdiction that's best for your case.
How Long Does a Military Divorce Take?
The duration of a divorce depends mostly on the issues you have with your soon-to-be ex-spouse, but being an army member or army member's spouse can only prolong the process. If on active duty or military deployment, a service member might take much longer to respond to a divorce petition or appear at court.
Depending on the state's mandatory waiting period, an uncontested military divorce may be over in a matter of weeks. If you and your spouse cannot agree on important matters and reach an out-of-court settlement, ending a marriage could take several months or even years.
Divorces in the Military—Laws and Regulations
Military divorces are governed by both state and federal laws. State laws regulate general aspects, such as alimony and children-related issues, and federal laws govern military-related matters. Take a look at the table below to see the most important federal laws in military divorces:
Federal Law
What Does It Regulate?
Uniformed Services Former Spouses' Protection Act (USFSPA)
The USFSPA affects the division of the service member's assets. This act determines whether you (spouse of a military member) are eligible to obtain parts of the base privileges, such as:

Military retirement plan
Commissary and exchange
Health care insurance and other benefits

Servicemembers Civil Relief Act (SCRA)
The SCRA was established to help protect the legal rights of military members while they're on active duty. It's most useful in case the service member cannot respond to a petition for divorce—the SCRA enables them to:

Postpone the hearing or administrative proceeding if they cannot attend
Avoid a default judgment for failure to respond to a petition or appear at trial
Key Aspects of a Divorce in the Military With Children
Even though the state laws regulate spousal support and children-related issues, frequent relocations and long deployments influence these matters in military divorces—here's how:
Alimony—Non-military spouses are often unemployed or underemployed because of the constant moving. This is why the service members are usually required to pay alimony
Child custody—Parents who are army members often lose custody due to frequent relocations
Child support—While on active duty, a parent in the military might be unable to visit their children often and share parental responsibilities with their spouse. This is why spouses of the army members are often granted larger child support amounts in divorce
Division of the Military Retirement in Divorce
The division of military pension is regulated under the Uniformed Services Former Spouses' Protection Act (USFSPA) and disbursed through the Defense Finance and Accounting Service (DFAS). You can receive parts of your former spouse's military retirement pay if one of the following rules apply to your case:
10-year-rule—You can receive a share of your spouse's military benefits if at least 10 years of marriage overlapped with 10 years of service
20/20/20—If both marriage and service in the army lasted for at least 20 years and they overlapped for 20 years (or more), you're eligible to receive a lifetime of your spouse's military benefits, including full health care, commissary and exchange, and other privileges
20/20/15—You can receive your spouse's military health care benefits for one year, provided that the marriage and their service lasted for at least 20 years and overlapped for 15
Can You Get an Uncontested Divorce in the Military?
Yes, you can file for an uncontested divorce, but not every couple qualifies for a quick, cheap, and simplified dissolution of the marriage. In most cases, you're eligible for an uncontested divorce if:
You and your spouse agree on the no-fault reasons for divorce
At least one you meets the residency requirements of the state where you're filing for divorce
You agree on the following matters:

Custody
Child support
Spousal support

You drafted a divorce settlement agreement
Not sure how to write this document? to receive a personalized divorce settlement agreement in minutes!
How To File for Divorce in the Military
If you can reach an agreement with your spouse, you can get a divorce without a lawyer. Here's what the process looks like if you're representing yourself:
Preparing the paperwork—Check the official websites of the state and county where you're filing for divorce. These government websites usually offer DIY/self-help packets of divorce forms that you can download and fill out
Making copies of each document—Keep in mind that you need to file the original documents with the court. You should make at least two copies of each document—one for you and the other for your spouse
Filing original uncontested divorce papers with the court—Go to your local county clerk's office to submit the forms. Some states and counties allow online filing, but it's better to check that beforehand
Serving divorce papers to your spouse—Check your state's requirements and instructions on how to serve your spouse. Keep in mind that it might take them longer to respond if they are on active duty
Attending the hearing—After the mandatory waiting period passes, a clerk will schedule your hearing. You should attend the hearing and present all documents and your divorce settlement agreement to the judge. The judge will:

Go over the case
Review the agreement
Make a decision
Issue the final judgment
Getting a Divorce in the Army? Use DoNotPay To Expedite the Process!
A divorce settlement agreement is one of the most important parts of an uncontested divorce, but drawing it up is not easy or cheap. To write this document yourself, you need to be familiar with the state laws, rules, and regulations, and you mustn't make any mistakes. If you want to avoid the hassle and have a lawyer write it, be prepared for sky-high fees.
Luckily, there is another option—DoNotPay!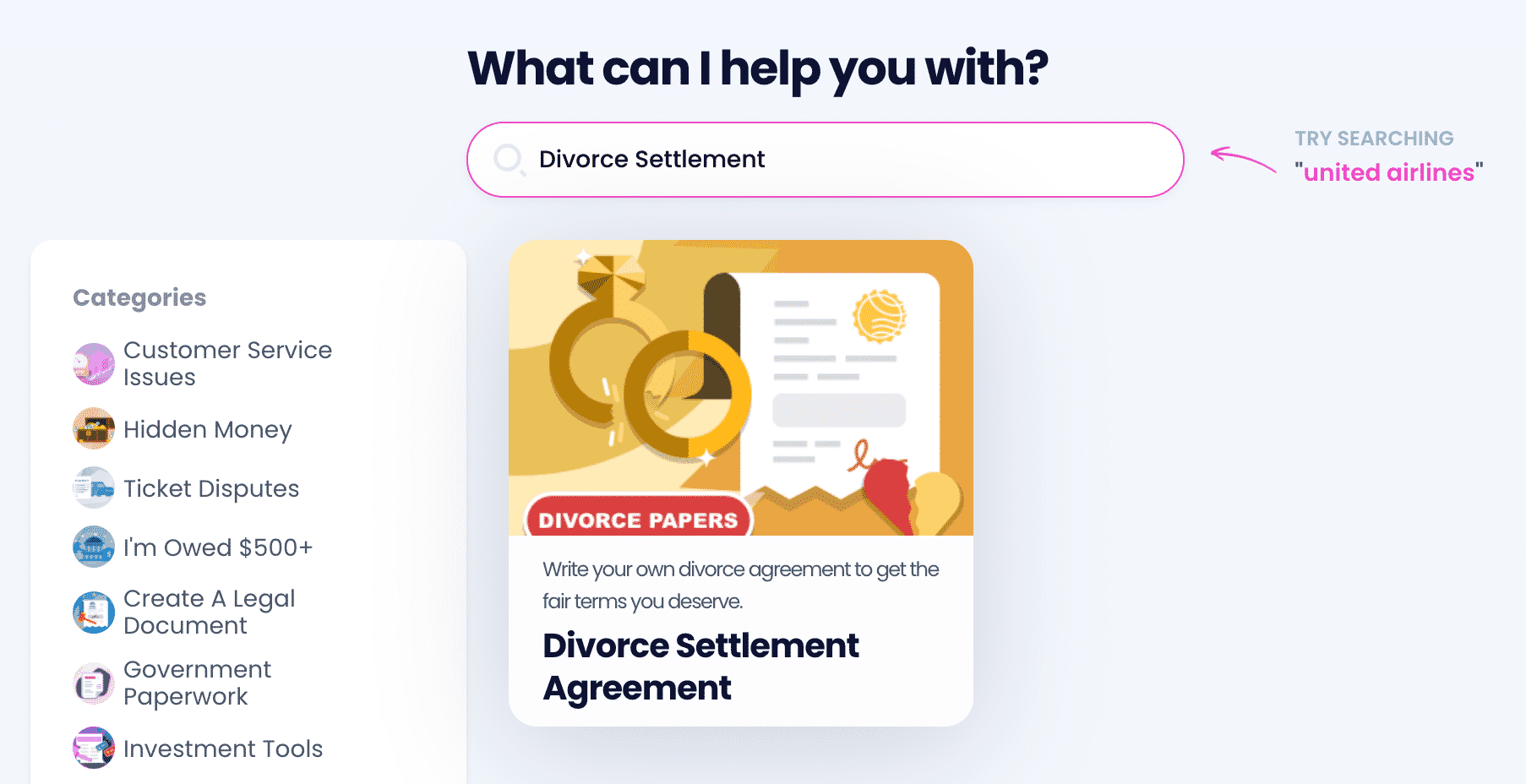 Our service is easy to use and budget-friendly. We can create a valid and mistake-free divorce settlement agreement in three steps!
All you need to do is and do the following:
Find the Divorce Settlement Agreement feature
Complete our questionnaire
Specify if you need a notary
We'll prepare your customized divorce settlement agreement within minutes!
Visit DoNotPay's learning center and check out the following table for more information about divorces:
| | |
| --- | --- |
| General | Military Divorce in Different States |
| | |
DoNotPay Can Help You With Almost Anything
DoNotPay's goal is to have a multitude of features that can be useful to you with handling various issues. Whether you want to apply for clinical trials, prepare for government tests, or even get in touch with your locked-up friends or family—DoNotPay has got you covered!
For a small yearly fee, our AI-based app will help you:
Want To Save and Earn Money at Once? Subscribe to DoNotPay
DoNotPay can help you earn and save a buck or two. We'll assist you in reducing your property taxes, canceling any unused subscriptions, and signing up for free trials with our virtual credit card.
As if that wasn't enough, we'll save you money and spare you from a headache if you receive any faulty deliveries by filing a refund or an item return request in your stead! This is just the tip of the iceberg of features that DoNotPay has in store for you.