Are You Divorcing Because of the In-Laws? Get Familiar With the Divorce Procedure
Not getting along with your in-laws is among the leading causes of divorce. In-laws can put a lot of strain on a marriage if your relationship with them is toxic.
If you're considering divorcing because of your in-laws—or specifically your "monster-in-law"—you're not alone. To hold your nerves and protect yourself during the process, you should gather as much information as possible about the necessary divorce papers, filing steps, and mandatory separation or waiting period!
Can You Avoid a Divorce Over the In-Laws?
Before deciding on a divorce, you should make sure you've exhausted all methods of resolving your issues with your in-laws. The following table presents some options you could consider before divorcing because of the in-laws:
What Can I Do?
Word of Advice
Make a clear understanding with your spouse
If you and your spouse want to make the marriage work, you should:

Try to resolve the problematic relationship with the in-laws together, i.e., as a team
Have a united response to your in-laws' disruptive behavior

Prioritize
As your marriage needs to come first, your spouse must find a way to handle their parents
Set boundaries
You should define when and under what circumstances your in-laws can visit your family and home
Keep an open mind
While your spouse's views and feelings might differ from yours, your spouse:

Should try to understand and respect your opinion of their parents
Shouldn't automatically defend their mother or father
If you can't agree with your partner and they can't or won't help you make peace with their parents, you shouldn't force yourself. Getting a divorce is sometimes the only way out of a toxic relationship.
In-Laws Causing a Divorce—Pick the Right Type of Divorce
To avoid dragging on the divorce process and ending up with a significant bill to settle, you should:
File for an uncontested divorce—This type of divorce is low-cost and easy. Compared to other procedures, this one requires less time and doesn't involve as much complicated paperwork
Get familiar with state laws—You should browse through DoNotPay's website since we provide information on different state and local divorce requirements
Collect the necessary court forms—Most U.S. state and county courts provide these forms on their websites. If they're not available online, you could inquire about them at your county court clerk's office
Complete the paperwork alone—Instead of appointing a pricey attorney to fill out the documentation for you, you should do it by yourself. Most court forms have clear instructions on how to complete them. You can get DoNotPay's affordable yet efficient assistance with other crucial divorce documents, such as a marital settlement agreement and shared parenting plan
When In-Laws Cause a Divorce, Change the Course With an Uncontested Divorce
You shouldn't let your mother-in-law causing divorce deter you from negotiating an out-of-court settlement with your spouse. An amicable divorce will benefit both of you since you are the ones making all decisions instead of letting a stranger—i.e., the judge—make them for you.
To file for an uncontested divorce, you can cite irreconcilable differences as the reason. Aside from that, you and your spouse need to agree on all divorce issues, including:
Splitting debts and assets (e.g., who gets the house)
Child visitation, support, and custody
Insurance
You can finalize the uncontested divorce alone, but if you need help, you could:
Use DoNotPay for Advice and Generation of Your Divorce Settlement Agreement
Our AI-powered app keeps track of the latest state laws to ensure our clients get legally reliable divorce settlement agreements customized to suit their specific needs.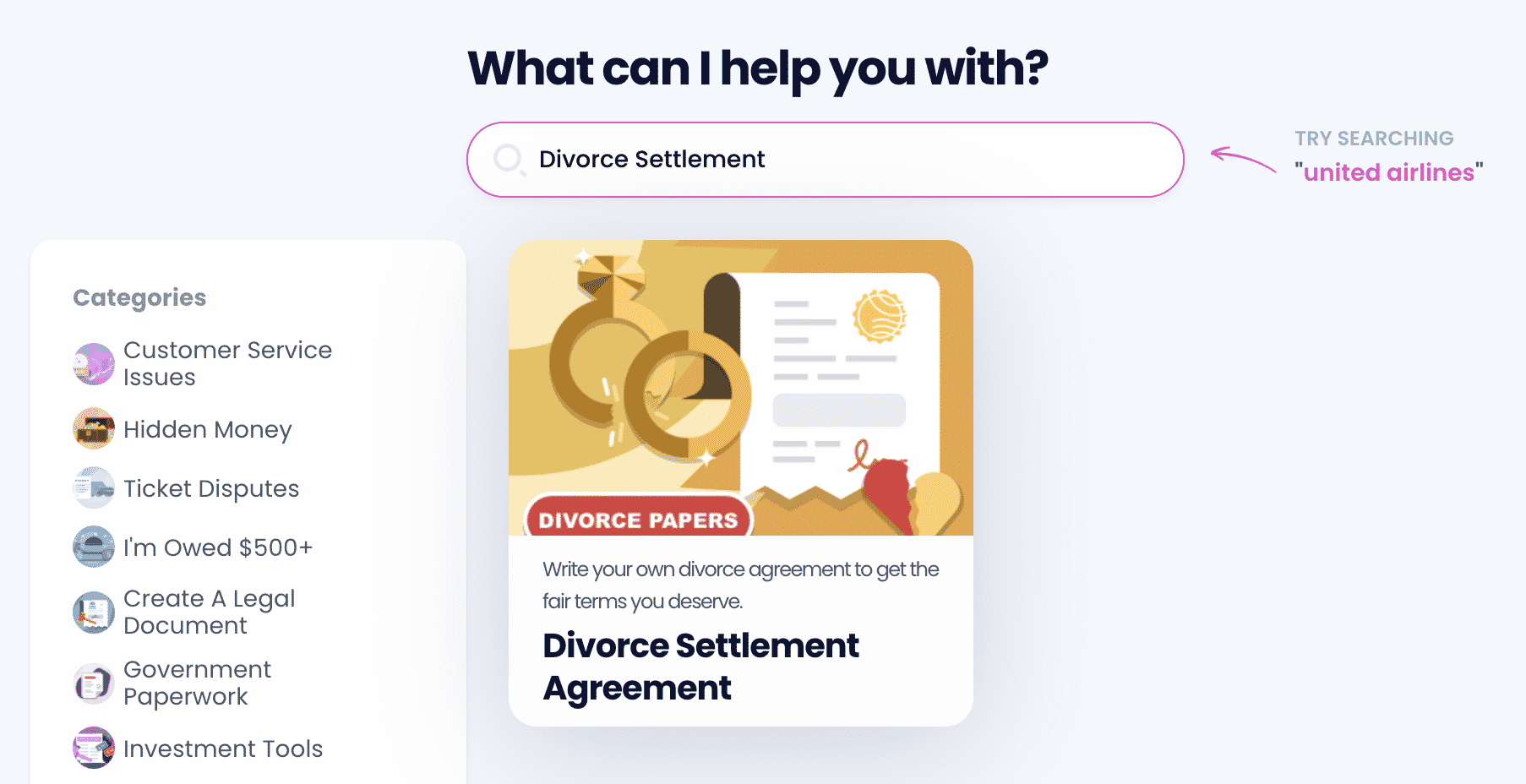 Do you need a divorce settlement agreement that will contribute to a smooth divorce? Register for DoNotPay and:
Pick our Divorce Settlement Agreement product
Provide the necessary information
Choose if you want to get the document notarized online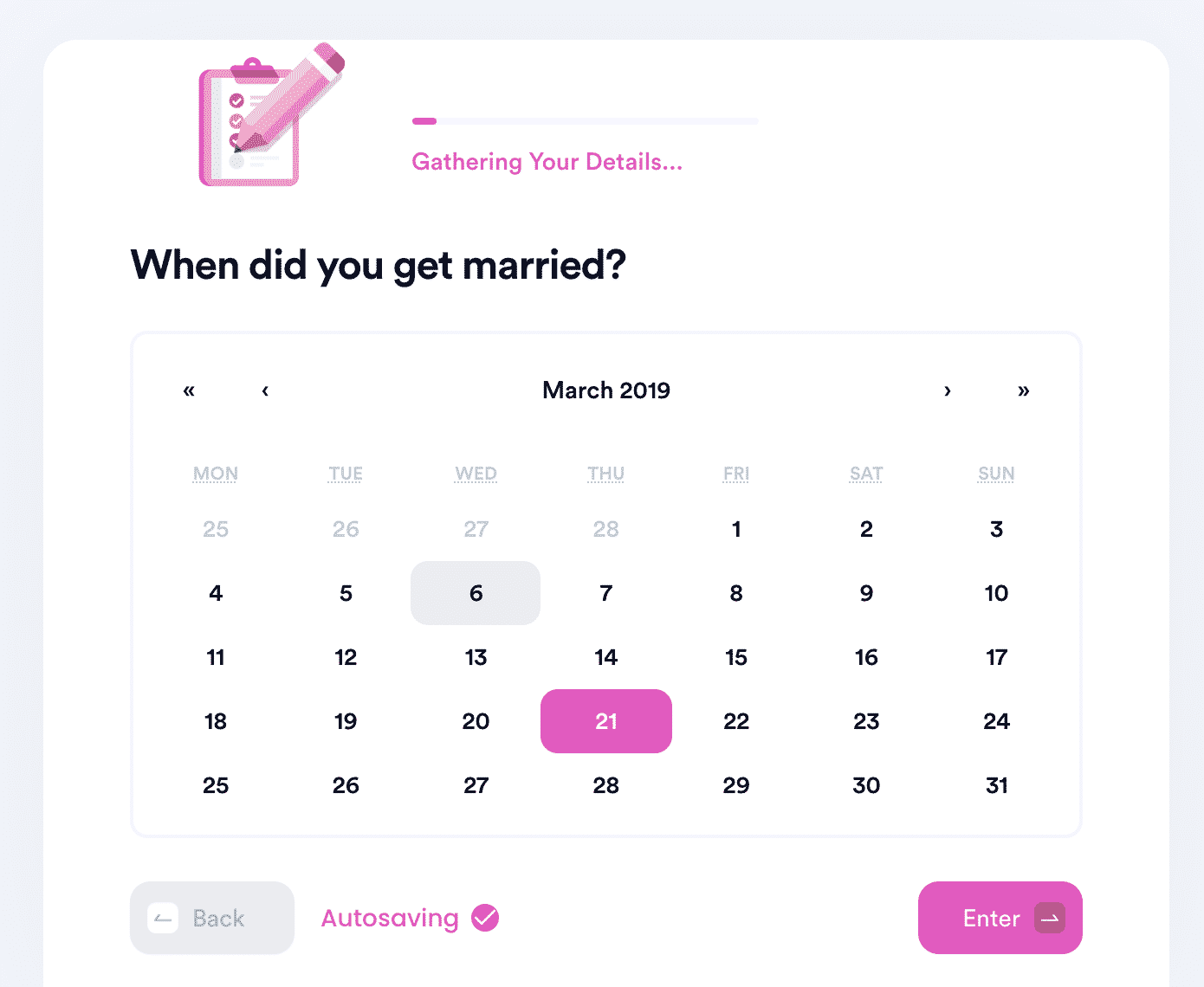 Once you've received the agreement, you should present it to the judge for review and approval.
Be in the Loop To Protect Your Interests
To know what you can expect in a divorce, you should get further information on divorce-specific topics. Check out the following guides and learn:
Get Familiar With State Laws
Take a look at the following table to find articles that cover divorce-related topics for different states across the USA:
DoNotPay Helps You Tackle All Kinds of Problems From the Comfort of Your Home
Are you too busy to go to Target, Walmart, or photo studios to get your passport photos taken? DoNotPay offers you the possibility of taking them yourself and having them edited without going anywhere!
Thanks to our app, you don't need to visit the post office if you want to initiate a return. You can also skip going to a notary office because we'll help you get your documents notarized.
Here are some other tasks you can complete with ease using DoNotPay:
We Help You Get Fuss-Free Subscriptions to Any Service
Interested in a specific service or platform? Make sure to get the best out of your free trial without getting charged and ending up with an unwanted paid membership. Even if you make a mistake, DoNotPay can end your subscription in a few simple steps!
Our system allows you to generate virtual credit card numbers to prevent platforms from getting your real bank details and using them for unauthorized transactions. We also offer burner phone numbers that will help you go through any subscription or verification procedure without disclosing personal details.