Get the Scoop on Divorces in WV
If you're looking for an easy way to file for a friendly divorce in West Virginia, you're in the right place! With our guide, you'll learn all about divorces in WV and how to file for an uncontested divorce without a lawyer in no time!
Sign up for DoNotPay and save money by allowing us to draft your divorce settlement agreement.
Secrets Behind an Uncontested Divorce in WV
When filing for divorce in West Virginia, you can choose to get:
A contested divorce
An uncontested divorce
Contested divorces in WV are filed when spouses can't reach an agreement on divorce matters, and the process is more difficult than filing for uncontested divorce.
If you and your spouse can reach common ground, you should file for uncontested divorce and settle out of court, saving yourselves from unnecessary stress. In case you can't find common language but would like to avoid the contested divorce process, you can always turn to divorce mediation to help you reach an agreement.
Filing for an uncontested divorce in WV comes with a number of benefits, such as:
| | |
| --- | --- |
| Benefit | Explanation |
| Cost | An uncontested divorce is usually a lot cheaper than a contested one. You can even avoid hiring a lawyer and save additional money that way |
| Time | An uncontested divorce usually takes less time than a contested one. You won't have to spend days in the courtroom |
| No conflict | With an uncontested divorce, both you and your spouse will agree on the divorce matters and avoid any kind of conflict. There would be no arguing, and you can go through the divorce with minimal stress |
How To File for an Uncontested Divorce in West Virginia
To file for a WV uncontested divorce, you have to meet their residency requirements, as follows:
You were married in WV, and either you or your spouse are still a resident
You or your spouse must have been a WV resident for at least a year before filing for divorce (if you were married or currently reside in another state)
Check out the list below to see the instructions on how to file for uncontested divorce in WV:
Complete and file all the required forms—To file for divorce in WV, you need to fill out and file a case information sheet, a petition for divorce, a vital statistics form, and a financial statement. Low-income residents can also file a fee waiver affidavit. If you and your spouse have biological or adopted underage kids, you'll also need the following paperwork:

Child support income withholding form
Parent education registration form
Proposed parenting plan

Serve your spouse—Give your spouse a copy of the divorce papers
Draft a divorce settlement agreement—Use a divorce settlement agreement to spell out how you will divide your marital property and debts. In case you have underaged children, state who will pay alimony and specify other relevant details about custody and child support
Do I Need a Lawyer for a Divorce in WV?
Wondering whether you need to hire a lawyer if you and your spouse agree on everything? The answer is no.
Although a lawyer can help you with the divorce papers and decipher the terminology for you, hiring one isn't necessary. Divorce attorneys are quite expensive, and there is no reason for you to spend hundreds of dollars to draft all uncontested divorce papers.
You can draw up your divorce settlement agreement on your own easily and save a pretty penny!
How To Draft a WV Divorce Settlement Agreement by Yourself
Looking for a way to write your divorce settlement agreement without breaking the bank? Check out the table below for a couple of options to do so:
| | |
| --- | --- |
| Option | What To Do |
| Finding online templates | Search the internet for divorce settlement templates and follow the steps to writing your own. You have to make sure your agreement is valid by incorporating all crucial clauses, so keep in mind that these templates aren't always the most reliable and that you may need to do additional research about WV divorce laws |
| Using DoNotPay | Avoid stressing about what to include in your agreement and how to phrase each clause by letting DoNotPay do it for you |
Let DoNotPay Draft Your West Virginia Divorce Settlement Agreement in a Flash!
You don't have to worry about doing everything by yourself! DoNotPay is here to lend a helping hand and create your agreement for you. All you need to do is follow the steps listed below to get started:
Find and tap on the Divorce Settlement Agreement feature
Provide some info
Once you complete the above-listed instructions, DoNotPay will generate your agreement! Make sure that both you and your spouse sign it and get it notarized afterward.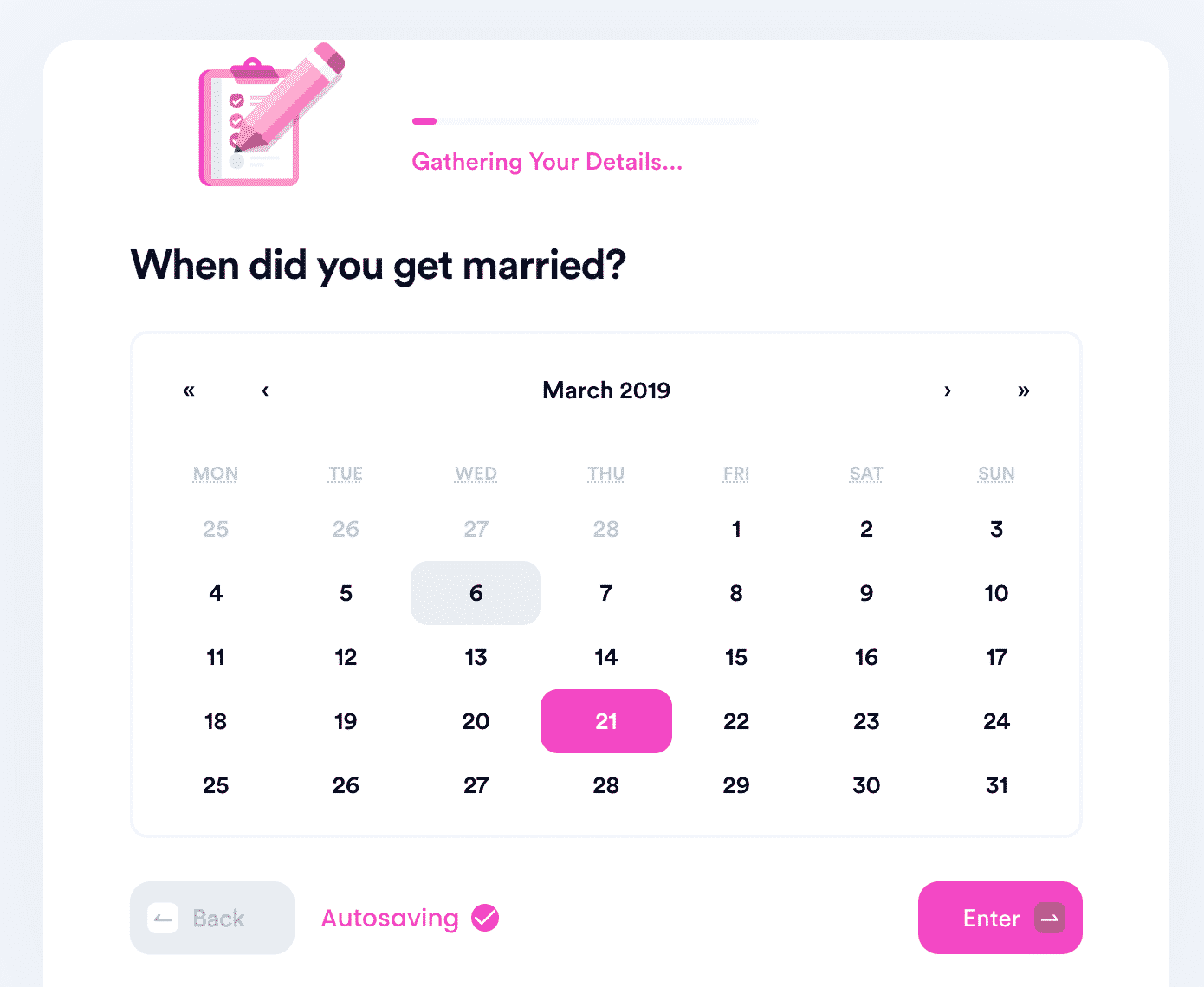 Luckily, you don't have to waste time with an in-person visit to a notary public! DoNotPay offers you the option to get your agreement notarized once we draft it. All you need to do is choose the notarization option, and we'll connect you with a remote notary in no time!
We can also show you how to:
Want To Save Money on Lawyers? Use DoNotPay
Most people spend big bucks on expensive lawyers to overcome their bureaucratic obstacles. Don't waste your money on unnecessary fees—use DoNotPay and take care of any legal matter in a few easy clicks! Check out some of the issues the world's first robot lawyer can help you with:
DoNotPay Turns Your Everyday Hurdles Into a Piece of Cake
Did you receive a faulty or damaged item? Why not return it with your virtual assistant? We can also help you get a late delivery refund and jump the queue if the customer service phone keeps ringing to no avail. The list of handy DoNotPay features that make your everyday life easier goes on.
By subscribing to our platform, you won't have to worry about your tedious neighbors or parking tickets. We can do it all!