What Can You Expect From Getting Divorced in Your 20s? DoNotPay Knows
Getting a divorce is a stressful experience at any age, but getting divorced in your 20s can put even more pressure. In most cases, people judge young divorcees or pity them.
Don't be discouraged by other people's reactions to your divorce—if you decided to go through with it, you shouldn't care about their opinions. To ensure the whole process is affordable, quick, and less stressful, you should opt for an uncontested divorce and avoid court expenses and sky-high lawyer fees.
If you , we will help you create a divorce settlement agreement—a vital document for your uncontested divorce.
The Truth About Getting Divorced in Your 20s
For most young divorcees, getting a divorce in their 20s can be exceedingly difficult. If you're contemplating divorce, you might want to be aware of the issues you could face:
| | |
| --- | --- |
| Challenges of Getting Divorced in Your 20s | Details |
| Embarrassment | Some people feel embarrassed after getting divorced in their 20s because failure at anything—including marriage—is usually frowned upon |
| Fear of starting over | Everyone is afraid of stepping out of their comfort zone and starting over. You will probably wonder how to cope with your failed marriage, but it will get easier over time |
| Personal change | A divorce in your 20s will probably change you. You will start empathizing with other divorcees and understand yourself and your needs better |
Getting Divorced in Your 20s Doesn't Have To Be That Awful
When getting divorced in your 20s, one of the most important things you need to remember is that you're still young and have many years ahead of you. This might turn out to be the best decision of your life since you didn't wait 30 years to end a bad relationship.
Here are a few reasons why filing for a divorce in your 20s can be a good decision—you will:
Learn a valuable lesson
Have more experience
Have more room to grow and get to know yourself
Learn how to be independent again
Figure out what you really need in a romantic relationship
Divorce Process From A to Z
Filing for divorce can be dreadful because the whole procedure includes a ton of paperwork and hours of research. The cost, length, and complexity of the process will depend on whether you and your spouse are filing for a:
No-fault or fault-based divorce—The type of divorce you're filing for will have a strong impact on how the whole process will unfold. If you file for a fault-based divorce, it will automatically be a contested divorce. No-fault divorces are different because no one is to blame for the dissolution of marriage, and you'll be able to complete the process much faster
Contested or uncontested divorce—A contested divorce will cost you more than an uncontested one because it will involve lawyers and court hearings. In this type of divorce, you will give control over your divorce affairs to the judge. Would you like to finish the whole process as quickly as possible without wasting a small fortune? You and your spouse should settle all divorce-related matters outside of court and file for an uncontested divorce
A Guide to Filing for an Uncontested Divorce
DoNotPay is here to help you through this difficult time. We will tell you which steps you need to take to file for divorce:
Try divorce mediation (if you and your partner would like to avoid court hearings but are having trouble agreeing on each divorce aspect but don't want to get a lawyer)
Collect all the necessary paperwork
File a divorce petition—you can do this online too
Fill out the forms and file them to your county court
Create a divorce settlement agreement
Divorce Settlement Agreement Explained
A divorce settlement agreement is an important document that should spell out all the important terms of your divorce, such as:
Child support, custody, and visitation (if applicable)
Other important aspects of your divorce
You can find numerous divorce settlement agreement templates online, but keep in mind that they aren't customized to your case and can be full of errors.
If you hire a lawyer to draft your divorce settlement agreement, it will probably cost you an arm and a leg.
To get a well-written document without breaking the bank, you should rely on DoNotPay and create an affordable divorce settlement agreement in a few steps.
DoNotPay Helps You Avoid Spending a Small Fortune on Your Divorce
DoNotPay is a sure way to a friendly and low-cost divorce. We can help you draw up a divorce settlement agreement in minutes and handle your divorce out of court.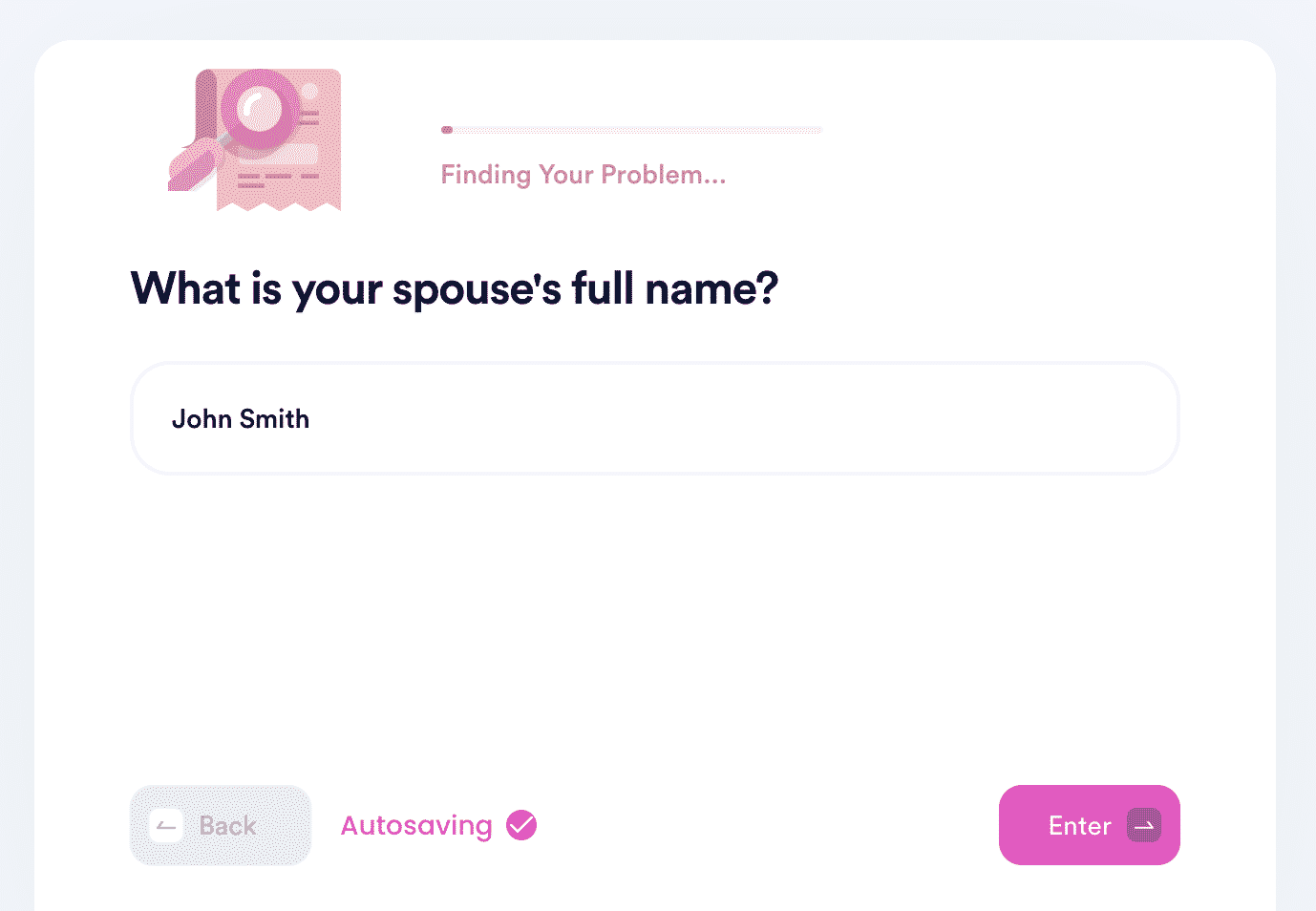 All you need to do is and follow the instructions below:
Open our Divorce Settlement Agreement product
Provide all the information regarding you and your spouse and children (if you have any)
Inform us about how you want to divide your assets
Once you complete the steps, DoNotPay will generate a legally formatted divorce settlement agreement that you and your spouse should sign. We can even help you get your document notarized by enabling you to book a meeting with an online notary.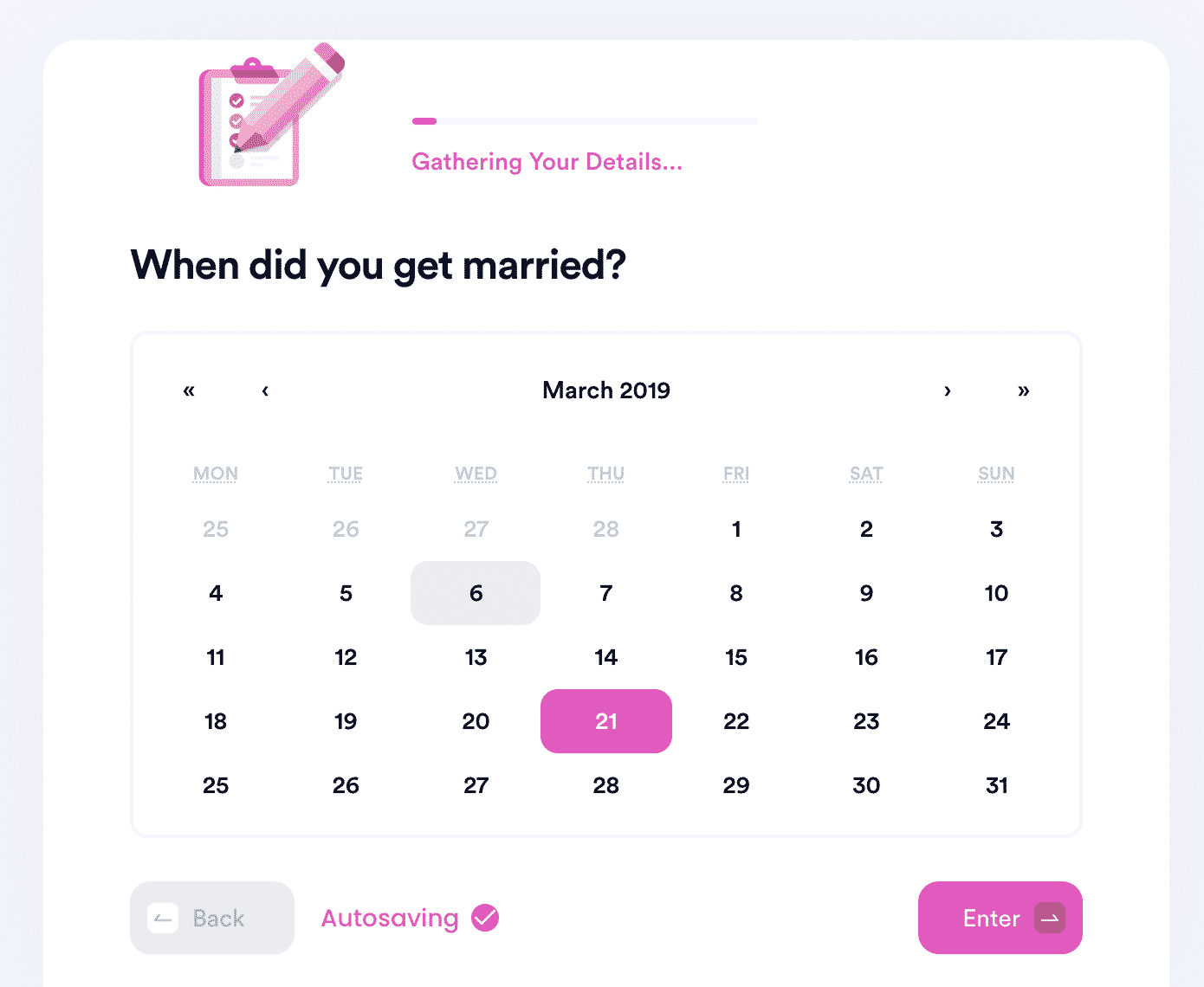 DoNotPay can offer assistance with other divorce-related issues. Visit our learning center to get answers to numerous questions regarding divorce, including:
DoNotPay Is Righting Wrongs Left and Right
DoNotPay is a platform that puts its subscribers' safety in the first place. We can keep you safe from sex offenders, stalking, and harassment. In case you're a victim of a crime, we can help you get compensation.
Fight for discrimination at your workplace with the world's first robot lawyer or sue any company or person in small courts if you feel like you've been wronged.
Is There Anything DoNotPay Can't Do?
The short answer is no, and the list of our AI-based app's features keeps growing by the day. We offer professional assistance with issues that no other platform can help you with. Sign up now and: