Cover All the Bases With DoNotPay's Divorce Settlement Agreement Checklist
Filing for divorce is a daunting prospect, but your fear can be reduced if you can manage the process.
If you are lucky, you and your spouse have agreed on a friendly divorce, meaning you can, at least, complete the process relatively cheaply and without lengthy court proceedings.
There are still processes to go through, though—get any of them wrong, and your case might land in front of a judge after all. One of the most crucial tasks is setting up your divorce settlement agreement.
DoNotPay is here to make sure you cover all your bases with our complete divorce settlement agreement checklist!
How Does the Divorce Process Work?
In most states, the process of divorce runs as follows:
File divorce papers
Draw up a settlement agreement
File Divorce Papers
Your first step is to obtain, fill out, and file your divorce papers, which will usually include a:
Petition for divorce
Breakdown of your joint finances
Details of any children from your marriage
If you and your spouse have already come to an arrangement, your state may allow you to file for an uncontested divorce. You may even be able to file jointly.
Serve the Papers
If you have filed your divorce papers independently of your spouse, you will need to have them served by a deputy sheriff or professional process server.
This step is unnecessary if you have filed jointly or your spouse has signed a waiver of service—this is a common way of streamlining uncontested divorces.
Draw Up a Settlement Agreement
The most crucial document in your uncontested divorce is your settlement agreement.
This legal document is the make-or-break requirement for a court to grant your divorce without the hassle.
If the judge finds your out-of-court settlement agreement fair and complete, your path to a quick divorce becomes easier.
What Should a Settlement Agreement Cover?
Your divorce settlement agreement needs to cover every area you mentioned in your financial affidavits when you filed for divorce.
The points your agreement specifically needs to deal with are:
Settlement Agreement Clauses
Explanation
Preamble and basic information
This section must contain:

Each spouse's name, address, and contact information
The date of the marriage
The separation date, if required under your state's law
The grounds for divorce—in a no-fault divorce, this can be something as simple as "irretrievable breakdown"
Disclosure statement—confirming that both spouses have made full disclosure of all relevant information

Income
The income section lists each spouse's gross monthly income
Division of assets
All the assets listed in your initial financial declarations should be mentioned in this section, with an equitable division between you and your spouse. Bear in mind that a judge will check the fairness of your settlement before signing off on it
Division of debts
Any debts you or your spouse have disclosed must be divided between the two of you. You need to make sure the debts are all communal—and not individual—ones
Alimony or spousal support
Based on your income declarations, you or your spouse may have agreed to alimony payments. Whatever you have agreed on, it needs to be within the framework of your state's law.

As an example, any settlement agreement drawn up in California may need to take account of the 10-year rule when dealing with alimony

Children
If you and your spouse have children from the marriage, a court will need to see that they will be looked after and that the settlement is in their best interests.

You will need to agree on:

Agreement
The final section of the divorce settlement agreement should confirm that you and your spouse:

Commit to abiding by the terms of the agreement
Agree to try to resolve any future disputes around the agreement cooperatively
Do not hold each other liable or responsible and will not disparage each other to third parties in the future
Once you have been through this checklist, you should check the agreement for fairness and completeness—both parties have rights under the law, and these should be reflected in your settlement.
If your settlement agreement covers these points, you should be able to receive your divorce decree in as short a time as possible.
Where Can You Get a Settlement Agreement Prepared?
Under ideal circumstances, you and your spouse agree on everything, meaning that you solely need to have your agreement drafted in legal terms.
If there are points on which you don't agree, you have the following options to reach a consensus:
DIY—You and your spouse work everything out together without third-party intervention
Lawyer—You engage attorneys to negotiate on your behalf, which can have significant cost implications, often resulting in thousands of dollars in lawyers' fees
Mediation—A mediation service can facilitate your face-to-face negotiations at a fraction of the cost of a lawyer
Once you have reached a settlement, you can have the agreement drawn up using:
A lawyer—An attorney will charge up to $1,500 to draw up a settlement agreement, so you may consider this expense to be unnecessary
An online divorce service—Numerous websites offer online settlement agreement templates for you to fill out, but they tend to be highly generic and may not cover your exact needs
The third—and the best—option is DoNotPay. We can take the terms of your settlement and generate a watertight settlement agreement in a few clicks!
Cover All Your Settlement Agreement Bases With DoNotPay!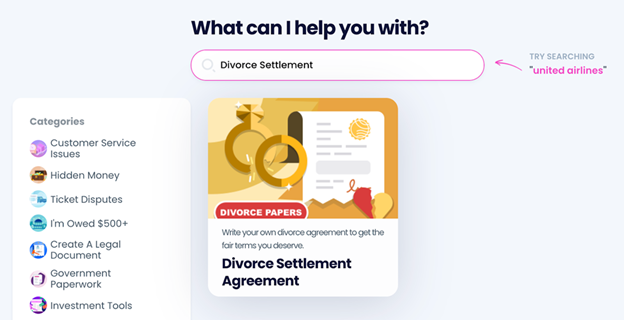 DoNotPay is committed to making your divorce as easy and painless as possible!
Our Divorce Settlement Agreement feature is designed to take the hassle out of the divorce procedures. With our product, you can create a comprehensive agreement that ticks all the boxes and should get a judge to sign off on your divorce with no issues.
Here's how to set your agreement up:
Sign up with DoNotPay in your web browser
Go to our Divorce Settlement Agreement feature
Fill in the details you and your spouse have agreed on
Once we have captured everything, we will generate your agreement in a flash.
You can sign it together with your spouse and have it notarized.
If you don't know where to find a notary, our online notarization service will help you finish this task from the comfort of your home!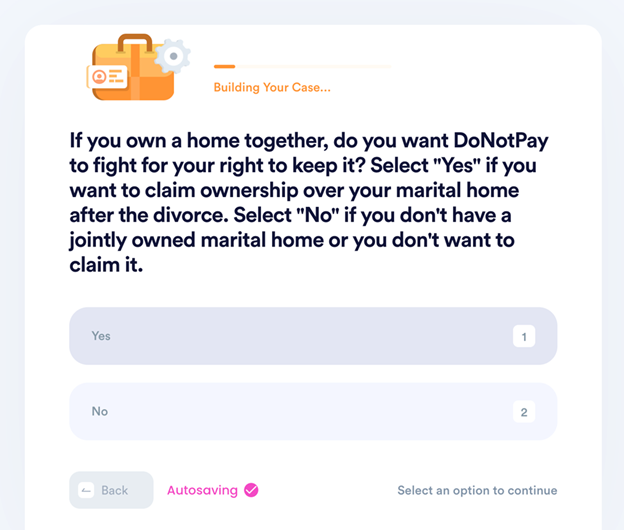 Use DoNotPay To Complete a Variety of Tasks at Any Time
Why waste time and money completing mundane tasks on your own when you can let DoNotPay assist you? Take a look at the table below to find out what our AI-powered app can do for you:
| DoNotPay Can | Services |
| --- | --- |
| Protect your safety and privacy | |
| Draft legal documents | |
| Help you get your money back | |
DoNotPay Has More in Store for You!
Since communication is key, you'll appreciate our feature that helps you get in touch with customer service reps quickly! We'll also show you how to send faxes online and have your documents notarized by an online notary with ease!
Going on vacation? Use DoNotPay to take a valid passport photo at home or get a tourist visa!