Green-Light Your Future With a Divorce Separation Agreement
A divorce is one of the most life-changing events that can happen to you.
Deciding on divorce doesn't happen overnight, though. Whether it is required in their state or it makes an eventual divorce easier, many couples choose to separate legally before divorcing.
DoNotPay has the deets you need on setting up a divorce separation agreement that ticks all the boxes.
The Difference Between Separation and Divorce
Once you file for divorce, the die is cast—the process will move ahead, and only serious intervention on your or your spouse's part can stop it.
Separation is a precursor to divorce but can be rescinded at any time. If you and your spouse agree to separate, it may be with various long-term plans in mind, such as:
Reconciliation after a certain time
Eventual divorce
Ending the marriage without formally dissolving the partnership
Whatever your reasons, to legally separate, you do not normally need to go through the courts. A separation agreement can be a contract between you and your spouse with no need for a judge to ratify it.
Do Some States Require Separation Before Divorce?
Several states worry that the concepts of no-fault divorce and friendly or uncontested divorce make the dissolution of marriage too easy.
To ensure that couples don't enter the process without thinking it through, these states insist on a mandatory waiting or separation period before a divorce can be granted. The states that implement these rules are:
A separation agreement can be used to define the terms of the separation, including the following:
If you and your spouse decide to follow through with the divorce process after the waiting or separation period is completed, your separation agreement can be used as the basis for a divorce settlement agreement.
When Does the Separation or Waiting Period Start?
If you are separating without intending to divorce, your separation can begin whenever you want.
If the separation is required by state law as a prerequisite for divorce, it will begin when you:
File divorce papers
Serve the papers on your spouse
Filing Divorce Papers
Filing divorce papers means lodging a petition for divorce with your county court.
The necessary forms are usually available at the court but must include:
A request for the court to grant a divorce
A list of your joint and individual debts, assets, income, and expenses
Details of any minor children
A summons for your spouse
Serving the Papers on Your Spouse
Your spouse needs to receive copies of the divorce papers and sign to confirm receipt.
The papers are normally served by a sheriff or professional process server.
Once the divorce papers have been filed and served, the mandatory separation period begins.
Where Can You Get a Separation Agreement?
Whatever the reason for separation, you have several options for getting the document prepared, as follows:
Resources for Separation Agreements
Explanation
Lawyer
A lawyer can easily draw up either a separation agreement or a divorce settlement agreement. If you and your spouse can agree on everything, though, you may want to ask whether it's a necessary expense.

Lawyers can charge anywhere from $100 to $500 per hour, so the costs of your divorce can quickly become astronomical.

Even if you can't agree with your spouse on every term of your separation, you may be able to avoid lawyers' fees and achieve a low-cost divorce. A mediation process can help you reach a negotiated agreement at a fraction of the cost of attorneys

County court
Your county court may be able to provide you with templates to fill out. These are often complicated, though, meaning you could end up needing a lawyer to decipher them
Online divorce services
Websites offering settlement or separation agreement templates are common, but you need to be careful—many of the templates on offer are highly generic and do not cover your exact needs. Some may not even be valid in your jurisdiction
If you subsequently choose to get a divorce, DoNotPay can generate exactly the divorce settlement agreement you need in a few clicks and without the cost of a lawyer!
Separate and Settle Safely and Securely With DoNotPay!

If you are hoping to finalize your divorce without a lawyer, out-of-court, and with the minimum of fuss and pain, DoNotPay is here to help!
Our Divorce Settlement Agreement feature helps you set up a settlement agreement that is comprehensive and watertight. In a few minutes, your agreement will be ready to sign, and your path to divorce will be clear!
To get your divorce settlement agreement, follow these steps:
Sign up with DoNotPay in your web browser
Click on our Divorce Settlement Agreement product
Give us the details of your settlement
We will generate your document in an instant, and you and your spouse can sign it and have it notarized.
If you don't know where to find a notary in your vicinity, we have got you covered with our online notarization feature!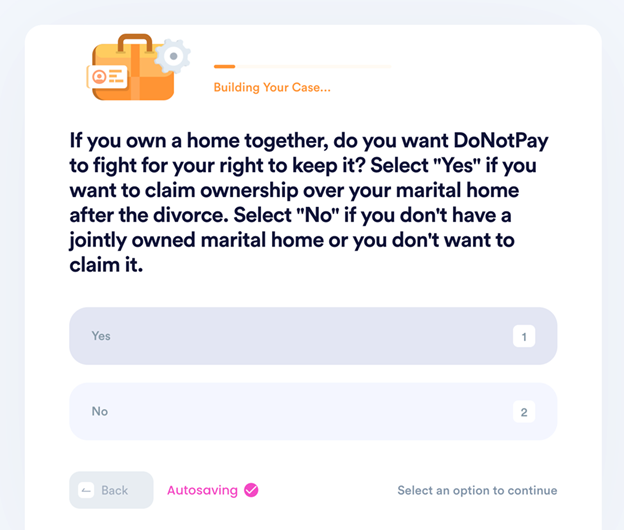 What Other Issues Can Our App Solve?
DoNotPay can support you through various burdensome procedures and turn them into a breeze! Here's a table showing a tiny part of our extensive offer:
| DoNotPay Can | Services |
| --- | --- |
| Create various documents | |
| Protect your safety and privacy | |
| Get your money back | |
DoNotPay Is Your Ticket to Simpler Life
Don't bother going through complicated tasks alone—we are here to take care of them! Seek our help if you want to get in touch with customer service instantly, fax anyone online, or get your documents notarized. Besides providing these amazing services, DoNotPay can make preparations for your travel adventures by assisting you in getting passport photos at home and obtaining tourist visas.