Do I Need a Lawyer To Prepare the Divorce Papers in TN?
Going through a divorce can be both stressful and pricey. Where can you get the divorce papers in TN? Can you complete and file them alone?
We present answers to these and other questions. DoNotPay also provides help with drafting your divorce settlement agreement efficiently.
Where To Look for Tennessee Divorce Papers
You can find free Tennessee divorce forms on the website of the Tennessee state courts. If you complete these court-approved forms correctly, you don't have to hire a lawyer.
Before you opt for this set of forms, you should keep in mind that these forms are adequate only if you and your spouse have an agreed or uncontested divorce.
What Is an Agreed Divorce?
An agreed or uncontested divorce happens when you and your spouse agree on all divorce aspects or points. This friendly divorce is the fastest way to end a marriage in Tennessee, and it also:
Should You Choose Mediation?
If you and your spouse don't agree on all aspects, you don't have to hire a lawyer yet. You might want to try mediation first.
A mediator is an expert who can help you come to terms and sign a divorce settlement agreement. Keep in mind that you can meet with a Tennessee mediator separately, i.e., you don't have to do it with your spouse if you feel uncomfortable.
Can You File for an Online Divorce in Tennessee?
You cannot file for or complete your divorce online in TN. If you need any extra papers for your divorce, you'll need to visit your local county clerk's office.
How Long Does It Take To Get Divorced in TN?
While an agreed divorce is the fastest way to get divorced, Tennessee law requires a cooling-off period. It means that an uncontested divorce:
Without minor children must be on file for at least 60 days
With children who are under 18 needs to be on file for a minimum of 90 days
As there is no exception to this rule, you cannot finalize your divorce in less than 61 days from the date you filed your papers. Keep in mind that this period may easily be longer due to additional factors, e.g., the court's caseload and availability.
An average contested divorce takes about a year, but the length depends on how complex your case is and how many problems you and your spouse need to resolve.
File the Divorce Papers in Tennessee Alone or With the Help of a Lawyer
Besides negotiating and agreeing on all points of your divorce, you and your spouse need to meet the criteria listed in the left column of the following table to file for divorce using the Tennessee uncontested divorce forms:
You Can Use the Available Forms Alone If
You Should Consult a Lawyer If

At least one of you lived in Tennessee for the last six months before you decided to get divorced
You don't have any children together who are:

Disabled
Under 18
In high school

Neither of you is pregnant
Both you and your spouse want to end the marriage
You don't have any land, buildings, businesses, or retirement benefits together
You and your spouse agree on:

Spousal support
The division of property
Signing a divorce agreement

Keep in mind that both of you need to agree on all of the above-listed to be able to use the court-approved Tennessee divorce forms

You don't understand the TN divorce papers or have additional questions
There's domestic violence
Either your spouse or you have a retirement plan or IRS qualified pension
You don't know where your spouse is
Either one of you owns:

A business
Real property, i.e., land or buildings

Your spouse:

Makes you afraid
Has a lawyer—you should hire one, too
Refuses to sign the divorce settlement agreement
The cost of a divorce in TN depends on many factors, including the ones presented above, i.e., if you use the services of a mediator or lawyer or file for divorce alone.
To save time, money, and energy, sign up for DoNotPay to get a smooth and efficient divorce settlement agreement from the comfort of your home!
Choose DoNotPay for a Customized Divorce Settlement Agreement
Our AI-powered app gathers data from government sources to keep track of the latest state-specific requirements. We use them to help you prepare a solid settlement agreement that you and your spouse can:
Both sign instantly
Get notarized via DoNotPay in a matter of minutes
Send to a lawyer for a quick review—if you'd like to make sure everything's in order and, at the same time, spend much less money on services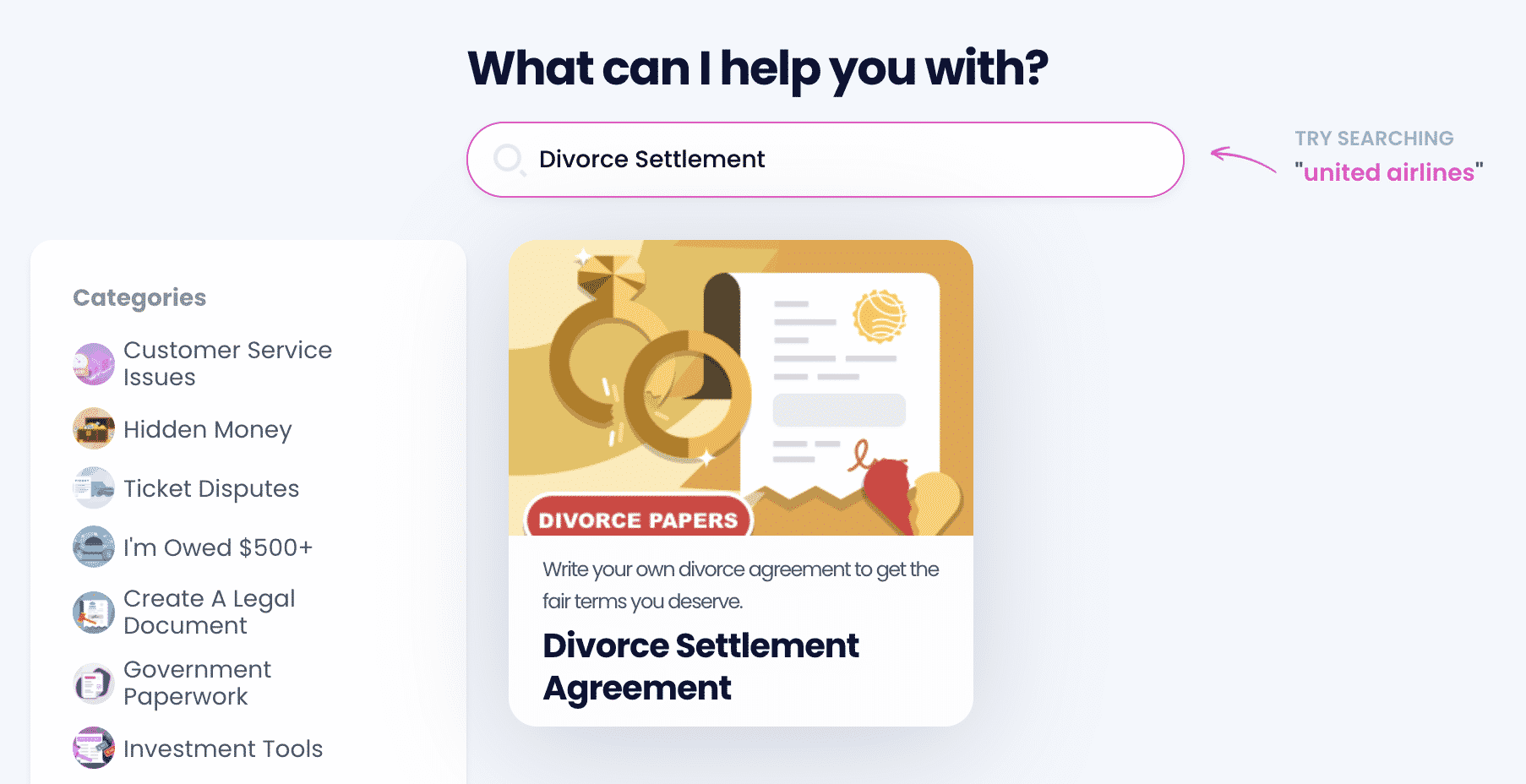 All you need to do is subscribe to DoNotPay and take these steps:
Type Divorce Settlement Agreement in the search box
Answer a few question our chatbot will ask you to help us determine your situation
Provide the information about your property and income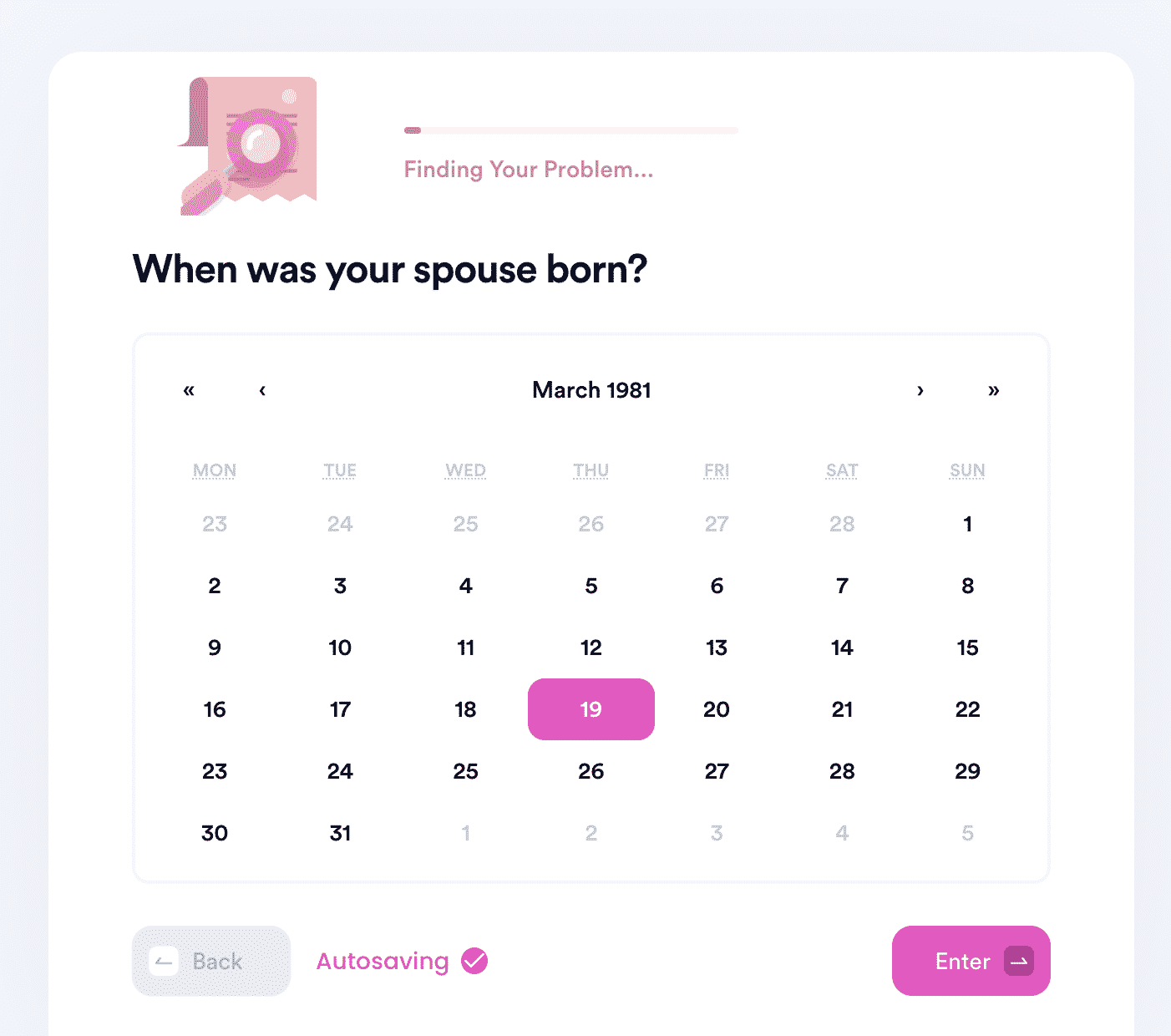 Once we get the necessary details, DoNotPay creates a divorce settlement agreement based on your state-specific legal standards and tailored to your unique circumstances.
Browse through our vast knowledge base in search of answers to more divorce questions. Among many others, we'll help you find out:
Take Control of Your Finances
DoNotPay is a great way of taking care of your money, whether you're cost cutting or looking for some extra income. Your new virtual assistant will help you:
Explore All the Facets of Our Multi-Purpose Platform
Our app is great for helping you with your money, but the benefits of your DoNotPay subscription don't stop there. The portfolio of DoNotPay's products and services is so diverse that anyone can find something useful to make their daily tasks easier.
We can help you deal with annoying DMV appointments, protect your privacy by offering a burner phone number, or avoid trips to a post office with our mailing service!
Find a more comprehensive yet cheaper subscription—we'll wait!