The Crucial Info About Divorce Papers in NC
Going through a divorce is a stressful period. It is often difficult to keep track of all the steps you need to take to finalize this ordeal. DoNotPay can provide you with the information you need about divorce papers in NC and help you create a divorce settlement agreement!
What Is an Uncontested Divorce in North Carolina?
An uncontested divorce is an option for couples who want to end their marriage in a friendly way. In North Carolina, if you wish to get an uncontested divorce, you are actually filing for a no-fault divorce. In this case, the court does not require either of the spouses to prove that the other is the culprit for the termination of the marriage.
An uncontested divorce is also a low-cost option compared to the divorce when couples disagree on all matters. Spouses choosing an uncontested divorce must agree on:
Custody
Visitation rights
Spousal support
Property settlement
Payment of joint debts
NC Uncontested Divorce Requirements
If you want to have an uncontested divorce in North Carolina, you and your spouse must have:
Been separated for at least one year
Lived apart and occupied separate residences for a year
Lived in the state for a minimum of six months (at least one of you)
What NC Uncontested Divorce Forms Will You Need?
You will need to gather and complete the following forms:
Complaint for absolute divorce—original and two copies
Civil summons (form AOC-CV-100)—original (on white paper) and three copies (on yellow paper)
Domestic civil action cover sheet (form AOC-CV-750)—original and two copies
Servicemembers civil relief act affidavit (form AOC-G-250)—original and two copies
Petition to proceed as an indigent (optional—if you cannot afford the court fees)
You need to fill out all the forms using one of these methods:
Online
On a typewriter
With a blue or black pen (make sure to write neatly)
Cheap Divorce in NC—How Much Will You Need To Cash Out for an Uncontested Divorce?
The cost of a divorce in North Carolina depends on how cooperating you and your wife are. If you are going to have an uncontested divorce, you will need to cover only the basic divorce expenses.
The filing fee for a divorce in NC is $225. To have the sheriff serve the papers, you will need to include an additional $30. If the papers are served via mail, it will cost you $7.
How Long Is the Waiting Period in North Carolina?
In the Old North State, you need to wait at least 30 days for a hearing after the forms are served to the other spouse.
How To File for an Uncontested Divorce in NC
To end your marriage through an uncontested divorce, you will need to follow a certain procedure specific to NC. Take a look at the table below for more details on how to file for divorce:
Steps
Explanation
Get and complete the necessary forms
Make sure to get all of the necessary forms so that the process can commence
Make a divorce settlement agreement
You will need this document to formulate how you will handle:

Property division
Child custody
Alimony
Equitable distribution

DoNotPay can help you make this document!

Make the copies of forms
It is necessary for you, your spouse, and the court to have a copy of each document
File the forms
You need to take the forms to the clerk of court's office
Serve your spouse
In NC, you can't deliver the documents to your spouse yourself. You can ask:

The local sheriff's office to hand-deliver the documents for you,
Someone over the age of 18 who is not involved in your case
Use DoNotPay To Draw Up a Divorce Settlement Agreement in North Carolina
If you are looking for the easiest way to make an airtight divorce settlement agreement, DoNotPay is at your service! Our app handles the entire process of making this legal document in no time. You only need to heed these instructions:
Find the Divorce Settlement Agreement product
Provide relevant information about your spouse
Tell us more about your income and financial assets
Once you finish the simple questionnaire, you will get a divorce settlement agreement that covers all the crucial information. The next step is to sign the document and take it to the notary. Our app can help you get the document notarized as well.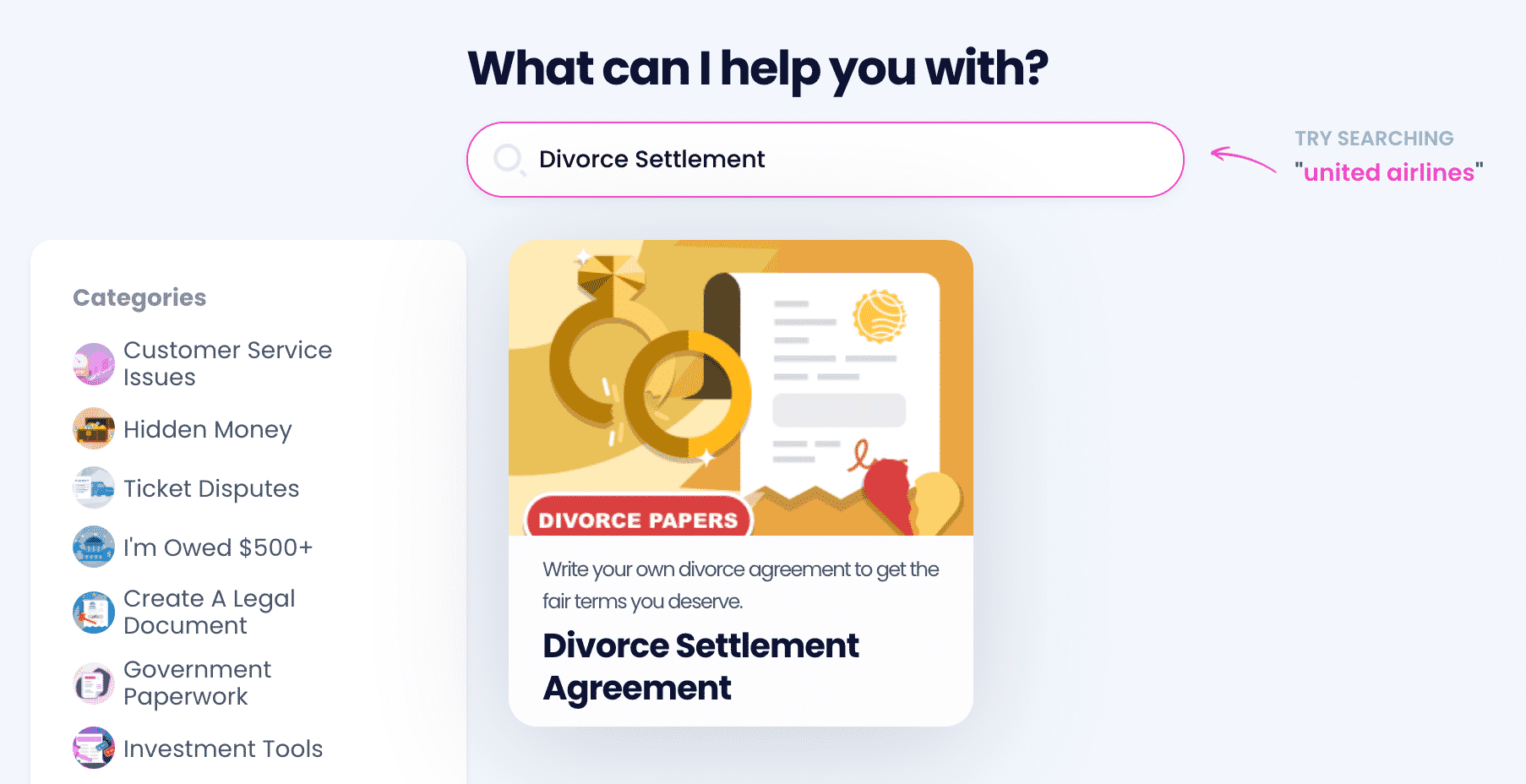 DoNotPay can also offer the answers to the following questions:
DoNotPay—Easy Fixes for Your Daily Struggles
Calling customer support takes hours. Dealing with refunds and chargebacks takes weeks or sometimes months. And don't even get us started on DMV appointments. The good news is that, with DoNotPay, you don't have to stress out about these tasks any longer.
Our platform can help you turn exhausting administrative troubles into two-minute tasks. Thanks to AI technology, you can easily create legal documents, request compensation for canceled flights, send a complaint letter to your neighbor, or book appointments with online notaries.
Diversity of services is one of the biggest advantages DoNotPay offers, and the best part is that our subscription won't cost you an arm and a leg.
Do You Need Help With Anything Else?
All you need to do is ask, or in this case, sign up for DoNotPay, and the world of practical, user-friendly products awaits. Finishing boring or annoying tasks with the help of our AI bots is fun, easy, and super intuitive—you won't need any special knowledge of legalities or administrative terminology.
With our help, you will be able to: