A Rundown on Getting Divorce Papers in Las Vegas
The cost of a divorce in Las Vegas ranges from $13,500 to $20,600, with attorneys' fees being accountable for most of the expenses. If you decide to get a divorce without a lawyer (a so-called DIY divorce), you'll have to handle everything by yourself—from gathering the paperwork to representing yourself in court.
There's nothing to fret about—DoNotPay will guide you through the whole process. We'll explain what divorce papers in Las Vegas you need, where to obtain the forms in PDF, and how to file them in a flash!
We can even draft one of the most important uncontested divorce documents—a marital settlement agreement. All you need to do is !
Are You a Good Candidate for a DIY Divorce in Las Vegas?
Getting a divorce in Nevada doesn't have to be a difficult and time-consuming process. You can minimize stress, hassle, and expenses by opting for uncontested marriage dissolution. The problem is, not everyone is eligible for this low-cost method.
To qualify for a DIY friendly divorce, all of the following must be true:
You and your spouse agree:

About the termination of the marriage
On no-fault reasons for divorce (separation or incompatibility)

Both of you are willing to draw up a settlement agreement on issues like:
You give up rights to:

File an appeal
Receive a Notice of Entry of Order
Request findings of fact and conclusions of law
Request a new trial

Both of you request a final divorce decree
What Are the Required Divorce Papers in Nevada?
To file for a quick and cheap divorce in Las Vegas on your own, you need to gather, fill out, and sign the necessary paperwork. Check out the following table to learn what documents you need to start the divorce process:
Divorce Form
What Is It For?
Family Court Cover Sheet
It contains general information about you, your spouse, and any children (biological or adopted) you have together. The court uses these details to open the case
Affidavit of Resident Witness
The purpose of this form is to prove that either you or your spouse is a Nevada resident. You should ask a third person (a friend, coworker, or family member) to fill out the form and confirm that at least one of you has lived in the state for a minimum of six months before petitioning
Joint Petition for Divorce
Depending on the case, you'll need one of these forms:

Joint Petition for Divorce—With Children
Joint Petition for Divorce—No Children

After you fill out every section, both you and your spouse have to sign the document before a notary public

Decree of Divorce
You and your spouse need to fill out and sign one of these forms:

Decree of Divorce—With Children
Decree of Divorce—No Children

Your divorce is complete after the judge approves and signs the Decree

Confidential Information Sheet
This form contains the Social Security numbers of both you and your spouse. It's used to help the child and spousal support enforcement in case of any problems in the future. There are separate documents for spouses with and without children
Seminar for Separating Parents Certificate
Seminar for Separating Parents (also known as the COPE Class) is mandatory for spouses that have minor children together. Once you complete the seminar, you'll receive a certificate of completion that you have to file with the rest of the paperwork
Where To Find Clark County Divorce Papers in PDF
Clark County offers various sets of forms on the Family Law Self-Help Center website. You can choose the suitable paperwork based on your situation and the type of divorce. Once you download the forms, you should fill out, sign, and get them notarized.
How Much Does It Cost To File Clark County Divorce Paperwork?
To file your Las Vegas divorce papers, you need to pay the appropriate filing fee. The court in Clark County charges $299 for filing divorce forms. If you're experiencing financial difficulties and cannot afford to pay the filing fees, you should request a fee waiver from the court.
The Process of Filing Clark County Divorce Papers
Once you prepare the paperwork and pay the filing fee, you should start the petition. Here's how to file for divorce in Las Vegas:
By mail—Send your divorce papers and filing fee to the Clerk of Court at:
Family Courts and Service Center
601 North Pecos Road
Las Vegas, NV 89101
In person—You can submit your divorce papers at your local Family Courthouse
Draw Up a Divorce Settlement Agreement in a Flash With DoNotPay!
Writing a settlement agreement is a demanding task. You have to follow state-specific rules and regulations and include every aspect of divorce you and your spouse have agreed on. Using a ready-made template to draft such an important document is beyond risky. That's why we created a product that specializes in drawing up customized divorce settlement agreements!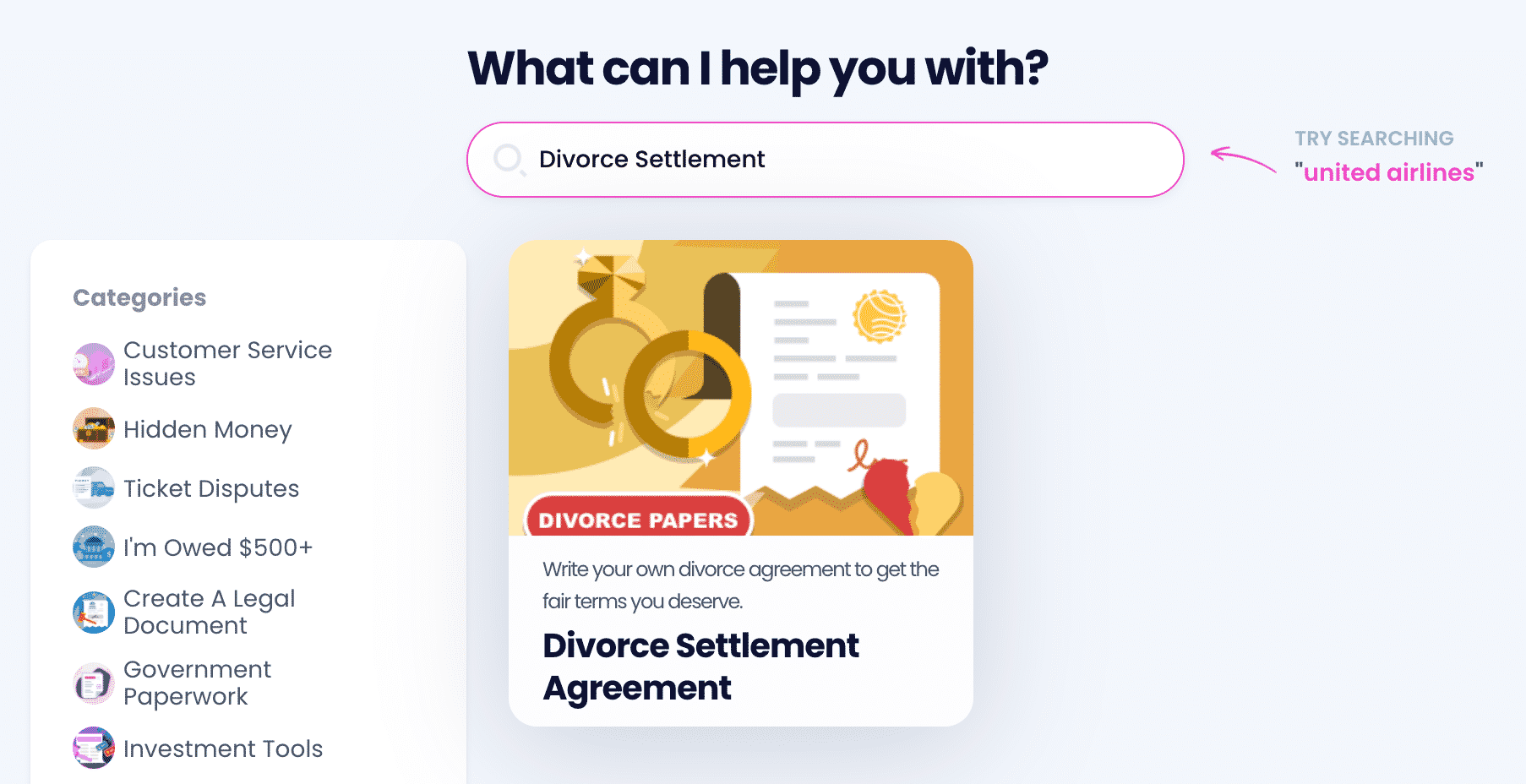 You can obtain a personalized agreement by following these steps:
Search for the Divorce Settlement Agreement tool
Answer our chatbot's questions about the divorce
Inform us if you need a notary
We'll create and send you the document within minutes! DoNotPay doesn't stop there—we can help you find out:
Our App Solves Your Legal Issues!
Do you really have to set aside astronomical amounts to pay lawyers for drafting legal documents or taking a person or business to small claims court?
The answer is no—all the cash remains in your pocket, thanks to DoNotPay! From now on, you can perform many legal tasks from home with the help of our app. It enables you to create flawless powers of attorney, divorce settlement agreements, and child travel consent forms in a snap.
That's not all—once we generate these documents for you, we also help you have them notarized via a video meeting. No need to waste your time and fuel visiting notary offices.
Check Out Other Perks DoNotPay Offers!
DoNotPay provides a wide selection of services, from creating virtual credit cards and burner phone numbers to getting refunds from companies and canceling subscriptions. Have you received an unfair parking ticket? Appeal it with our app before you know it! Are email spam and robocalls making your life a living hell? No scammer stands a chance against our efficient AI-powered tools and features!
We also work in your favor when it comes to safety. Our app offers perfect ways to prevent copyright infringement, stalking and harassment, work discrimination, sex offenses, and disputes with annoying neighbors.