We Will Tell You Where You Can Find Divorce Papers in California in PDF
Are you filing for divorce in California? You will need to familiarize yourself with the whole CA step-by-step divorce process and find the correct divorce papers in California in PDF. DoNotPay will help you with that!
We will also tell you how to get a friendly divorce without involving lawyers and courts. Register for DoNotPay to get the perfect divorce settlement agreement, which you'll need for an uncontested divorce, in a snap.
Divorce Process in California—The Essentials
Before you file for divorce in California, you should familiarize yourself with the divorce process. You'll find some details about marriage dissolution in the table below:
Main Aspects of a California Divorce
Details
Type of divorce
The most common two types of divorce are:

Contested—In a contested divorce, you and your spouse can't agree on all the terms of your divorce, and the case needs to go to trial. The judge will decide on all aspects of your divorce
Uncontested—This type of divorce implies that you and your spouse settled all your differences and outlined all the terms of the divorce in a marital settlement agreement. You can terminate your marriage without hiring a lawyer and going to court

Grounds for divorce in CA
California recognizes exclusively no-fault divorces, which means that neither spouse can be held responsible for the end of the marriage. You need to cite one of the following as a reason for divorce:

Irreconcilable differences
Incurable insanity

Residency requirements
To meet the residency requirements for divorce, you or your spouse must have:

Lived in California for at least six months before starting the process
Been a resident of a county where you're filing for divorce for at least three months

The cost of divorce in CA
The divorce cost depends on the type of divorce you'll have. If you opt for an uncontested divorce, the prices will be significantly lower than in a contested one
What California Divorce Papers in PDF Do You Need for an Uncontested Divorce?
To start your divorce in California, you'll need appropriate California divorce papers. The basic and mandatory divorce papers you have to download, print, and fill out are:
Petition—Marriage or Domestic Partnership
Summons
Proof of Service of Summons
Property Declaration
You can find all of these forms in PDF on the California Court website.
Petition—Marriage or Domestic Partnership Form
The Petition for Dissolution of Marriage (FL-100) form is the most important form for starting a divorce process. It needs to include the following information:
Name, phone number, and email address of the petitioner
Address and the name of the Superior Court in California
The purpose of the petition
Date of marriage and separation
Declaration regarding children—the name, date of birth, age, gender
Declaration of separate property
Declaration of community property and debts
Grounds for the divorce
Child support terms
Summons Form
This form informs the defendant that the plaintiff started a court case. It includes information about what will happen should the defendant fail to respond in 30 days. To fill out the FL-110 form, you need to include the following information:
Petitioner's name
Case number
The name and address of the court
The name, address, and phone number of the petitioner
Date of submission
Proof of Service of Summons Form
The FL-115 form informs the court that the plaintiff served the papers to the defendant. As the plaintiff, you need to include the following information:
Names of the petitioner and respondent, address, city, phone number, email address, state, and ZIP code
The name of the county
The address of the court
Property Declaration Form
You should use the Property Declaration (Fl-160) form if you wish to list the marital property and debts. Enter any assets you want to include, such as:
Real estate
Furniture and appliances
Jewelry, art, and coin collections
Vehicles
Savings accounts
Checking accounts
Depository accounts
Cash
Tax refunds
Life insurance
Stocks and bonds
Retirement funds
Accounts
Business interests
Total assets
Student loans
Taxes
Support arrearages
Loans
Credit cards
Debts
Marital Settlement Agreement
A divorce settlement agreement is one of the most important uncontested divorce papers. This document regulates all the terms of your divorce, such as:
If you opt for an uncontested divorce in California, you'll need to obtain this document since one of the requirements for this type of divorce is that you and your spouse agree on everything.
Additional Forms You Need if You Have Children
If you have children, you will need to obtain a few additional forms. You can see which ones in the table below:
| Divorce Forms | Explanation |
| --- | --- |
| Declaration Under Uniform Child Custody Jurisdiction and Enforcement Act (FL 105/GC 120) | This form informs the judge about who the children have been living with and whether other custody orders exist in the case |
| Child Custody and Visitation Application Attachment (FL-311) | This form is optional, but it enables the plaintiff to provide more details about their request |
Where Can You Obtain a Divorce Settlement Agreement? DoNotPay Is the Way
Instead of paying an arm and a leg for a lawyer to draft your divorce settlement agreement, you can rely on our affordable platform. DoNotPay can create a professional and fully personalized divorce settlement agreement in a flash.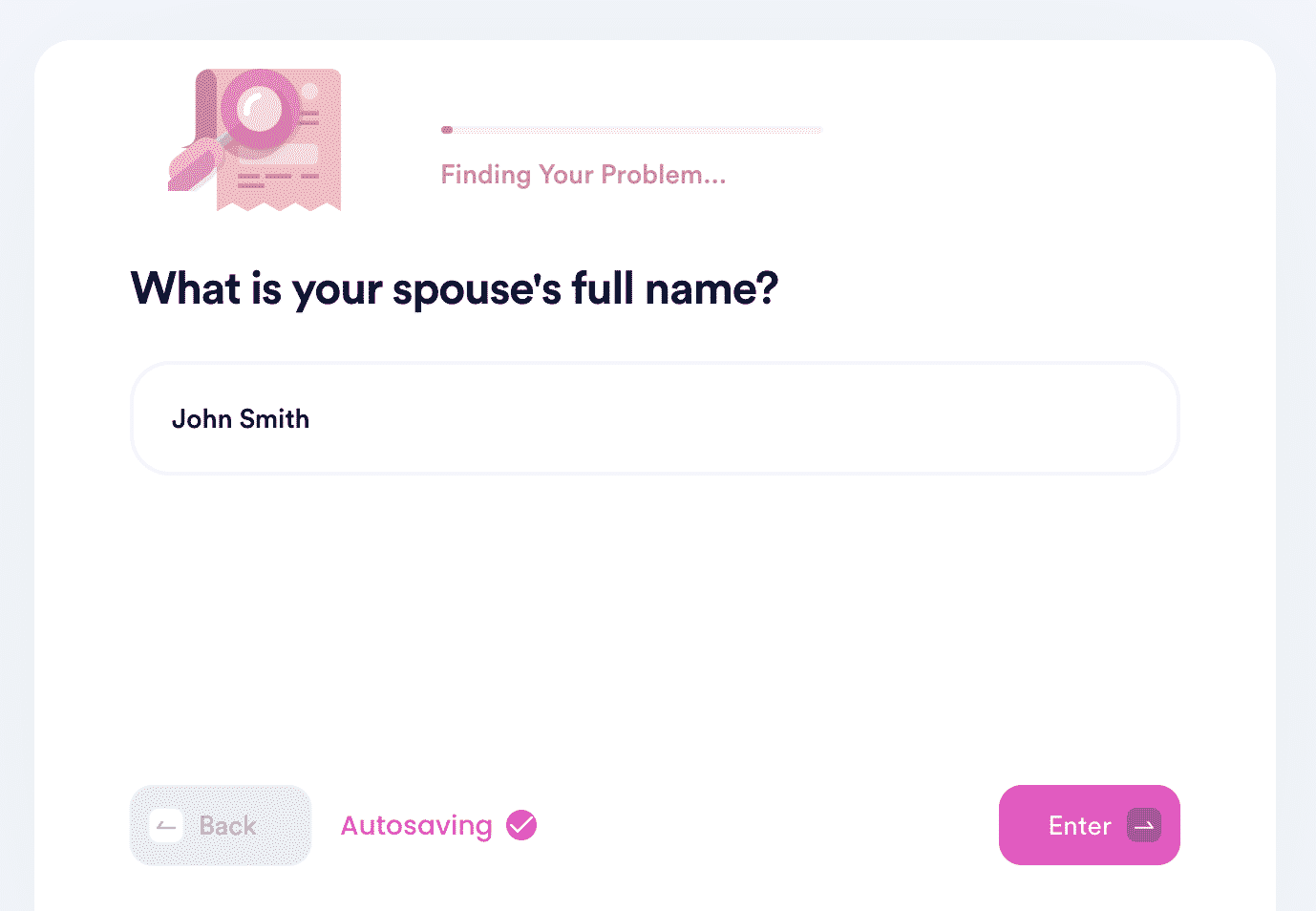 Here's what you need to do:
Find the Divorce Settlement Agreement feature
Provide information about yourself, your spouse, and how you want to divide your assets
We will use the information you provided to create a document tailored to your needs. DoNotPay can also help you get your document notarized by booking an appointment with an online notary in California who will witness the signing over a live video call.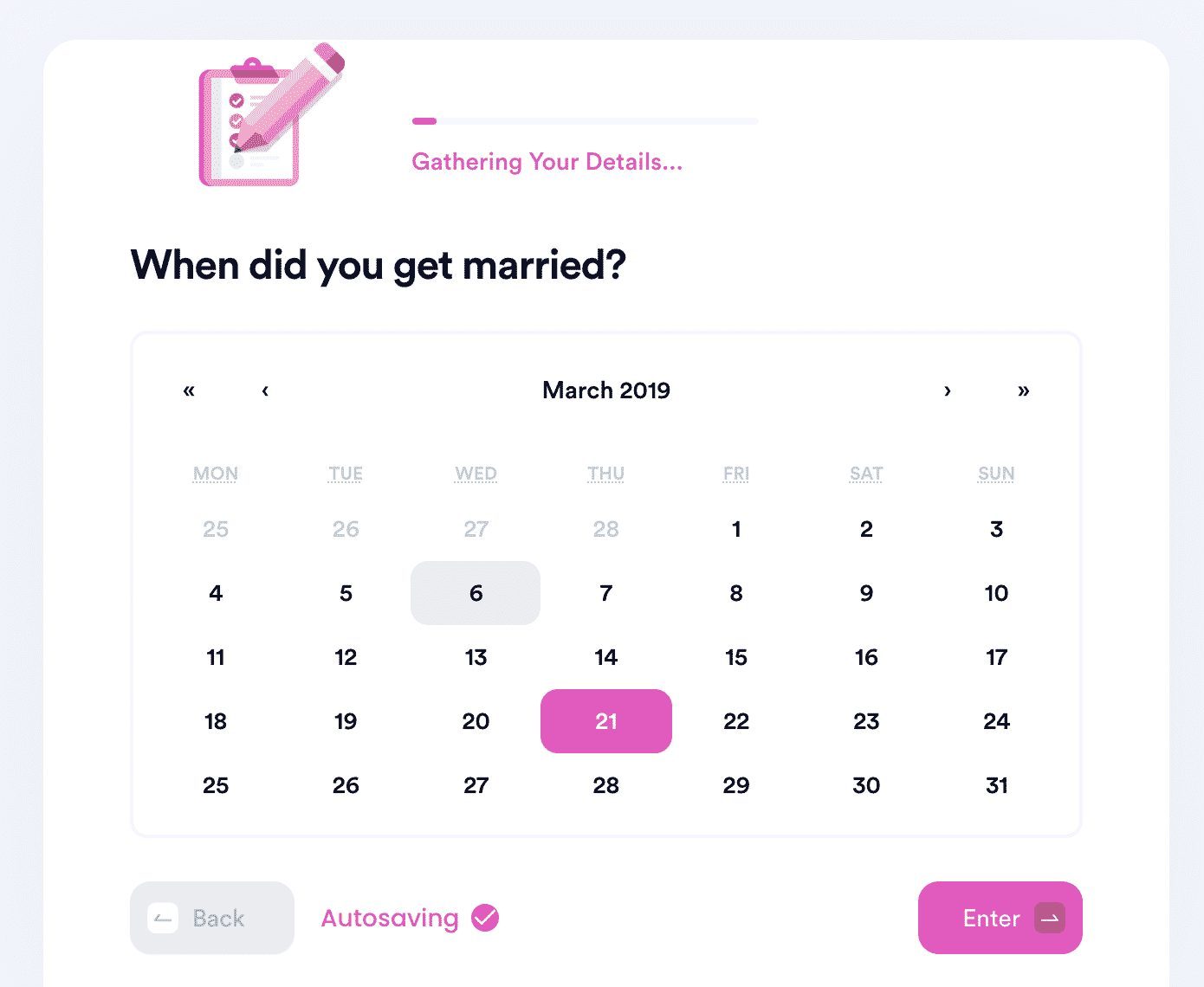 DoNotPay has more information regarding divorces in California. Learn about:
We also have information about divorces in these CA counties:
Use DoNotPay To Deal With a Plethora of Bureaucratic Tasks!
Tired of dealing with bureaucracy? We understand the struggle, and that is why our app makes handling administrative tasks a breeze!
Regardless of whether you need to compose a legal document, such as a power of attorney or a child travel consent form, appeal property taxes or your parking tickets, file a financial aid appeal and a FOIA request, or get a document notarized, DoNotPay has got you covered!
In case you also need to submit anonymous HR complaints, our app will provide you with the easiest way to do so!
Go on a Stress-Free Shopping Spree With DoNotPay
Do you like to shop until you drop? With DoNotPay, you won't have to worry about dropping! We'll make sure you can:
If you need more money to continue your shopping spree, let our app help you find any unclaimed funds under your name and enter numerous giveaways and sweepstakes!