Divorce Mediation in Washington State Explained in Detail
Have you and your spouse decided to part ways? Filing for divorce and everything that comes next can be painful and distressing, even if you end the marriage on friendly terms. If you want to get an uncontested divorce but can't seem to reach an agreement regarding every aspect, you should try hiring a mediator.
This article answers all of the questions you might have about divorce mediation in Washington State!
Need a marital settlement agreement to finalize your marriage dissolution? to acquire one hassle-free!
What Is Mediation in Divorce?
Mediation is a highly recommended and commonly used divorce method. It is a private process held in a safe environment in which a neutral party helps a couple reach a compromise regarding some crucial aspects of the divorce.
A mediator assists you and your spouse in resolving issues, such as:
The Role of a Washington State Divorce Mediator
There are no specific requirements for being a mediator in Washington State. Even though it's best to have someone professionally trained and with knowledge of the divorce laws, a mediator:
Can be anyone unbiased
Doesn't need to have a mediation certificate
Doesn't have to receive payments
You should understand the role and responsibilities of a mediator before opting for their service. A mediator will help you and your spouse:
Discuss and resolve any disputes
Negotiate crucial matters
Reach a divorce settlement
Reasons To Get Divorce Mediation in Washington State
Hiring a mediator has numerous benefits. In the table below, you can find some of the reasons why you should choose mediation when getting a divorce in Washington State:
| | |
| --- | --- |
| Why You Should Resort to Divorce Mediation | Explanation |
| Cost | Hiring a mediator is much cheaper than having a court trial or attending multiple court hearings. It's even less expensive if you split the costs with your soon-to-be ex-spouse |
| Control | Discussing the issues and reaching a settlement between yourselves gives you control over many aspects of your divorce, which isn't the case when the court makes decisions for you |
| Compromise | Having a mediator guide you through negotiations enables you to make decisions that are fair to both sides |
| Confidentiality | Mediation sessions are private and held in a neutral and professional setting. Anything you and your spouse discuss during the sessions stays confidential (unless you specify otherwise) |
| Communication | The process helps you and your spouse remain on friendly terms and pushes you to have better communication. Preserving a relationship is even more beneficial if you have children together |
| Quicker resolution | In most cases, having a mediator help you negotiate your issues leads to a settlement and faster finalization of the process |
How Much Does Divorce Mediation Cost in Washington State?
The cost of mediation can depend on the type of case and both of your incomes. Washington State mediators usually charge hourly fees ranging from $50 to $200 per hour.
Many counties in Washington have Dispute Resolution Centers, where couples can find more affordable mediation services.
The Washington State Divorce Mediation Process
An average mediation in Washington State lasts for several two-hour sessions. How long your mediation is going to last depends on the specifics of your case and the complexity of the situation. Each mediation session should include three parties:
Plaintiff (the spouse petitioning for divorce)
Respondent (the other spouse)
Mediator
You don't need a lawyer if you manage to agree on everything. If you've already hired one, they cannot attend the session. A mediator can gather notes and give them to both of your attorneys if it can help your case in court.
Here's what to expect from a divorce mediation session:
Introduction and explanation of the process
Opening statements of the spouses
Identification of the problem
Joint discussion
Separate meetings with the mediator
Negotiations and a settlement
Speed Up the Divorce Process—Use DoNotPay To Draft a Divorce Settlement Agreement
If mediation is successful, you'll need a written divorce settlement agreement to proceed with your uncontested divorce, and we can help you draft it!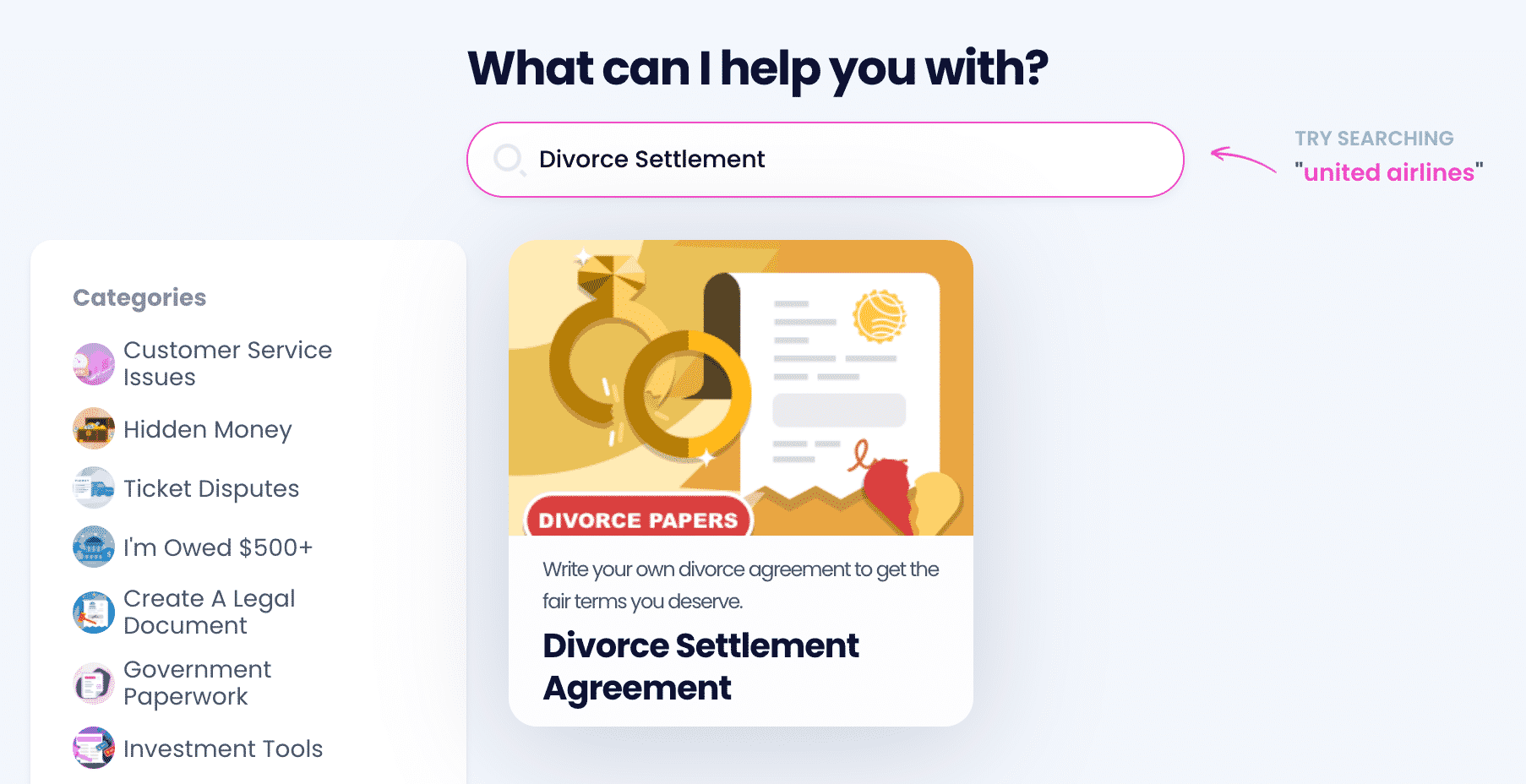 Here's what you need to do:
Locate the Divorce Settlement Agreement tool
Inform us about your spouse, children, and assets
Specify if you need a notary
DoNotPay will immediately draft a tailored divorce settlement agreement that meets the state requirements and suits your needs!
Wondering how much your Washington State divorce is going to cost or if you can file for it online? Our learning center has all the answers.
We can also help you find out:
DoNotPay Can Help You With Almost Anything
DoNotPay's goal is to have a multitude of features that can be useful to you with handling various issues. Whether you want to apply for clinical trials, prepare for government tests, or even get in touch with your locked-up friends or family—DoNotPay has got you covered!
For a small yearly fee, our AI-based app will help you:
Want To Save and Earn Money at Once? Subscribe to DoNotPay
DoNotPay can help you earn and save a buck or two. We'll assist you in reducing your property taxes, canceling any unused subscriptions, and signing up for free trials with our virtual credit card.
As if that wasn't enough, we'll save you money and spare you from a headache if you receive any faulty deliveries by filing a refund or an item return request in your stead! This is just the tip of the iceberg of features that DoNotPay has in store for you.