The Scoop on Divorce Mediation in Virginia
Filing for divorce can be troublesome, but it doesn't have to be. You should gather the right information about the necessary paperwork and average cost. With the collected data and gained knowledge, you can avoid hiring a lawyer and going to court and have a low-cost divorce instead.
What if you can't agree with your spouse on certain divorce matters? You should consider divorce mediation in Virginia. This article provides the specifics of the process.
What Can I Expect From Divorce Mediation?
To understand what you could expect during the mediation process, here's what a certified mediator—a trained neutral third party in your divorce process—will do:
Facilitate friendly negotiations between you and your spouse
Narrow down all significant issues without imposing solutions
Encourage you and your spouse to come to mutually agreeable settlement options
You and your spouse can discuss any divorce areas you disagree about, including:
To reach a settlement, you and your spouse should recognize each other's needs and demand what you feel is fair for both sides.
How Much Does Divorce Mediation Cost in Virginia?
The cost of divorce mediation in Virginia depends on the type:
Court-ordered—Mediation is free in case the judge orders you to go when you file for divorce in Virginia
Voluntary—You need to find and hire a mediator on your own. These professionals usually charge between $300 and $400 per hour. Keep in mind that you and your spouse:

Can negotiate the fee with the mediator
Will share the total amount
Where To Find a Certified Mediator in Virginia
If you'd like to check the fees and terms, you could get in touch with a few mediators before making your choice.
You can find the information on the website of Virginia's Judicial System using the following two search tools:
Search for Certified Mediators
Details
Mediators with Specific Qualifications
You can search for a mediator based on different criteria, including the:

City
Name
Company
Jurisdiction
Level of certification
Additional languages

You should click on the mediator's name

to get the contact information and other details

Circuit/District Mediators
You should:

Click on a circuit on the map (e.g., Fairfax, Virginia Beach, or some other)
Browse through the list of all available mediators in that area
Click on those names whose contact details you'd like to get
What To Prepare for Divorce Mediation in Virginia
Since you'll be negotiating your divorce matters in mediation, you should provide any relevant documentation, such as your:
Financial affidavit
Child support worksheet
Proposed (shared) parenting agreement
Financial information, e.g.:

Savings and loan accounts information
Property descriptions and appraisals
Copies of recent payslips
You should specify the paperwork you need to bring once you get in touch with a mediator and schedule your first session.
Do I Have To Go Through Divorce Mediation in Virginia?
Divorce mediation in Virginia is not mandatory, but the judge might order you and your spouse to try mediation before going into litigation.
If you're considering taking mediation voluntarily, keep in mind that the sessions are confidential. It means that you don't have to worry if the judge or your spouse's lawyer might hold anything expressed in mediation against you later during the divorce.
Aside from being confidential, mediation also saves:
Money—You could resolve all problems through mediation, which will make you eligible for an uncontested divorce. If you go through a friendly divorce, you don't need to appoint a lawyer and pay the earth for their service
Time—Mediation can lead to a quick divorce since working out all the issues with your spouse eliminates the need for litigation
What Happens After Divorce Mediation?
Mediation gives you and your spouse an opportunity to solve any disputes and proceed to the least expensive, complicated, and time-consuming divorce procedure—an uncontested divorce.
An uncontested no-fault divorce is usually finalized fast since the judge needs only to review the:
Filed court forms and uncontested divorce papers
Divorce settlement agreement that you and your spouse have created during the mediation process (or on your own)
How To Prepare a Divorce Settlement Agreement
You need to list all the agreed-upon matters in a divorce settlement agreement and present the document to the judge for review. If you're not familiar with state laws enough to draft the document by yourself, you could consider the following options:
Visiting a law office—Attorneys can prepare all divorce documentation for you, but you need to inquire about their fees first to dodge unpleasant surprises
Using online divorce services—While online templates might seem like a good idea, you need to check them carefully. Some are too generic and don't fulfill legal requirements
Registering for DoNotPay—Having an extensive database of state laws enables us to generate reliable yet affordable divorce settlement agreements
If you're not familiar with legal requirements but cannot afford or don't want to hire an expensive lawyer to prepare a single document for you, you should turn to DoNotPay!
Get a Trustworthy Divorce Settlement Agreement With DoNotPay
We gather the latest legal requirements to help our clients with a crucial part of their paperwork—a divorce settlement agreement.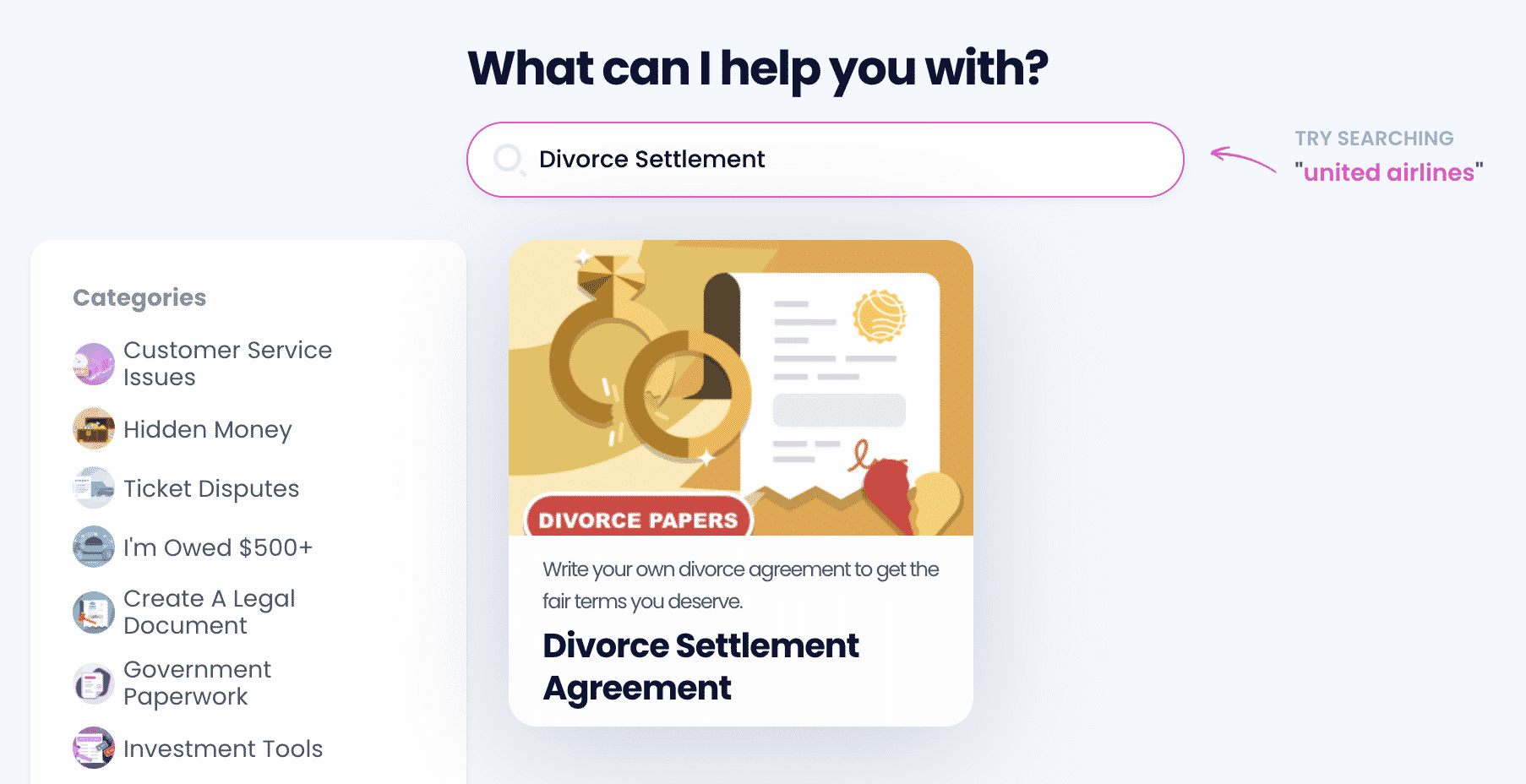 Subscribe to DoNotPay and take the following steps:
Pick our Divorce Settlement Agreement product
Answer the chatbot's questions
Choose if you'd like to get the document notarized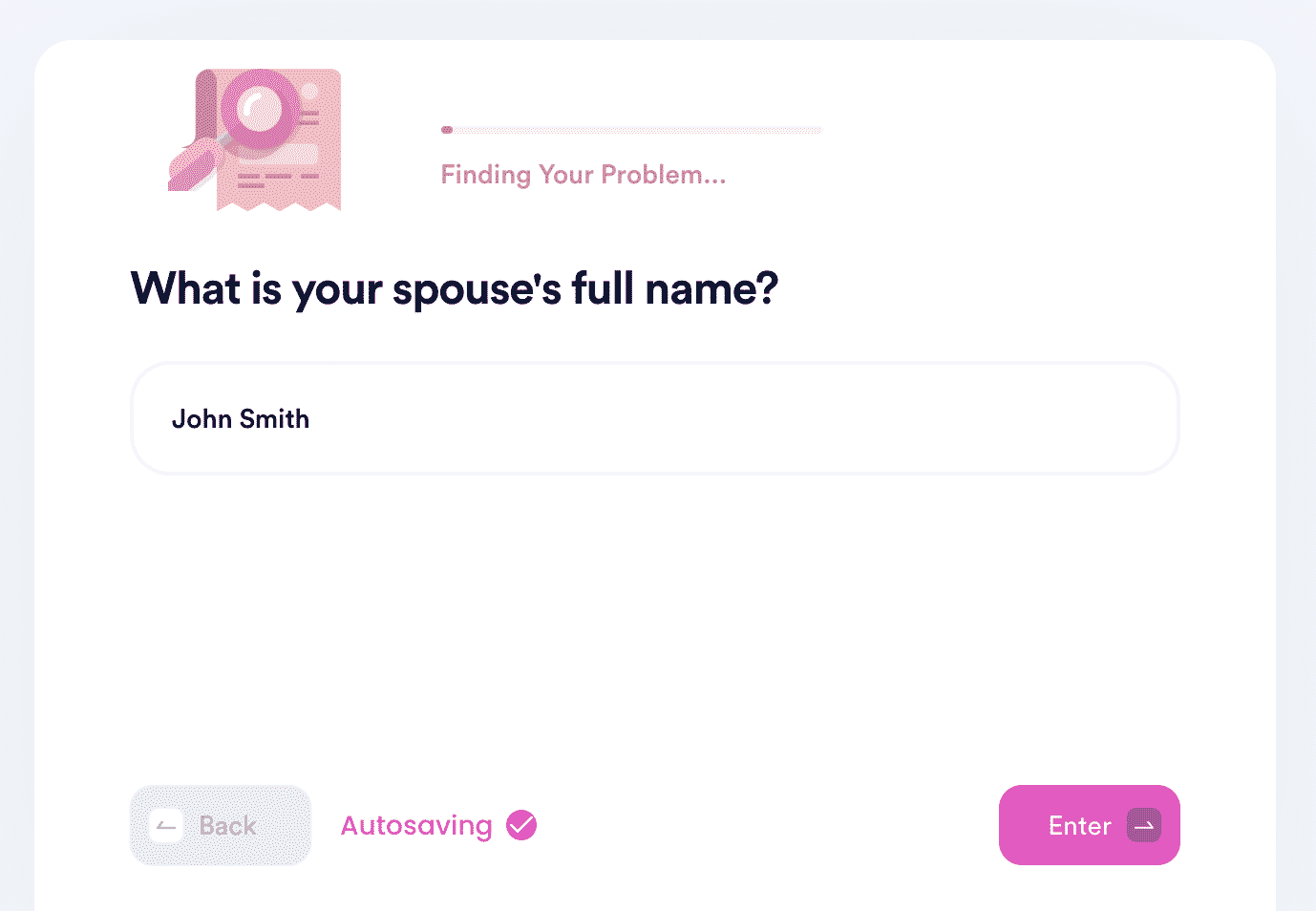 Once you get the agreement, you should present it to the judge for review and approval.
Get a Better Understanding of the Divorce Process
If you'd like to know what to expect during a divorce to protect yourself best, you should get familiar with different divorce aspects. DoNotPay provides answers to many questions, including the following:
Stuck in a Bureaucratic Mess? DoNotPay Is Here To Help!
Since handling dull administrative tasks is a burden and no one likes doing them, DoNotPay developed a variety of neat features to ease many processes! With our nifty app, you can:
Deal With Companies Like a Pro
We all love shopping, but it's no secret that companies sometimes turn a fun experience into a nightmare, especially when they refuse to cooperate. DoNotPay is here to help you reach customer support without the hour-long wait and sue an uncooperative merchant in small claims court if necessary!
Need a refund? We can show you how to get your money back from any company in a snap!
Should you need to file an insurance or warranty claim and request gift card cash back or an item return, you can count on our app to assist you! DoNotPay can also show you how to discover any unclaimed funds under your name so that you can continue shopping like a pro.