Need Divorce Mediation in Utah? Here's What You Should Know
Divorce is never an easy procedure, but the state of Utah is committed to helping you keep costs low and avoid court if possible.
Whether your divorce is contested or uncontested, Utah's system of mediation is designed to negotiate a settlement without an enforced determination from a judge. Utah believes that the power should remain in your hands as much as possible.
DoNotPay has all the info you need on divorce mediation in Utah!
How Does Divorce Work in Utah?
Since Utah is a no-fault divorce state, you do not need to prove that your spouse is guilty of any breach of the marriage contract. If you or your spouse claim that there are irreconcilable differences between you, that is sufficient grounds for divorce.
Starting the divorce proceedings in Utah is a three-step process, as follows:
Step in Divorce Proceedings
Explanation
File a petition for dissolution
You have to file a petition for dissolution with your local county court. In return, you will receive a stamped copy of your petition and a summons for your spouse
Serve the divorce papers
You need to have the summons and divorce papers delivered to your spouse, who has to sign that they have been received.

Your spouse has 21 days to respond. The response can take the form of a:

Waiver—meaning that your spouse waives the right to contest the divorce
Answer—signifying that your spouse intends to contest the case

Agree on a settlement
A settlement agreement can be drawn up either before filing your divorce papers—in which case the case would automatically be a friendly divorce—or after filing but before any court hearings.

As soon as your settlement agreement is finalized and signed by both parties, it can be filed with the court, and your divorce can move towards finalization
When Do You Need Mediation in Utah?
If you and your spouse cannot agree on a settlement, your options are as follows:
Negotiation through lawyers
Judgment in court
Mediation
Negotiation Through Lawyers
In complex or acrimonious divorce cases, you may want to consider allowing your and your spouse's attorneys to battle it out to reach a settlement.
While this route will undoubtedly lead to a legally watertight agreement, this process can quickly become expensive. Utah lawyers charge between $195 and $230 per hour, and a negotiated out-of-court settlement through attorneys can cost anything between $8,000 and $13,000 per spouse.
Judgment in Court
If your case cannot be resolved through negotiation between your attorneys, it may go to trial, in which case your costs can rise to between $23,000 and $27,000, including attorney fees.
Court cases also take much longer—the mandatory discovery process and paperwork required in a divorce case can mean that your case will take over a year to even come to court.
Mediation
The alternative to lawyer-led negotiation or court hearings is mediation, in which you and your spouse are supported by a trained independent facilitator to reach a solution.
How Does Mediation Work in Utah?
If your spouse files an answer to your summons that includes any contest against a settlement agreement, your local county court will order you and your spouse to attend at least one mediation session.
The intention is to resolve as many issues as possible before the divorce becomes expensive or goes to court. The Utah mediation program is state-sponsored and regulated by both state and local laws.
Utah divorce mediators are trained professionals who help you and your spouse to focus on reaching an acceptable outcome.
The process of mediation usually involves the following steps:
The mediator collects written positioning statements from you and your spouse
You and your spouse are invited to meet in the presence of the mediator to negotiate the outstanding settlement issues
The mediator does not comment on the negotiation or offer opinions but facilitates the discussion and summarizes any concessions or agreements made
Once all the outstanding issues have been successfully concluded, the mediator draws up a memorandum of understanding (MoU) encapsulating all the agreements you and your spouse have reached
You and your spouse incorporate the MoU into your divorce settlement agreement and file it with the court
If mediation fails to solve all your issues, the Utah divorce mediator will provide you with a disposition form so that your case can proceed to trial.
You and your spouse are expected to share the costs of mediation equally between you—each session will cost between $30 and $100. If you are experiencing financial difficulties, you can apply to the court to have the mediation fees waived or deferred.
Drawing Up Your Utah Divorce Settlement Agreement
Once you have successfully concluded the mediation process, you and your spouse can draw up your divorce settlement agreement, incorporating all the points you have agreed on.
The most important points your agreement has to cover are:
You can use the following resources to prepare your settlement agreement:
Lawyer—A lawyer can draw up your agreement, but if you have reached a consensus on everything, this may be an unnecessary expense
Online—Many companies offer online templates for you to fill out, but they are often generic and may not be acceptable under Utah law
Your best bet is to use DoNotPay—we can for you in a few minutes!
DoNotPay Has the Perfect Settlement Agreement Solution!

DoNotPay is here to help keep your divorce as easy, affordable, and painless as possible.
Our Divorce Settlement Agreement product gives you a tailor-made, comprehensive legal document that ensures your divorce is finalized with the minimum of hassle.
Here's how it works:
Open our Divorce Settlement Agreement product
Follow the prompts and fill in the details of your settlement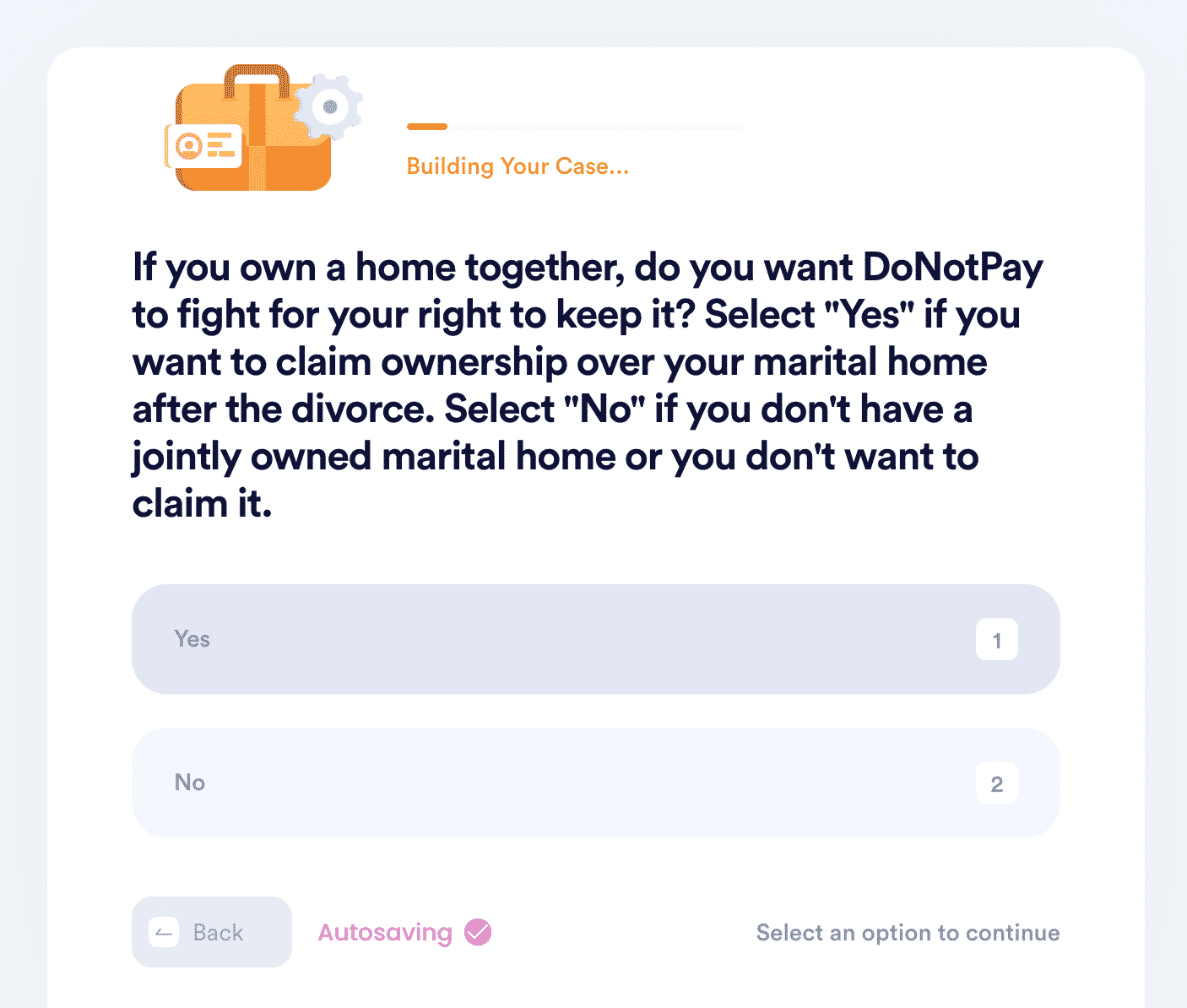 DoNotPay will handle the rest—all you need to do is print out the agreement, sign it with your spouse, and have it notarized. If you're not sure where to find a notary in your county in Utah, DoNotPay has you covered with our online notarization feature!
Drowning in Paperwork? DoNotPay Comes to the Rescue!
Dealing with administrative procedures is never a fun experience. Not only is it time-consuming, but it's also extremely inconvenient and impractical. Luckily, we have a practical solution!
Use DoNotPay to cut through the red tape and handle any bureaucratic issue that comes your way stress-free! Check out the list below to see a fragment of tasks you can tackle with our help:
Explore DoNotPay's Other Services
DoNotPay provides you with a ton of other services you can find useful when completing your everyday tasks.
You can contact customer service support without waiting for hours, request refunds from various companies, file a missing package claim, and get compensation for missed or delayed flights in a few clicks!
If you want to earn some money, we can help you with: