Get the Scoop on Divorce Mediation in Texas
Parting ways with your spouse is not only stressful but also a costly process. If you want to spend the least amount of money possible on a divorce in Texas, mediation might help!
DoNotPay will tell you all about divorce mediation in Texas and help you settle your divorce out of court with a personalized divorce settlement agreement.
What Is Divorce Mediation?
Divorce mediation is a process in which a professional who is neutral to the case helps you and your spouse come to a compromise on crucial divorce aspects. By agreeing on certain issues, you won't need to go to court as you'll be able to get an uncontested, friendly divorce. This type of dissolution allows you to terminate your marriage without hiring a lawyer and spending a fortune on their expensive fees.
A professional mediator will help you and your spouse decide:
What Is the Role of a Divorce Mediator in Texas?
Before you decide to book divorce mediation sessions, you should familiarize yourself with a mediator's job so you know what to expect. Every mediator in Texas must:
Explain the Texas divorce laws
Answer any questions you have on mediation
Assist you and your spouse in understanding each other's desires and needs
Come up with solutions you and your spouse can use to reach an agreement
Help you write a parenting plan if you have marital children
Help you write a marital settlement agreement, which is the most important divorce document as it states the terms of your divorce. If they're not a lawyer, the mediator can only guide you on how to write the agreement, but they can't draft one for you
The best solution for getting a divorce settlement agreement is to subscribe to DoNotPay. We'll draw up this contract for you in no time and make sure it fits your needs perfectly.
How Does Divorce Mediation in Texas Work?
The divorce mediation process is similar in most states, meaning that it consists of:
Briefing—During the briefing, you and your spouse must give the essential information about your case to the mediator. Once you do, they will suggest an optimal approach to your case and tell you all about:

Anything you are unsure about regarding divorces

Information gathering—The mediator will tell you which documents you need to collect to continue with the process. Usually, you need to collect various financial documents, such as bank statements or pension plans
Identification of the issues—During this stage, the professional needs to find out what the best outcome for you and your spouse is and help you reach a middle ground
Figuring out the solutions—The mediator will give you and your spouse several options and suggest how your divorce settlement agreement should look like
How Much Does Divorce Mediation in Texas Cost?
Usually, divorce mediation in Texas costs from $3,000 to $8,000. The final amount you have to pay depends on:
The number and length of the sessions
The complexity of your case
How much you and your spouse are willing to work together
Although it can be costly, divorce mediation still lowers the cost of your divorce as you can avoid hiring lawyers by agreeing on everything in advance. If you don't have enough means to pay for it, you might be eligible for a low-cost mediation.
Some counties have Dispute Resolution Centers that provide cheap or free mediation services. You are qualified for them if you and your spouse don't own any significant assets or earn more than $80,000 yearly.
Get a Professional Divorce Settlement Agreement the Easy Way—Use DoNotPay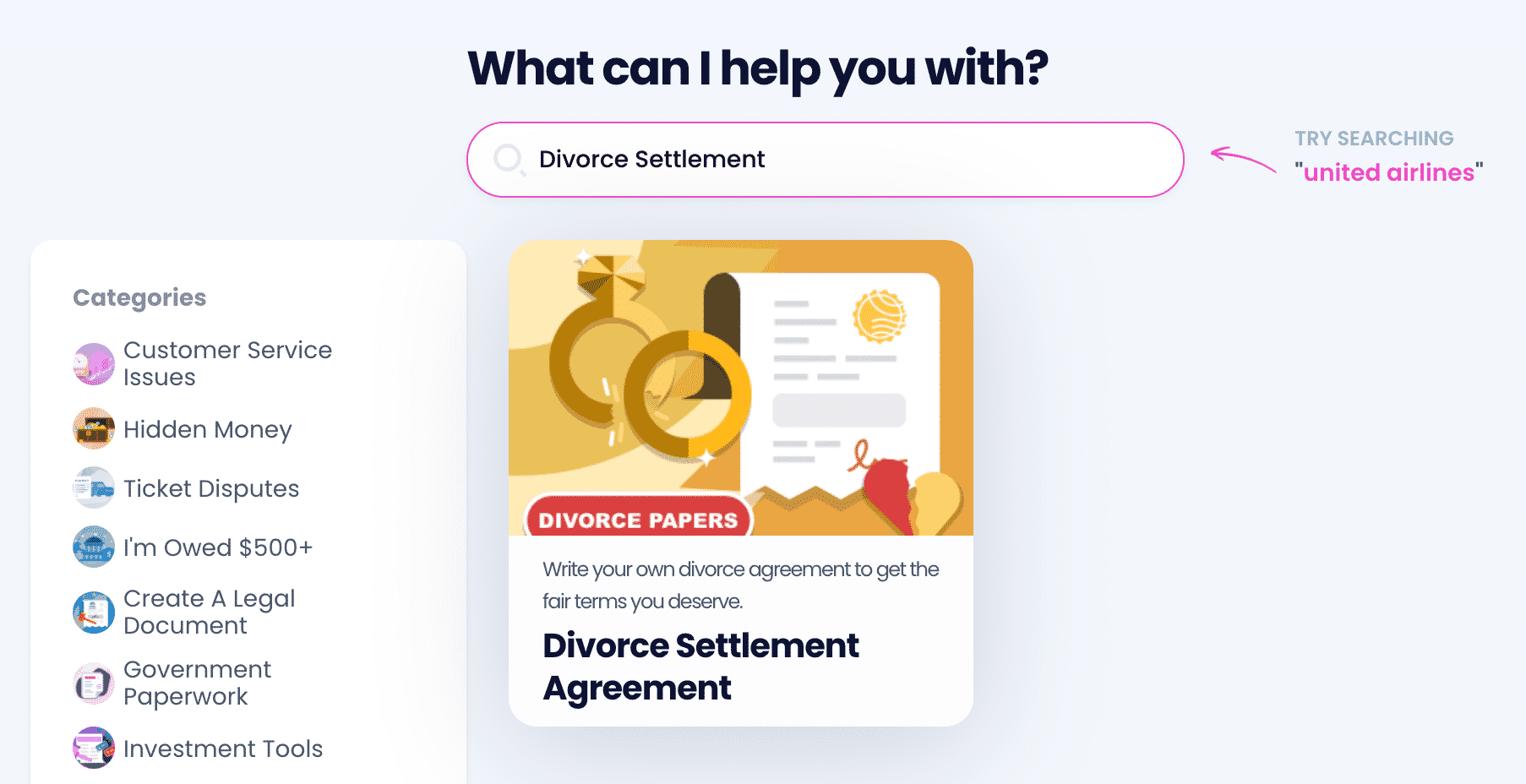 If you've reached a compromise with your spouse and are eligible for an uncontested divorce, you will need a valid divorce settlement agreement. Don't waste money on expensive lawyer fees or time on writing one yourself—DoNotPay will do all the work for you! We'll generate this crucial document for you in no time. All you have to do is:
Select the Divorce Settlement Agreement tool
Answer our chatbot's questions regarding your:

Spouse
Children (if any)
Assets
Income

Choose the online notarization option to add legal weight to your document easily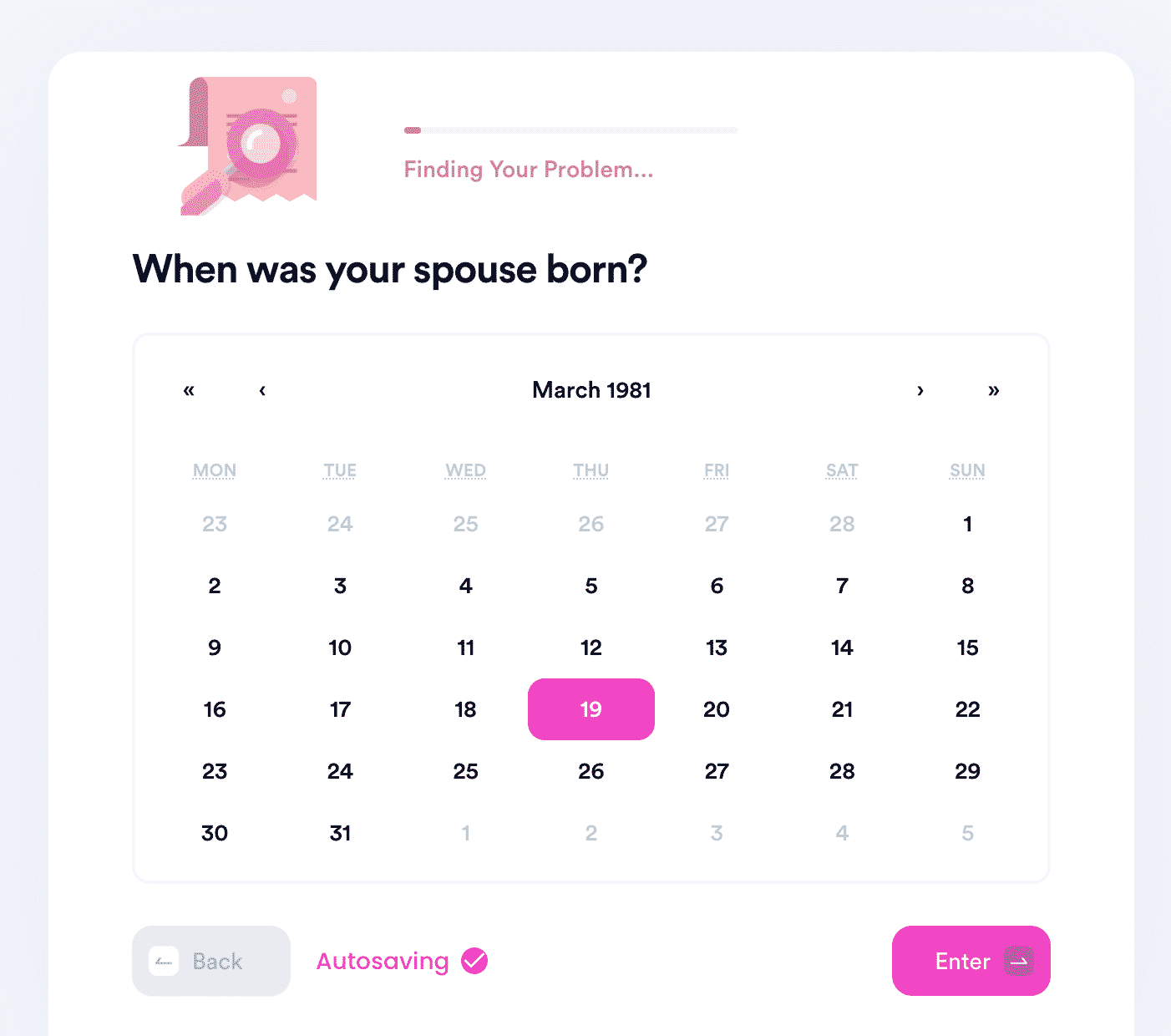 Once you submit your request, we'll process the details you give us and create a tailor-made settlement agreement for you. It will be fair to both parties, and we'll make sure it's compliant with your state's laws. To have it notarized online, follow the link we send you via email. With it, you can schedule an appointment with an online notary hassle-free.
Want to learn more about divorces in various Texas counties or cities? Check out the table below:
DoNotPay can also help you learn:
Learn How To Solve Legal Issues in Minutes!
Do you need to draft a legal document? Spending hundreds of dollars on lawyers is not the answer. We came up with a faster and more affordable solution. Not only can our app draft child consent forms, divorce settlement agreements, and powers of attorney for you, it can also provide legal assistance by helping you take anyone to small claims court!
Drafting numerous documents is not all DoNotPay does for you! Aside from drawing up contracts and agreements, we can also assist you in getting them notarized online from the comfort of your home or office!
Explore DoNotPay's Other Nifty Features
There is more assistance on the way! You can use DoNotPay's features to handle various tasks with ease, including:
We can also help you protect your safety. If you don't know how to deal with copyright infringement, stalking and harassment, work discrimination, sex offenses, and disputes with annoying neighbors, DoNotPay has got you covered.