Divorce Mediation—Tennessee Options To Reach a Settlement
Once you have filed for divorce, you want everything to be over quickly, cheaply, and with the minimum of pain.
Divorce in Tennessee can be an easy process, but only if you follow the state procedures for a no-fault, uncontested dissolution. An uncontested divorce requires you to have a divorce settlement agreement in place before your first court hearing.
One of the ways to reach a settlement agreement is through mediation.
DoNotPay takes a look at divorce mediation, Tennessee divorce procedures, and what you can do to keep your Tennessee divorce easy and hassle-free.
What Is the Process of Divorce in Tennessee?
Tennessee recognizes at-fault and no-fault divorces, but the cheapest and easiest route is if you can achieve a no-fault, uncontested divorce.
Whatever type of divorce you are aiming for, your first steps are as follows:
Filing divorce papers
Filing Divorce Papers
The Tennessee divorce process begins when you file your papers with the clerk of your county court.
The forms you file will include a:
Petition for divorce
Financial affidavit
Summons
Final divorce decree
You will have to pay the filing fee of around $260 when you file your papers.
Serving Your Spouse
You need to arrange to have copies of your divorce filing hand-delivered to your spouse, and written confirmation of the service has to be filed with the court.
As an alternative, your spouse can sign an acceptance of service that means you don't have to have the papers served.
Once the divorce papers have been filed and your spouse served, your divorce is in motion.
If you want the divorce to be granted quickly and cheaply, your next step is to negotiate an out-of-court settlement agreement.
What Is a Settlement Agreement?
A settlement agreement is a legal document that regulates the dissolution of your marriage.
Tennessee law states that a divorce must be fair and equitable and that your settlement should ensure that:
Your children are adequately provided for
Both spouses can live acceptably after the divorce
All your joint financial and familial loose ends are tied up
Negotiating a divorce settlement agreement can be a complex process, but it is in your best interests to work together towards a friendly divorce.
If you are successful in finalizing a settlement agreement before your case comes to trial, you may be able to:
How To Negotiate a Settlement Agreement Through Mediation
A divorce settlement agreement needs to cover:
These can be difficult topics, and many couples feel more comfortable if they don't have to negotiate face to face or without support.
The traditional route to reach a settlement agreement is to engage attorneys to negotiate on your behalf.
While this can be effective in complicated or hard-fought divorces, it can also quickly become expensive.
Divorce attorneys in Tennessee charge an average of $250 per hour, and negotiating a divorce settlement agreement can take upwards of 30 hours, even in simple cases.
This could easily land you with costs of $7,500 per spouse.
Benefits of Mediation
Mediation is a more cost-effective way but still enables you to focus on outcomes and avoid emotional battles.
In a mediation process, a trained mediator facilitates the negotiation between you and your spouse, ensuring that you stay focused on:
Desired outcomes
Compromise in the best interest of both sides
Win-win solutions
The mediator is not allowed to give legal advice but can help you avoid blame games, recriminations, and unproductive arguments.
Mediators in Tennessee charge between $250 and $300 per hour per couple. If you and your spouse already agree on the principal elements of your divorce settlement, mediation could help you iron out the details for a fraction of the cost of attorneys.
How To Draft Your Settlement Agreement
Once mediation has helped you reach a settlement with your spouse, you can go ahead and have it drafted as an agreement.
The agreement has to cover all the points in your:
Original financial affidavits that you submitted when you filed for divorce
Negotiated settlement you have achieved through mediation
If anything is missing, or if the agreement is biased or unclear, it could be rejected by your judge. This would result in your case being declared a contested divorce—you would have to fight it out in court.
To have your agreement drawn up, you can use:
| Settlement Agreement Resources | Explanation |
| --- | --- |
| Lawyers | Attorneys can draft your agreement, but they will typically charge up to $1,500 for the service and may even attempt to reopen negotiations between you and your spouse |
| Mediators | Many mediation services offer an additional drafting service for your agreement. This comes on top of the money you have already spent |
| Online service | Various online providers offer cheap, downloadable templates for you to fill out—these should be treated with caution as many of them are highly generic and may not cover all the points you and your spouse have agreed on |
Your best alternative is DoNotPay—we can generate a tailor-made settlement agreement for you without you spending a cent in lawyers' fees!
Your Tennessee Settlement Agreement Nailed On With DoNotPay!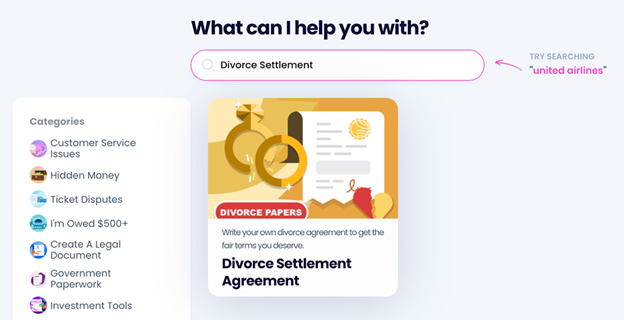 DoNotPay is committed to making your divorce as easy and painless as possible!
Our Divorce Settlement Agreement product makes the job of drafting your settlement easy, fast, and free from lawyers' fees.
You will get a watertight, comprehensive settlement agreement that matches the terms you and your spouse have fought hard to reach.
Here's how to set your settlement agreement up:
Sign up with DoNotPay in your web browser
Go to our Divorce Settlement Agreement product
Fill out the terms you and your spouse have agreed on
Once you have given us all the details, we will create your agreement in an instant.
You and your spouse sign it in the presence of a notary. If you're not sure where to find a notary in your area, we can even organize online notarization for you!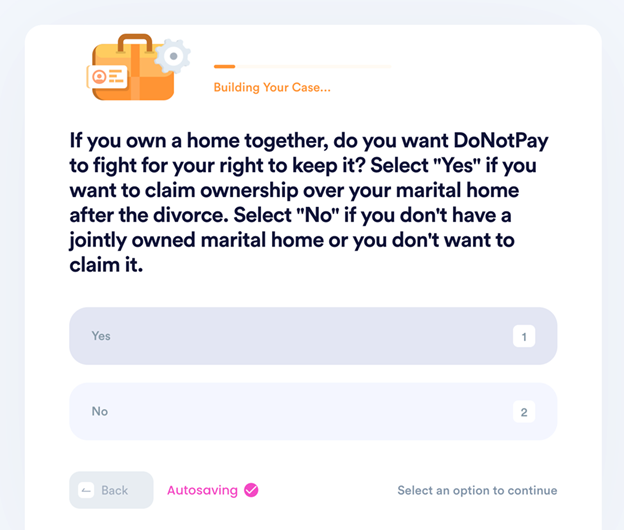 Town and County Info in Tennessee
If you need specific info on divorce procedures in your location, DoNotPay can help!
Here are a few examples of the areas we cover:
Use DoNotPay To Complete a Variety of Tasks at Any Time
Why waste time and money completing mundane tasks on your own when you can let DoNotPay assist you? Take a look at the table below to find out what our AI-powered app can do for you:
| DoNotPay Can | Services |
| --- | --- |
| Protect your safety and privacy | |
| Draft legal documents | |
| Help you get your money back | |
DoNotPay Has More in Store for You!
Since communication is key, you'll appreciate our feature that helps you get in touch with customer service reps quickly! We'll also show you how to send faxes online and have your documents notarized by an online notary with ease!
Going on vacation? Use DoNotPay to take a valid passport photo at home or get a tourist visa!