Divorce Mediation in RI—Can It Help?
If you'd like to reduce the stress level during and after complicated Rhode Island divorce proceedings, try reaching an agreement with your spouse on all post-divorce aspects.
Divorce mediation in RI can help resolve pending issues. Do you have to use a mediator or lawyer when getting a divorce in Rhode Island? We offer the intel and help you draft a rock-solid divorce settlement agreement.
Do I Need a RI Divorce Mediation?
You could try divorce mediation in RI if you and your spouse cannot resolve all critical issues alone, especially the ones regarding:
Spousal support
Fair division of property
Child custody and support
Mediation is a process during which you and your spouse meet with a trained mediator who should help you reach a voluntary agreement on unresolved matters of your case. For the mediation process to be successful, both spouses must be willing to cooperate.
Instead of hiring a lawyer when experiencing the first bump on your divorce path, try mediation because it is an open dialogue and a significantly cheaper method.
What Does a Divorce Mediator Do?
To understand the whole process, you should know that a mediator will:
Help you and your spouse:

Discuss sensitive subjects
Finalize a friendly divorce fast

Present and explain every option
Encourage you to resolve differences and reach an out-of-court settlement
Keep in mind that a mediator has to be neutral, i.e., they cannot side with either party during the process.
Who Needs To Attend RI Divorce Mediation Sessions?
The only people who should attend divorce mediation sessions are the:
Plaintiff, i.e., the spouse who files for divorce
Defendant, i.e., the other spouse
Mediator
If you have an attorney, they can:
Consult with you outside mediation
Review any agreements you and your spouse reach
Can I Get Legal Advice During Divorce Mediation in RI?
A mediator can neither provide legal advice nor represent you or your spouse in the divorce case. Mediators need to remain neutral.
If you need help understanding legal requirements or divorce papers, you should take counsel from an experienced lawyer. Keep in mind that legal services will increase the total cost of your divorce.
Why Opt for RI Divorce Mediation?
Mediation has lots of benefits you might not be aware of. Here are some:
The process:

Is private
Promotes cooperation in key decision-making matters
Can reduce conflict and improve communication between you and your spouse

You and your spouse are the ones to determine the outcome of your case (and not a judge)
Mediation is less expensive and time-consuming than litigation
Should You Meet With a Mediator Before Filing for Divorce?
To determine the right time for divorce mediation in RI, take a look at the following table with essential details:
Have a Pending Case in the Family Court?
Mediation Services
No
You and your spouse can use the services of a private mediator before filing for divorce. To find one, take the following steps:

Access the RI Mediators Association Directory page
Browse through the provided list
Click on an individual profile to get more information

Yes
You and your spouse:

Can use a free of charge mediation program provided by the Family Court
Should be referred for mediation automatically if your case includes a motion to determine:

Child custody
Parenting time
Child placement
How Many Mediation Sessions Do You Have To Attend?
The mediation process usually doesn't take a lot of time, but this depends on how cooperative you and your spouse are. If you negotiate successfully and agree on everything, you can complete the process after only one session.
In case there are additional matters to discuss, you can schedule a few more sessions with a mediator. Here's what can come out of mediation:
You reach an agreement and hire a lawyer to:

Review it
Prepare a Stipulation outlining the agreed terms
File the required paperwork

You come to an agreement and prepare and submit a Memorandum of Understanding or Stipulation alone
Once the judge or magistrate approves your agreement, it becomes legally binding, and you are required to follow its terms. If you are reluctant to write the final document yourself, sign up for DoNotPay to get a reliable divorce settlement agreement to meet your specific needs.
DoNotPay Can Help You Create a Divorce Settlement Agreement Efficiently
If you and your spouse decide to have an uncontested divorce, i.e., agree on all aspects of your post-divorce life, you'll need to specify all the terms in a divorce settlement agreement.
DoNotPay takes into account all state requirements and your wishes when generating the document that will become legally binding once approved by the court.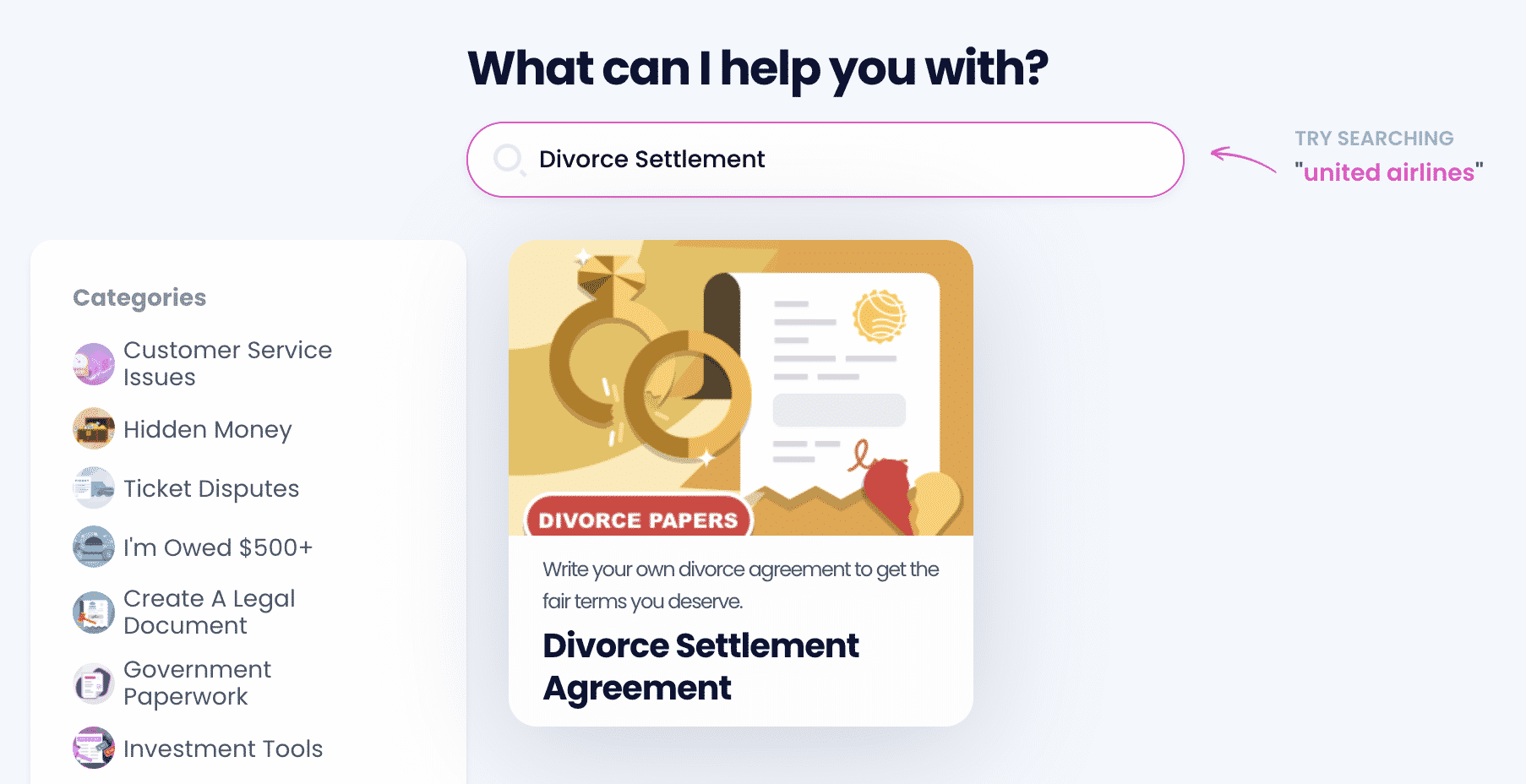 Subscribe to DoNotPay and follow these steps:
Type in Divorce Settlement Agreement in the search box
Answer the chatbot's questions to help us evaluate your situation
Provide the required information about your property, income, and debts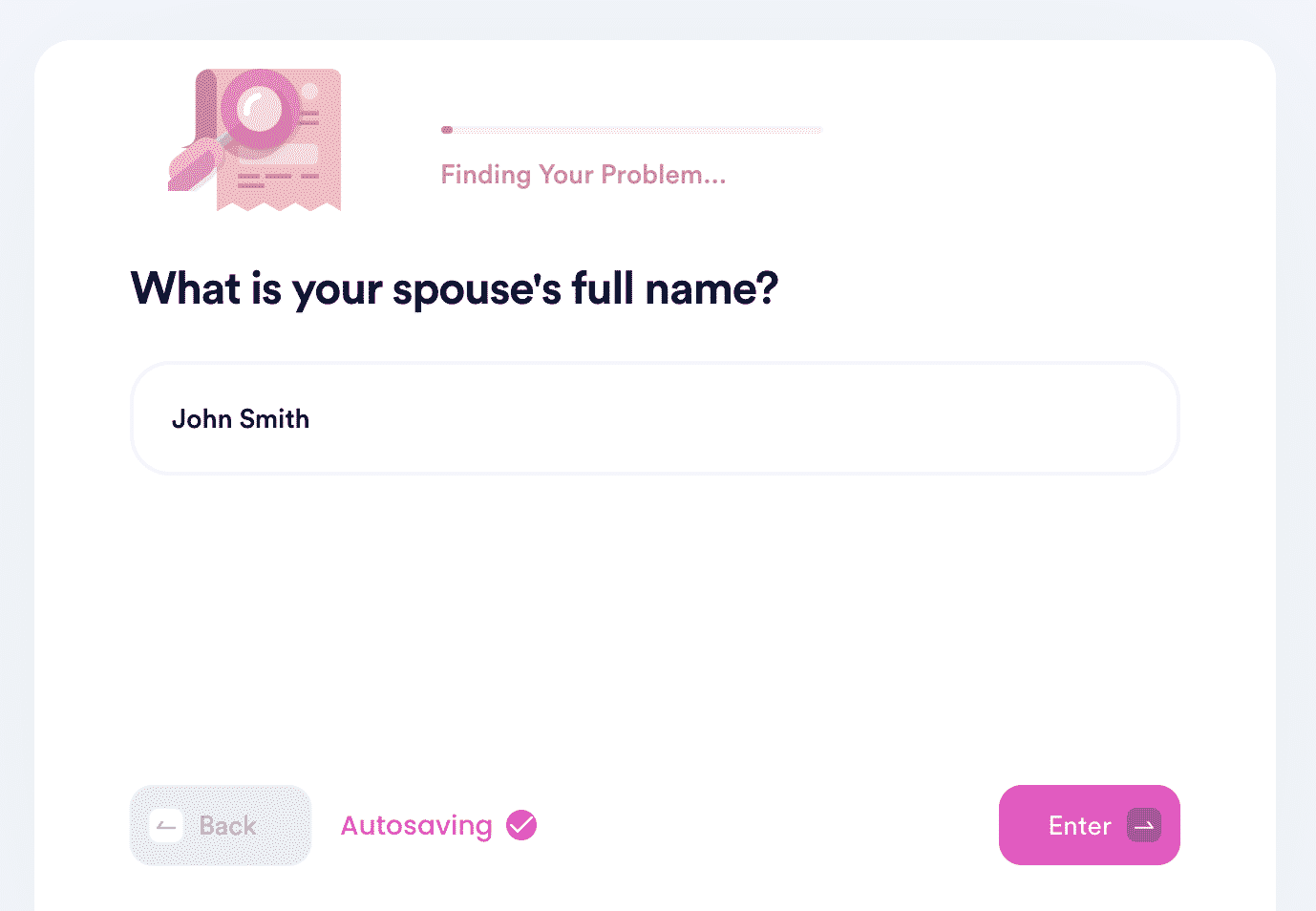 When you enter the data, our AI-powered app assesses your situation and local legislation to create a document suitable for your case.
Need to have it notarized before submitting it to the court? DoNotPay cooperates with remote notaries public who provide their services 24/7!
Divorce Matters Confuse You? Find Answers in DoNotPay's Knowledge Base!
Every divorce is different in its particular unpleasant way. To understand and get ready for the process, read our helpful articles on divorce-related issues and procedures. DoNotPay explains how to:
Let DoNotPay Be Your Virtual Assistant!
Why bother with deciphering legal terminology or figuring out how to write a legal document when you can let us do it for you? You don't have to waste your time any longer. Once you sign up for DoNotPay, we'll do much more than draft your legal documents or help get them notarized!
DoNotPay will show you how to perform a number of tasks with ease, including suing any company in small claims court, filing insurance claims, claiming warranties, creating passport photos, and sending your neighbor a complaint letter!
Should you need assistance with requesting a refund for a delayed flight or fighting workplace discrimination, our virtual assistant shows you how it's done.
There's More We Can Do!
Tired of dealing with mundane tasks and spending hours running dull errands? We offer the perfect solution!
DoNotPay can assist you in completing tedious tasks with ease! The best part is that you will spend significantly less time on them, and you can get them done from the comfort of your home!
Paying bills, getting a free trial, canceling subscriptions, getting revenge on robocalls, requesting refunds, and making a DMV appointment are only a few clicks away!