DoNotPay Breaks Down Divorce Mediation in PA
Getting a divorce is not only difficult, but it's also pretty costly. If you're not on friendly terms with your soon-to-be ex-spouse, the process can turn into a living hell. Mediation can help you reach a middle ground with your partner and even end your marriage on an amicable note.
Don't know much about divorce mediation in PA? Don't worry—DoNotPay has your back! We'll tell you all about the process and generate a tailor-made marital settlement agreement for you in no time.
What Is Divorce Mediation?
Divorce mediation in PA is a process of negotiating and coming to an agreement on crucial divorce aspects with the help of a trained professional. Mediation should lead to a quick divorce and an out-of-court settlement. The issues you are supposed to resolve are:
Who Can Be a Mediator?
A mediator in Pennsylvania can be a:
Marriage counselor
Social worker
Psychologist
Family lawyer
Regardless of the education, a mediator must get formal training from a recognized institute or program—for example, the Academy of Family Mediators. They have to be an expert on family budgeting and divorce laws as they should help you understand and complete the divorce procedures.
What Does a Mediator in PA Do?
Before opting for divorce mediation, you should know what to expect from it. A mediator's job is to:
Lay out all options you have according to the local laws
Help you resolve all disputes in a safe environment
Explain the court procedures and any divorce laws you find confusing
Answer any questions you have regarding the mediation
Assist you with filing divorce papers (in case they're a qualified attorney)
Help you create a marital settlement agreement—a crucial document if you're getting an uncontested divorce
Why Is a Divorce Settlement Agreement Important?
A divorce settlement agreement is a document of utmost importance as it outlines the terms of your divorce and post-marital relationship. The judge will have to review it to confirm everything is in order and that the document is fair to both parties, which is why it needs to be drafted with care. To get one, you can either:
Pay a lawyer to draw the agreement up for you and spend a fortune
Try writing one yourself and risk making a mistake
Use DoNotPay and get a perfect document in a few clicks
Get a Rock-Solid Divorce Settlement Agreement With DoNotPay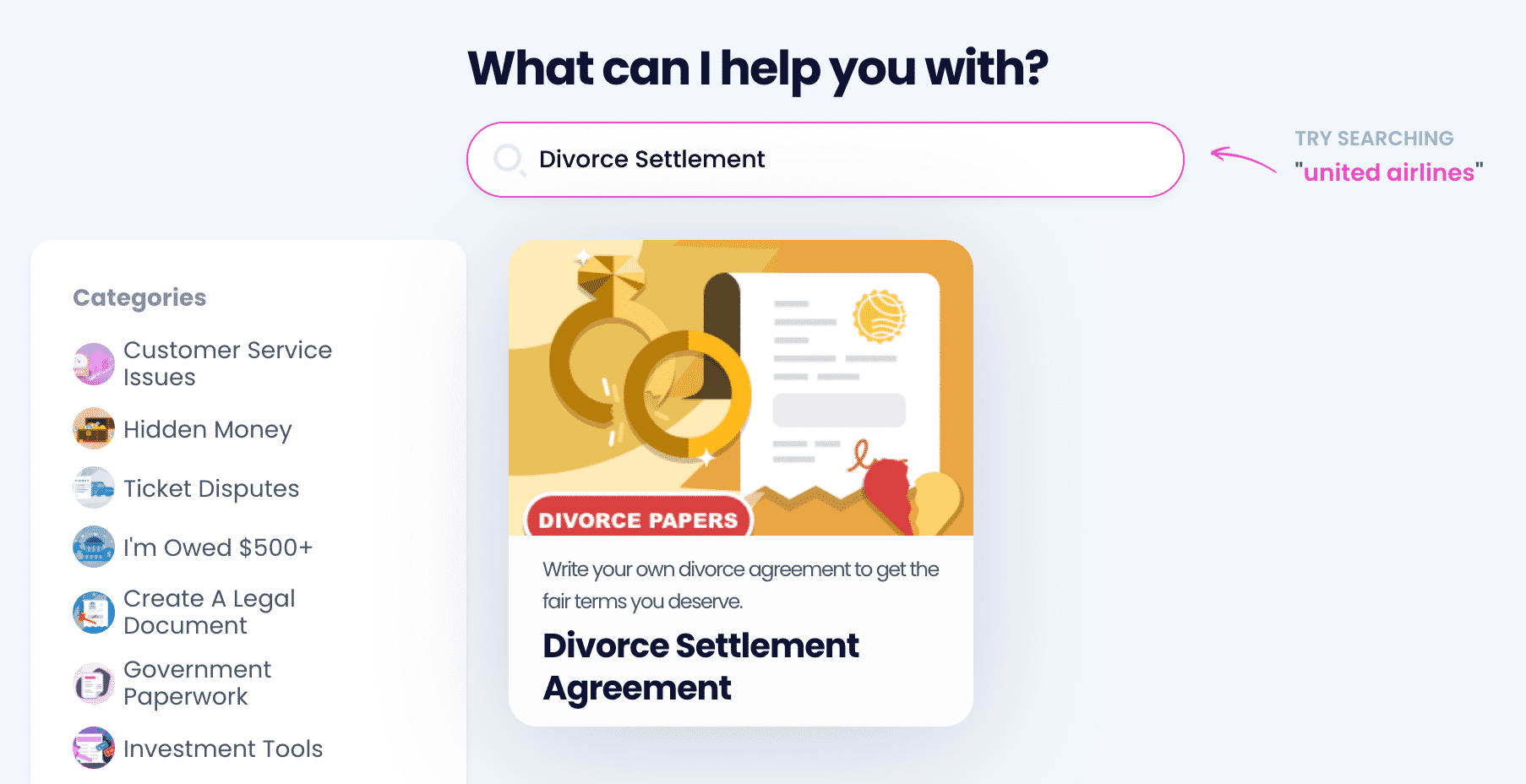 If you don't want to spend big bucks on expensive lawyers or waste time writing an agreement yourself, subscribe to DoNotPay! We can help you get this key document in no time, with minimal effort required. Here's how it works:
Select our Divorce Settlement Agreement tool
Answer our chatbot's questions regarding your:

Spouse
Children (if any)
Assets
Income

Choose whether you want to have your document notarized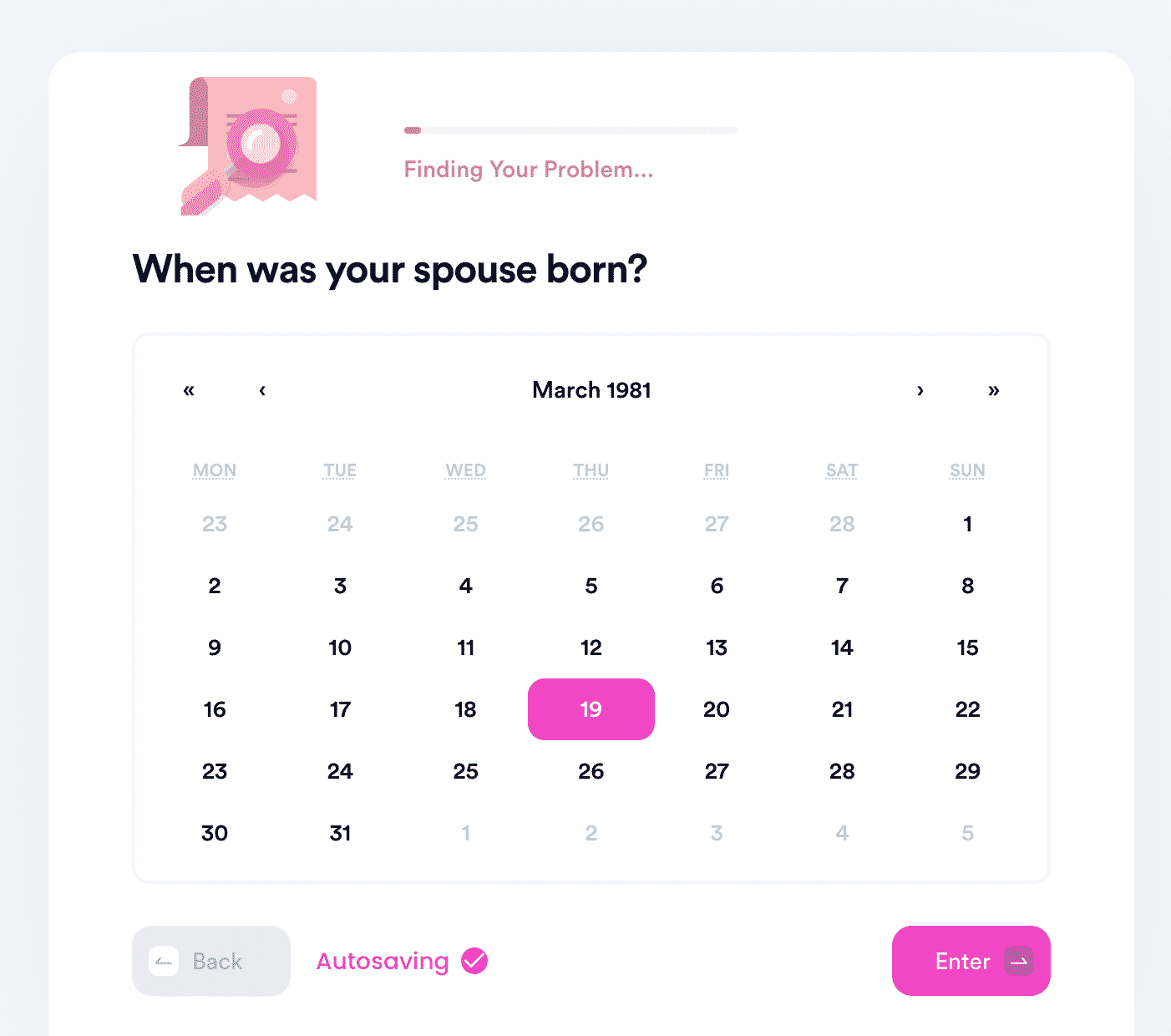 Once we process your request, we will send a personalized divorce settlement agreement your way. Want to have it notarized effortlessly? Follow the link we send you via email and schedule an appointment with an online notary. To benefit from this feature, you would have to opt for uncontested marriage dissolution.
Benefits of Divorce Mediation in PA
Are you still not sure that divorce mediation is the way to go? Check out the main benefits in the table below:
| | |
| --- | --- |
| Mediation Benefit | Details |
| Better relationship with your spouse | Even though you're getting divorced from your spouse, staying in a friendly relationship is crucial, especially if there are children involved |
| More control during the divorce | Without mediation, especially in contested divorces, the court would make crucial decisions in your stead. Mediation helps you and your spouse stay in control of the process |
| Simpler procedure | Mediation can help you go through the procedure much faster as there won't be any need for you to attend court hearings |
| Lower costs | Although divorce mediation isn't free, it's still less expensive than paying lawyers to represent you in court |
How Much Does Mediation in PA Cost?
Divorce mediation in Pennsylvania goes from $100 to $250 per session. Both spouses will have to pay the costs to avoid any preferred treatment by the mediator.
How Long Does Divorce Mediation Last in PA?
The duration and number of divorce mediation sessions depend on how quickly the couple reaches an agreement. Usually, it takes one to five sessions, each one lasting around two to four hours.
DoNotPay Provides More Assistance With Divorces
Have more questions about divorces? DoNotPay has the answers! Read our handy articles, such as:
Need Legal Assistance? DoNotPay Got You Covered!
Forget about getting a migraine every time there is an administrative task to handle. DoNotPay makes it easy and stress-free to deal with any bureaucratic issue that comes your way.
Not only can we assist you in drafting a legal document and getting it notarized, but we also help you:
Finishing Your Daily Errands Has Never Been Easier!
Looking for help with running errands? You don't have to spend hours trying to make a DMV appointment or contacting a customer service rep! Completing your day-to-day tasks stops being a burden once DoNotPay gets involved.
There is no shortage of errands we'll help you run for a small subscription fee, including:
Sign up for DoNotPay and avoid spending hours on simple daily tasks that can be done in a jiffy!