Need Divorce Mediation? Ohio Makes Your Uncontested Divorce Doable!
Filing for divorce is never easy, and the best you can often hope for is that the process will be quick, cheap, and free from trauma.
Ohio divorces can be as easy or difficult as you make them—there are ways of getting your divorce finalized in the Buckeye State that mean you don't need to attend court, and you may not even need a lawyer. One of those ways is to aim for an uncontested divorce from the outset.
An uncontested divorce—or dissolution of marriage—requires that your settlement is agreed upon before you file, and divorce mediation is a popular way of negotiating settlement terms while avoiding the expense of lawyers.
DoNotPay takes a look at divorce mediation in Ohio to make your divorce easy and painless!
What Is the Divorce Process in Ohio?
Ohio recognizes both at-fault and no-fault divorces, so you do not have to prove your spouse has done anything wrong when you file your divorce papers.
A no-fault divorce can be filed based on:
Separation for a year or more
Incompatibility between you and your spouse
A judge is not allowed to question your reasons for claiming incompatibility, but your or your spouse's behavior can be taken into account if the court has to rule on your settlement.
Filing for divorce in Ohio entails these steps:
Filing divorce forms
Reaching a settlement
Filing Divorce Forms
There are no uniform divorce papers available in Ohio, so you will have to check with your county court to find out the exact papers required. In every county, though, you will need a:
Complaint for divorce
Request for service
Affidavit of income and expenses
Affidavit of real property, assets, and debts
If you and your soon-to-be-ex have minor children, you will have to submit their details as well.
In case both spouses can agree on pursuing the uncontested divorce route, you can file jointly, in which case your divorce papers must include a:
Petition for dissolution
Affidavit of income, expenses, and property
Settlement agreement
Judgment entry
If minor children are involved in your uncontested divorce, you must include various forms that cover shared parenting, child support arrangements, and all the elements necessary to demonstrate that your children will be looked after adequately.
You will have to pay the court fee of around $350 when you file your papers, but you do not need to engage a lawyer to file on your behalf.
Serving the Papers
Your spouse needs to be served with the divorce papers, and a signed receipt of service has to be filed with the court.
In a jointly filed uncontested case, you can avoid the need to serve your spouse by filing a waiver of service with your dissolution papers.
Reaching a Settlement
For your divorce to be considered uncontested, you and your spouse will need to reach a settlement agreement before you file.
The settlement agreement is a legal document that sets out how you and your spouse will handle:
The secure upbringing of your children
The division of your assets, real estate, and debts
If the judge is satisfied that your settlement agreement covers all the elements listed in your financial affidavits and child declarations, your uncontested divorce will be granted with no hassle.
Reaching a Settlement Through Divorce Mediation in Ohio
By far, the most complex procedure in your entire divorce is negotiating your settlement agreement.
The traditional way to agree on a settlement is to hire lawyers and let them negotiate on your behalf before letting them draft a document that covers what has been agreed.
This can be expensive and time-consuming. Ohio lawyers charge around $200 per hour on average, and a typical settlement agreement can take up to 30 billable hours to finalize—your agreement could easily cost $6,000 or more per spouse.
Mediation is a lower-cost alternative that can be effective if you and your spouse are both:
How Does Divorce Mediation Work?
The divorce mediation process consists of the following steps:
Divorce Mediation Steps
Explanation
Setting ground rules
The mediator sets out certain behavioral standards, such as:

Mutual respect
No insults or name-calling
No blame games
Calmness and focus on outcomes
Consideration for the best interests of all stakeholders

Opening statements
Each spouse has an opportunity to present their initial position, including their requests and expectations from the mediation process. The mediator notes each point and tries to identify common ground
Clarifying points
The mediator will draw up a list of points that need to be settled through negotiation, based on each spouse's opening statement
Negotiating individual points
Each point is negotiated with help and guidance from the mediator
Summarizing and wrapping up a deal
The mediator summarizes all the agreed points and wraps up the deal. If the mediation is successful, the mediator will provide a summary that can be used for drafting a settlement agreement. If the process doesn't work, the mediator will write a report for the court, and the case will proceed to trial for the judge to impose a settlement
Mediation is not always successful but can offer a low-cost way to resolve your differences and reach a settlement with your spouse.
The more you and your spouse can agree on, the more you can avoid expensive lawyers and court proceedings.
Drafting Your Settlement Agreement
Once your mediation process has given you a settlement you are both happy with, you can go ahead and have your agreement drafted.
Your options for drawing the agreement up are:
Lawyers—Attorneys can draft your agreement but may charge high fees
Online divorce services—Various online providers offer templates for you to download and fill out, but you should be careful as many of these templates are too generic to cover your exact needs
The sure-fire way to avoid the expense of a lawyer while making sure your settlement agreement is watertight is to use DoNotPay. We can for you in a few clicks!
DoNotPay Has You Covered in Ohio!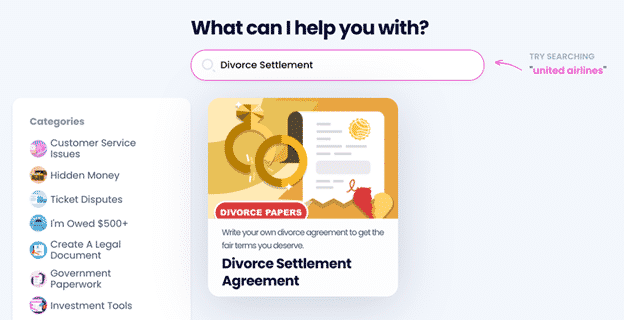 DoNotPay wants your Ohio divorce to be simple, cheap, and pain-free!
Our Divorce Settlement Agreement product is the perfect way to take the result of your successful mediation process and turn it into a legal document.
You can avoid the expense of a lawyer, speed up your divorce process, and walk away with an agreement that guarantees the best for everybody involved.
Here's what you need to do to set up your settlement agreement:
Click on our Divorce Settlement Agreement product
Follow the prompts and fill in the details to customize your agreement
Once you are done, we will generate your document in a flash. You can sign it together with your spouse and have it notarized.
If you don't know where to find a notary in your area, don't worry—DoNotPay's online notarization service can help you out too!
If you are looking for detailed info on divorce procedures in Montgomery County, feel free to explore our learning center at any time!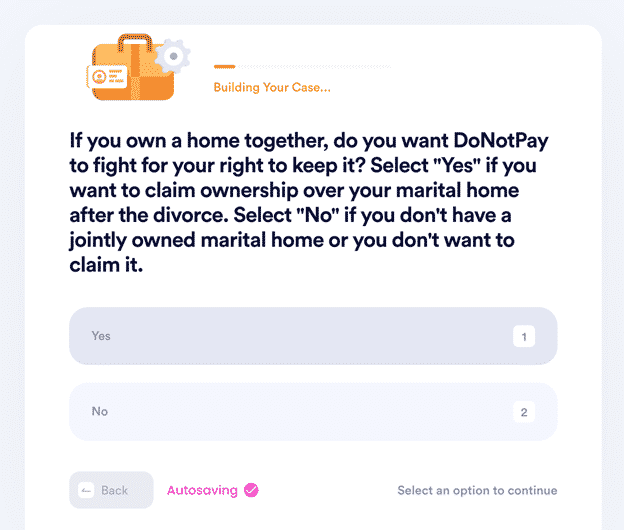 Learn How To Solve Legal Issues in Minutes!
Do you need to draft a legal document? Spending hundreds of dollars on lawyers is not the answer. We came up with a faster and more affordable solution. Not only can our app draft child consent forms, divorce settlement agreements, and powers of attorney for you, it can also provide legal assistance by helping you take anyone to small claims court!
Drafting numerous documents is not all DoNotPay does for you! Aside from drawing up contracts and agreements, we can also assist you in getting them notarized online from the comfort of your home or office!
Explore DoNotPay's Other Nifty Features
There is more assistance on the way! You can use DoNotPay's features to handle various tasks with ease, including:
We can also help you protect your safety. If you don't know how to deal with copyright infringement, stalking and harassment, work discrimination, sex offenses, and disputes with annoying neighbors, DoNotPay has got you covered.