What Is Divorce Mediation and How to Find It In New York
Once you have filed for divorce and served the papers on your spouse, your next step is to negotiate your settlement agreement.
You want your New York divorce to be as fast, cheap, and hassle-free as possible, but your settlement agreement can be a sticking point that ends up costing big time.
DoNotPay lifts the lid on the process of divorce mediation—NY divorces can be kept simple and inexpensive if you go this route!
What Is Divorce Mediation?
Divorces become expensive as soon as they land in court.
The average cost of a contested divorce in New York State is around $17,000 per spouse. Even uncontested or friendly divorces can cost $4–5,000 if lawyers are left to negotiate an out-of-court settlement.
Divorce mediation can help you eliminate much of the expense of your marriage dissolution by avoiding the need for lawyers.
Mediation involves face-to-face negotiations with your spouse that are facilitated by a trained mediator. The mediator helps you to focus on:
Desired outcomes
Win-win scenarios
Non-confrontational, constructive collaboration
How Do New York Divorce Mediators Work?
After you have filed divorce papers, your easiest route to a divorce is to agree on a settlement without the court having to decide matters for you.
If you are in the process of working out your settlement agreement, you can approach the county court where you filed your divorce papers.
The court will recommend the following NY divorce mediation options:
Court-approved mediation service
The Divorce Mediation Clinic at the Benjamin N. Cardozo School of Law
Other professional dispute resolution agencies
Court-Approved Mediation Service
Each NY county court maintains a list of approved mediators to use when your case has already reached the trial stage.
New York courts understand that it is cheaper and easier to help divorcing couples through mediation than to allow lengthy court proceedings.
Many court-approved mediators offer a free initial session and reduced rates for subsequent sessions as required.
Community Dispute Resolution Center (CDRC)
Most areas have a CDRC that offers free mediation in parenting cases and can recommend mediators for divorce cases.
The Divorce Mediation Clinic at the Benjamin N. Cardozo School of Law
The Divorce Mediation Clinic offers up to four free mediation sessions to divorcing couples who qualify.
If children are involved in your divorce, the clinic may offer up to six free sessions. All its mediators are lawyers-in-training.
Other Professional Dispute Resolution Agencies
The court may recommend other local organizations that charge on a session-by-session basis.
Mediation sessions usually cost between $100 and $300, so your total costs could be between $500 and $1,500 for the entire process, depending on how complicated your case is.
What Happens After Mediation?
If your mediation is successful, you and your spouse will have a settlement agreement in place that covers all aspects of how your marriage should be dissolved.
The agreement will include terms for:
Your next step is to have your agreement drawn up as a legal document for you and your spouse to sign and file with the court.
You can use the following resources to do this:
| Settlement Agreement Resources | Explanation |
| --- | --- |
| Lawyer | A lawyer can take the terms of your agreement and draft them as a contract, but this could quickly become expensive. Lawyers charge around $350 per hour and will demand a hefty upfront retainer to write your agreement. If you already agreed on the terms, this expense is unnecessary |
| Mediator | Some professional mediation services offer to draft your settlement agreement as an additional service. While they may have insight into your case, they generally charge up to $1,500 for this service |
| Online | You can download settlement agreement templates from numerous online providers, but you should be careful—many of these are too generic to cover all the aspects of your case |
DoNotPay can offer you the perfect solution! We can take the terms of your settlement and create a watertight agreement in a few clicks!
Your NY Settlement Agreement Nailed by DoNotPay!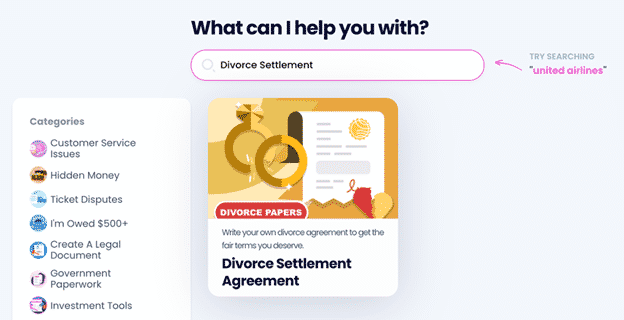 DoNotPay wants your New York divorce to be fast, cheap, and painless!
Our Divorce Settlement Agreement product helps you:
Keep your costs down
Finalize your divorce in the shortest possible time
Capture all the terms of your settlement to give you peace-of-mind
With our product, you can give us the settlement details you have agreed on with your spouse. We will capture them and generate a settlement agreement that will sail past a judge's scrutiny and keep you out of court.
Here's what you need to do to set up your settlement agreement:
Sign up with DoNotPay in your web browser
Click on our Divorce Settlement Agreement feature
Take us through what your agreement should include by following the prompts
Once we have all your details, we will create your agreement in an instant. You and your spouse can sign it and have it notarized.
If you don't know where to look for a notary in your area, DoNotPay can help with our online notarization service!
STOP PRESS—if you need a checklist for your uncontested divorce in NY County, DoNotPay is here to help!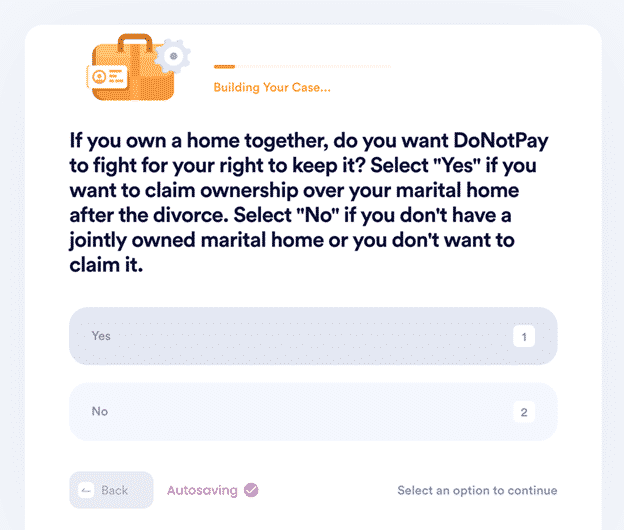 Learn How To Solve Legal Issues in Minutes!
Do you need to draft a legal document? Spending hundreds of dollars on lawyers is not the answer. We came up with a faster and more affordable solution. Not only can our app draft child consent forms, divorce settlement agreements, and powers of attorney for you, it can also provide legal assistance by helping you take anyone to small claims court!
Drafting numerous documents is not all DoNotPay does for you! Aside from drawing up contracts and agreements, we can also assist you in getting them notarized online from the comfort of your home or office!
Explore DoNotPay's Other Nifty Features
There is more assistance on the way! You can use DoNotPay's features to handle various tasks with ease, including:
We can also help you protect your safety. If you don't know how to deal with copyright infringement, stalking and harassment, work discrimination, sex offenses, and disputes with annoying neighbors, DoNotPay has got you covered.