The Ins and Outs of Divorce Mediation in NH
A divorce process can be stressful, expensive, and time-consuming, especially when you and your spouse can't agree on everything. Luckily, you can avoid expensive lawyers and tiresome court hearings in New Hampshire if you opt for an uncontested divorce.
Couples who can't reach an agreement on all terms of their divorce should consider divorce mediation in NH. We will provide you with information about what you can ask for in mediation and what you can expect from the process.
DoNotPay can help you outline all the terms of your divorce in a divorce settlement agreement.
, and we'll generate a legally binding marital settlement agreement in no more than a few minutes!
Divorce Mediation NH—What Does It Entail?
Divorce mediation is a process that involves two divorcing parties and a neutral third party who is there to facilitate communication between the spouses. It's a type of negotiation lead by a mediator with the purpose of reaching a mutually acceptable solution regarding:
You can prepare for your first mediation session by following these simple instructions below:
Collect and organize all your divorce documents before the session
Make a list of all the points of disagreement you have with your spouse
Determine what you'd like to achieve with mediation
Types of Divorce Mediation in NH
There are two types of mediation in New Hampshire:
Court-ordered mediation
Private mediation
What Can You Expect From Court-Ordered Mediation?
Court-ordered mediation is mandatory, and if you fail to comply, you may face penalties. In New Hampshire, court-ordered mediation typically deals only with child custody and visitation matters. Financial issues are rarely discussed during court-ordered mediation.
A mediation session of four hours typically costs around $150 per person. You can get financial assistance if you're eligible. If you want to stay in mediation beyond the four hours, you will have to pay additionally.
Once your court-ordered mediation is over, the mediator will have to provide a written report to the judge—meaning the issues you discussed won't remain confidential.
Private Mediation
Private mediation is not mandatory, but you should give it a try if you can't agree on all aspects of your divorce with your spouse. If you and your spouse decide to attend mediation before a judge orders it, you'll remain in control of the process. Couples who attend private mediation will have the chance to settle all their differences and proceed with a friendly divorce.
Note that, unlike court-ordered mediation, the items discussed during private mediation will stay confidential.
How Much Does Mediation Cost?
The cost of mediation will depend on the time needed for spouses to reach an understanding.
Mediators typically charge by the hour or per session. If mediation is ordered by the court and conducted through a community-based mediation agency, it typically won't be charged by the hour.
Crucial Benefits of Private Mediation
A private mediation is the way to go if you want to settle all divorce-related issues with your spouse quickly and efficiently. If you're still wondering whether mediation is the right choice for you, the table below provides a detailed depiction of all the benefits it provides:
Benefits
Explanation
Costs less than litigation
Mediation can ensure you an out-of-court settlement with your spouse. That typically implies you won't have to hire a lawyer if you and your partner agree on everything during your sessions. Not having to go through a pricey litigation process will reduce the costs of your divorce at least ten-fold
Provides total confidentiality
Private mediation sessions are not recorded or transcribed, and the mediator is obligated to destroy all notes they took during sessions
Keeps matters informal
Mediation doesn't have to follow any formalities or rules. You and your spouse will have the chance to discuss your issues in a neutral environment, which will help you stay on good terms
Gives spouses complete control over the decisions made
During mediation, you and your spouse can work out the kinks of your divorce without having the judge decide on your behalf.

Once you reach an understanding, you should create a divorce settlement agreement that will spell out all the terms of your divorce. DoNotPay can help you create this document in the blink of an eye
How To Draw Up a Divorce Settlement Agreement Using DoNotPay
After a successful mediation process, you'll need to put all the negotiated terms in writing. A divorce settlement agreement should contain all the details of your understanding.
DoNotPay is here to help you draft a professional divorce settlement agreement in minutes.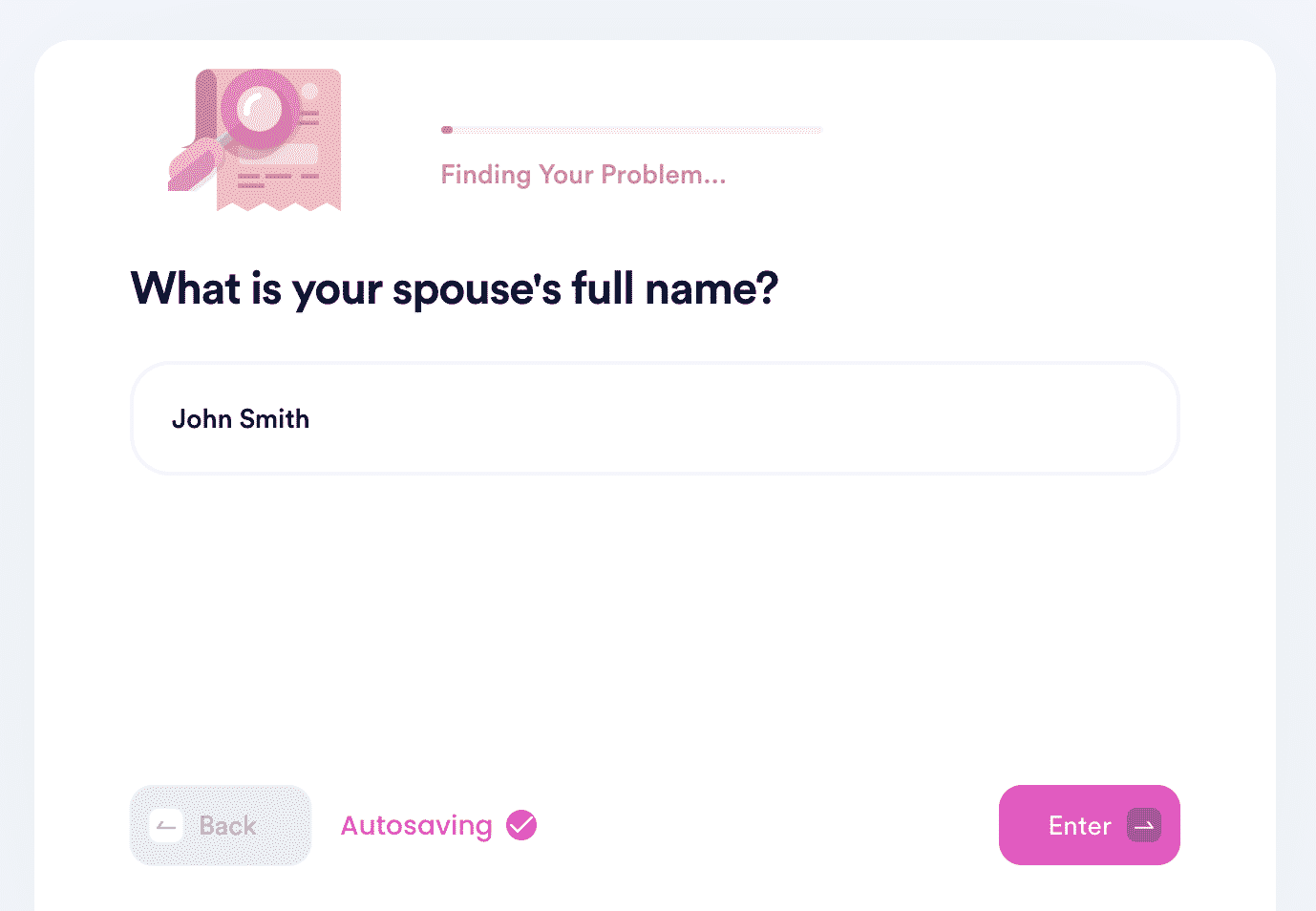 To create a killer divorce settlement agreement that will ensure you a low-cost divorce, follow these steps:
Find our Divorce Settlement Agreement product
Provide all the information regarding your marriage and inform us about how you want to allocate your property
We will generate your document in minutes. All you need to do is sign it with your spouse.
You can also get the document notarized through DoNotPay. We will connect you with an online notary, so they can witness the signing in a virtual environment.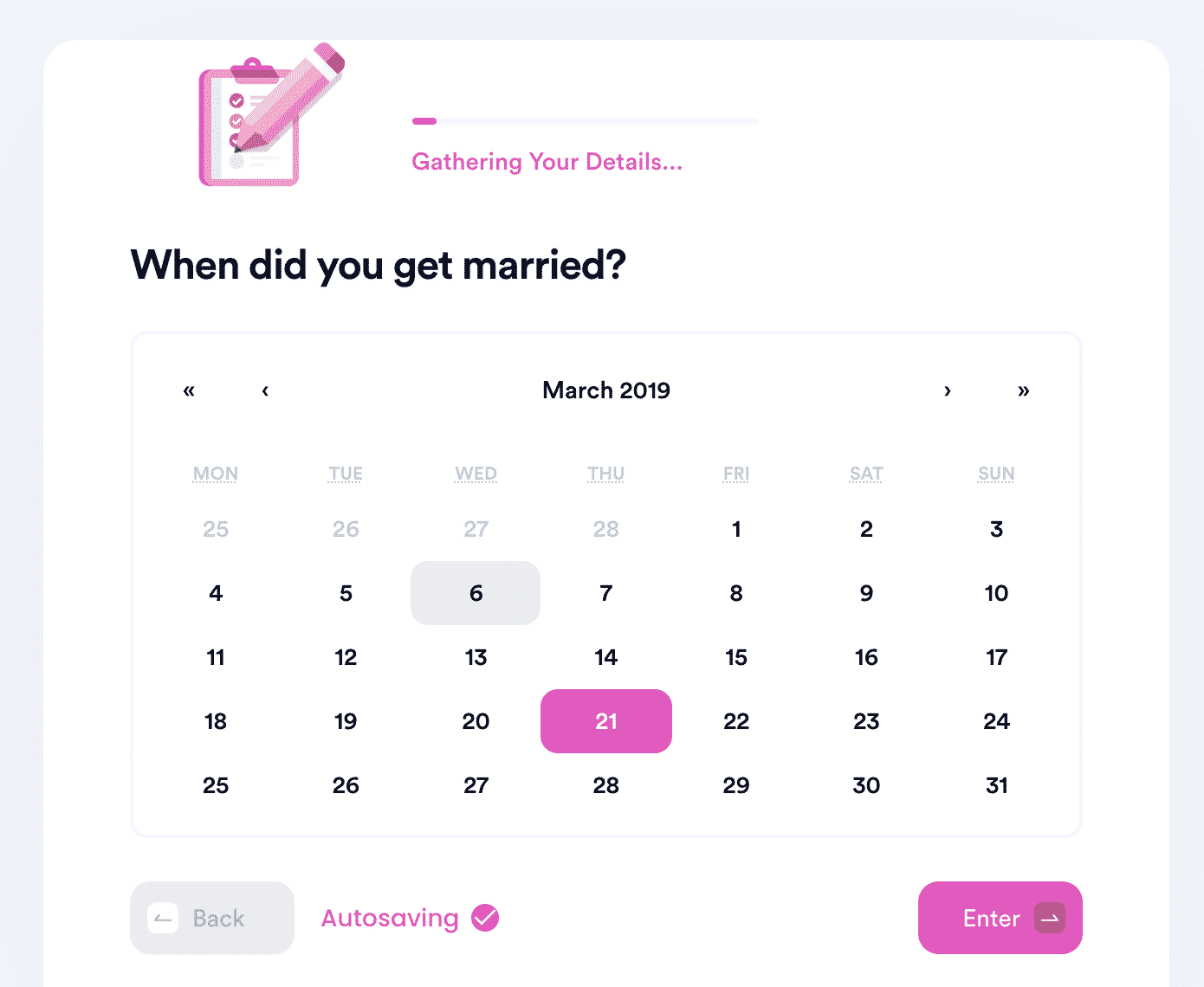 DoNotPay has a learning center that can provide more useful information on divorce-related topics. You'll find the answers to all the questions you might have, including:
Deal With Your Problems Like a Pro With DoNotPay
Looking for an app that's got enough features to solve any issue you're facing? Look no further—DoNotPay has got your back! Whether you can't sleep from your noisy neighbors or you want to connect with your locked-up relatives, we'll be able to help. We'll bring justice to any person or company that has wronged you and take them to small claims court for you.
The robot-lawyer app can generate numerous legal documents in your name, including:
Once you receive the documents, we can set you up with an online notary so you can get your agreements notarized from the comfort of your home.
Possibilities With DoNotPay Are Endless
DoNotPay stands out not only by the quality of products it offers but by the sheer amount of features it boasts. Check the table below out to see only some issues we can help you resolve: