DoNotPay Explains Divorce Mediation in Minnesota Top to Bottom
If you've decided to end your marriage and want the procedure to go as smoothly as possible, divorce mediation might be the solution. Don't know much about this process? You can always rely on DoNotPay for help! We'll tell you all about divorce mediation in Minnesota and show you how to lower the costs of your divorce like a pro.
Mediation in Divorce—The Basics
Mediation is a process conducted by a professional to help you and your spouse reach a compromise on crucial divorce issues, such as:
Agreeing on these issues makes you eligible for an uncontested divorce. This type of divorce is preferred by many couples as it's cheaper and quicker and the process can be completed without a lawyer. Another perk is that it enables an out-of-court settlement.
What Is a Mediator Supposed To Do?
Mediators don't make decisions for you. They guide you through the process by:
Answering any questions you have and helping you understand the laws and the judicial system before you file for divorce
Facilitating a productive discussion between you and your spouse in a safe environment
Assisting you in understanding the other party's needs, wants, and concerns so you can get divorced in a friendly manner
Helping you create a parenting plan (in case there are children involved)
Filing the divorce papers for you if they're a qualified attorney
Helping you write a marital settlement agreement—a key document outlining the terms of separation. If written with the mediator's assistance, this contract must be submitted to and accepted by the court to be legally binding
Another, more efficient method of getting a marital settlement agreement is to . We can generate this important document for you according to your needs in no time.
What To Expect From Mediation
Before going to your first mediation session, you should know what to expect from this process. It consists of several stages, including:
Mediation Stage
Explanation
Mediation briefing
During the initial stage, you and your spouse must provide the professional with the necessary information about your case. They will:

Tell you which data to collect for the next session
Explain the process in detail
Help you identify the issues
Suggest an optimal approach

Information gathering
The mediator determines what documents you should collect. It can be anything from your bank statements to retirement accounts and pension plans
Figuring out the ideal outcome
During this stage, the mediator has to find out the needs and interests of both parties involved. In case the spouses have different scenarios in mind, they should reach a compromise with the mediator's assistance
Finalizing the agreement
The mediator will give the couple different options and suggest what their divorce settlement agreement should contain. It needs to be drafted with care to be fair to both spouses
How Long Does Divorce Mediation in Minnesota Take?
Divorce mediation sessions usually last for two or three hours and are scheduled two weeks apart. The whole process can take between six and eight weeks to complete, depending on:
How well the couple is prepared
What the complexity of the case is
What the emotional readiness and the level of conflict between the spouses are
How Much Does Mediation Cost in MN?
On average, mediation in Minnesota costs around $2,000. Because mediators charge by the hour, this is not a fixed sum. The cost of the process depends on how complex your case is and how long the negotiations last. Keep in mind that you will also have to pay a fee to file the divorce papers.
Get a Professional Divorce Settlement Agreement the Easy Way—Use DoNotPay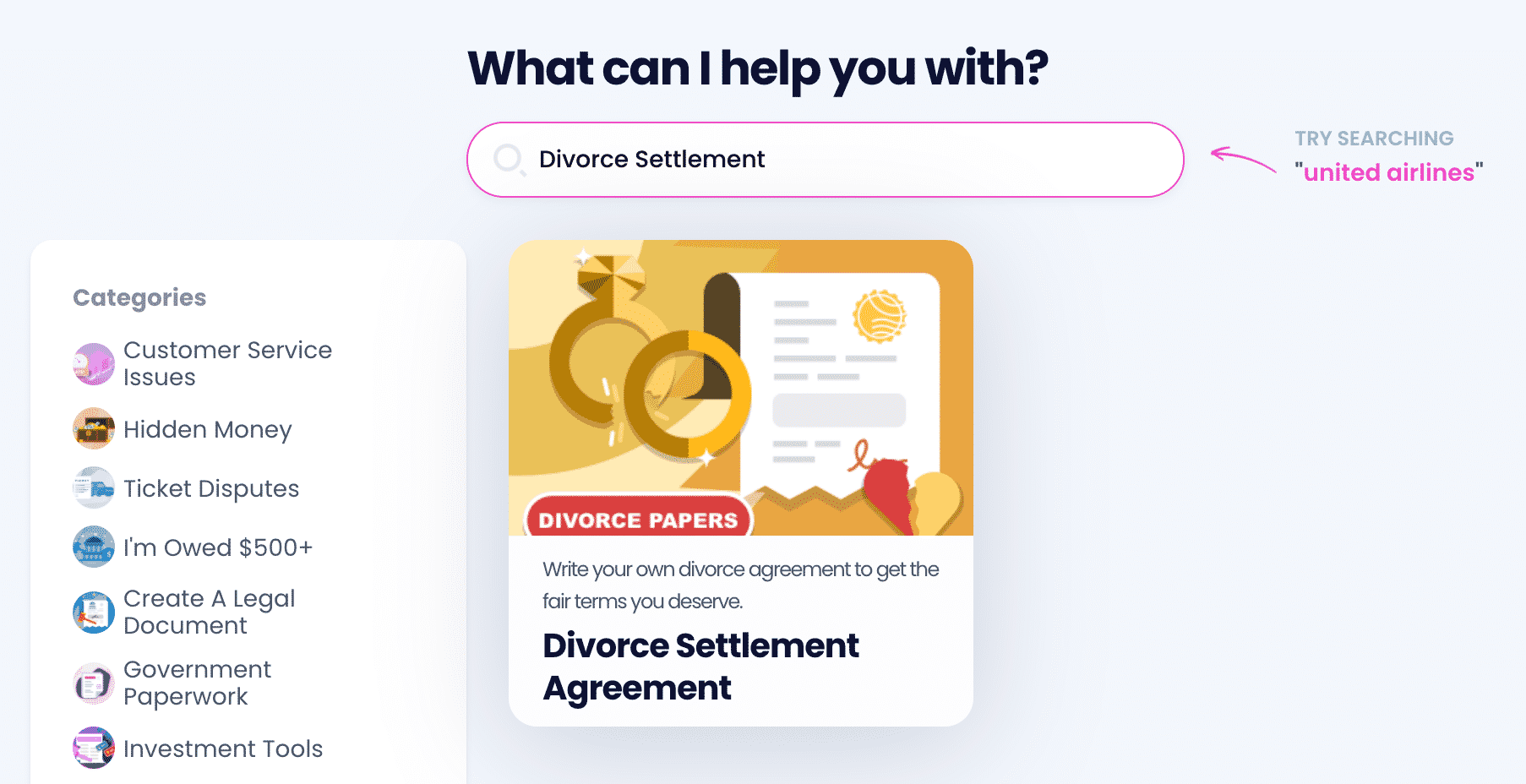 If you reach an agreement with your spouse and get an uncontested divorce, you don't need mediation or lawyers. The cheapest and fastest solution is to outline the terms of your divorce in a marital settlement agreement, with which DoNotPay can help you out! We'll draw this crucial document for you in a snap and make sure it's valid and fair to both parties. To get one, all you have to do is:
Select our Divorce Settlement Agreement product
Answer our chatbot's simple questions
Opt for online notarization
Once you submit your request, expect to receive the document in a matter of minutes. If you chose to have it notarized online, we'll send you an email with a link you should follow to set up an appointment with an online notary fast and easily.
Need more info about divorces? Check out DoNotPay's articles, such as:
Use DoNotPay To Resolve Administrative Tasks in Minutes!
Tired of brainstorming the easiest way to deal with administrative issues? We know how you feel, and we're here to take the burden off your back!
Once you subscribe to our app, you'll be able to resolve an abundance of bureaucratic issues with ease.
Taking a valid passport photo, reporting workplace discrimination, reducing property taxes, preparing for a government test, applying for a college fee waiver, and appealing a parking ticket are some of the many tasks we assist you with.
In case you need a quick way to draft a legal document, such as a power of attorney, divorce settlement agreement, or a child travel consent form, DoNotPay will do it for you!
Learn How To File Claims the Easy Way
Are you dissatisfied with a certain company and/or its products? You don't have to stay quiet! Use DoNotPay to file your insurance, warranty, or missing/late parcel claim effortlessly! We'll also show you how to request an item return in a few steps.
If you want to cancel a subscription or request a refund or chargeback, you can do it with our assistance without breaking a sweat. Use one app to deal with countless issues!