Get a Breakdown of Divorce Mediation in Michigan
Reaching an out-of-court settlement with your soon-to-be ex-spouse might be the best solution for a smooth and low-cost divorce.
If you cannot agree on some divorce aspects on your own, you could try divorce mediation in Michigan. A mediator could help you see matters from a different perspective, negotiate a friendly divorce, and thus cut down the total divorce costs.
What Is Divorce Mediation?
Divorce mediation is a voluntary and cooperative process where spouses could work out their issues outside of court.
A trained mediator could guide you to finding an acceptable resolution to some matters during a divorce in Michigan, such as:
Divorce Mediation Stages
To prepare for divorce mediation in Michigan better, you should understand what the process consists of:
Introduction—A mediator will explain how the process works so that both spouses could feel comfortable with the process
Statement of the problem—You and your spouse will present your sides of the problem in an open and respectful manner
Information gathering—In this stage of the mediation process, you should provide all proof and documentation supporting your statements. A mediator might decide to meet each spouse separately if they need additional information
Problem identification—Based on the collected evidence, a mediator will provide an impartial view of the stated problem
Bargaining and settlement—A mediator usually proposes a settlement and lets both spouses change any terms until reaching an agreement acceptable for each side
If you'd like to get more details about the mediation process, you should get in touch with a few mediators before scheduling your first session.
Where To Find a Mediator
You could find local mediators by following these steps:
Visit the Michigan Legal Help website
Choose your county in the drop-down menu in the upper right corner (e.g., Wayne, Oakland, or some other county)
Click on the link to the mediation or dispute resolution center provided
Get in touch with the organization using the provided contact information on the right
Is Divorce Mediation Suitable for All Cases?
Mediation isn't the best option for all divorces. A mediator might not accept your case in the following situations:
One spouse wants to be in control and make all the decisions
Mediation might endanger your or your spouse's safety or health
There's been a history of abuse or cruel treatment between the two of you
You still don't have all the necessary information or evidence to make the right decisions
You or your spouse don't feel comfortable sharing your opinions in the mediation process because of language issues, the lack of negotiation skills, or some other reasons
Why Should You Consider Divorce Mediation in Michigan?
You should consider going to divorce mediation if you'd like to achieve the following goals:
Prepare a Divorce Settlement Agreement With DoNotPay With Zero Hassle
We are familiar with state laws and will make sure that you get a divorce settlement agreement suitable for your needs.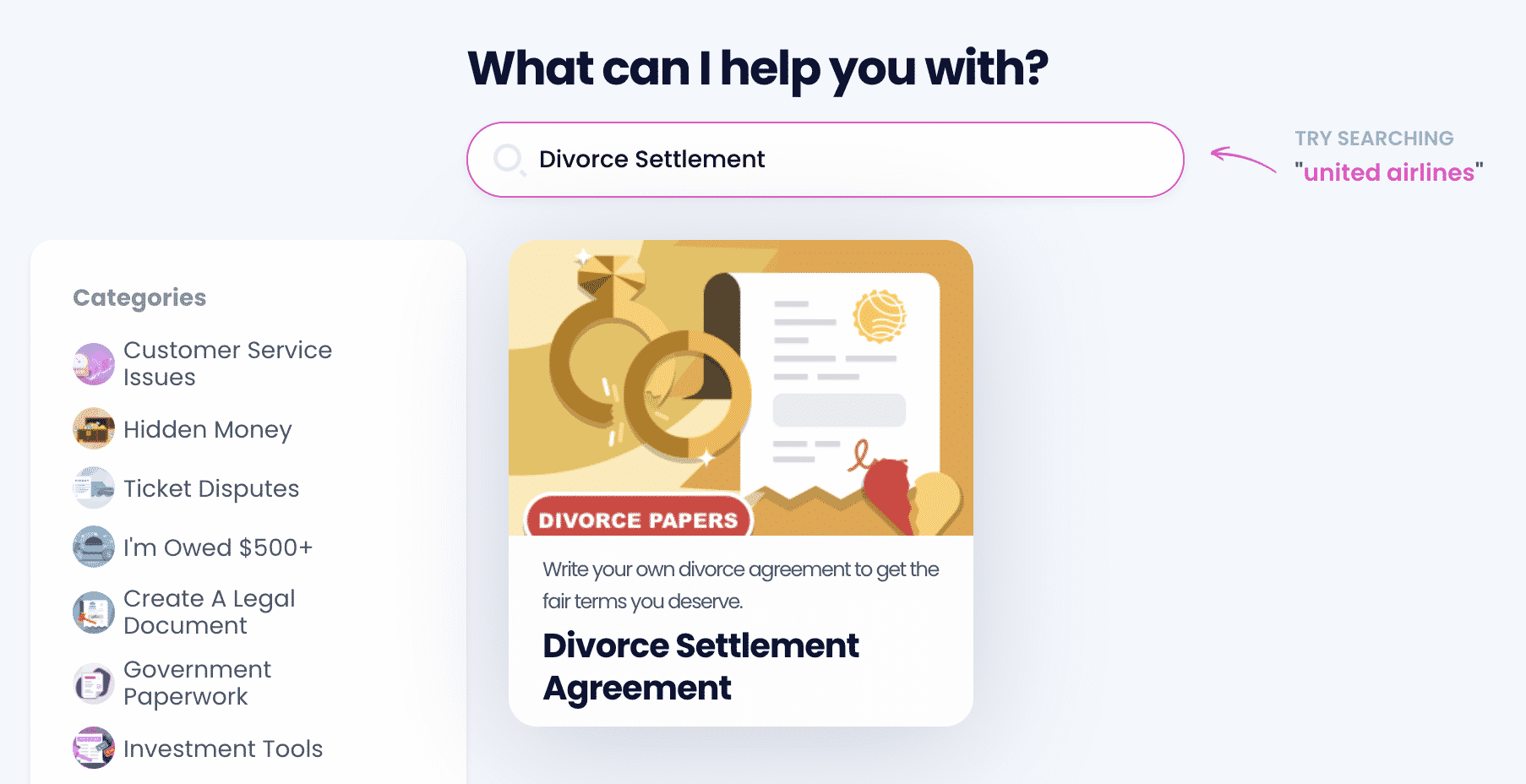 Sign up for DoNotPay and follow these steps:
Choose our Divorce Settlement Agreement product
Let us know about your property, children, debts, income, etc.
Select whether you need the document to be notarized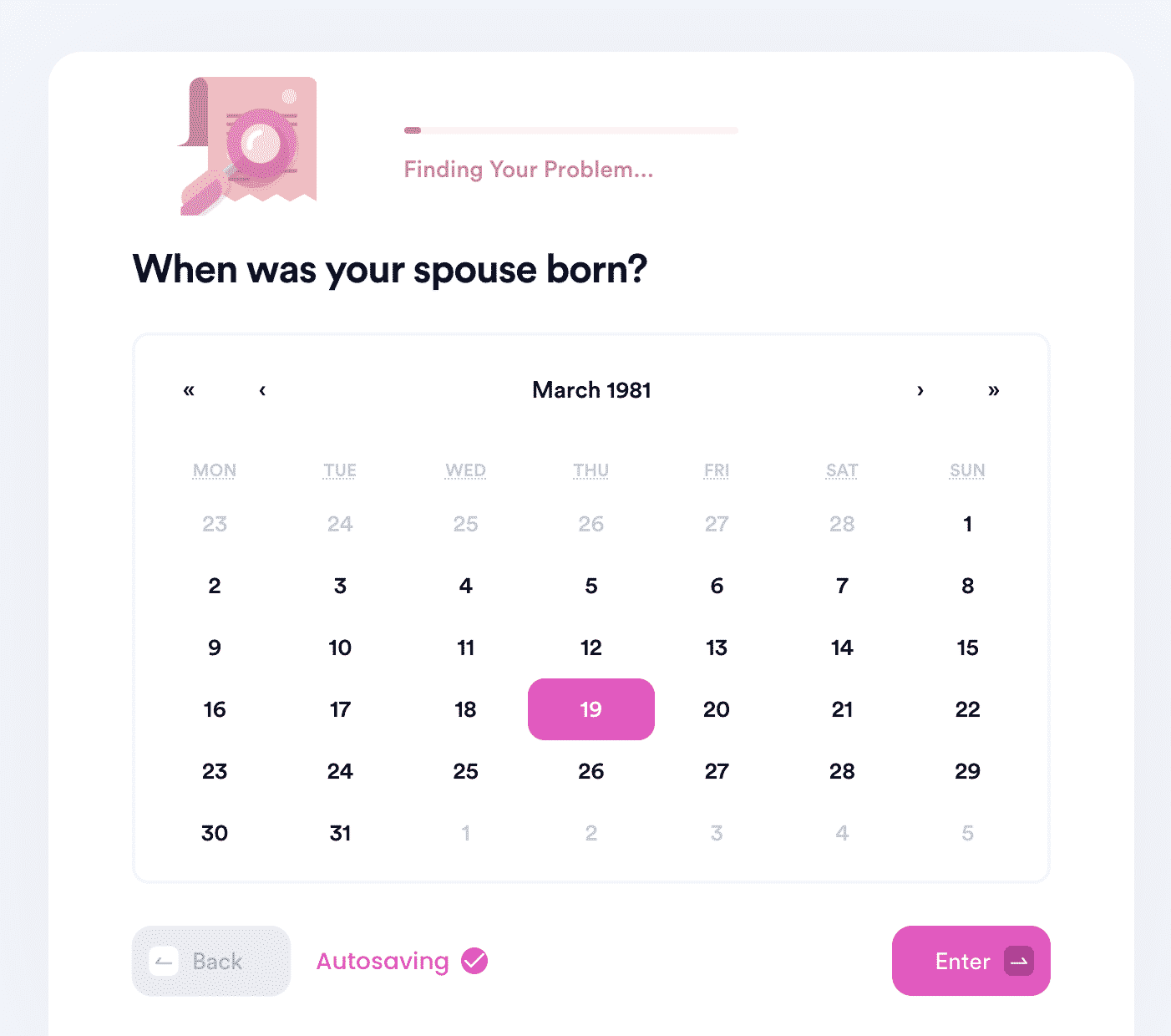 DoNotPay uses your provided data to generate an agreement that fulfills all necessary legal criteria and case-specific requirements.
Get Answers to Various Divorce-Related Questions
To know what to expect in a divorce and protect yourself well, you should explore DoNotPay's vast knowledge base. We answer lots of questions, such as:
Stuck in a Bureaucratic Mess? DoNotPay Is Here To Help!
Since handling dull administrative tasks is a burden and no one likes doing them, DoNotPay developed a variety of neat features to ease many processes! With our nifty app, you can:
Deal With Companies Like a Pro
We all love shopping, but it's no secret that companies sometimes turn a fun experience into a nightmare, especially when they refuse to cooperate. DoNotPay is here to help you reach customer support without the hour-long wait and sue an uncooperative merchant in small claims court if necessary!
Need a refund? We can show you how to get your money back from any company in a snap!
Should you need to file an insurance or warranty claim and request gift card cash back or an item return, you can count on our app to assist you! DoNotPay can also show you how to discover any unclaimed funds under your name so that you can continue shopping like a pro.