Should You Choose Divorce Mediation in Massachusetts?
Ending a marriage is stressful, time-consuming, and expensive. Before filing for divorce in MA, you should research your state family laws, divorce procedures, and mandatory papers.
When is the perfect time to resort to divorce mediation in Massachusetts? DoNotPay offers the answer and a few extra tips to help you go through the divorce procedure swimmingly.
When Do You Need Divorce Mediation in Massachusetts?
If you'd like to finalize a divorce in MA as soon as possible, you should go for an uncontested divorce. It requires you and your spouse to agree on all aspects of your post-divorce life, including alimony, child custody and support, and property division.
Reaching an agreement with your soon-to-be ex-spouse can sometimes be challenging. In case you need help, you could:
As the latter option is the most expensive one and will significantly increase your total divorce costs, it's better to involve independent mediators first.
Mediation is a confidential and informal process where a certified neutral third party—a mediator—tries to motivate you and your spouse to resolve any problematic issues.
Massachusetts divorce mediators—unlike judges—don't suggest or decide how to settle your disputes. Instead, they help the parties involved cooperate and reach an acceptable agreement.
The Role of a Massachusetts Divorce Mediator
Here's what the Bay State mediators can do:
Help you and your spouse identify the issues
Evaluate, review, and inform you of the strengths and weaknesses of your case
Determine your common interests
Encourage you to solve the problems together
Explore possible settlement options with you
Finalize or moderate a divorce settlement agreement
Keep in mind that both you and your spouse have the right to make your own decisions throughout the mediation process and until the judge approves the settlement agreement.
If you cannot reach an agreement on your own or through mediation, the divorce process will last longer and cost more since you'll need to:
Consult an experienced family lawyer
Go to court and let a judge decide
Advantages of Massachusetts Divorce Mediation
To figure out whether mediation is worth your time and money, go through the table below detailing the advantages of the process:
| | |
| --- | --- |
| Benefits | Additional Information |
| Time | Going through a friendly divorce requires much less time to complete the procedure and officially terminate your marriage. If you cannot reach all necessary agreements with your spouse alone, you can meet with a mediator |
| Voluntary process | Mediation is not mandatory, i.e., no one can force you to do it, but it's one step towards an amicable uncontested divorce that requires less time, money, and nerves |
| Confidentiality | You don't have to worry about any of your conversations being disclosed and used as evidence in court since the whole mediation process is confidential. A mediator needs to keep all matters private even when discussing them with only one spouse |
| Control | An uncontested divorce allows you to take control over all decisions you and your spouse make. The result of your out-of-court settlement is a divorce settlement agreement tailored to your specific needs and interests. Keep in mind that if you cannot agree on all matters, a judge will make the decision for you |
| Legality | The agreement spouses reach and create in writing needs to be reviewed by a judge and usually becomes a judgment or court order, i.e., legally binding |
Keep in mind that the only record of your mediation is the written divorce settlement agreement you and your spouse reach at the end of this process. This document needs to be presented to the court.
Register for DoNotPay to draft a reliable divorce settlement agreement based on your personal needs and state legal requirements.
Rely on DoNotPay's Help for a Divorce Settlement Agreement
Drafting a divorce settlement agreement is not an easy task, even if you see eye to eye on all crucial points because correct phrasing is everything. Here's where DoNotPay can help!
We know your state legal requirements and will take into consideration your specific situation, wishes, and needs to create a document that encompasses all relevant and necessary provisions.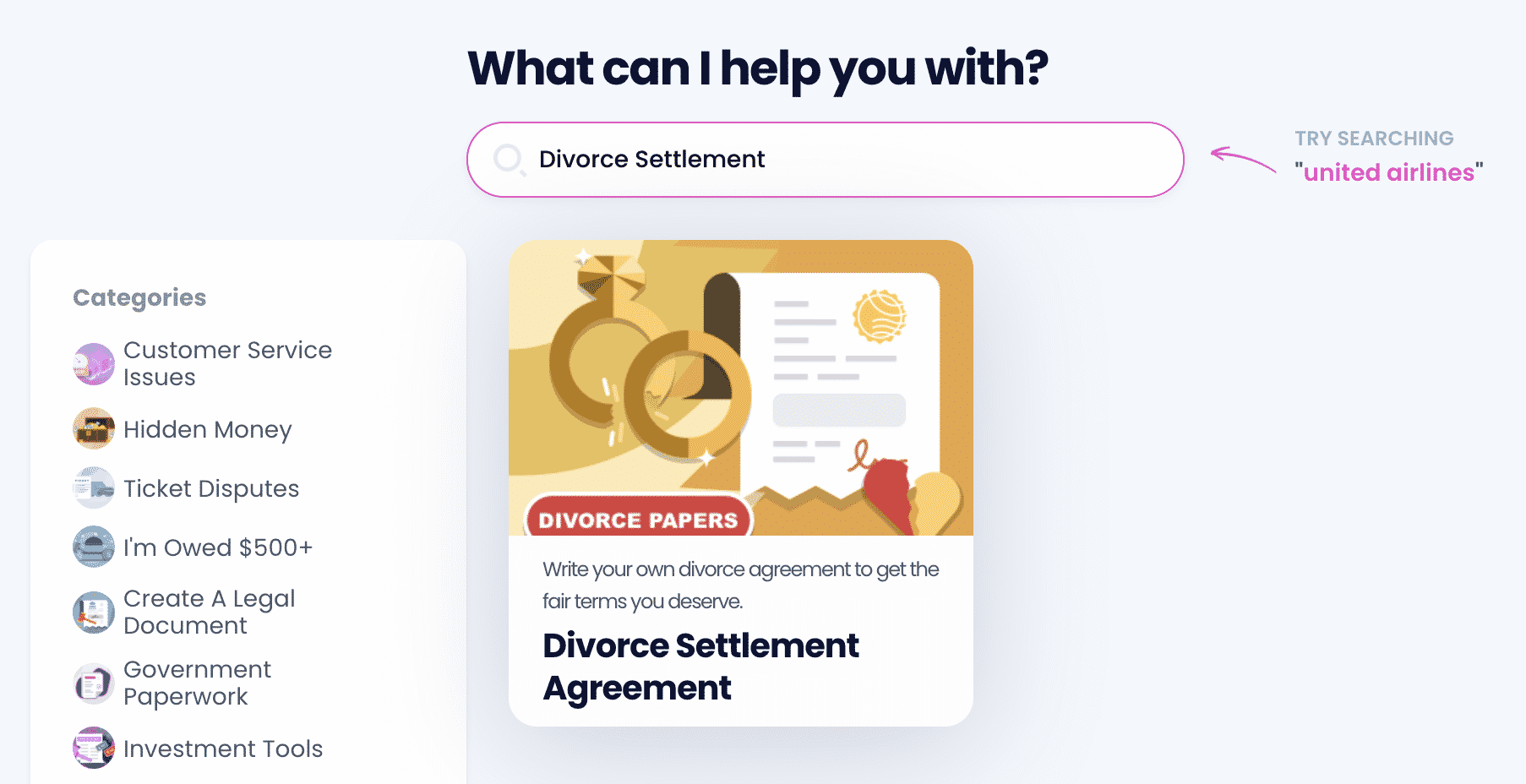 Subscribe to DoNotPay and take the following steps:
Type in Divorce Settlement Agreement in the search box
Provide answers to our chatbot's questions to help us assess your circumstances
Enter the info about your assets, income, and debts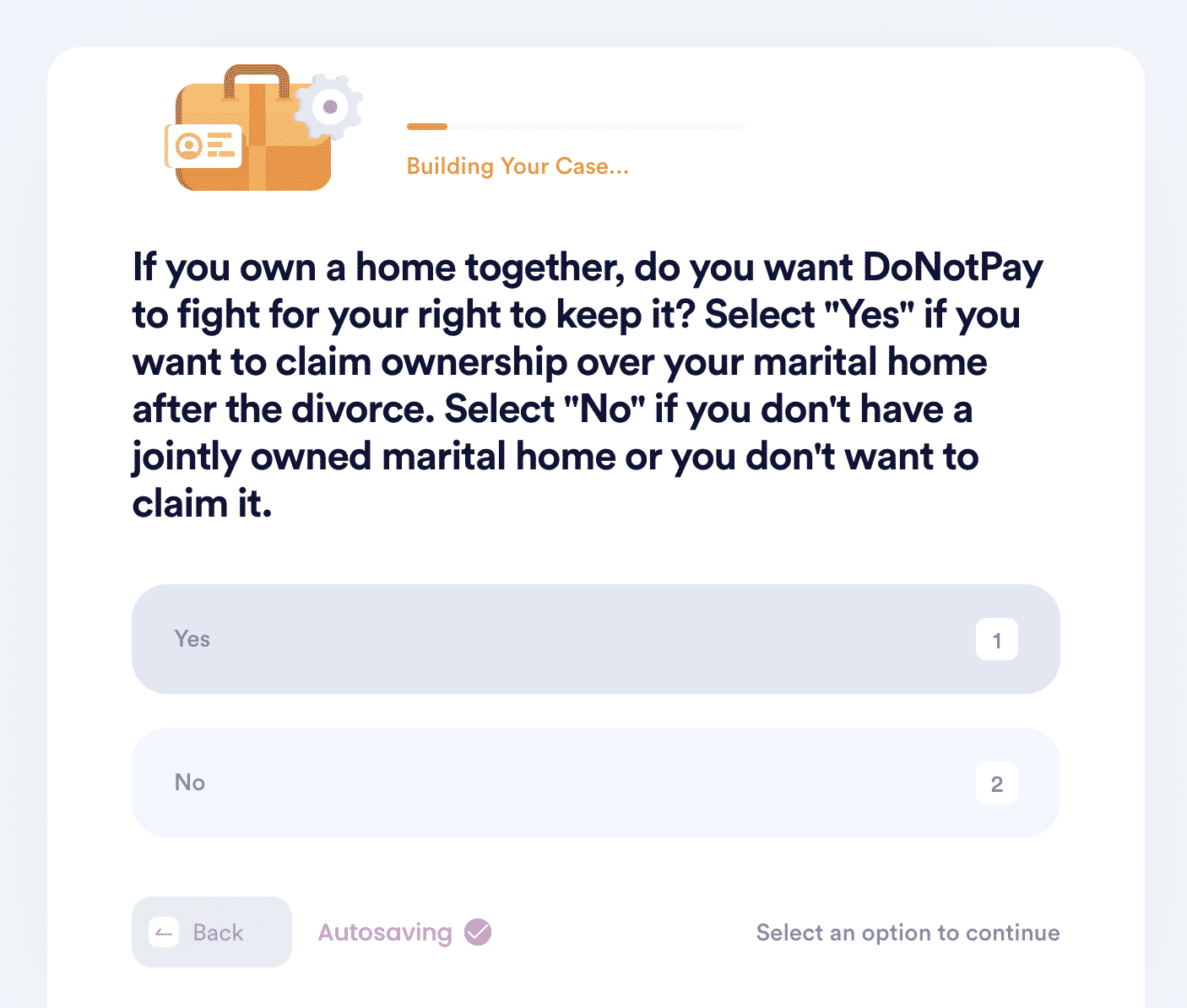 Our AI-powered app generates an agreement tailored to what you and your soon-to-be ex-spouse agree on.
If you need to get this document notarized before filing it with the court, we're here to help with that, too. DoNotPay can connect you with a remote notary public who provides the service 24/7!
Want To Dive Deeper Into the Divorce Matters?
Explore our learning center to get familiar with various divorce-related topics.
Here are some common question DoNotPay tackles:
Work Smarter, Not Harder!
Although there are certain tasks that are a pain but can't be avoided, such as paying your property taxes, you don't have to do them the hard way. There is always a way to make the overbearing bureaucratic procedures a bit easier. DoNotPay can find a loophole and help you cut through the red tape!
Reducing your property taxes is only one in the sea of tasks our app will make super easy to do! You can also use DoNotPay to:
Explore DoNotPay's Other Neat Features
DoNotPay offers a plethora of useful products to make your day-to-day life easier and enjoyable! Consult the list below to see what you can do using our app: