Looking for Help With Divorce Mediation? Maine and DoNotPay Are at Your Service!
If you are looking for a divorce, one of your main concerns will be to get the process over with as quickly, cheaply, and painlessly as possible.
Maine is aware of your concerns and wants to help divorcing couples avoid court proceedings, expensive lawyers, and prolonged hassle by offering court-appointed mediation services.
DoNotPay has all the information you may need about divorce mediation, Maine court procedures, and uncontested divorce in the Pine Tree State!
How Does the Maine Divorce Process Work?
If either of you has been a Maine resident for the last six months, you can file for divorce in the state.
You can file based on your spouse having done something wrong or cite irreconcilable differences as your reason for wanting a divorce. If you allege wrongdoing, you will have to prove it in court, though—a no-fault divorce can be uncontested if you and your spouse agree that there is no hope of saving the marriage.
To start the Maine divorce process, you have to complete the following steps:
File divorce papers
Serve the papers on your spouse
File Divorce Papers
You must obtain the correct divorce forms, fill them out, and file them with the family division of your district court.
When you file the forms, you will have to pay the filing fee of around $120.
Serve the Papers on Your Spouse
You need to have the divorce forms delivered to your spouse by a deputy or private process server.
Once your spouse has signed for receipt of the papers, a mandatory waiting period of 60 days begins before your case can be heard.
When Does Mediation Take Place in Maine?
During this 60-day waiting period, the court will schedule a case management hearing to discuss how your divorce will proceed.
At this hearing, you and your spouse will set out any issues around your settlement that are unresolved. These could include:
If you and your spouse agree on everything, nothing should stand in the way of your divorce. In many cases, though, small details remain open—under normal circumstances, these would have to be resolved in court.
To help you avoid court hearings and legal fees, your Maine court adviser will refer you to a court-appointed mediator to help you reach a settlement.
How Does Mediation Work?
Mediation involves you and your spouse negotiating your settlement agreement without having to attend court hearings to do so.
The process can take place:
Face to face or in separate rooms
With or without lawyers being present
A trained mediator will act as an intermediary between the two of you. They cannot offer legal advice but can help you:
Focus on the desired outcomes
Think about the best interests of all stakeholders
Show willingness to concede and compromise in the name of reaching a fair settlement
The advantage of mediation is that the process avoids the stress of court appearances, cross-examination, and confusing legal procedures. A friendly divorce with an out-of-court settlement achieved through mediation also means your district court can concentrate on other—more pressing—cases. It is also one of the most affordable ways to reach an agreement.
The mediation process can lead to the following outcomes:
| Mediation Results | Explanation |
| --- | --- |
| Successful agreement on a settlement | If mediation is successful, you and your spouse can draw up a settlement agreement summarizing the terms you have finalized. Your agreement can be filed with the court, and your uncontested divorce can proceed |
| No agreement | If you cannot reach a settlement with your spouse, the mediator will write a report to the court detailing the still-outstanding points. Your case will proceed to trial as a contested divorce |
What Happens After Successful Mediation?
Once your settlement is finalized through mediation, you can go ahead and have your agreement drawn up as a legal document.
You can choose any of the following resources to get this done:
| Settlement Agreement Resources | Explanation |
| --- | --- |
| Attorney | You can use lawyers to draft your settlement agreement, but you should be aware of the costs involved. A simple agreement can come to over $1,500, and you may face extra costs for meetings, copies, phone calls, or email communication |
| Online divorce company | Numerous online providers offer settlement agreement templates that you can download and fill out yourself. Be cautious, though, as many of these templates are too generic to cover your exact circumstances—if your agreement doesn't tick all the boxes, the judge will reject it, and your case will land in court |
Want to get a watertight agreement without lawyers' fees? DoNotPay can generate a tailor-made settlement agreement that covers all your bases!
DoNotPay Is the Main Man in Maine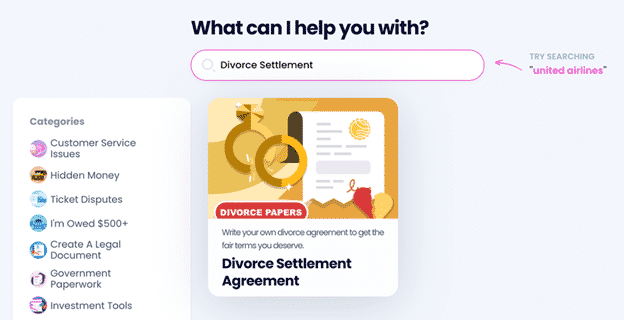 DoNotPay wants your divorce to be quick, simple, and painless!
We can help you get the settlement agreement you need without having to pay a fortune for attorneys or spend hours cutting and pasting complex documents together.
Our Divorce Settlement Agreement product captures the terms you and your spouse have agreed on and turns them into a complete document that will pass the judge's inspection.
Here's how to get your agreement:
Click on our Divorce Settlement Agreement feature
Fill out the questionnaire with all the details of your settlement
Job done—all you need to do is print your agreement, sign it with your spouse, and have it notarized.
DoNotPay even has that job covered—no need for you to hunt for a notary in Maine. Use our online notarization service instead!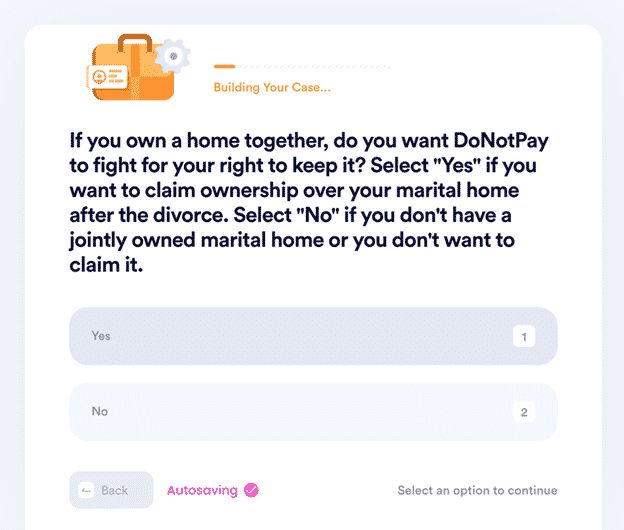 Use DoNotPay To Complete a Variety of Tasks at Any Time
Why waste time and money completing mundane tasks on your own when you can let DoNotPay assist you? Take a look at the table below to find out what our AI-powered app can do for you:
| DoNotPay Can | Services |
| --- | --- |
| Protect your safety and privacy | |
| Draft legal documents | |
| Help you get your money back | |
DoNotPay Has More in Store for You!
Since communication is key, you'll appreciate our feature that helps you get in touch with customer service reps quickly! We'll also show you how to send faxes online and have your documents notarized by an online notary with ease!
Going on vacation? Use DoNotPay to take a valid passport photo at home or get a tourist visa!