Need Divorce Mediation in Indiana? Here's What You Should Know
Getting divorced can be a painful and expensive experience, especially if the divorce is contested. While divorce mediation in Indiana isn't mandatory, most judges will require you to attend a few sessions before your final hearing. If you opt for a no-fault, uncontested divorce, then divorce mediation in Indiana could be the perfect way to reach a mutually acceptable marital agreement and ensure a low-cost divorce.
DoNotPay will provide all the details about divorce mediation in your state and help you create a divorce settlement agreement in a flash.
All You Need To Know About the Mediation Process in Indiana
Mediation in Indiana is also called an alternative dispute resolution (ADR), which is a method used to help divorcing couples resolve their issues out of court. During this process, a neutral third party should help you and your spouse settle all your differences and reach a satisfying solution for the following issues:
Mediation can help you settle legal disputes, but it can't dissolve your marriage legally. This means that you still need to file a petition for divorce in Indiana with the court. Any type of settlement that you reach during mediation also needs to be filed with the court for approval. Once approved, the settlement agreement should be incorporated in the divorce decree.
Mediation is strictly voluntary, so either side can reject the offered settlement and let the court take care of the matter entirely.
The Role of an Indiana Divorce Mediator
A registered mediator in Indiana must be an attorney in good standing with the Supreme Court of Indiana or have a bachelor's or advanced degree from an accredited higher educational institution. They also must have completed 40 hours of commission-approved domestic relations mediation training.
A role of a mediator in Indiana is to:
Help both parties identify issues
Clarify misunderstandings
Explore solutions together with both parties and separately
Negotiate a settlement agreement
A mediator must be unbiased and neutral, and they cannot decide on behalf of the parties.
What Are the Good Sides of Mediation?
The pros of mediation are numerous, but we've selected the following as the most beneficial:
| The Benefits of Mediation | Description |
| --- | --- |
| It saves time | Mediation is easy to schedule since there are a lot of mediators in Indiana. Reaching an agreement through mediation is much faster than attending court hearings and having your case drag on for months or even years |
| It's more affordable than court hearings | Divorce in Indiana can cost you a small fortune if you let the court decide on your divorce issues. By attending mediation, you can avoid lawyers and court hearings, which means that you'll save a ton of money |
| It's confidential | All mediation sessions are confidential unless the parties specify differently. During court litigation, all the details of your marriage must appear in your divorce decree. Mediation ensures that you'll get to keep the details for yourself. Also, anything that you reveal during mediation can't be used against you if the matter is to proceed to court |
| It can help you preserve the relationship with your partner | If you opt for mediation, you have a chance of staying on good terms with your partner |
How Much Does a Divorce Mediation in Indiana Cost?
The cost of divorce mediation in Indiana will depend on a few factors:
The skill, training, and experience of the mediator
Complexity of the case
Time spent in mediation sessions
The willingness of the couple to work together towards a solution
Since the sessions are typically two hours long and the majority of couples need around three to five sessions to agree on everything, the average cost of mediation is approximately $1,500.
If you're unable to pay a private mediator, you can find low-cost or no-cost mediation services in some counties through the Alternative Dispute Resolution Program in Domestic Relations Cases.
How To Prepare for a Divorce Mediation Session in Indiana
Before your first mediation session, you should consider the following steps to prepare for it:
Collect and organize all the relevant financial information
Make a list of all your wants and needs
Think about all the terms on which you disagree with your spouse
Establish a clear goal for what you want to achieve with mediation
Have a Fast and Affordable Divorce With DoNotPay
If mediation was successful, you and your spouse need to write a divorce settlement agreement that contains all the previously negotiated terms. You can ask your mediator or a lawyer to create one for you, but this option can cost you tons of money. Finding a divorce settlement agreement template online is also an option, but these templates are usually too general and aren't suitable for everyone's situation.
You can rely on DoNotPay to create a personalized, error-free divorce settlement agreement in three steps.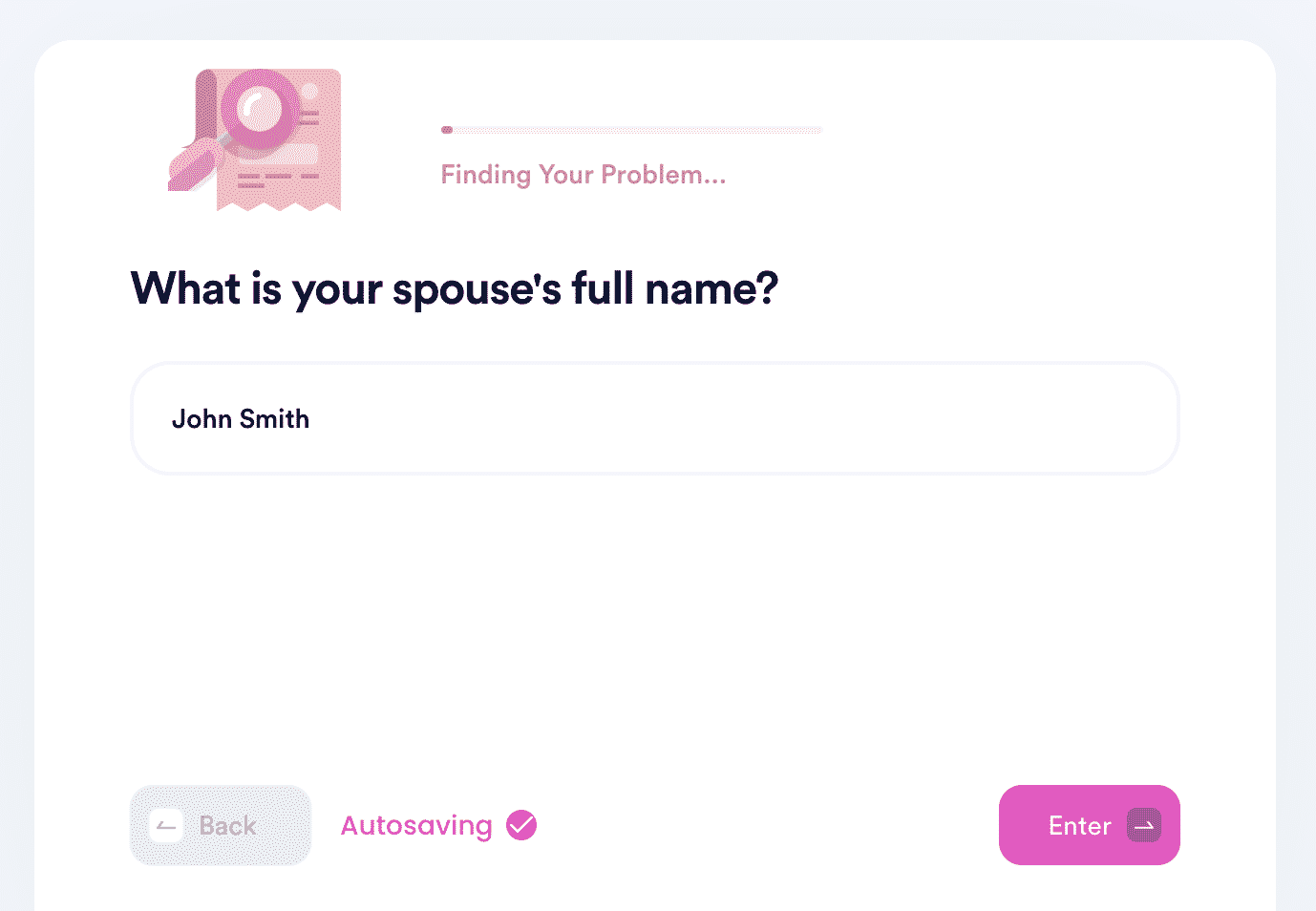 To get your agreement, subscribe to DoNotPay and follow the instructions below:
Open our Divorce Settlement Agreement product
Enter the necessary information, including how you want to allocate your assets
Specify whether you want to get your document notarized
DoNotPay will generate a divorce settlement agreement that suits your needs. If you choose to get it notarized through our platform, we will connect you with an online notary in Indiana and have them witness your signing.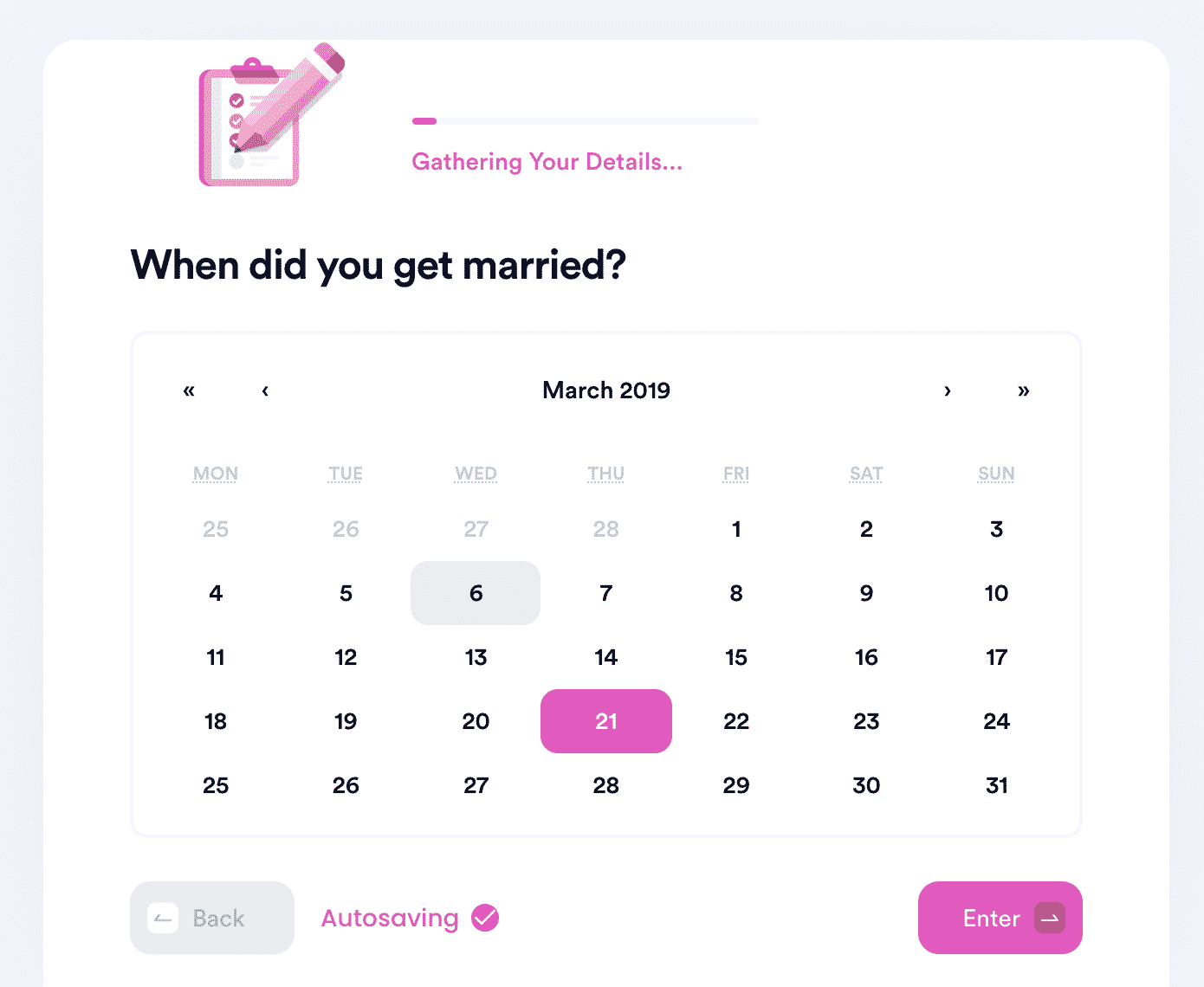 Our app has a learning center that you can consult to find out more about the divorce process. We will answer any divorce-related questions you might have, including:
DoNotPay's Vast Collection of Features Keeps Expanding
Determined to simplify bureaucratic procedures and help you with various daunting items on your to-do list, we created DoNotPay—the world's first robot lawyer! With us, you can:
Streamline Different Tasks by Using DoNotPay's Practical Features
Are you looking for an efficient way to gain back your unclaimed money or get a refund from a company? Do it with DoNotPay without lifting a finger! Our app provides excellent money-saving features that will increase your budget and make all unnecessary expenses disappear.
We can assist you in terminating unwanted subscriptions, recovering your unused gift card funds, reducing your bills, and requesting late delivery refunds. You don't even need to hire lawyers to write a financial aid appeal letter, an HR complaint, or a child travel consent form in your stead—our app can do all this!