Get the Scoop on Divorce Mediation in Illinois
Do you want to get divorced fast and hassle-free? You should gather the details about the filing process, necessary papers, court and lawyer fees, and all the alternatives.
Should you go to divorce mediation in Illinois? This article gives you a better understanding of the mediation process so that you can make an informed decision.
Illinois Divorce Mediation—Do You Need It?
Divorce mediation can help you and your spouse work out some important family and divorce issues, including:
If you cannot reach an out-of-court settlement with your spouse, you might consider taking the assistance of an impartial third party. A mediator will try to guide you to finding compromises outside of court so that you and your spouse could go through a friendly divorce.
Why Divorce Mediation in Illinois Could Be the Right Choice
Here's why divorce mediation might be a good option for you and your spouse:
Reasons for Taking Divorce Mediation in Illinois
Details
Limited budget
You should consider mediation if you:

Are experiencing financial difficulties
Cannot afford to hire a lawyer to handle all divorce matters for you

Mediation reduces expenses and saves time you'd need for a contested divorce

Fair outcome
Unlike divorce lawyers, a mediator is impartial and tries to keep everything fair and civil between you and your spouse
Openness
The divorce mediation process allows you to be open with your spouse as there is no judge or lawyer that might hold it against you later during the proceedings
Full control
Instead of letting the judge decide on your post-divorce life, mediation offers you an option of making all the decisions together with your spouse
Good post-divorce relationship
You and your spouse might get along better after divorce if you reach a friendly and fair agreement on all matters, which is especially important if you have children together
What Does Illinois Divorce Mediation Consist Of?
You should get acquainted with the mediation process so that you know what to expect:
Introduction—A mediator will introduce themselves at the introductory meeting and inform both spouses of the process. The purpose of this part is to make all involved parties feel comfortable with what lies ahead
Explanation of the problem—Each spouse will get a chance to explain what the issue is and tell their side without interruption or bickering
Collecting information—A mediator will ask spouses to present any relevant evidence to support their statements. Once the mediator gathers relevant information, they might meet both spouses individually to get further explanation of their choices and opinions
Problem identification—In this stage, a mediator will—based on the gathered facts—present their opinion of the cause of the problem
Bargaining—A mediator often proposes a settlement in this part. Spouses can amend any parts until reaching a reasonable and fair agreement
How Much Does Divorce Mediation in Illinois Cost?
Most mediators charge per hour, and their rates can go from $150 to $600. How many sessions or hours it'll take depends on how effectively and fast you and your spouse can come to an arrangement.
While some couples need four hours, others might need more than 25 to reach a settlement. Keep in mind that attending divorce mediation, reaching an out-of-court settlement, and filing for a no-fault and uncontested divorce in Illinois are much less expensive than hiring a lawyer and getting involved in litigation.
What Happens After Divorce Mediation in Illinois?
Once you and your spouse have agreed on all divorce aspects, you need to state them in a divorce settlement agreement. You must be careful when preparing this document since it has to fulfill all legal requirements.
If you need help with this important document, you could:
Consult an attorney—Experienced divorce lawyers will have no problem drafting any document you need, but make sure you can afford their fees since they'll drive up your total divorce expenses
Check out online divorce services—While you can find templates on different websites, you should inspect them carefully before using them because many don't comply with state laws
Sign up for DoNotPay—Our AI-powered app is the best mixture of:

Legal services because we're as reliable but not as expensive as lawyers
Online templates, except that our forms are up to date with the latest state laws and customized to your needs
DoNotPay Generates Rock-Solid Divorce Settlement Agreements
If you and your spouse have agreed on all divorce matters on your own or through mediation, you can file the papers for a low-cost and simple uncontested divorce. This way, you won't have to experience a pricey, time-consuming, and complicated divorce process.
You don't even have to appoint a lawyer. What you need to do is prepare a divorce settlement agreement with all agreed-upon matters. DoNotPay can help you with this crucial part of the paperwork!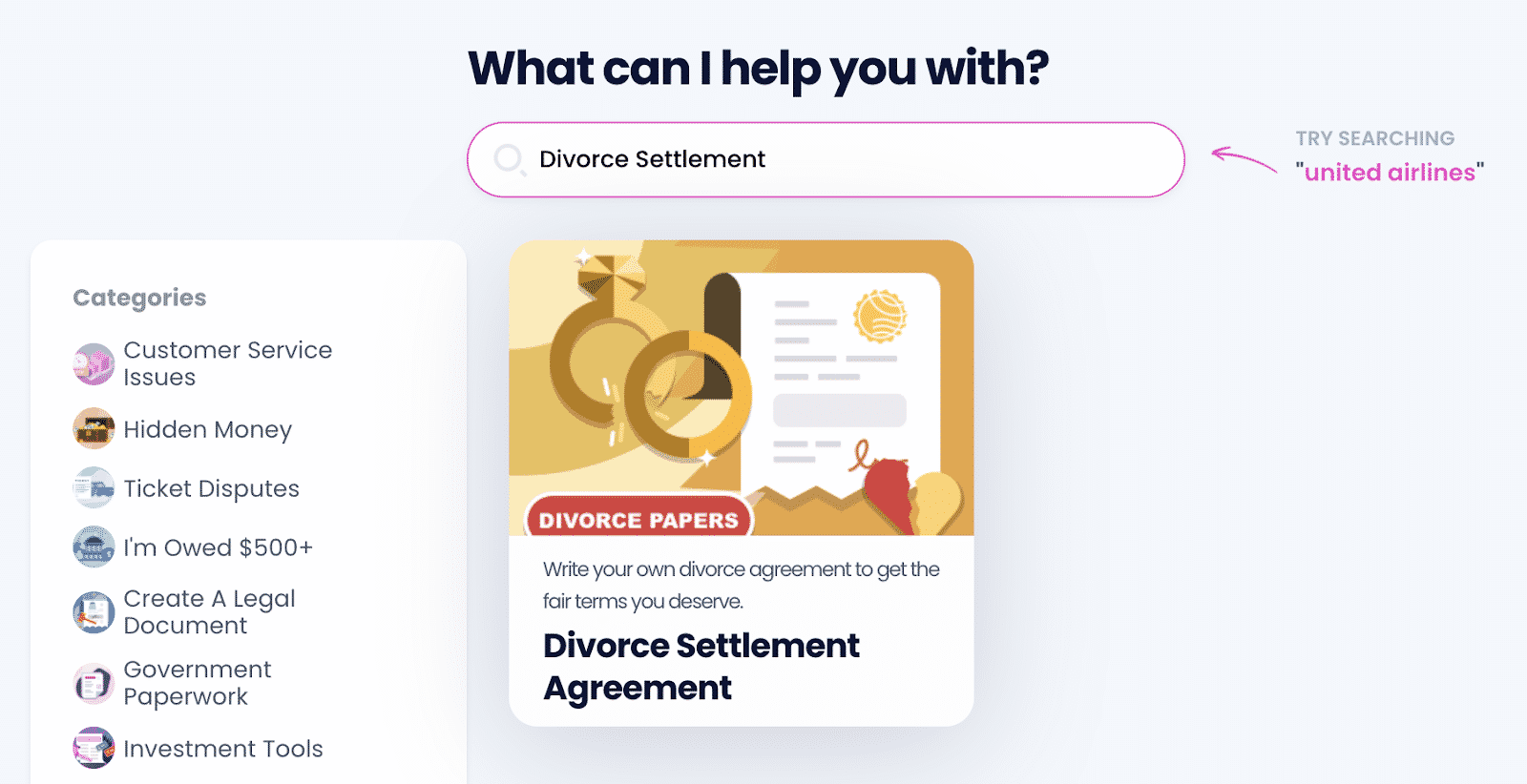 Here's what you need to do:
Locate the Divorce Settlement Agreement product
Answer our chatbot's questions about your situation and settled divorce matters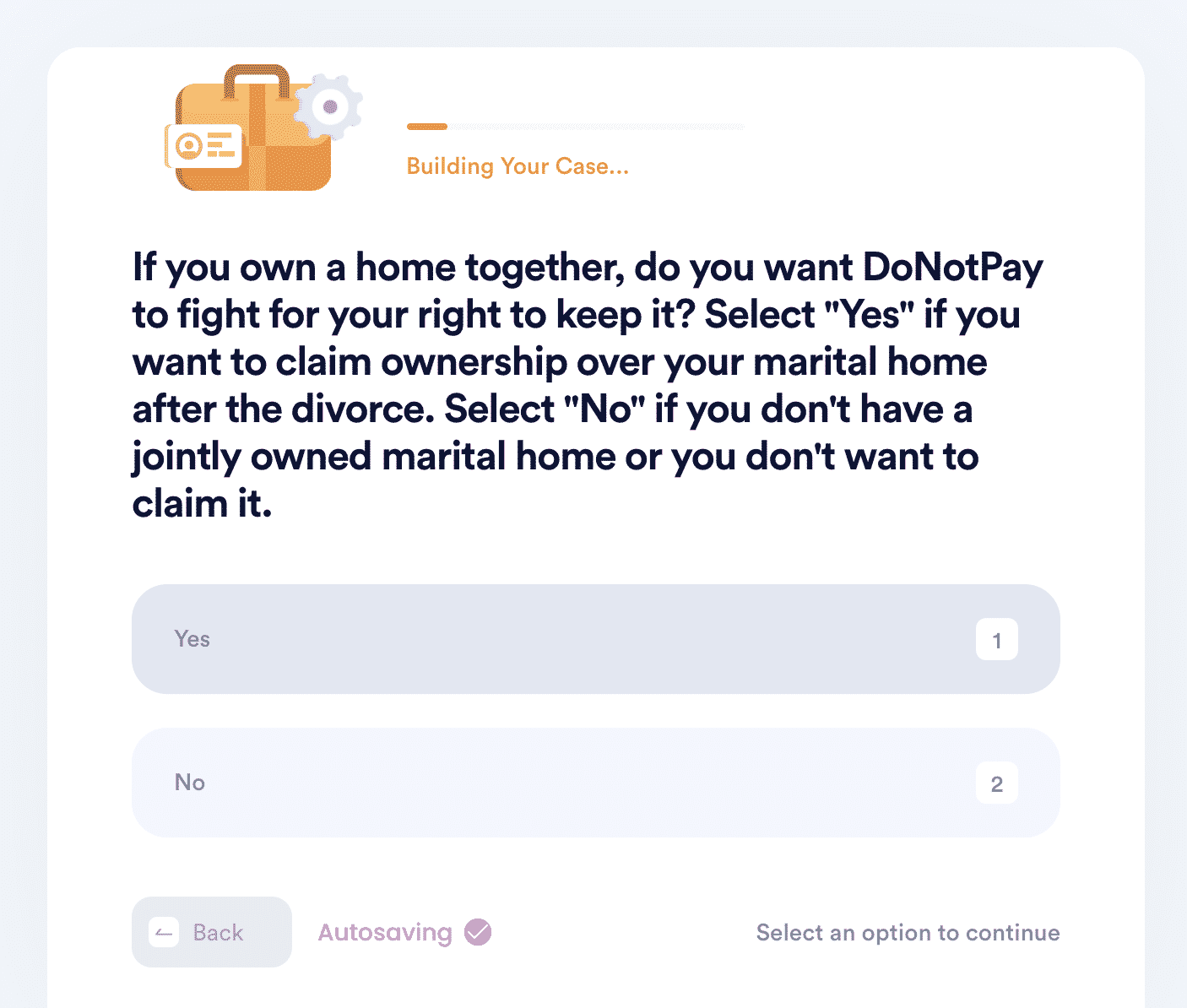 Using the provided data, we will generate a legal document tailored to your specific needs. Would you like to have the agreement notarized? DoNotPay can connect you with an online notary 24/7!
If you'd like to explore divorce-related topics further, you should browse through our website. We provide lots of useful answers, including those to the following questions:
There Is No Shortage of Tasks DoNotPay Helps You With
If you find finishing administrative tasks tedious, you can rely on our app to assist you through the entire process and make it a smooth-sailing experience. Check out the table below to find out what DoNotPay can help you do:
| Deal With Companies By | Get Rid of Pesky Spammers By | Get Help With Your Studies By |
| --- | --- | --- |
| | | |
Buried in Paperwork? Not for Long!
Is creating legal documents giving you a migraine? Not everyone is acquainted with the law and legal jargon, which is necessary when writing documents, such as:
Luckily, DoNotPay can draft your legal documents in minutes! Why waste hours doing it yourself or hire a lawyer when you can have our app do it in no time?
Creating anonymous HR complaints and demand letters for your inconsiderate neighbors is also something our app does best!