Learn All About Divorce Mediation in Florida
Filing for divorce is stressful and painful for most people. That's why mediation is there to make the process easier for each party. If you and your partner wish to avoid court hearings but can't reach a compromise regarding every aspect, mediation is a great option to consider before filing for an uncontested divorce.
We'll explain all the points of divorce mediation in Florida and provide you with a divorce settlement agreement. Subscribe to DoNotPay to have a quickie divorce in Florida and save both time and money!
What Is Mediation?
Mediation is a process that involves you, your spouse, and a neutral third party who is supposed to help you reach the best solution regarding your divorce terms. If you opt for a friendly divorce in Florida, mediation will help you reach an out-of-court settlement and get a low-cost divorce. This is the best way to get divorced without hiring a lawyer.
During your mediation sessions, you'll discuss the following:
What Is the Role of a Florida Divorce Mediator?
The role of a Florida divorce mediator is to:
Facilitate communication between you and your partner
Help you find a mutually acceptable solution
Provide information about the court system and common ways divorce issues can be resolved in a divorce settlement
Some mediators can help you write a divorce settlement agreement. This agreement is the key document in an uncontested divorce because it outlines all the terms of your divorce.
Pros and Cons of Mediation
You can find the main benefits and downsides to mediation in the table below:
Pros
Cons

It is cheaper than a court process
Takes less time than a legal battle
It is less stressful than a trial
Grants complete control to the divorcing couple

Could be a waste of time and money if the divorcing couple cannot agree
If mediation fails, the couple has to proceed to court
How To Prepare for Mediation
To prepare for mediation, you can consider following some of the steps below:
Organize all the documents you need before your mediation session
List all the disputes you're having with your partner at the moment
Set a goal that you want to achieve with mediation
Be certain that you can talk to your spouse in a civil way
What Can You Expect From Divorce Mediation in Florida?
You can expect to reveal a bunch of information related to your marriage in mediation sessions. Nothing is supposed to stay private during the process since you're trying to reach the best possible solution, but everything you or your spouse say remains confidential.
During your first session, the mediator should explain how the process will go and what you can ask for.
The sessions are created to address specific issues in a specific order. Sometimes you might skip a certain issue, but it will be readdressed later. If you and your partner agree, the mediator might call in a child psychologist, an accountant, or an attorney to clarify some issues. Their participation in mediation is limited, though.
Your children can attend mediation if both parties agree, but not during your first session.
How Long Does Divorce Mediation in Florida Take?
One mediation session usually lasts for two or three hours. The number of sessions you need will depend on the willingness of you and your partner to settle the matters of your divorce as quickly as possible.
How Much Does Divorce Mediation in Florida Cost?
Florida statutes dictate the cost of mediation. You can expect the following:
If you and your spouse have a combined annual income of under $100,000, the mediation rate will be reduced
For couples whose combined income is between $50,000 and $100,000, the rate is $120 per session (per party)
Having a joint income that's under $50,000 makes the rate $60 per session (per party)
You need to file a financial affidavit along with other divorce papers so that the fees can be established.
If your combined income is higher than $100,000, you'll need to hire a private mediator, with whom you'll agree on the fee.
Would you and your spouse like to save money and avoid mediation sessions? You should work on your differences together and use DoNotPay to draft a divorce settlement agreement in minutes.
Rely on DoNotPay To Generate the Perfect Divorce Settlement Agreement for You
You can use DoNotPay if you want to avoid going to court or paying for expensive lawyers and mediation fees. We can help you draw up a mistake-free divorce settlement agreement in a few minutes.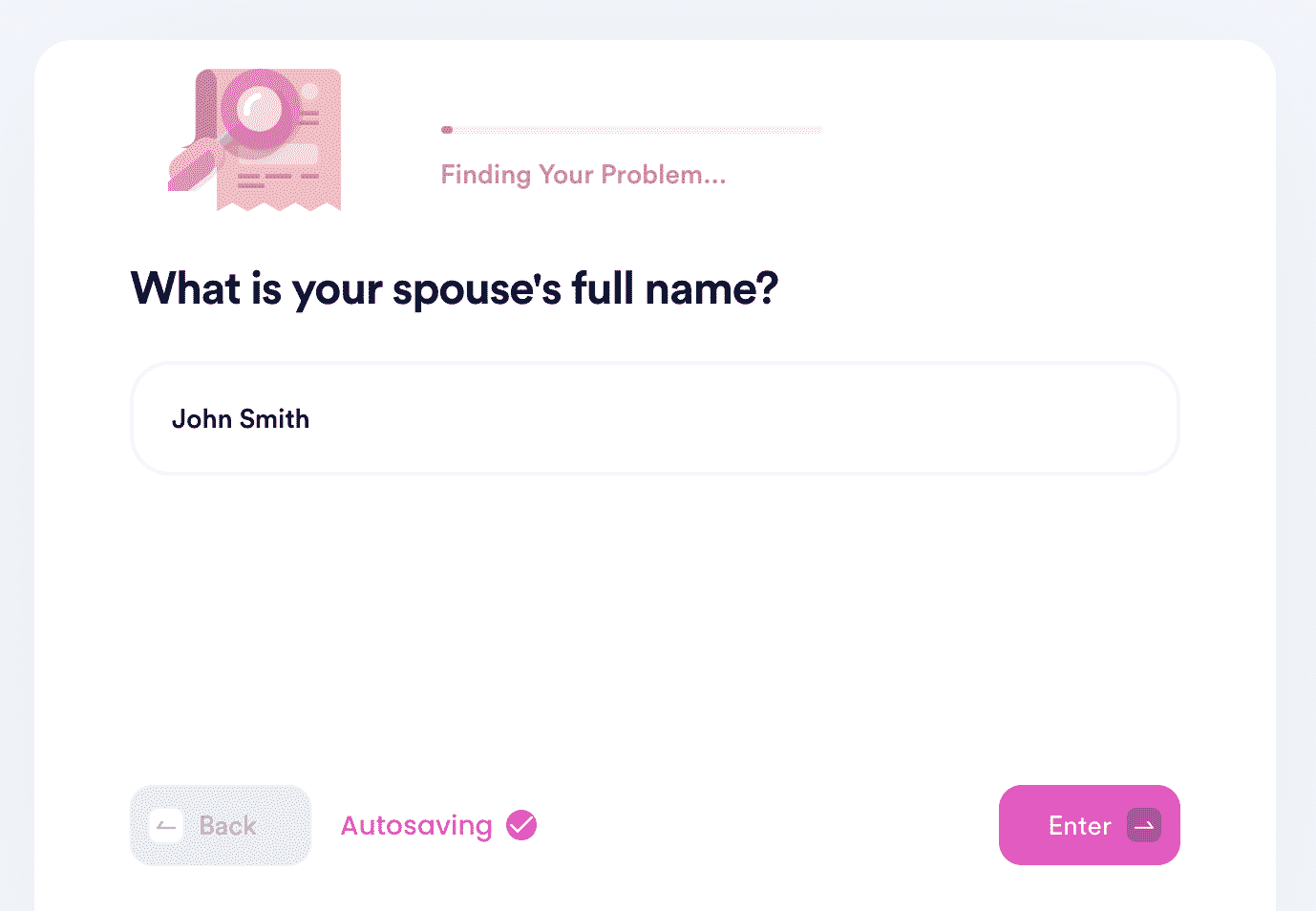 What you need to do is sign up for DoNotPay and follow these instructions:
Open DoNotPay's Divorce Settlement Agreement product
Provide all the information regarding your case, such as your partner's name, your wedding date, and similar
Inform us about your assets and financial matters, including how you want to allocate them
You and your spouse should sign the document that DoNotPay generates and get it notarized. Our platform can also connect you with a notary in Florida and help you have your agreement notarized online.
How Else Can DoNotPay Help With Your Divorce?
You can visit DoNotPay's learning center to find out more about all divorce matters. Some of the questions DoNotPay can answer are:
We'll also provide information on different Florida counties, like:
DoNotPay Can Help You With Almost Anything
DoNotPay's goal is to have a multitude of features that can be useful to you with handling various issues. Whether you want to apply for clinical trials, prepare for government tests, or even get in touch with your locked-up friends or family—DoNotPay has got you covered!
For a small yearly fee, our AI-based app will help you:
Want To Save and Earn Money at Once? Subscribe to DoNotPay
DoNotPay can help you earn and save a buck or two. We'll assist you in reducing your property taxes, canceling any unused subscriptions, and signing up for free trials with our virtual credit card.
As if that wasn't enough, we'll save you money and spare you from a headache if you receive any faulty deliveries by filing a refund or an item return request in your stead! This is just the tip of the iceberg of features that DoNotPay has in store for you.