Should You Opt for Divorce Mediation in CT?
Going through a divorce is stressful and challenging. You need to get familiar with state and local laws and regulations, the paperwork, and the cost to know how to plan and handle the process well.
If you cannot agree with your spouse on some issues, divorce mediation in CT might be the right solution for you. DoNotPay provides information on what to expect from mediation so that you could get a quick and less expensive divorce in Connecticut.
What Is Mediation?
Mediation is a process in which you and your spouse reach a mutual resolution to different divorce aspects, including:
Financial issues
The division of property
Child custody, visitation, and support
If you decide to go through a friendly and no-fault divorce, you'll save lots of energy, time, and money. You and your soon-to-be ex-spouse will need to cooperate and negotiate, and a professional mediator can guide you to an out-of-court settlement.
If you're able to agree on everything, you might avoid:
Hiring an expensive divorce lawyer
Going through time-consuming and costly litigation
Divorce Mediators in CT
A divorce mediator is a professional who:
Facilitates negotiation, cooperation, and communication between spouses
Controls the divorce mediation process by encouraging spouses to make voluntary decisions on all divorce aspects
A mediator needs to remain neutral, i.e., he or she cannot:
Take sides
Provide legal advice
Act as a legal representative, i.e., a lawyer
A mediator can point out the items both spouses need to be aware of while trying to reach an agreement. If you need help understanding certain details, a mediator might include other professionals in the mediated divorce, including:
An appraiser
A financial analyst
A parenting specialist
Connecticut Divorce Mediation Explained
In mediation, an impartial third party—i.e., a mediator—will help you and your spouse work out unresolved issues and determine what you're asking for. This process allows both of you to:
Negotiate all the terms and conditions
Minimize your children's stress by avoiding heated and lengthy custody battles
Make decisions yourselves rather than letting a judge dictate your post-divorce matters
Family courts require you to attend divorce mediation before a trial in Connecticut. A family judge will conduct a judicial pretrial to help you and your spouse resolve any issues and avoid going to trial.
How Long Does Divorce Mediation in CT Take?
The length of divorce mediation depends on:
The complexity of your specific case
The availability of the divorce mediator
How well you and your spouse cooperate
On average, it takes four or five sessions over three or four months for the mediation process. Each session is about two or three hours long. If your case is complex, divorce mediation can take up to six months.
What Is the Cost of Divorce Mediation in CT?
The cost of divorce mediation in CT varies depending on how many sessions you've had and whether there's a need for additional experts.
You should know that the average total cost is in the range of $1,500 and $6,000, but it can be higher for more complex cases. Keep in mind that hiring a mediator is less expensive than hiring an attorney.
Steps During Divorce Mediation in CT
To understand the divorce mediation process better, here's a list of typical steps a mediator will guide you through:
Steps
Additional Information
Step 1
A mediator will:

Describe the mediation process
Provide information on the legal system, divorce process, and required forms
Help you identify problematic issues
Prioritize the order in which you will discuss the unresolved issues
Determine what data you should collect

Step 2
You and your spouse need to gather all the required information, including:

Debts
Income
Bank statements
Business appraisals
Retirement accounts
Real estate and pension plans

Step 3
If you need help with some aspects, your mediator can include other experts in the mediation process, such as:

Appraisers
Divorce attorneys
Retirement valuators
Business valuation experts

You need to start discussing child custody, visitation, co-parenting, and support issues

Step 4
A divorce mediator guides you in understanding your needs, along with the needs of your:

Spouse
Children

Communication takes place in a safe environment with a mediator:

Running the whole process
Encouraging both you and your spouse to make decisions
Once you've resolved all divorce issues, you should draft a divorce settlement agreement. This document is then presented to the court and becomes legally binding once a judge approves it.
Sign up for DoNotPay to create a rock-solid divorce settlement agreement.
DoNotPay Is a Reliable Source of Divorce Settlement Agreements
DoNotPay can help you prepare a divorce settlement agreement in no time. If you'd like to skip paying hefty sums for lawyers when finalizing an uncontested divorce, you can draft the agreement with the help of our AI-powered app.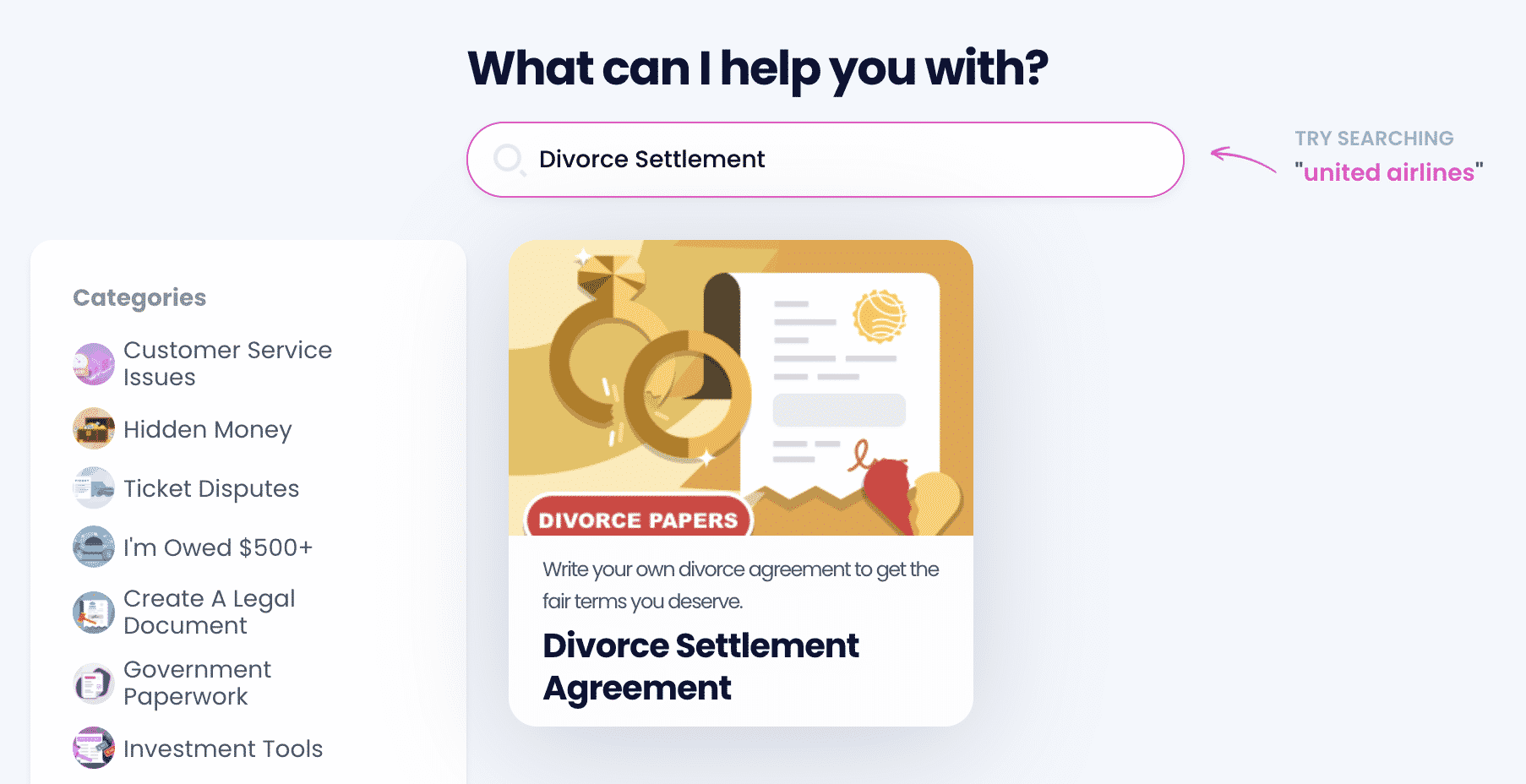 Subscribe to DoNotPay and take these steps:
Type in Divorce Settlement Agreement in the search box
Answer our chatbot's questions to help us assess your situation
Provide information on debts, income, and assets
Using the provided information, DoNotPay generates a divorce settlement agreement tailored to your needs and wishes.
If you'd like to know more about the divorce process, you might want to browse through our learning center. We publish lots of useful guides answering questions, including the following:
Do More With DoNotPay's Useful Features
DoNotPay offers a unique service when it comes to filing for divorce or drafting a divorce settlement agreement, but we don't stop there! Our app can also help you draft, fax, and get other legal documents notarized in a flash! From powers of attorney to child travel consent forms—we assist you every step of the way!
If you need to file an insurance claim, fight workplace discrimination, or sue a company in small claims court, you can use our app to get it done with ease.
Deal With Companies Stress-Free
If you like to shop and you often make purchases, you know that companies can cause all kinds of issues along the way. DoNotPay has a trick up its sleeve that helps you deal with any issue a company causes like a pro!
Wasting hours waiting for a customer support rep to pick up becomes a thing of the past once we get involved. We'll show you how to request a refund, cancel a subscription, apply for free trials, use a virtual credit card, and claim a warranty easy-peasy!
If your package is damaged or missing, we'll show you how to track it and file a missing package claim.