A Comprehensive Guide to Divorce Mediation Costs
Filing for divorce can be a time-consuming and complicated process, especially if a couple can't agree on all terms of the divorce. This is why some spouses choose mediation to try to overcome their differences and prepare for an uncontested divorce.
Do you want to avoid spending a small fortune on lawyers and court hearings? Mediation might be the right choice for you and your spouse. If you want to learn more about divorce mediation costs, you're in the right place.
We'll tell you all about how costly mediation is and what you can expect and ask for during sessions. If you subscribe to our platform, we'll help you create a perfect divorce settlement agreement in a few clicks.
Mediation Process—All You Need To Know
Divorce mediation is a process that should help you and your spouse reach a solution for all the issues concerning your divorce. The role of a mediator is to help you discuss all the points of divorce that you and your spouse don't agree on.
Mediation is an ideal solution if you want to have a friendly divorce without involving lawyers and courts but can't find the middle ground on your own. During a mediation session, you will discuss the following issues:
The division of assets and liabilities
Child custody, support, and visitation
Your divorce settlement agreement
How Much Does Divorce Mediation Cost?
Divorce mediation costs might depend on the following factors:
Competency, skill level, and experience of the mediator—A mediator needs to be able to guide you and your spouse through a complicated discussion and help you reach a mutually acceptable solution. They should also help you create a divorce settlement agreement that will work for both parties. The more competent and skilled the mediator, the more you will pay for their services. If the mediator is a licensed attorney, the fee may be even higher
A set-up fee—When a mediator starts your case, they might charge you a set-up fee in addition to their hourly fee
The number of the sessions—The price you'll pay will depend on how many sessions are needed to resolve your case. The more sessions you and your spouse attend, the higher the cost of mediation
The type of mediation—The cost of mediation will depend on whether you hire a private mediator or attend court-ordered sessions. Private mediation sessions are more expensive
In most cases, mediators will charge hourly, but some of them will also charge per session. A session can last anywhere between two and three hours.
You can find the average cost of mediation in the table below:
| | |
| --- | --- |
| Average Cost | Amount in Dollars |
| Per hour | $100 to $300 |
| Expected minimum | $500 |
| Expected maximum | $8,000 |
What Else Can Affect the Cost of Divorce Mediation?
Some additional charges that you need to consider in mediation are:
Drafting of the documents
Fees for canceling the sessions
Case management fees (charges for managing mediation)
The filing of a request for mediation
Fees for requesting a written record of mediation sessions
Do You Need Divorce Mediation, or Can You Avoid It?
If you and your spouse agree on most matters regarding your divorce but have one or more issues that you can't settle, you should consider mediation. This process can help you reach a compromise faster than you would alone. While mediation is useful for couples who can't see eye to eye, it isn't exactly a path to a low-cost divorce.
You can avoid these extra expenses if you work through your issues and create a divorce settlement agreement with your spouse on your own. This agreement can help you reach an out-of-court settlement, and it should include all the important terms of your divorce, such as spousal support, division of property, parenting plan, child support, and similar.
How To Get a Divorce Settlement Agreement
You can get a divorce settlement agreement in a few ways, as follows:
Online—You can find lots of websites that offer to draft your divorce papers online, but the risk with them is that the available documents could contain mistakes. They also might not be personalized to your case
A lawyer—You may hire a lawyer to write a divorce settlement agreement, but you'll probably end up spending a small fortune
DoNotPay—Our platform can create a personalized divorce settlement for you in a few clicks
Create a Mistake-Free Divorce Settlement Agreement With DoNotPay
With DoNotPay's Divorce Settlement Agreement feature, you'll be able to get a well-written document tailored to your needs in under five minutes.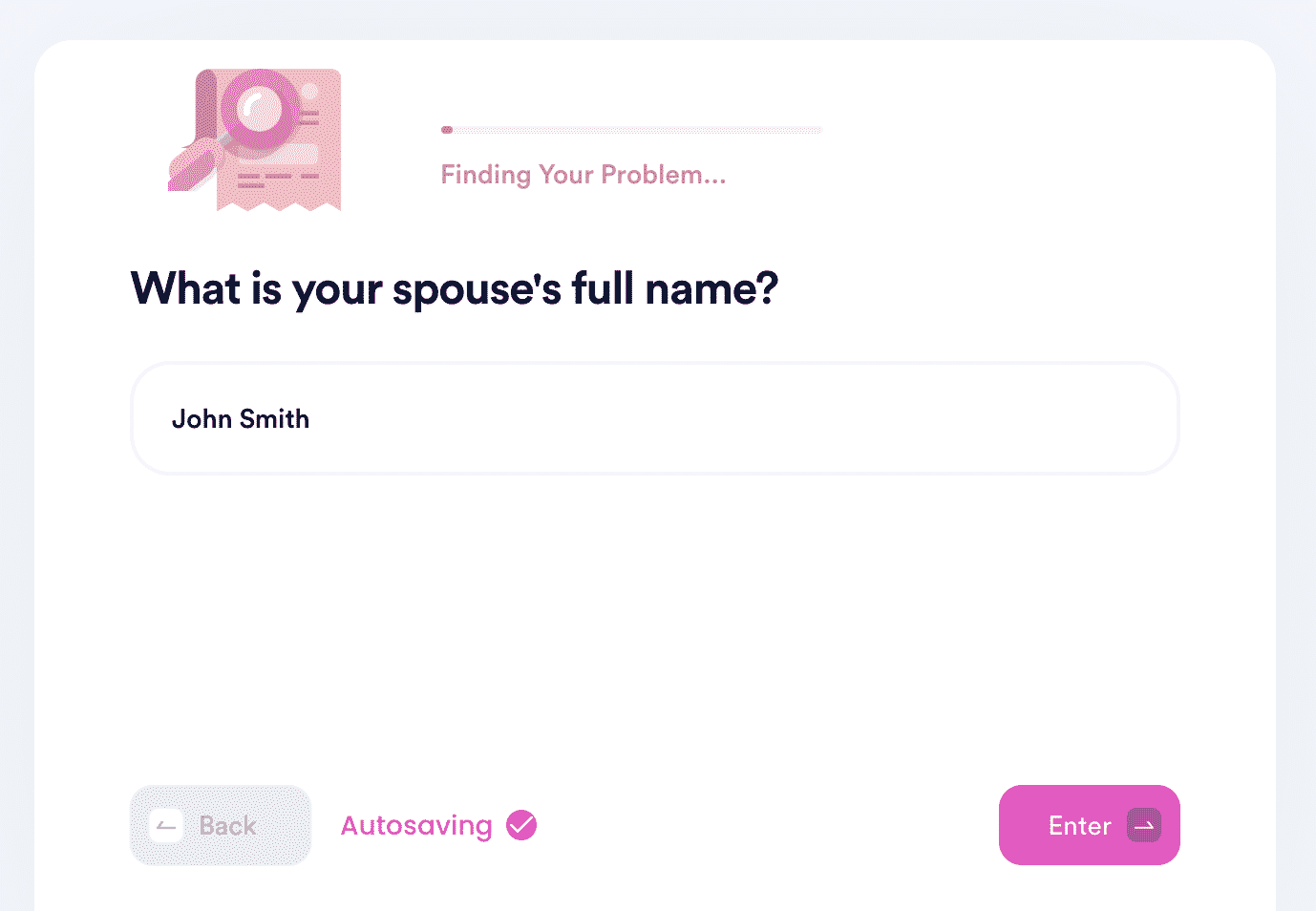 What you need to do is sign up for DoNotPay and follow the steps below:
Type in Divorce Settlement Agreement in the search box and click on our product
Answer a few questions about you, your spouse, and children (if you have any)
Add information about your financial assets, including how you want to divide them
After you complete these steps, DoNotPay will generate a properly formatted document customized to your case. All you and your spouse need to do is sign it.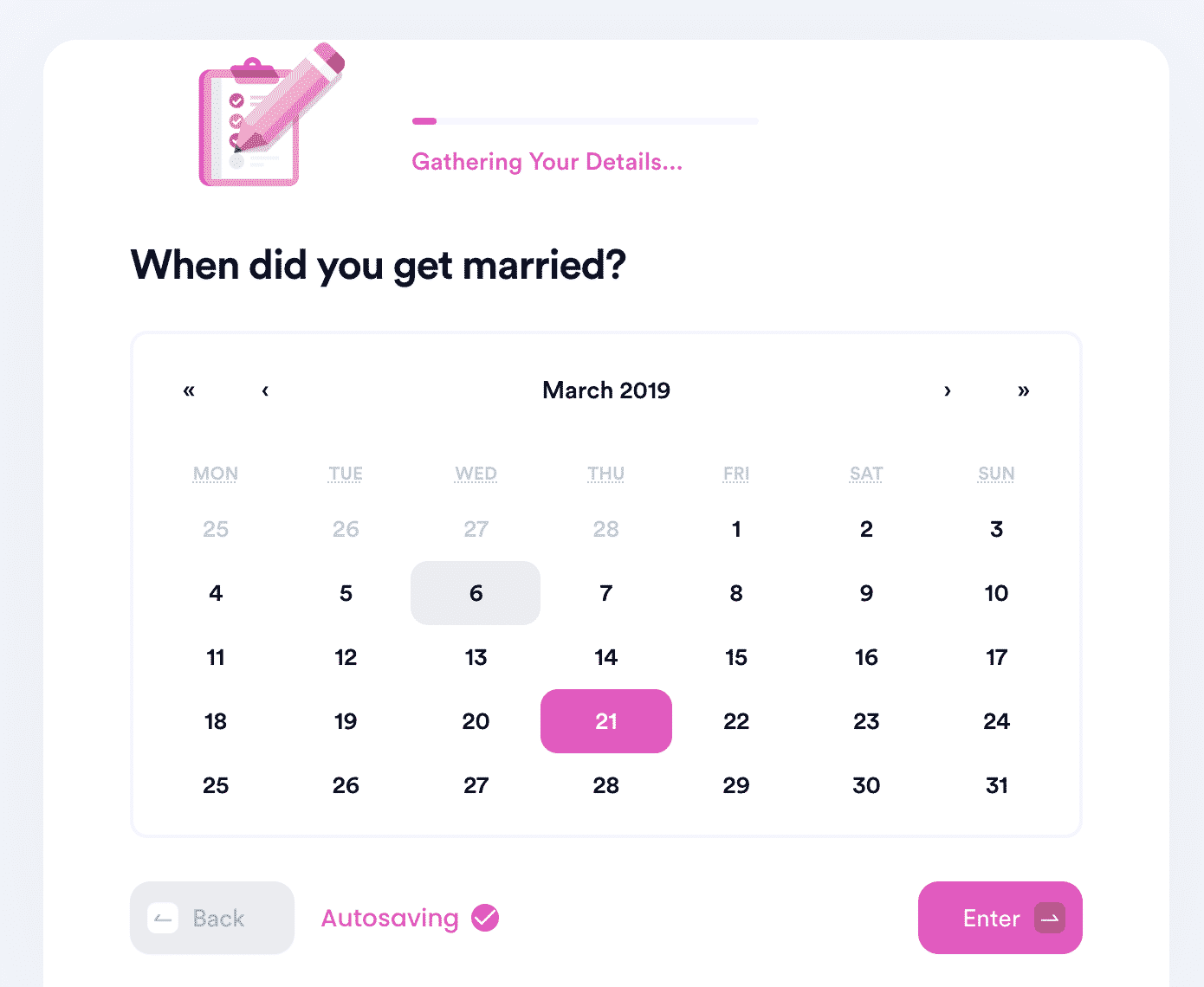 We will also offer you the option to get your document notarized by connecting you with an online notary who will witness your signing remotely.
DoNotPay Has Answers to Other Divorce-Related Questions!
DoNotPay can provide answers to all divorce-related questions you might have. Some of the questions are:
In our learning center, you can find numerous guidelines to the state-specific mediation processes, as follows:
Deal With Your Problems Like a Pro With DoNotPay
Looking for an app that's got enough features to solve any issue you're facing? Look no further—DoNotPay has got your back! Whether you can't sleep from your noisy neighbors or you want to connect with your locked-up relatives, we'll be able to help. We'll bring justice to any person or company that has wronged you and take them to small claims court for you.
The robot-lawyer app can generate numerous legal documents in your name, including:
Once you receive the documents, we can set you up with an online notary so you can get your agreements notarized from the comfort of your home.
Possibilities With DoNotPay Are Endless
DoNotPay stands out not only by the quality of products it offers but by the sheer amount of features it boasts. Check the table below out to see only some issues we can help you resolve: