Avoid Court Battles With Divorce Mediation—California Services Explained by DoNotPay
Divorce is traumatic enough without lengthy court battles and expensive lawyers bleeding you dry.
At best, you want your divorce in California to be fast, cheap, and free from hassle, with your final judgment issued as soon as the law allows.
One way to achieve this is to use mediation to reach an out-of-court settlement before your case comes before a judge.
DoNotPay takes a look at the process of divorce mediation—California mediators could be the way for you to save time, money, and anguish!
What Are the Steps to a Divorce in California?
Filing for divorce in California involves the following steps:
Filling out and lodging your divorce papers
Reaching a settlement agreement
Filling Out and Lodging Your Divorce Papers
You can obtain the right divorce papers from your county court, fill them out, and file them with the clerk of the court.
California is a no-fault divorce state, so you do not need to prove your spouse has done anything wrong. You can claim that your marriage has broken down irretrievably, and this—with or without a legal separation—will be regarded as sufficient grounds for divorce.
Based on your submissions and those of your spouse, your case will be classified as:
Divorces are automatically regarded as contested in California unless your spouse indicates otherwise and you file a settlement agreement before your first hearing.
If you manage to do this, you should be able to get a divorce without appearing in court.
Some counties in California allow you to download the correct divorce forms in PDF format, so it is worth checking with your local court.
You will have to pay the filing fee of around $435.
Serving Your Spouse
You need to have the divorce papers served on your spouse by a process server or the county sheriff's office.
Whoever serves the papers will obtain a signature confirming receipt. Your spouse then has 30 days to file a response, indicating whether or not they wish to contest the divorce.
Ideally, your spouse will respond that they do not wish to contest, at which point the response can be filed with your divorce papers, and you can start negotiating a settlement.
Reaching a Settlement Agreement
The final step in launching your divorce is to negotiate a settlement agreement with your spouse.
Your settlement agreement is the make-or-break document in your uncontested divorce. If the judge is happy with it, your divorce can be finalized quickly and efficiently.
How To Use California Divorce Mediation To Reach a Settlement
The traditional route to negotiating a settlement agreement is for you and your spouse to hire attorneys and let them do battle on your behalf.
This can quickly become expensive—California lawyers charge up to $450 per hour, and even an uncontested divorce can easily cost $5,000 or more per spouse.
If you and your spouse can avoid using lawyers, you can still reach an out-of-court settlement without the costs a lawyer will entail.
The way to achieve this is through mediation.
How Does Mediation Work?
Mediation is a facilitated process of negotiation in which a trained mediator helps you and your spouse to:
Focus on desired outcomes
Make concessions where desirable
Cooperate towards a mutually acceptable settlement
Mediation is a much more friendly process than lawyer-led negotiation. It can also be considerably more cost-effective.
An hour-long mediation session costs between $100 and $500, depending on the qualifications and experience of the mediator. Many mediators will offer a package deal based on the expected number of sessions you will require.
The number of sessions you will need depends on:
The complexity of your case
Your willingness to work together
Whatever the complexities of your case, mediation in California can help you avoid using a lawyer and paying their fees.
The best-case scenario is that you agree on everything, meaning that neither lawyers nor mediation are necessary. Such cases are rare, though—even in the friendliest cases, small points often need to be ironed out.
What Happens After Mediation?
After successful mediation, you and your spouse are in a position to draw up a divorce settlement agreement to capture the terms you have agreed on.
Your settlement agreement is a legal document that covers:
To have the agreement drawn up, you can use the following resources:
| Settlement Agreement Resources | Explanation |
| --- | --- |
| Lawyer | A lawyer will charge up to $1,500 to draft an agreement and may refuse to do so if they are not involved in the negotiation process |
| Mediator | Many mediators offer a drafting service for your settlement agreement once the mediation has been concluded, but this will cost a similar amount to what a lawyer would charge |
| Online | Many websites offer templates for you to download and fill out. You should exercise caution, though—while they are cheap, many of these templates are too generic to be of any use in your specific situation |
DoNotPay has the solution. Once mediation has delivered a settlement you and your spouse are happy with, we can turn it into a watertight agreement in a few clicks!
Get Your Mediated Settlement Agreement From DoNotPay!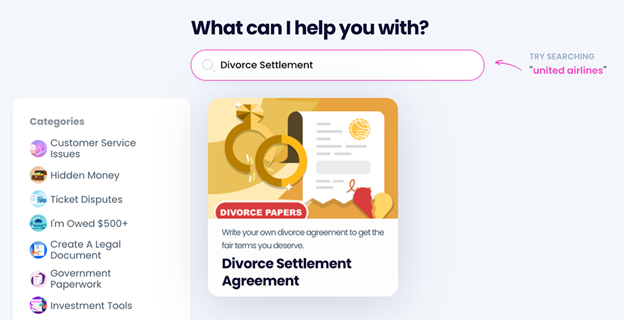 DoNotPay wants your divorce to be fast, cheap, and as painless as possible!
Our Divorce Settlement Agreement product is designed to help you achieve this—we can give you a comprehensive, legally binding document that takes into account everything you and your spouse have agreed on.
Here's what you need to do to set your settlement agreement up:
Click on our Divorce Settlement Agreement product
Follow the prompts and fill in the details to customize your agreement
Once you are done, we will generate your document in a flash. You can sign it together with your spouse and have it notarized.
If you don't know where to find a notary in your area, don't worry—DoNotPay's online notarization service can help you out too!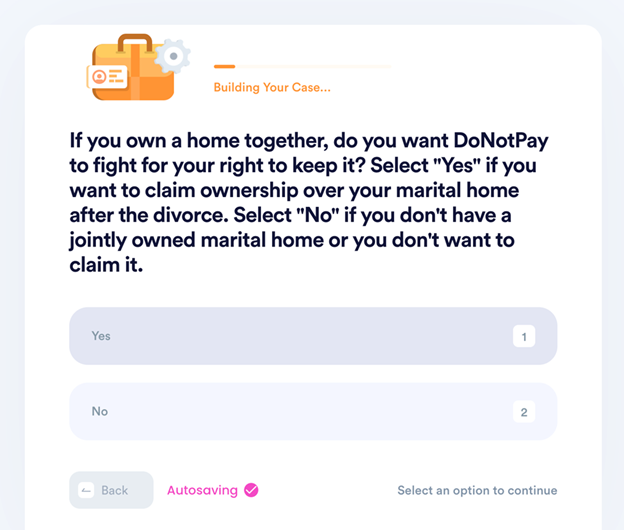 More Information on Your California Divorce From DoNotPay!
If you need county-specific help with your California divorce, DoNotPay is here to help—here are some examples of what we can assist with:
We can also help you with the specific legislation around military divorce in California or quick divorces in San Diego.
Use DoNotPay To Complete a Variety of Tasks at Any Time
Why waste time and money completing mundane tasks on your own when you can let DoNotPay assist you? Take a look at the table below to find out what our AI-powered app can do for you:
| DoNotPay Can | Services |
| --- | --- |
| Protect your safety and privacy | |
| Draft legal documents | |
| Help you get your money back | |
DoNotPay Has More in Store for You!
Since communication is key, you'll appreciate our feature that helps you get in touch with customer service reps quickly! We'll also show you how to send faxes online and have your documents notarized by an online notary with ease!
Going on vacation? Use DoNotPay to take a valid passport photo at home or get a tourist visa!