Divorce Mediation in Arizona From A to Z
To say that getting a marriage dissolution is a complicated process would be an understatement. You have to get familiarized with the state rules and guidelines and collect the necessary papers—all before even filing for divorce—and that is the "easy" part! After that comes the negotiation and the rest of the exhausting procedure.
If you're getting a divorce in AZ and want to ease the process, there might be a way. Discover all about divorce mediation in Arizona to determine whether it's the right solution for you!
Arizona Divorce Mediation—What Is It, and When Do You Need It?
Mediation is a divorce process during which spouses discuss and negotiate issues and important aspects of their marriage and divorce. This is done in a confidential environment. Topics that are usually discussed include:
Child support
Parenting plan
Division of assets and property
If you and your spouse cannot resolve and agree on some of these issues, mediation might be the solution. It is an open dialogue, and both of you must cooperate for it to be successful. Some people prefer this option over hiring attorneys because it's cheaper.
What Does an Arizona Divorce Mediator Do?
A mediator is a neutral person—they mustn't know either of you or take sides. Before hiring one, you should understand the role and duties of a mediator. During the sessions, they will lay out and explain all the options you have and help you:
Discuss your issues
Resolve all the disputes
Get to a satisfactory resolution
With a mediator, you'll be more likely to reach an out-of-court settlement and finalize a friendly divorce.
Parties that should attend a mediation session are:
Plaintiff (petitioner)
Defendant
Mediator
If you and your spouse already have attorneys, you should consult them outside mediation. The mediator can also send them notes from the session so that they can review all the potential agreements you've reached.
Benefits of Divorce Mediation in Arizona
Not sure whether mediation is the right divorce process for you? Take a look at the following table to see its advantages:
| | |
| --- | --- |
| Reasons To Consider Mediation | Explanation |
| Cost | In most cases, mediation is much less expensive than going to court. It depends on the number of sessions you need—the faster you settle your disputes, the less you have to pay. It's even more affordable if you split the costs with your spouse |
| Greater control | You and your wife or husband are directly involved in negotiations and later the settlement, which helps avoid dissatisfaction |
| Voluntary process | Mediation is not obligatory, so if you decide to have it, it means both of you are willing to work on a faster and healthier divorce |
| Confidentiality | Unless you specify otherwise, anything you and your spouse say during mediation sessions is confidential to the involved parties, which is not always the case with court proceedings |
| Convenience | The setting is neutral and professional. There are joint and separate rooms so that the mediator can speak with the divorcing parties both privately and together |
| Preservation of a relationship | Mediation can help you avoid messy divorce and preserve the relationship you have with your soon-to-be ex-spouse. This is especially significant if you have children together |
| Faster settlement | Litigation can make divorce take much longer than you wanted or expected. Mediation helps you reach an agreement and finalize your divorce much faster |
What Does an Arizona Divorce Mediation Session Look Like?
You can make the process more successful if you prepare for it, and here's how to do that:
Do some thorough research on divorce mediators in Arizona and choose the best one
Make a list of all your concerns and issues beforehand. This way, you won't forget to speak your mind once emotions get involved
Collect the crucial information and necessary documents before the process begins
A typical mediation session consists of the following steps:
Mediator's introduction and explanation
Opening statements of both divorcing parties
Joint discussion
Separate caucuses between a mediator and each party
Joint negotiation
What's left to do once you reach a settlement is writing a divorce settlement agreement. There are several ways to do this, but if you want a fast and reliable option, you should sign up for DoNotPay. We'll draft this crucial uncontested divorce document for you within minutes!
Settle Your Divorce the Easy Way—With Help From DoNotPay
Getting divorced can be a costly and hellish experience—there's no need to make it more expensive by paying a lawyer to make you a settlement agreement. That doesn't mean you have to do it by yourself. The world's best virtual assistant will draft the document for you!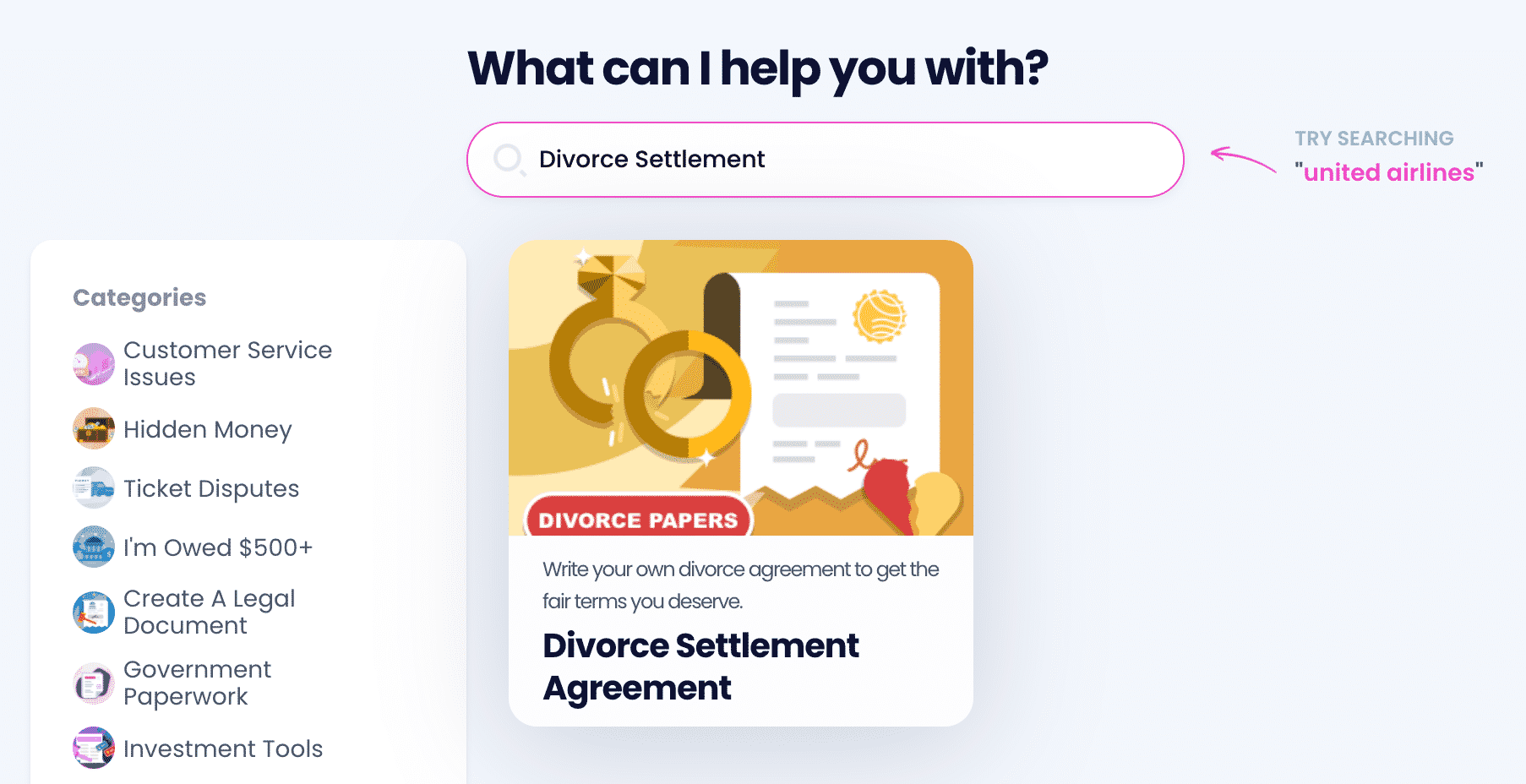 All you need to do is access DoNotPay and follow these steps:
Locate the Divorce Settlement Agreement tool
Provide required information about your spouse and children (if you have any)
Tell us how you want to allocate your property
Notify us if you need a notary
We'll prepare your settlement agreement and send it to you immediately.
Do you want to know more about this topic? We can answer more of your questions, including:
Deal With Your Problems Like a Pro With DoNotPay
Looking for an app that's got enough features to solve any issue you're facing? Look no further—DoNotPay has got your back! Whether you can't sleep from your noisy neighbors or you want to connect with your locked-up relatives, we'll be able to help. We'll bring justice to any person or company that has wronged you and take them to small claims court for you.
The robot-lawyer app can generate numerous legal documents in your name, including:
Once you receive the documents, we can set you up with an online notary so you can get your agreements notarized from the comfort of your home.
Possibilities With DoNotPay Are Endless
DoNotPay stands out not only by the quality of products it offers but by the sheer amount of features it boasts. Check the table below out to see only some issues we can help you resolve: