Follow Divorce Laws in Oregon for a Smooth Dissolution of Marriage
Going through a divorce is never a pleasant experience, but the stress level can be reduced significantly when you're familiar with state laws, the required paperwork, and your rights and obligations.
As a friendly divorce is the least expensive, complicated, and time-consuming process, you and your spouse should try to sit down, negotiate, and agree on all matters. Before you can do that, you should understand divorce laws in Oregon to ensure you do everything according to the regulations.
DoNotPay offers valuable information to help you out along the way!
Divorce Laws—Oregon Residential Requirements
Either you or your spouse must have lived in Oregon for at least six months before you can file for divorce. You need to file the papers in a county where you or your spouse reside.
Keep in mind that if one spouse lives in another state, a court in Oregon:
Can dissolve the marriage
Cannot order the non-resident spouse to divide his or her property or pay for alimony or some other purposes
Filing the Right Documentation
To file for divorce, you need to follow certain rules and procedures and be familiar with the proper terminology. Divorce in Oregon is known as dissolution of:
Marriage
Registered Domestic Partnership (RDP)
There are two parties in a divorce, and they are called:
A petitioner—A spouse that files a petition for dissolution
A respondent—A spouse or partner that is served with the divorce papers
Co-petitioners—Both spouses filing a joint petition
In case you and your spouse have children—besides a petition for dissolution—you will also have to file:
A certificate regarding the pending child support proceedings and existing support orders
A Uniform Child Custody Jurisdiction and Enforcement Act declaration listing:

Ongoing parenting or custody proceedings
The place where your children have lived for the previous five years
You can include this data in your petition or submit it in a separate document. Keep in mind that you might need to provide additional paperwork if your spouse files a response.
Oregon Divorce Laws on Property Division
If you and your spouse don't agree on the division of property, the court will have to decide.
Before it can do that, it'll need to establish the difference between the marital and separate property. Here's the difference between the two:
Marital Property
Separate Property

All property acquired during the marriage
In most divorce cases, it will be split equally between spouses

Any property a spouse:

Owned before the marriage
Received as inheritance or a gift during the marriage

In many divorce cases, the court will keep these assets separate
While the marital property is divided equally in Oregon because the law and court presume that both spouses contributed equally to this property, you can ask the court to reconsider.
In this case, you'll need to present evidence that your spouse hasn't contributed equally to the acquisition of assets during your marriage. Keep in mind that the court treats non-monetary efforts the same as the monetary ones (e.g., if your spouse was a homemaker).
Do You Need To Prove Your Spouse's Fault?
Oregon is a no-fault divorce state, which means the petitioner doesn't have to prove that the other spouse has done something wrong during the marriage.
According to divorce laws in Oregon, you can state irreconcilable differences, i.e., that you are not getting along and cannot fix the problems. You should also be aware that you don't need your spouse's permission or even their participation to get a divorce.
Keep in mind that if you and your spouse file for divorce together—as co-petitioners—you first need to:
Agree on all divorce matters, terms, and conditions
Both sign the divorce papers before filing them with the court
Sign up for DoNotPay to create a reliable divorce settlement agreement without trouble.
DoNotPay Is the Right Way to a Rock-Solid Divorce Settlement Agreement
Our AI-powered app scans state laws to ensure you get a divorce settlement agreement that fulfills all legal requirements.
When you and your spouse opt for an uncontested divorce and reach an out-of-court settlement regarding all relevant aspects, you need to create a divorce settlement agreement stating all the agreed issues. As you must present the document to the court for review, you should make sure you draft it in accordance with state laws.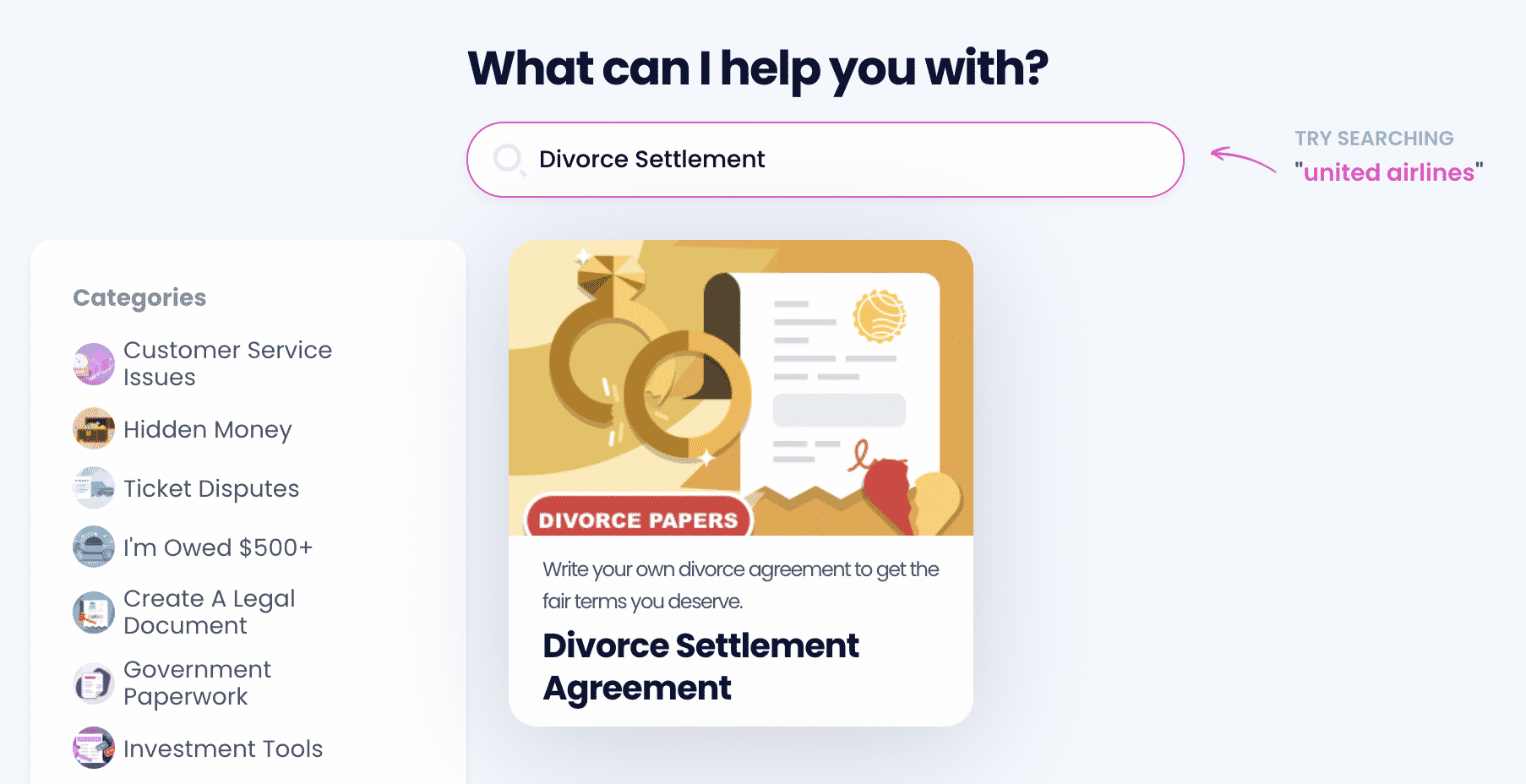 Subscribe to DoNotPay and follow these steps:
Type in Divorce Settlement Agreement in the search box
Answer our chatbot's questions
Provide information on debts, income, and assets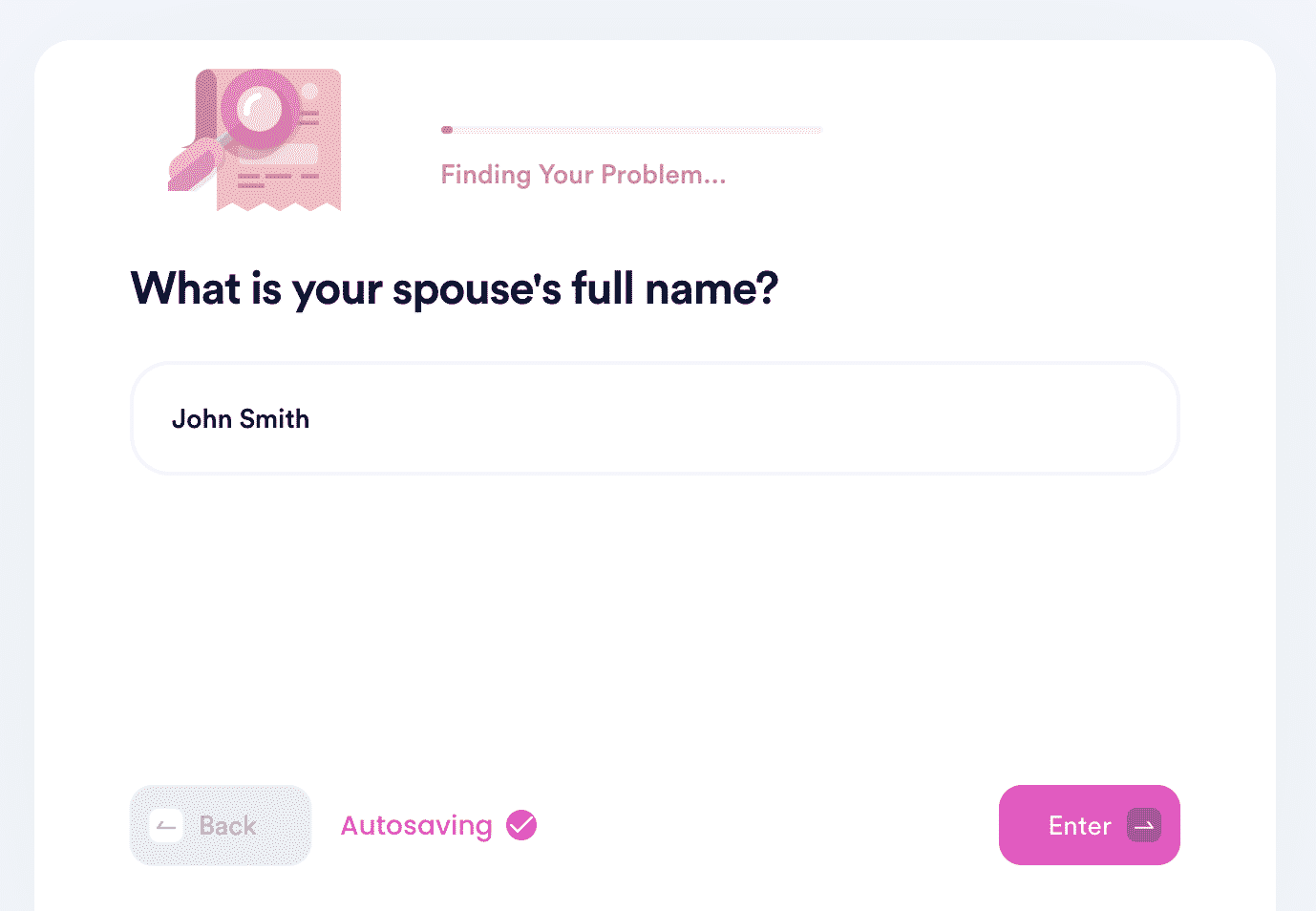 Once you've provided the necessary data, DoNotPay generates a divorce settlement agreement tailored to state requirements and your specific situation.
Need to have it notarized? Don't log out—we can connect you with one of the remote notaries we cooperate with.
Learn more about divorce-related issues by browsing through our website. We provide answers to many questions, including:
Let DoNotPay Be Your Virtual Assistant!
Why bother with deciphering legal terminology or figuring out how to write a legal document when you can let us do it for you? You don't have to waste your time any longer. Once you sign up for DoNotPay, we'll do much more than draft your legal documents or help get them notarized!
DoNotPay will show you how to perform a number of tasks with ease, including suing any company in small claims court, filing insurance claims, claiming warranties, creating passport photos, and sending your neighbor a complaint letter!
Should you need assistance with requesting a refund for a delayed flight or fighting workplace discrimination, our virtual assistant shows you how it's done.
There's More We Can Do!
Tired of dealing with mundane tasks and spending hours running dull errands? We offer the perfect solution!
DoNotPay can assist you in completing tedious tasks with ease! The best part is that you will spend significantly less time on them, and you can get them done from the comfort of your home!
Paying bills, getting a free trial, canceling subscriptions, getting revenge on robocalls, requesting refunds, or making a DMV appointment is only a few clicks away!