The Scoop on a Divorce in Your 40s
Deciding to get divorced doesn't have to lead to anxiety and pressure. You can file for divorce hassle-free and fast with the right information about state laws, divorce papers, and serving procedures.
Should you get a divorce in your 40s? This article provides some useful data about this topic, and DoNotPay offers assistance if you decide to go down the divorce path.
Divorcing in Your 40s—What Should You Consider?
You could find the idea of a divorce in your 40s challenging since you might have lots of doubts. Here are some common divorce aspects you might want to explore:
Matters To Think About
Details
Children
If you have children—whether they're toddlers, preteens, or teenagers—they will ask for a lot of emotional support and care during your divorce. Here are some issues you need to consider:
Career
When divorcing in your 40s, you might be:

In the middle of your career—Finding yourself at the crossroad of balancing the demanding workload and your kids alone can be challenging
A stay-at-home parent—It's not easy to get back to the workforce in your 40s, but you'll need to look for a job to support your children and yourself

Financial situation
Getting a divorce in your 40s can bring up lots of issues regarding complex financial matters, including:
Problems You Might Face When Getting a Divorce in Your 40s
Here are some problems you could experience when you're divorcing in your 40s:
Loneliness—Feeling lonely is common if you've spent a lot of time in a marriage. As getting divorced is the time when you need support most, you should seek help from your friends and family members
Inadequacy—When getting a divorce in your 40s, you're probably already handling lots of different roles, e.g., working, being a parent, running a household, and managing financial obligations. If you don't get assistance once you get divorced, you can feel that you're failing in some areas of life
While it's not easy to go through the divorce while fretting about being alone and single again, the experience doesn't have to be negative.
Why Divorcing in Your 40s Can Be Good for You
Getting out of a bad relationship is always the best option you can choose. Here are some reasons for getting a divorce in your 40s:
Positive Aspects
Specifics
You might feel relief
You shouldn't stay married just because of:

The loneliness
The financial benefits
Your children

Some people feel much happier when they get divorced

Your kids will be better off
Staying in a bad marriage can affect your children's well-being since no kid likes seeing their parent(s) sad, angry, or miserable
You can pursue your career and new passions
In your 40s, you've likely found out what your interests are and can now pursue a career you've always wanted to have. Aside from the career path, you can get more time for new hobbies as there's no partner to hold you back
Getting an Uncontested Divorce in Your 40s Might Be an Easy Way Out
Filing the papers for an uncontested divorce once you've reached an out-of-court agreement on all divorce aspects with your spouse is the least time-consuming, expensive, and complicated procedure you can take.
For this friendly divorce, you don't need to hire an attorney and pay a hefty retainer fee. You can:
Register for DoNotPay to generate a divorce settlement agreement easily and present it to the judge for review and approval.
DoNotPay Is an AI-Powered Divorce Settlement Agreement Generator
It's not easy to prepare a divorce settlement agreement on your own since the document needs to comply with state laws. If you're not willing or don't have time to do it alone, you should use DoNotPay.
We collect the latest state and local legal requirements to ensure you get a rock-solid divorce settlement agreement tailored to your specific situation.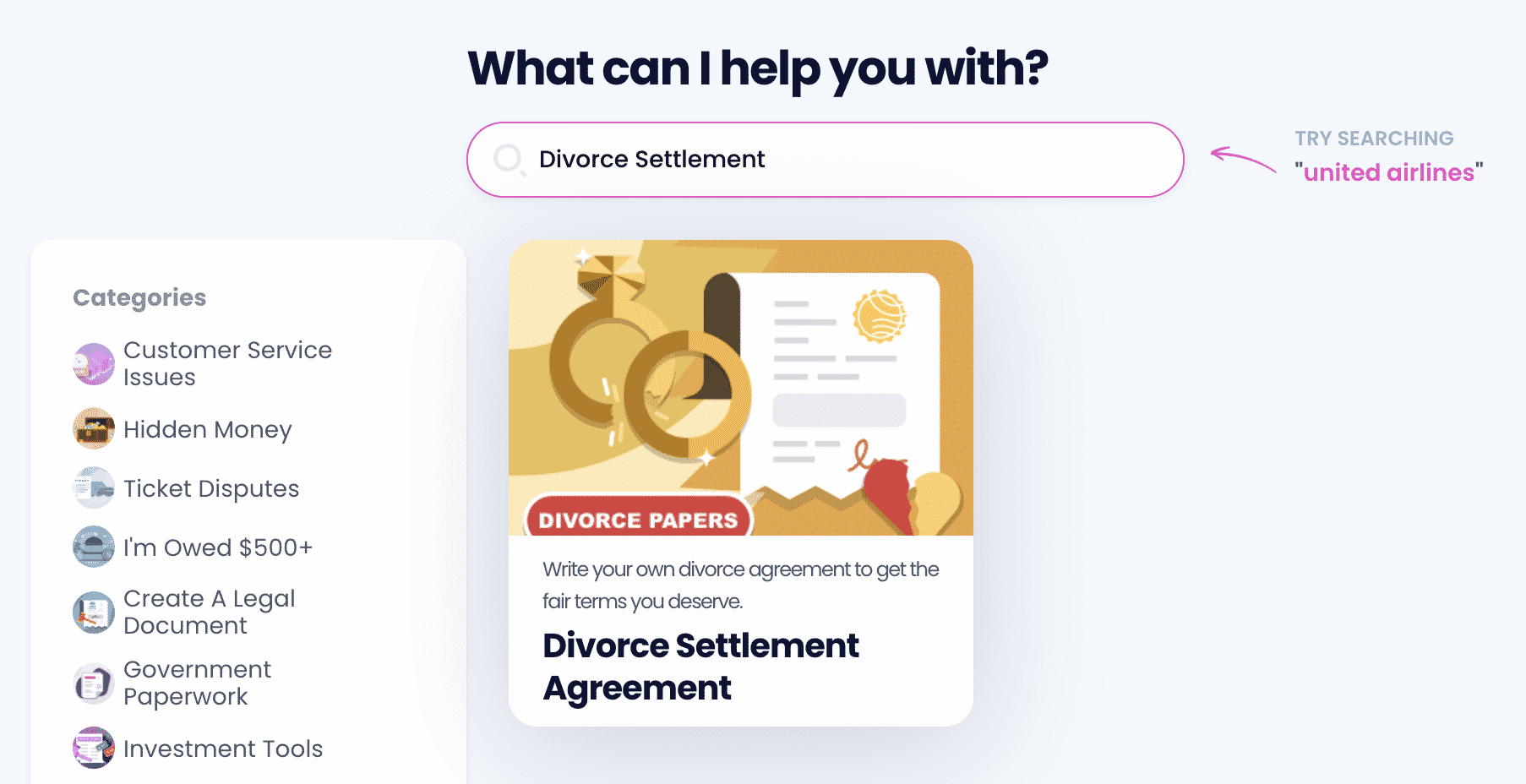 Here's what you should do. Subscribe to DoNotPay and:
Pick the Divorce Settlement Agreement feature
Provide information about your agreed-upon divorce matters
Let us know if you'd like to get the agreement notarized
Using the provided data, our app creates a divorce settlement agreement in a flash!
Get Helpful Divorce-Specific Details
To get answers to other divorce-related questions, you could explore our articles, including:
Check the following table for articles about state-specific divorce procedures:
There Is No Shortage of Tasks DoNotPay Helps You With
If you find finishing administrative tasks tedious, you can rely on our app to assist you through the entire process and make it a smooth-sailing experience. Check out the table below to find out what DoNotPay can help you do:
| Deal With Companies By | Get Rid of Pesky Spammers By | Get Help With Your Studies By |
| --- | --- | --- |
| | | |
Buried in Paperwork? Not for Long!
Is creating legal documents giving you a migraine? Not everyone is acquainted with the law and legal jargon, which is necessary when writing documents, such as:
Luckily, DoNotPay can draft your legal documents in minutes! Why waste hours doing it yourself or hire a lawyer when you can have our app do it in no time?
Creating anonymous HR complaints and demand letters for your inconsiderate neighbors is also something our app does best!